Nimbuzz Crosses 100 Million User Mark, Claims It's The First "Indian" Internet Company To Do So
Originally a Dutch firm, had shifted base to India barely two months ago; claims userbase of 17 million in the country.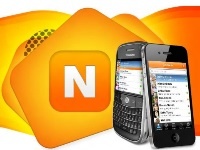 Nimbuzz, a hugely popular chat and VOIP client that supports multiple IM services, announced that it has crossed 100 million users. The software supports multiple services, including Windows Messenger, Yahoo!, Google Talk, Facebook, and Twitter in a single client, allowing users to chat with each other across different platforms for free. Members can call each other over the internet, chat, and share multimedia content.
Nimbuzz also has chat rooms to allow users to meet new people around the world. It also offers voice calling over VOIP (Voice Over Internet Protocol) through NimbuzzOut, which is based on a model similar to Skype. Subscribers can call other Nimbuzz users for free, and dial telephone numbers around the world for cheaper as compared to international phone-to-phone calling rates. The software is available on multiple mobile platforms such as iOS, Android, Windows Phone, BlackBerry, and even J2ME for feature phones. Users can also download the PC client or use the browser-based version. With all these features, it's no wonder this app has reached this level of popularity.

Having said that, Nimbuzz's claim of being the first "Indian" internet company to achieve such a feat must be taken with bagfuls of salt. The firm was originally founded in the Netherlands in 2006 and shifted its company headquarters to Gurgaon barely two months ago. In fact, as of this writing, the website's Contact Us page still lists its HQ's address as being in the Netherlands. In such circumstances, the company's claim of being "Indian" seems merely to be a cheap and unnecessary publicity stunt. Going by this logic, we might as well start calling Jaguar Land Rover an "Indian" company, since it's technically owned by Tata Motors.

What do you think? Is Nimbuzz, a company that was started by two Dutchmen and headquartered in a foreign country for the past six years, right in claiming this as an "Indian" achievement? Let us know in the comments.