Samsung GALAXY Tab Lineup Will Receive Android 4.0 Update By August
List of ICS-eligible tablets include the GALAXY Tab 750, 730, 680, and 620.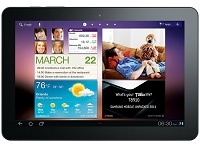 Samsung launched a few Android powered tablets in 2011, some of which were running Android 3.0 offering decent functionality too. Early Honeycomb tablets such as the Motorola XOOM were marred by an array of bugs, but things slightly changed post Android 3.1. What made it better, was the fact that Samsung made them available in different size variations. Devices including the GALAXY Tab 750, 730, 680, and 620 were all launched last year, with Android 3.1 and above. Having said that, Samsung provided little details on the future upgrade plans.
Samsung, like Sony, rolled out ICS upgrades for its smartphones such as the Galaxy Note and Galaxy S II, a couple of months ago. Now, its tablet lineup is believed to follow suit, although a little later than scheduled.


The tablets mentioned above will receive updates either by July or August, much to the the disappointment of its owners. The update, however, will bring in some much needed changes to the gadgets, so it just might be worth the wait after all. Beside a change in the firmware, the tablets are believed to receive substantial performance boosts as well. We're not sure as to what exactly caused the delay considering Samsung's Galaxy Tab 2 has been available with Ice Cream Sandwich for quite sometime now.
The Tab 2 is Samsung's only ICS tablet in the market right now, and maybe the company wanted to keep it that way, which explains the delay in the update for older tablets. Owners should keep an eye out for the update, starting July.