A Complete Guide to India's First Interactive Credit Card [Sponsored]
In the last decade and a half, technology has revolutionized several aspects of our daily lives be it communicating, working, or travelling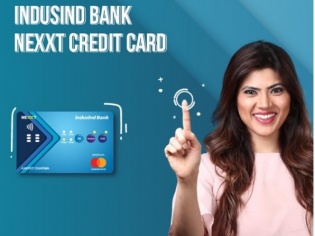 Given this fact, it was but inevitable that technology would go on to transform the way we shop and pay. Of course, we have our ubiquitous debit cards and credit cards. But while credit and debit cards may be indispensable, there's nothing remarkable about them any longer. We are continuing to spend and pay like people did twenty years ago.
And this is exactly what the all-new IndusInd Bank Nexxt Credit Card is set to change. Touted as India's first interactive credit card, this card lets users enjoy a high degree of pecuniary freedom and flexibility. Notwithstanding its advanced features, all the IndusInd Bank Nexxt Credit Card requires the user to do is 'push the button'. Yes. It is literally at the push of a button that an array of payment options will open for the user to choose from. Baffling? Hardly. Here's how it works:
1. The IndusInd Bank Nexxt Credit Card has three buttons i.e. EMI, Rewards, and Credit.
2. If you push the EMI button, you can buy anything you like and pay through easy instalments without the bother of applying for a loan, without processing fees, without anything at all! What's more, the card even gives you the option of paying in 6, 12, 18 or 24 EMIs at a special interest rate of 12%.
3. If you push the Rewards button, you can pay for a product using your accrued Reward Points. No reward catalogues to fill, no call centre requests to seek. Freedom from hassle again.
4. If you press the Credit button, your IndusInd Bank Nexxt Credit Card works like a regular credit card. But then, as already elucidated, the IndusInd Bank Nexxt Credit Card is nothing like your traditional credit card.
Hold on, that's not all. Unbelievable as it may sound, the IndusInd Bank Nexxt Credit Card offers many more benefits. Some of these benefits are:
Earning 1 Reward Point for every ₹150 spent.
Getting a complimentary movie ticket with every ticket you buy on BookMyShow.com
Enjoying a waiver of 1% fuel surcharge across all fuel stations in India.
Access to concierge services such as reservations, event booking, gifting services, flight bookings, and more.
Access to travel services such as flat tyres, battery replacements, emergency fuel, and accident management.
With such a great card, you can't say you won't be bothered by the thought of theft and fraudulent usage. Well, there are precautions for those in place as well. In the case of fraudulent use, Total Protect covers you for a sum up to the credit limit on your card. Additionally, you can protect yourself from unauthorized transactions in case of loss or theft of the card up to 48 hours before reporting the loss of your card to IndusInd Bank.
As mentioned right in the beginning, the IndusInd Bank Nexxt Credit Card is a game-changer that is potentially set to transform how you spend and pay. Apply for the card today and reap its myriad benefits.
TAGS: CreditCard