Seven Intelligent Facts About Samsung Note7
Samsung Galaxy Note7 combines sleek design with innovative features to offer productivity and entertainment.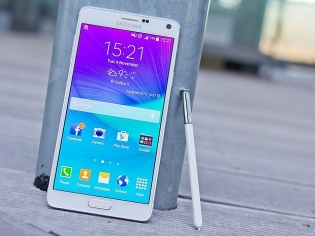 Samsung Electronics today announced the launch of its much-awaited flagship device, Samsung Galaxy Note7 in India. Samsung Galaxy Note7 is the most powerful smartphone with cutting-edge features that enable consumers to explore experiences beyond boundaries and achieve what is impossible. Setting a new standard for large-screen devices, Galaxy Note7 offers seven meaningful innovations with refined craftsmanship, a premium curved screen, upgraded S Pen (IP68) and top-of-the-line security with new iris scanning technology.
"Samsung pioneered a new category altogether since the launch of first Samsung Galaxy Note in 2011. With every edition of Samsung Galaxy Note, the segment has evolved to meet the ever-growing expectations of our consumers. Galaxy Note7 is the combination of all our learnings to take smartphone experience to a whole new level and I am confident that the new edition will help Samsung Note loyalists to achieve more in life," said H C Hong, President & CEO, Samsung Southwest Asia.

Samsung has pioneered the large screen market in India, and with the introduction of Galaxy Note7, it takes another giant step towards sustaining the leadership in the smartphone market. Samsung Galaxy Note7 is created for consumers seeking a powerful device that provides a seamlessly connected digital experience, true design craftsmanship, and added security to enhance work and play in their everyday lives.
Seven Intelligent Innovations:

1. Seamless design with certified durability

With a curved, thinner bezel combining metal and glass the Samsung Galaxy Note7 has been meticulously crafted to offer a comfortable grip, easier one-handed operation, and durability with Corning Gorilla Glass 5.

Galaxy Note7 features a stunning, curved 5.7-inch QHD Super AMOLED screen delivering excellent color reproduction for an immersive viewing experience on a smartphone. Despite a large-screen, the unique front-to-back symmetrical dual-edge curve provides a sleek feel to the users. The curved screen, including powerful Edge Panel for one-tap use allows access to favourite contacts, applications, news and frequently used functions.

With an IP68 rating, Samsung Galaxy Note7 is the first device in the Note family to be water resistant to a maximum depth of 1.5m for up to 30 minutes, and is protected from dust, dirt and sand. The Gorilla Glass 5 has made the Galaxy Note7 30 per cent stronger and 20 per cent more scratch resistant compared to other devices.

2. Intelligent and intuitive S Pen

The enhanced S Pen is capable of getting extraordinary things done efficiently and accurately. The new Air Command Translate function enables users to quickly translate any on-screen text with ease by simply placing the S Pen above the word. The Translate feature allows the user to choose from 38 input and 71 output languages. The new Air Command also includes various other functions such as magnify, glance, etc.

The new S Pen features smaller 0.7mm tip and improved pressure sensitivity to emulate a real pen-like experience. IP68 water resistant provides S Pen users to jot down their thoughts, even in rain.
3. Next-gen security with IRIS scanner

Galaxy Note7 provides more authentication options to users with highly advanced biometric authentication with iris scanning technology alongside fingerprint scanner. The Galaxy Note7 instils a new level of user confidence with Secure Folder, a separated folder that adds an extra layer of authentication to keep private and personal information safe. The Galaxy Note7 will also support Samsung Pass, bringing authentication such as iris scanning and fingerprint recognition to more apps and services.

4. Mobile Entertainment Redefined

The Note7, with the curved 5.7-inch QHD Super AMOLED screen, is the world's first smartphone with HDR playback capabilities, replicating a cinema-like experience with livelier colors and a deeper black. When paired with the new Gear VR powered by Oculus, Galaxy Note7 delivers an ultra-immersive experience for premium virtual reality almost anywhere.

5. Unmatched performance and camera

Equipped with 64 bit, Octa core processor (2.3GHz Quad + 1.6GHz Quad) and 4GB RAM, Galaxy Note7 delivers is equipped to handle the most intensive tasks. In addition to 64GB internal memory, the Galaxy Note7 offers hybrid dual SIM slot and offers expandable storage and microSD support up to 256GB.

Galaxy Note7 sports the same excellent camera as the Galaxy S7 and Galaxy S7 edge, featuring a 12MP dual-pixel rear camera with a wide aperture of f/1.7 and a 5MP front-facing snapper. The revolutionary Dual Pixel technology is capable of capturing brighter and sharper images even in low-light conditions.

6. Powerful and long-lasting battery

Galaxy Note7 has a powerful 3,500mAh battery to ensure uninterrupted usage through the day. The new USB-C port reversible connector helps to transfer data faster and charge battery quicker. Users also have the option to fast charge the Galaxy Note7 anywhere anytime with the wireless charger.7. Creating a Phone+ Ecosystem of devices
Galaxy Note7 offers an ecosystem of devices, software and services. The new wearables line-up, which features the Gear Fit2, Gear IconX and Gear VR are designed to meet top consumer preferences, combining style and fitness. With this new wearables' line-up, these seamlessly connected devices expand what your phone can do.
Samsung Galaxy Note7 will be available at a price of INR 59,900 from September 2, 2016. Galaxy Note7 is available in attractive color options of Gold Platinum, Silver Titanium and Black Onyx.
The pre-booking opens from August 22, 2016 and continues till August 30, 2016.
Galaxy Note7 users can enjoy the Reliance Jio Preview Offer with complimentary unlimited access to digital life for 90 days.
Image via Youtube
TAGS: Samsung, Galaxy Note7, S Pen, curved screen, iris scanning technology