iPhone 7 May Sport An All Glass Casing
There are also speculations about the device incorporatin a dualcamera system for capturing 3D images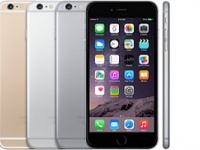 The upcoming addition to the iPhone series, iPhone 7 may come with an all glass architecture as per rumours circling in the media.
The rumours also speculate that Apple may alter its launch cycle for iPhones and may come with a redesigned version in the year 2017, concluding in a complete restructuring of its iPhone sales related operations.
While the cupertino based tech giant had integrated glass casing in its iPhone 4 model, it has never rolled out a device featuring an all glass casing.There are also prevailing rumours about Apple integrating a dual camera system in the upcoming iPhone 7 for capturing 3D pics. Apple recently roped in 130 channel partners in India to tap the growing potential of the enterprise segment in India.
The year 2016 is expected to witness dramatic changes in the specifications of flagship smartphones with mounting processing power, 4K resolution support, VoLTE already becoming a norm.
TAGS: Apple, Apple iPhone 7, 3D, Cupertion