Review: Acer Aspire One Happy 2 | TechTree.com
Review: Acer Aspire One Happy 2
A happy-go-lucky netbook.
Rating

4
/5
14th Jan 2013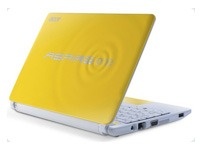 Pros:
Trendy looks; Lightweight; Great build quality; Well-priced.
Cons:
Ordinary battery performance.
Acer Aspire One Happy 2 AOHAPPY2-N578Qyy
MRP: Rs 16,500
Street Price: Rs 15,800 (Infibeam.com)


This is what you get when a computer maker recruits a bunch of food-loving hippies to design a laptop. Fortunately, this isn't always a bad thing. The Happy 2 netbook is available in various flavours colours such as Banana Cream, Blueberry Shake, Strawberry Yogurt, and Papaya Milk. The device offers not only a unique look, but also the flexibility to switch between Windows and Android.


Design And Build Quality
The retail package contains the netbook, power brick, and a nice carry pouch. I never liked the idea of colourful laptops, and have always settled for black. However, I actually found the Banana Cream (yellow) option quite refreshing. Although not as impressive in pictures, the device looks very pleasant in real life. Moreover, the textured droplet pattern on the lid looks great and is appropriate, considering the naming convention inspired by tropical juices.
The keyboard sports a very thin bezel, and runs from edge-to-edge to make better use of the available space. Although not of the island type, the keys are relatively bigger than found on most netbooks. However, I personally prefer small but well-spaced keys over bigger and more crowded ones.


The trackpad looks trendy, continuing the colour scheme from the lid. The left and right mouse buttons have no visual separation between them. The pad features a few gesture controls, as well as a vertical scrolling line. Needless to say, most gesture controls aren't very useful on a small touchpad.

The Happy 2 measures 10.2" (l) x 7.3" (w) x 1" (d), and weighs 1.3 kg. The chassis is made of high-quality plastic, and looks like it can survive a fall or two. The hinge is sturdy, and the battery can be accessed easily. Overall, the build quality of this device is very good, considering the price tag.


Right side view.
Left side view.
Display And Sound
The device features a 10.1" LED backlit display, with pixel dimensions of 1024x600. The colours look good and the brightness level is impressive. However, the screen is reflective, and can be annoying while working near a bright light source.

The speakers at the bottom are reasonably loud, but you're better off with earphones while watching a movie. The sound quality through the 3.5 mm jack is impressive, provided you have decent earphones.


Performance
The device is powered by a dual-core Intel Atom N570 CPU clocked at 1.66 GHz, coupled with a single memory slot with 1 GB of RAM (upgradable to a max of 2 GB). Other specs include a 320 GB hard drive spinning at 5200 rpm, WI-Fi, Bluetooth 3.0, webcam, and a memory card reader.

The device comes pre-installed with Windows 7 Starter and Android 2.3 (Gingerbread). I started off with the quick-booting Android, which has been slightly modified for the bigger screen. While the menus and apps are similar to what we've seen on droids, sadly, they don't go well with a laptop. Android is obviously great on phones, but on netbooks, it's useless.
Coming to Windows, it includes a free ad-supported Office Starter 2010 that requires initial setup (by clicking the Word and Excel icons from the Applications menu) to work. There are a few more free unwanted software too, which are better off uninstalled from your laptop on the very first boot.

The netbook handles basic computing very well, and can also play 720p videos without any problems. Thanks to its dual-core CPU, it performs slightly better than similarly-priced rivals. It is recommended that you uninstall MacAfee Internet Security Suite, as it's capable of choking the system. You can always replace it with a lighter and free antivirus programme, such as avast!.

While the netbook performs well, the new Atom is not really a big improvement over its predecessors. Here are the results of the synthetic benchmarks:


Windows Experience Index.
PCMark 7 score.
Battery Performance
Here's one of the most important aspects of a netbook - its battery life. The 6-cell, 4240 mAh battery powers the device for 8 hours under normal use. On the other hand, it lasts for little more than five hours under heavy use. As part of our testing process, we also ran the Battery Eater benchmarks, and the results are as below. Note that the results of these tests are inferior to the real-world results because the brightness had been set to maximum in the former.
Verdict
The Acer One Happy 2 is one stylish device that's easy on the eyes. Its performance is quite good, and the product is not expensive either. On the other hand, it didn't do too well in our battery tests. However, as mentioned earlier, the device's relatively brighter screen could be the reason behind this.

At a price tag of Rs 15,800, this well-built laptop is a good companion for college-goers, and it won't look odd in offices either. Thanks to these cute devices, girls will no longer have to stick with expensive laptops made by Sony. Moreover, guys need not shy away from the Blueberry-coloured one.


Features: 4/5
Design And Build Quality: 4/5
Performance: 3.5/5
Value For Money: 4/5
Mojo: 4/5

Overall Rating: 4/5


TAGS: Laptops, Android, Acer, ck