Review: Road Inc. (iPad) | TechTree.com
Review: Road Inc. (iPad)
A must-have app for petrolheads.
Rating

4.5
/5
03rd Jul 2012
Pros:
Amazingly detailed 3D models; Comprehensive facts and trivia; Excellent selection of cars; Frequent updates.
Cons:
Spelling and grammatical mistakes; Camera is restrictive in the Showcase mode; No interior view.
Road Inc.
Developer: Pyrolia
Price: $7 (Rs 350 approx)

Generally, apps on touchscreen devices are supposed to be cheap and are therefore excused of being rather shallow. In the age of tablets, where depth and utility can be substituted for multi-touch gimmicks, it's great to see an app that's comprehensive and shows a genuinely painstaking effort. That's Road Inc. for you. The automotive app delivers eye candy, while incorporating enough trivia to satisfy the most hardened petrolhead out there.

Each car comes with comprehensive background information.

The 214 MB download includes just a single car; however, considering the amount of goodies that you get with each vehicle, the extra 100-odd MB for each new wheel is justified. The rest of the cars can be downloaded for free, and new ones are being added with regularity. With a total of 50 vehicles available at the moment, the collection isn't exactly comprehensive, but it makes up for that with quality.
Each car comes with a thoroughly detailed, high polygon count 3D model and its own soundtrack; in addition to videos, engine sounds, car background, brochures, press cuttings, factory schematics, and more in the Archive section. Each iconic car has a story to tell, and Pyrolia has done a good job at compiling the interesting tidbits and behind-the-scenes trivia that's behind the genesis of notable cars.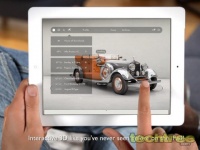 The interface is easy to navigate and uses touch controls intuitively. While the Showcase section lets you zoom and rotate the 3D model, the camera is too restrictive for my comfort. It's a pity that you can't get a tour of the interiors, because its evident that they have been just as meticulously rendered as the outer body. However, that's just me nitpicking, because Road Inc. is peerless in terms of model accuracy and fastidious detail evident in each vehicle. The Essay tab details the genesis, notable specifications, and interesting factoids of the cars. You'll find quite a few grammatical and spelling mistakes here though.
The app houses relatively modern cars such as the Bugatti Veyron, Pagani Zonda, Mercedes-Benz SLR McLaren, and McLaren F1, as well as classics such as Jaguar D-Type, Mercedes-Benz 300 SL, and BMW M1. The choice of cars may not please those into latest pin-up supercars, but the seminal lineup has been carefully chosen to underscore the iconic vehicles that have shaped the automotive history.
For example, the BMW M1 was the first supercar that was easy to drive, which paved way for the renowned M3 and M5 super-saloons. The Jaguar D-Type was one of the first cars to have shown that aerodynamics was the holy grail of achieving speeds in excess of 150 mph, which was considered nigh impossible at that time.
There are many examples such as these, and reading up their iconic past is a pleasure for those who take their motoring seriously. The accompanying Essay and Archive sections therefore play a substantial role in lending the app an appeal that resonates with both proper petrolheads and those just looking for pure eye-candy. If you happen to be a petrolhead, this app is well worth your money.
Rating: 4.5/5
TAGS: Apps, Transportation, Lifestyle, iOS, Nachiket