SanDisk iXpand Review: Must-Have Storage Accessory For iPhone And iPad | TechTree.com
SanDisk iXpand Review: Must-Have Storage Accessory For iPhone And iPad
Backing-up your phone/tablet data was never so easy.
Rating

4
/5
04th May 2015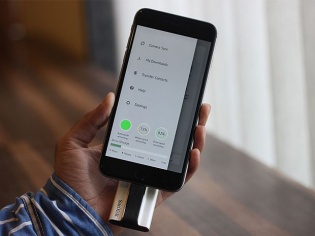 Pros:
Incredibly easy-to-use; Swift data transfers; Supports multiple video formats; Excellent build quality.
Cons:
Needs to be charged; Expensive.
SanDisk iXpand Flash Drive
Street Price: Rs 4500

SanDisk's iXpand, as it name suggests is an accessory for Apple products such as the iPhone and iPad. Thanks to evil iTunes, you know how frustrating it is to transfer files to and from iDevices. Considering the Internet connection reliability, I'm not even considering iCloud as a viable option. However, this flash drive promises make your life easier. With 16 GB base model retailing for around Rs 4500, the device is not cheap.
Design And Build
The SanDisk iXpand is slightly bigger than two pen drives kept alongside. The company has used quality aluminium and plastic to construct the device. Design is elegant and the detailing is impressive. Even the plastic cap that protects the full-sized USB port has a metal-frame for sturdiness.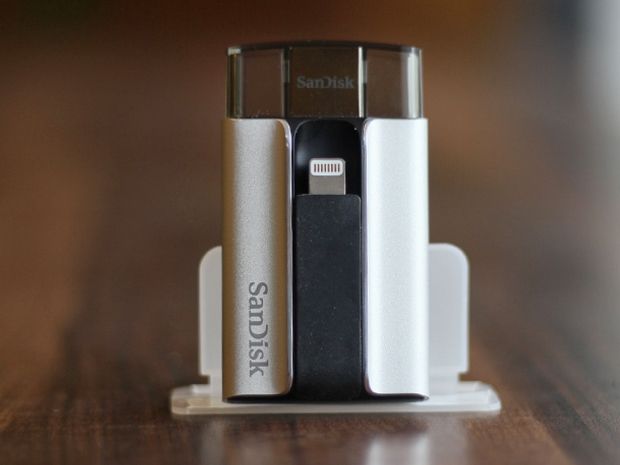 With neat curves and ascents, the iXpand has enough character to catch your attention. The choice of colour and matte finish is in-line with Apple products.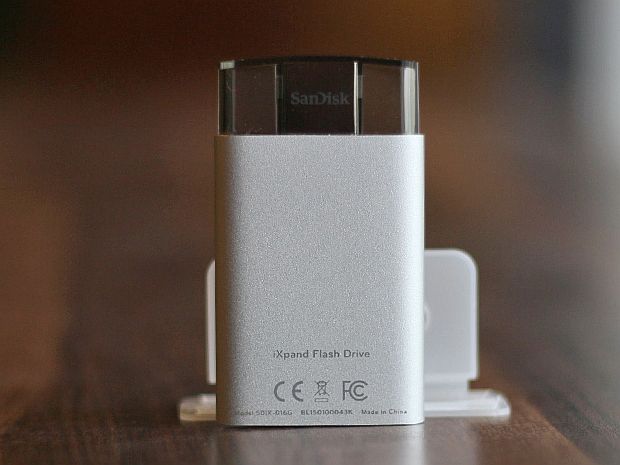 The lightning port is flexible. That's a thoughtful decision — you don't have to remove your iPhone/iPad's protective case before connecting the iXpand. There's a tiny green LED to notify that the data is being copied.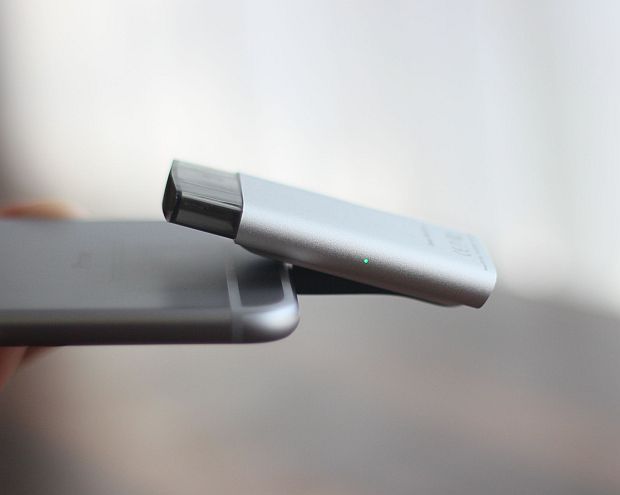 In all, SanDisk has done excellent job in the aesthetics and quality department. For more product shots, check out our iXpand gallery.
Setting It Up
The iXpand comes pre-formatted with FAT32 file system, so it plays nice with your computer out-of-the-box. Hooking it up to your iPhone/iPad prompts you to download the SanDisk iXpand Sync app from Apple's store. I must say that 46 MB it is quite heavy for a file manager.
Performance
On PC, iXpand works like your normal thumb drive. By default, it has four folders — Music, Videos, Videos, and SanDiskSecure. Loading-up media is easy as drag-and-drop. Its transfer rate hovers at around 12 MB per second.
On Phone also, the drive gets detected in no-time. There's no connectivity lag at all. You can set the device to auto-sync photos and videos from camera roll. The process is so swift that at times you connect the device and wait for the sync to take place, only to find out that it has already happened.
Features
Like an Android file manager, you also get to choose what files and folder to transfer. You can copy or move files from the drive to the iPhone. When you are on vacation with high-quality captures filling-up your iPhone's storage, the iXpand saves you from the hassle of opening your laptop to back-up and free some storage.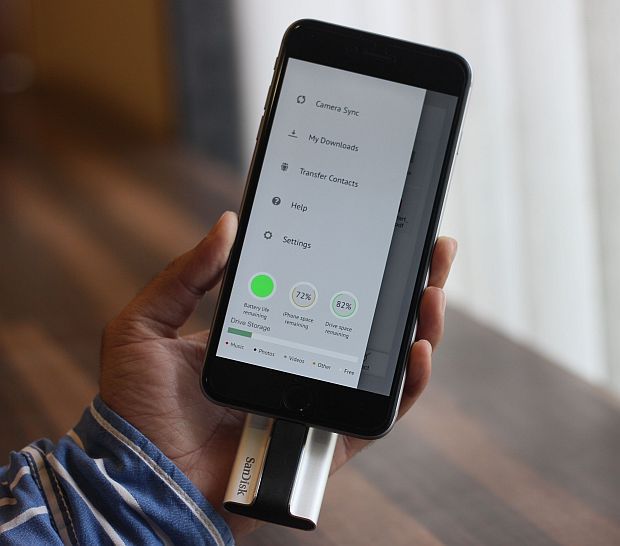 Using the built-in search feature you can quickly locate a file. You can also lock the sensitive files. Not just password, you can secure files using Apple's TouchID. It's a neatly implemented feature that shows SanDisk has made most out of Apple's technology.
The interface looks fine on iPhone 5S and 6. However, on the iPhone 6 Plus, icons look unusually big. Not that it hampers the usability in any way, but optimising the app for the latest iPhone is not too much to ask for. Another niggle is that while transferring the data, the app dows not show a progress bar.
Bonus
The iXpand has a neat trick up its sleeve. You can load-up any video on the iXpand drive and watch it on your iPhone. I repeat, any format (including .MKV). The videos play without any sign of stutter. After struggling with iTunes for years, I think this single feature is enough to warrant a purchase.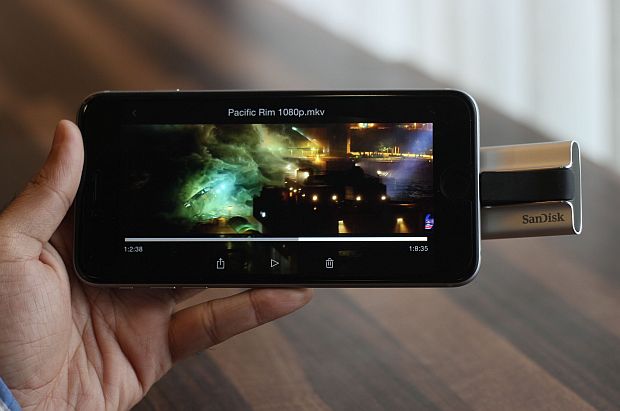 You can play songs directly from the drive or copy them to the download folder. However, these tracks won't be recognised by the default music player. Can't blame SanDisk for this though — it is because of Apple's walled-garden.
Battery
However weird it may sound, this flash drive has an in-built battery. If you have seen how USB OTG (On-The-Go) devices suck battery on Android phones, you will appreciate this move. SanDisk claims that the dedicated power source help maintain swift data transfer speeds. On the flipside, you have a device with a battery life to worry about. It is not as bad as it sounds in the use-case scenario though. Connect it to a PC in a couple of days, and you are unlikely to run out of battery.
Verdict
The iXpand thoughtfully made device that does what it says, and then some more. Be it photo back-ups or movie transfers, this device is way better than those wireless drives and even iCloud. I'm impressed the way this device enables you to watch movies directly on the iPhone without having to put-up with the painful conversion process. This is closest you get to break-free from iTunes' clutches. The price is definitely on the higher-side, but if you can afford a phone that can cost half-a-lakh rupees.

Rating: 4

Build And Features: 4/5
Performance: 4.5/5
Ease Of Use: 4/5
Value For Money: 3/5
Mojo: 4/5
TAGS: Storage, Apple, iPhone, iPad, SanDisk, SanDisk iXpand