Cubetek 4K TV Box Review: Can Play It All | TechTree.com
Cubetek 4K TV Box Review: Can Play It All
The smart TV box pulls off impressive performance.
Rating

3.5
/5
02nd Apr 2015
Pros:
Flawless 4K playback; Supports disc images (ISO); XBMC dashboard with add-ons; Connects to a home media server; Compatible with portable hard drive.
Cons:
Could use some polish; Android apps are barely usable without mouse.
Cubetek 4K TV Box
Street Price: Rs 8900

4K television sets can play 4K videos. However, most TVs support limited video formats. This is where Android TV boxes kick-in. These small devices come with plethora of storage and connectivity options. You can download content on the device itself. If you own a 4K monitor, this addition can turn it into a TV so that you don't have to boot-up your power-hungry desktop for content consumption.
Aesthetics
In terms of design, Cubetek has a utilitarian approach. The legnth and width of the device is hardly bigger than a smartphone. Like any media box though, it is thick — comparable to three stacked phones.
Compared to the recently reviewed VidOn box, the Cubetek's 4K box looks boring. I wish Cubetek had spend some time on aesthetics, as this product is meant to sit next to your expensive TV set.
With its all-plastic construction, it also lacks a premium feel. The seams and notches are not polished. Especially, the Ethernet port slightly sticks out on the unit I received for testing.
On the bright side, the device is light yet sturdy. Not that it's unbreakable, but can withstand an accidental fall from a table's height.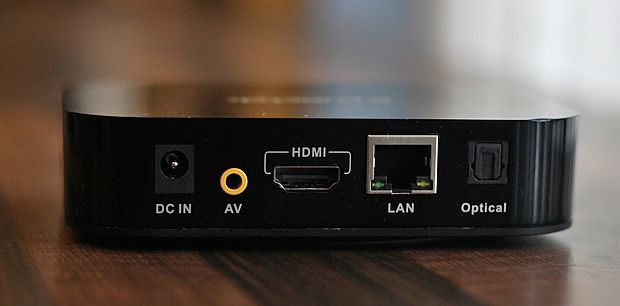 Specifications
The TV box is powered by a quad-core Amlogic S802 chipset clocked at 2 GHz. This chipset is rarely seen on mobiles, but is quite popular on embedded devices. It has 2 GB 2 GB DDR3 RAM. 8 GB internal storage.
For internet connectivity, you have Wi-Fi and Ethernet port. Using Bluetooth 4.0, you can hook it up with a wireless mouse too. For output, you get HDMI, AV, and optical audio port.
The two full-size USB ports easily handle 2 TB portable drive. Card reader supports SD/SDHC/MMC.
Performance
Like any Android media box, the Cubetek 4K requires Internet connection for most features to work. The device is based on Android 4.4 KitKat. Since Android is made for touch-screen devices, the Cubetek 4K box comes with a tiled-based interface that looks like knock-off Windows. The UI is operable with the bundled (non-smart) remote. I stress on the term "operable" as the mouse/keyboard combo is a must for frustration free experience.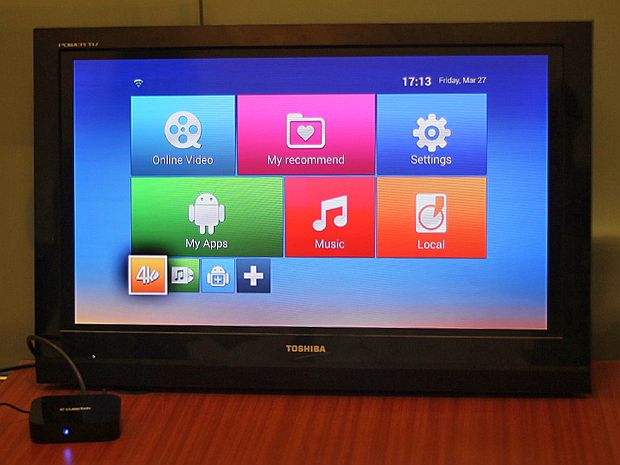 If you want to stick to the remote, I would recommend you stick to the XBMC app. XBMC, as most media player users would supports hundreds of add-ons including those for TV channels, YouTube, and even uTorrent client. You can download 4K videos right on the device and watch them too.
Coming to the most important aspect of the review, the Cubetek media player shines with the 4K video performance. Be it WMV, MKV, DAT, AVI, MOV, MP4, or RM, this player handles it all. It can even play media from DVD/Blu-ray back-up (ISO) files from the hard disk.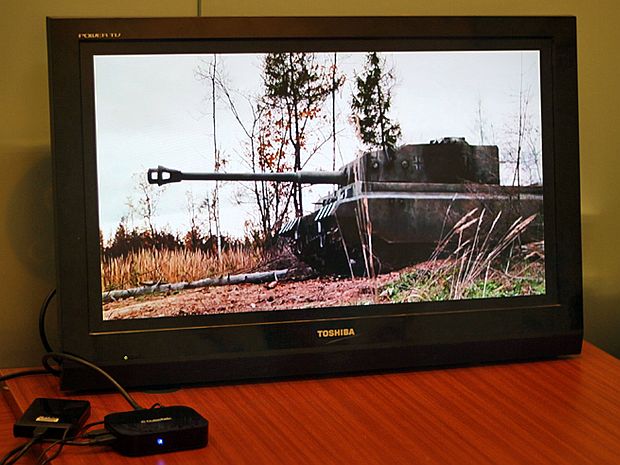 I haven't come across a single sub-10k media box that plays 4K so well. There was absolutely no stutter during the playback. Loading up these huge files was quick too. As far as the video playback goes, this media player won't disappoint you.
Moving on to smart features, you have access to Google Play Store. Keep it in mind though that without a mouse and keyboard apps are barely usable. If you have home media server up and running, you can stream the videos from there. In all, it has more features than you could possibly care to use.
Verdict
If you own a 4K TV or monitor, this media player is an ideal companion for it. As mentioned earlier, it is the cheapest device available in India to handle 4K video without an issue. While I'm impressed with the performance, I would definitely want Cubetek to improve the design.

Rating: 3.5/5

Build And Features: 3.5/5
Performance: 4.5/5
Ease Of Use: 3/5
Value For Money: 3.5/5
Mojo: 3.5/5
TAGS: Home Theatre, Android, TV, Media Players