VidOn TV Box Review: New Age VCP | TechTree.com
VidOn TV Box Review: New Age VCP
A feature-packed Android media player.
Rating

3.5
/5
11th Mar 2015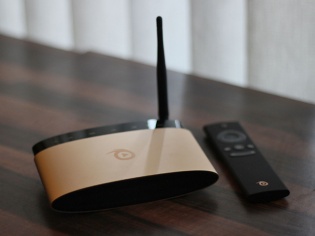 Pros:
Full HD playback; Supports Blu-ray ISO; XBMC dashboard with add-ons; Plays nice with 1 TB hard drive; Connects to a home media server.
Cons:
Not so functional remote; Typing can be trustrating without using external keyboard.
VidOn Box
Price: $70 (approx Rs 4400)
If you purchased a TV few years ago, there's a good chance that it lacks fancy features. But, just because your neighbour's smart TV is cool, you need not sell off your television set on OLX. By spending a few thousand bucks, your existing TV can be turned into a smart one. Yes, I'm talking about those Android boxes. The one I'm reviewing comes from a Singapore-based company Vid-On.
Design
The Vid-On Box looks like a Wi-Fi router. In fact, our company's IT guy thought of it as some premium networking device. When a device has an Ethernet port and antenna, such reactions are obvious. The antenna is a thoughtful addition because failing to connect your home Wi-Fi is the worst thing that can happen to your streaming device.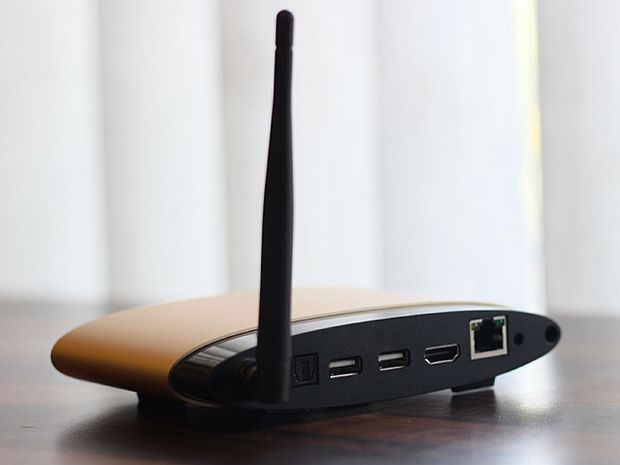 Most entry-level companies in this business, pick up generic stuff from China and brand it as their own. VidOn, on the other hand, designs its own stuff. The VidOn Box has a metallic with nice matte finish. Thanks to the good use of gold and black, the device is pleasant to look at.
As opposed to run-of-the-mill Android boxes, every cut and curve on the VidOn Box is polished. The box is light, yet sturdy. Overall, you would not mind VidOn in your living room.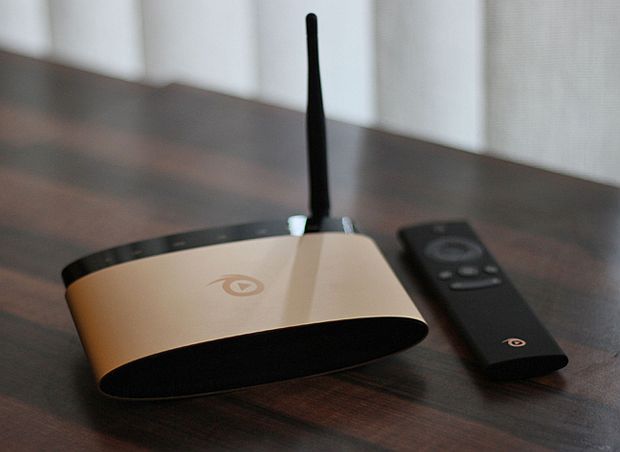 Specifications
The Android TV box is powered by AllWinner's A31S quad-core chipset. TO handle graphics, it has a PowerVR SGX544MP2 GPU. 1 GB DDR3 RAM to handle Android 4.4. Internal storage is 8 GB. A card slot is missing. However, using two full-sized USB ports, you can hook-up anything from a pen drive to portable hard disks. Other noteworthy features are Wi-Fi and HDMI connectivity (cable sold separately).
Setting It Up
This is the worst part about this product. Not that the set-up is complicated, but it is damn frustrating. First of all, you need to set-up Wi-Fi connection. Once, you manage to do that, the device asks you to download a software update. After installing the update, I had to redo the Wi-Fi thing. This reminded me why I hate smart TVs so much.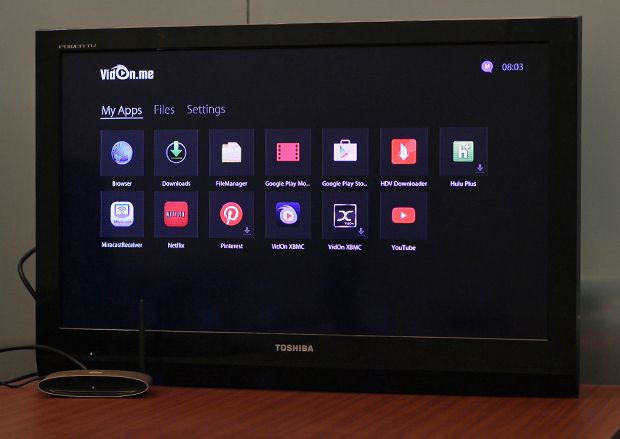 Before I could watch any video, I was prompted to create a VidOn account. Doing all this using a remote that only sports navigation keys is an ultimate test of patience. Thankfully, you can connect keyboard and mouse, which makes all the difference in navigation.
Performance
The TV box is based on modified version of Android 4.4 KitKat. VidOn has kept three homescreens. The first stacks-up apps, second lets you browse local files, while the last one provides access to device settings. It's all nice and clean.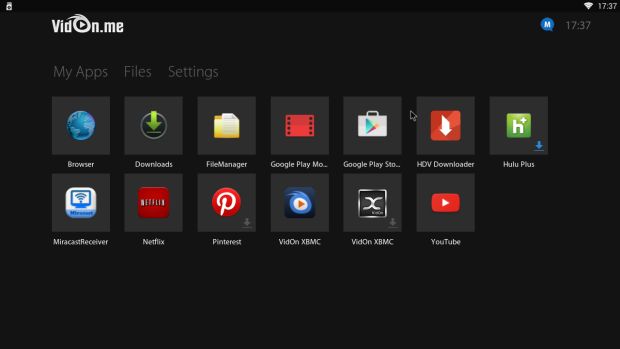 The TV box played nice with a 1 TB portable hard drive. The build-in player supports MP4, MKV, AVI, VOB, H264, MPEG2, RMVB, FLV, and WMV up to Full HD quality. Surprisingly, the player even picked-up DVD/Blu-ray back-up (ISO) files from the hard disk. Even the menu and special features of the Blu-ray discs worked properly (requires VidOn subscription).
The remote works best with VidOn's XBMC app interface. Originally (not officially) developed for Microsoft's Xbox, XBMC has support for hundreds of add-ons. Think of it as Mozilla Firefox's extensions. It can bring useful features such as uTorrent, news feeds, and live TV to your VidOn.
Off course, you can mirror your phone's screen on TV or play media from home media server. Watching videos on YouTube is not a bad idea. However, for YouTube, mouse is a must. Using the bundled remote, you can search a video in YouTube app, but can't navigate to the playback option.
Premium Account
To make money, in addition to hardware sales, VidOn offers premium membership that annually costs $15 (approx Rs 950). First year subscription is complimentary. The membership enables Blu-ray navigation and OTA updates. Regular users have to install updates manually. Whether you should subscribe the membership depends on how often you use Blu-ray ISOs.
Verdict
The VidOn box can turn your dumb TV into a smart one. It is a well built device that looks good enough to sit besides your expensive TV. Most importantly, its media performance is spot-on. I had no issue playing any video format up to 1080p quality. The media box has quite a few rough edges on the software side, but considering the plethora of features it offers at a modest price tag, I can live with that.
Build And Features: 4/5
Performance: 4/5
Ease Of Use: 2.5/5
Value For Money: 4/5
Mojo: 3.5/5
Rating: 3.5/5
TAGS: entertainment, TV, Android