Asus ROG G751JM: Ready To Attack Alienware | TechTree.com
Asus ROG G751JM: Ready To Attack Alienware
Gaming machine done right!
Rating

4
/5
09th Mar 2015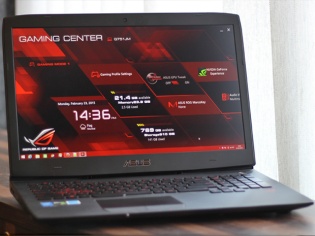 Pros:
Brilliant screen; Stunning performance; Robust build; Thoughtful design; Unbelivably silent; Good speaker output.
Cons:
Bulky; Keyboard could have been better; Expensive.
Asus ROG G751JM
Street Price: Rs 136,000 ~ three Xbox One or PS4s.

Think of a gaming laptop, and Alienware is the first name to come to your mind. In this niche market segment, it's difficult for other PC manufacturers to carve their place. Taiwanese Asus is one of those brands to challenge Alienware. With its ROG (Republic Of Gamers) G751JM series, the company has gone all guns blazing. The laptop looks promising on paper, but has Asus figured out what gamers want?
Design
If I have to describe this laptop in a single line that would be "a gracefully crafted beast". It is huge and bulky, yet aesthetically pleasing.
The lid is inspired by a sport car's hood. A bold look, but not garish at all. The metallic accents are a nice touch. On the whole, the laptop has a quality matte finish.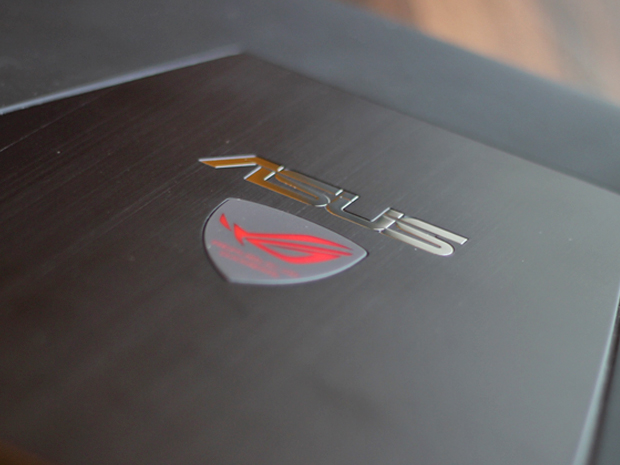 The red 'Republic of Gamers' logo stands out near the Asus branding. The series has a red and black colour scheme. The logo glows blood red in the dark. It does not have a charm of Alienware's mascot, but nevertheless adds character to the device.
Unlike conventional laptops, the ROG's screen hinge is not on the edge. Due to this, there's quite a lot space behind the screen pivot, which Asus has cleverly used for heat-vents. And I must mention that the hinge is incredibly sturdy.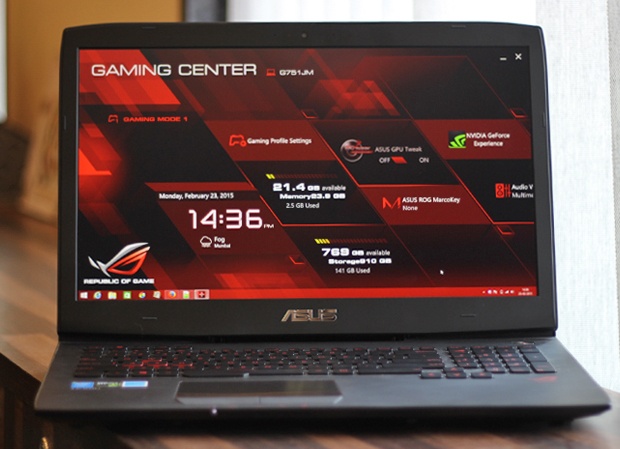 The heat disperse system of this laptop is so brilliantly done that the machine does not heat-up even after hours of gaming. The fanned vents at the back are massive and they look similar to Harrier's Pegasus engine exhaust. Surprisingly, it does not make noise at all. In fact, it's the most silent gaming rig I have seen so far.
Since the vents are directed away from your body, you can actually keep this machine on your lap. Provided that you don't mind the fact that it tips the scale at around 4.5 kg.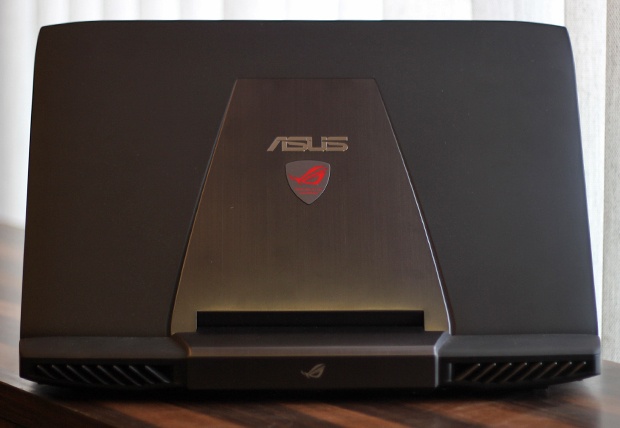 Ports are thoughtfully placed on the right-hand side. That's a welcome move, unless you are left-handed. It comes with VGA adaptor, HDMI, and Thunderbolt port. No matter what external screen you have, it will work with this product.
Like any top-end gaming laptop, the G751JM comes with a lot of goodies. For starter, you get a quality backpack and decent headphone. You get a nice backpack, decent headphone. Another bundled accessory is an excellent mouse with dedicated button to change DPI setting on-the-fly. Programmable buttons are present too.
Keyboard
Keyboard design is clean. Backlighting is well-done with special focus on WASD keys(gamers will know). Each key has proper travel. There are dedicated buttons for Asus gaming centre, quick video capture, Steam (Valve's gaming service). Additionally, there are three programmable buttons.
One small annoyance here is that considering the available space, the keys feel somewhat crammed. Not for writing, but but gaming. When playing a FPS (First Person Shooter) game with three fingers on [W], [A], [D], your thumb overshoots the space bar.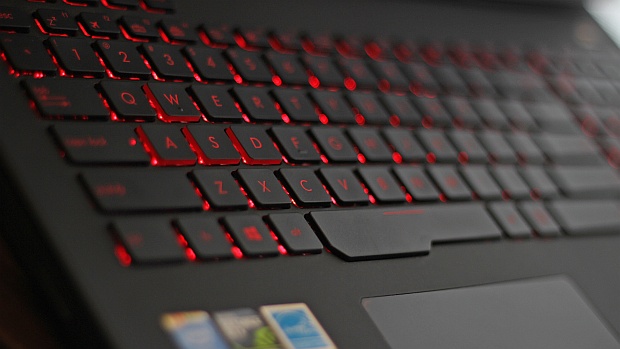 The trackpad is specious and works the way it should. The left and right clicks are proper. However, I'm sure that you are going to use the bundled mouse for gaming.
Display
Games are best enjoyed on quality screens, and Asus knows that well. The laptop's 17.3-inch IPS screen is absolutely stunning. Not only because of its Full HD resolution, but the vibrant colours. Using Asus' software tool you can tweak the colour profile as you like.
It's even better than the Macbook's Retina screen. The viewing angles are so wide that even at extreme angles, the screen retains visibility. Plus, it has got a matte finish. This means that unlike the glossy screens, you don't have to worry about the screen glare at all. Overall, Asus has nailed it in the screen department.
Performance
The ROG is stuffed with high-end hardware. It is powered by Intel Core i7-4710HQ CPU (up to 3.5G, 6M). Graphics card is NVIDIA's GTX860 2GB DDR5. To assure that you won't run out of memory, there's whopping 24 GB of DDR3 RAM. Those who want to go for an overkill can upgrade it 32 GB! To install plenty of games, you get a 1 TB hard drive spinning at 7200 rpm and DVD writer.
On the software front, you get Win 8.1 Pro with pre-installed Steam. Although targeted at gamers, the ROG is also great for running demanding 3D and video editing software such as 3D Max, Maya, Adobe Premiere Pro.
Moving on to the most important part of the review, I tested demanding games such as Far Cry 4, Call Of Duty: Advance Warfare, and GTA 4. On ultra-high settings, this pixel-crunching monster ran the aforementioned games at fluid frame-rates.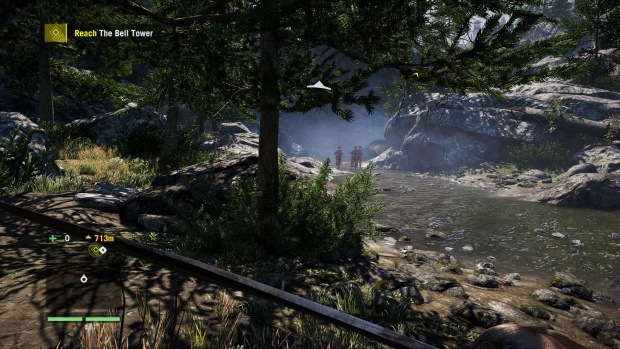 Ubisoft's 'Dunia' engine rendering Far Cry 4 at ultra-high settings.
On most gaming laptops, you have to wear headphones to put up with the noisy fan. That's not the case with the ROG though. Since the system runs silent, the Built-in twin speakers manages to provide good sound.
Battery
Gaming laptops sap battery like anything. Depending on how complex a game is, the ROG lasts for anything between an hour to an hour and half. There's NVIDIA power saving mode that stretches the battery life by another 30 minutes, but that's kind of pointless as it hampers the gaming performance.
Verdict
If you are reading this review, you have either sworn allegiance to gaming or looking for a powerful system to run high-end multimedia software. In both cases, Asus ROG passes with flying colours. I'm saying this not only because of its absurdly powerful hardware, but also the thoughtfully designed and robust heat-vents that keep the system running without a problem. The machine is expensive, but then it offers almost everything you could expect from a computer. The only gripe I have here is the lack of Blu-ray burner.
In short, the ROG is not a regular laptop you want to carry everyday to work. It's a desktop replacement that's easier to take places than your tower PC.
Features: 4/5
Design And Build Quality: 4.5/5
Performance: 4.5/5
Value For Money: 3/5
Mojo: 4/5
Rating: 4/5
TAGS: Laptops, ASUS, Gaming, Windows