BlackBerry Classic Review: Back To Its Roots | TechTree.com
BlackBerry Classic Review: Back To Its Roots
A solid QWERTY handset from the Canadian manufacturer.
Rating

3.5
/5
20th Feb 2015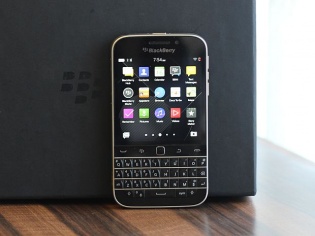 Pros:
Excellent QWERTY keyboard; Sturdy construction; Elegant design; Fluid BB 10.3 OS.
Cons:
Not good for watching videos; Mediocre camera; Android app emulation is messy; Expensive.
BlackBerry Classic
Street Price: Rs 31,000
Once considered as a status symbol, BlackBerry phones now attract odd stares from people. Clearly, content consumption is not any BB phone's strong point. However, it is still best in the business when it comes to messaging. After trying to compete with Apple and Samsung with full-touch devices, BlackBerry is back to its roots with the latest release.
Aesthetics
As the name suggests, the BlackBerry Classic has a good-old design at the core. A metallic rim running around the sides and a full QWERTY keypad are reminiscent of the Bold Touch 9900. While keeping the things simple, the Canadian brand has refined the design to stay relevant with time. For instance, the curves and contours are subtle compared to early BlackBerry handsets.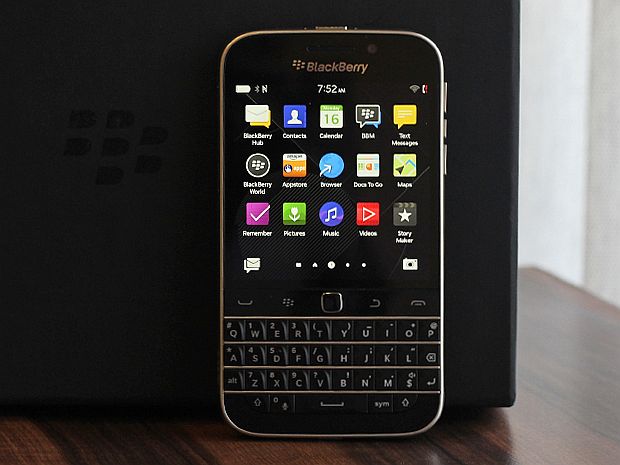 In terms of construction, the Classic is solid. The materials used are top-notch. It can be an ideal companion for your company's road warrior executives. This may sound weird, but what I enjoyed most here is the "luxury" of using a phone that fits in the pocket.
The phone's rear has a nice textured finish that helps with the grip. To achieve sturdiness, BlackBerry has opted for a non-user replaceable back-plate. I'm sure many BlackBerry fans will miss the ability swap batteries on a long trip.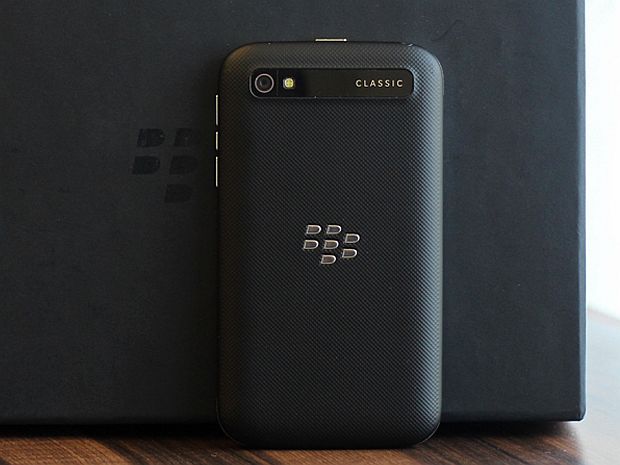 Screen
Much like the Q10, the Classic features a square touch screen. The 3.5-inch HD (720x720 pixels) screen has pixel density of 294 ppi. This does not look great on paper, but in reality the screen looks very sharp. The unit is impressively bright. However, there's a room for improvement in terms of colour reproduction. Moreover, since it is not an IPS panel, the viewing angles are not that good.
Keyboard
Below the display are tactile buttons — Call, Menu, Back, and End. Although it sports a touch screen, BlackBerry has retained its iconic trackpad. Once I got a hang of it, it was pleasure to use. I found it useful, especially when moving cursor to edit text.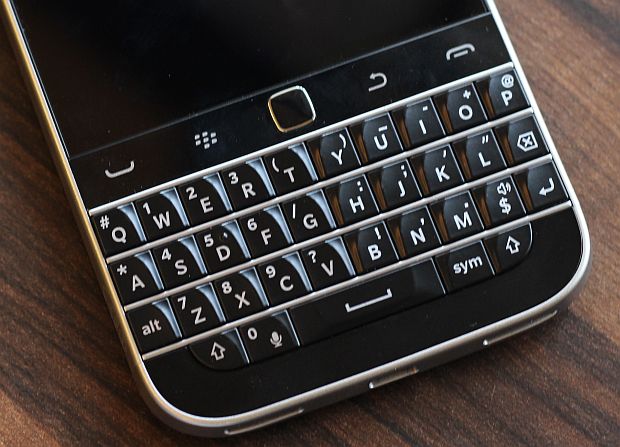 The full QWERTY keypad is what makes this phone stands out in the crowd. Every key provides proper travel and tactile feedback. Backlighting is neat. Like most BlackBerry phones, it sports a four row layout. It's made in such as way that the BlackBerry fans will feel right at home. However, for someone like me who has picked-up a QWERTY phone after a long time, it takes a day or two to get accustomed to. After a week, typing on the Classic felt like a breeze. The only thing I missed was the gesture typing, made possible by the BlackBerry Passport's touch-sensing keypad.
Specifications
The Classic is backed by a modest 1.5 GHz dual-core Snapdragon S4 chip. It has 2 GB RAM, 16 GB internal storage, and microSd card slot. For photography, you get an 8 megapixel rear camera. There's a 2 megapixel front-facing one for video chat. Other features include Wi-Fi, Bluetooth 4.0, A-GPS, NFC, and 2515 mAh battery.
Software
This phone runs BB OS 10.3.1 out-of-the-box. Compared to what we had seen on the Z10 and Q10, the interface is more streamlined in the latest iteration of the software. Like other closed operating systems such as the iOS and Windows Phone, BB OS is well optimised. It runs without any noticeable lag on a dual-core processor.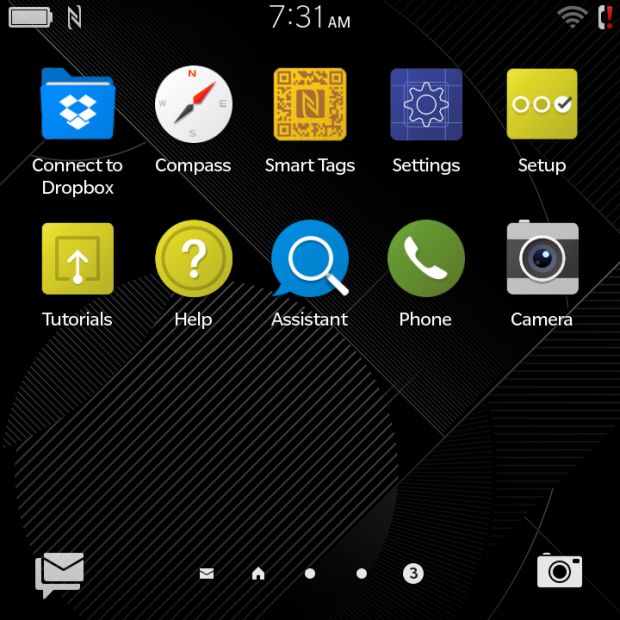 Grumpy BlackBerry users still sceptical about a touch screen, can operate the phone old-school style. Those fine with a touch screen, need to know some basic gestures. For example, you can unlock the phone swiping up from the bottom edge of the screen. Using the same gesture, you can minimise an app and trigger the multitasking menu.
BlackBerry Hub is the star of the show. It delivers all your text, email, and social network updates in a neatly stacked feed. And you can respond to any email or social networking interaction right from the Hub. This is undoubtedly the best messaging experience you get on a phone.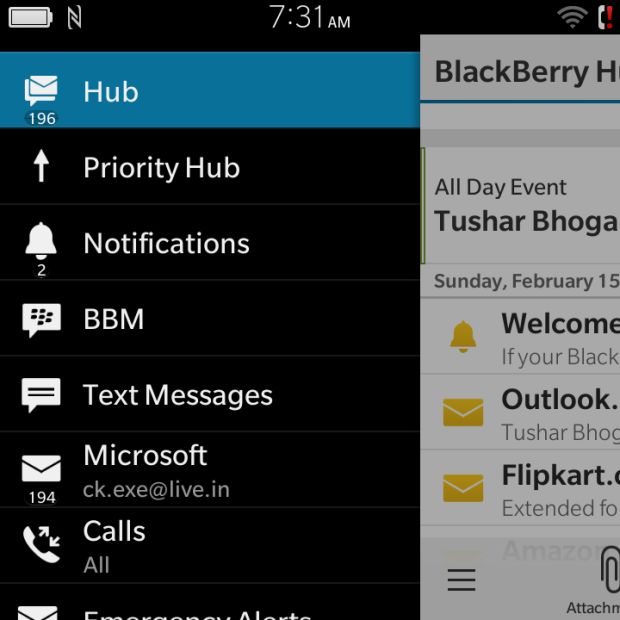 When it comes to the apps, a document editor and PDF reader are pre-installed. Facebook and Twitter are covered too. However, the BlackBerry maps stand no chance against HERE and Google's location services.
If you can't beat them, join them. That's what BlackBerry has done to swell its app count. The Canadian phone maker has partnered Amazon to provide a steady stream of Android app on its platform. To run those apps, Blackberry 10 OS uses emulation method. It's not all that rosy though, as many apps either don't scale properly or show signs of stutter. Such approach is also adversely affecting the BB app growth. The reason is simple. Why would anyone code a native app for BlackBerry when the OS can make do with APKs?
Camera
Photography has never been BlackBerry's strong point, and the Classic is no exception. The 8 megapixel snapper is good when the Sun shines. In such conditions, the colours comes out well. it also captures good amount of detail. Click here to check out the sample image. However, as soon as the light intensity goes down, there's a drastic drop in the BlackBerry Classic's image quality and performance. In low-light, it takes more time to capture images. What's worse is that the images contain excessive visual noise.
Coming to the subject of videos, the Classic records good quality 1080p videos at 30 fps. In HD mode, you can experiment with slow-mo. The videos shot y this handset feature stereo sound.
Multimedia
The Classic can do many things right, but video playback is not one of those. If you like watching movies on your phone, this phone is not for you. All good videos are shot in 16:9 ratio, and they don't fit well on a square screen. All movies get "letterboxed" due to the 1:1 screen aspect ratio. Sometimes the black bands occupy more screen area compared to the actual content.
Everyone loves music, and Blackberry knows it well. Despite being a business phone, the Classic offers excellent sound output. You will have to invest in a good pair of earphones though as the bundled ones are trashy.
Cellular
After reviewing phones for years, I can tell that no company can beat BlackBerry and Nokia in terms of voice quality and network reception. Coming from the Lenovo Vibe Z2 Pro, calls sounded exceptionally good on the classic.
Battery
The handset packs-in a 2515 mAh battery. I had high expectations in terms of the battery back-up. However, it turned out to be average at best. With normal use, the juice lasted for a day and half. That's comparable to Android phones with large screens and powerful processors.
Verdict
If you are buying a phone for content consumption, then I think you have already made a decision. Yes, the BlackBerry Classic is not for you. It is a very good option for those looking for a solid messenger phone. I prefer the Classic over the unwieldy Passport. There's no doubt that the Classic is a very good handset. However, considering that the Q10 with similar hardware is now available for Rs 24,000, the Classic's Rs 31,000 price tag seems unreasonable.
Rating: 3.5
Construction: 4/5
Aesthetics: 4/5
Portability: 4/5
Display: 3.5/5
Camera: 3/5
User Experience: 4/5
Multimedia: 3/5
Battery life: 3/5
Ecosystem: 2/5
Affordability: 2.5/5
TAGS: Mobile Phones, BlackBerry, Classic, BlackBerry Classic, BB 10