Lenovo Vibe Z2 Pro Review: Not So Positive 'Vibe' | TechTree.com
Lenovo Vibe Z2 Pro Review: Not So Positive 'Vibe'
Lenovo's top-end phone disapoints in terms of user experience.
Rating

2.5
/5
12th Feb 2015
Pros:
Crisp display; Excellent for gaming; Great for watching movies.
Cons:
Too big to be a phone; Pathetic software customisation; Average battery.
Lenovo Vibe Z2 Pro
Price: Rs 33,000
Back in 2005, Lenovo acquired IBM's PC division to strengthen its position in the computers business. Today, it's the numero uno PC manufacturer beating biggies such as HP and Dell. After buying out the Motorola's phone device decision from Google, the Chinese manufacturer will definitely want to replicate its success story in the smartphone space. It has recently launched the Vibe Z2 Pro that has potential to take on most flagship phones.
Design
Lenovo's recent premium phones have uncanny resemblance with Sony's Xperia line-up. Especially, the Vibe Z2 Pro's front looks a like the Xperia Z3. That said, I must admit Lenovo's metallic unibody feels compared to Xperia's slippery glass back. Another thing that grabs your attention is thin bezel. It reduces the handset's footprint, but adversely affects handling. Due to small bezels you unknowingly end up clicking objects on the touchscreen.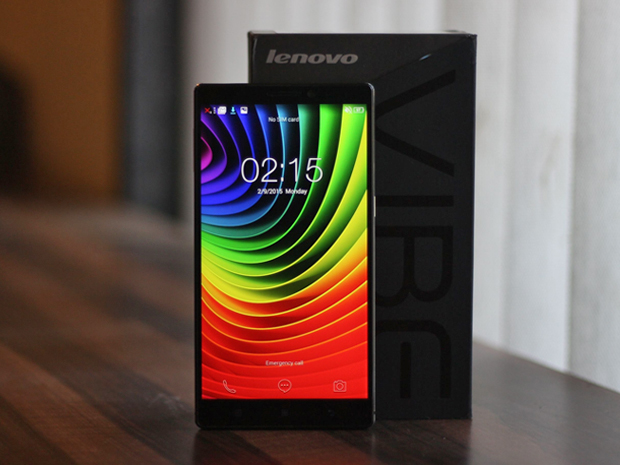 At 7.7 mm, the Vibe Z2 Pro is impressively thin. It does have a protruding camera lens though. And at that point, the handset is around 1 cm thick. Thickness is not a problem, but the phone's sheer size is - it hampers the handset's portability. Forget one-handed use, the phone doesn't properly fit in the pocket. Oh and whatever Lenovo has done around the camera looks weird. The red contour, black metal, and four screws look completely out of place.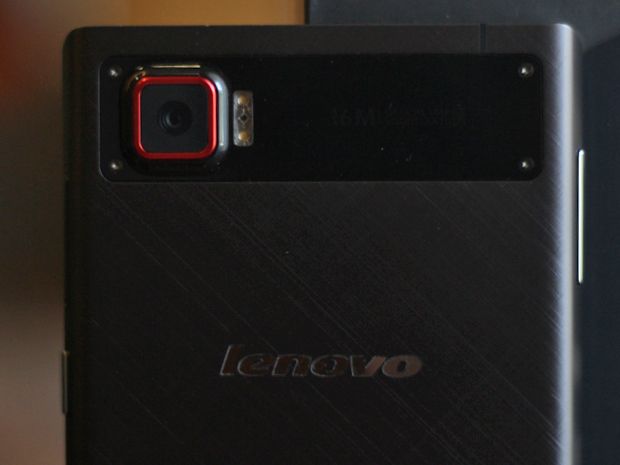 The phone has capacitive navigation keys with back-lighting. Lock button is on the right hand side. SIM slot sits besides that. On the opposite side is a volume rocker. Speaker grille and a micro-USB port are on the bottom side. Since it's a unibody design, the battery is non-user replaceable.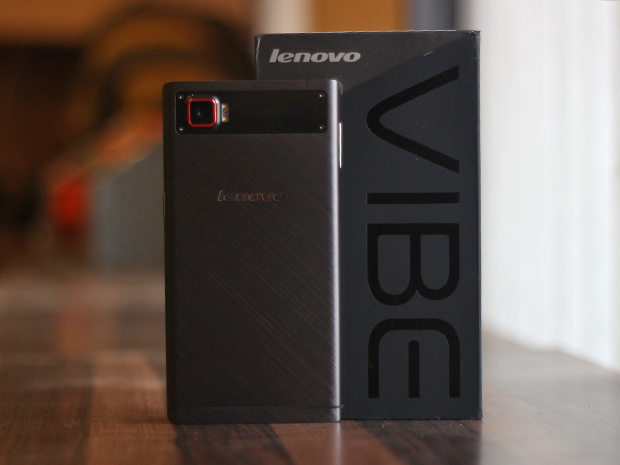 Display
The Vibe Z2 Pro comes with a 6-inch Quad-HD display. With the screen resolution of 1440x2560, it has impressive pixel density of 490 ppi. Needless to say, the screen is very sharp. If you are wondering if it is any better than those Full HD screens, the answer is 'No'. Unless you use magnifying glass, you cannot tell a difference between the Full HD and Quad HD one. Since it is an IPS panel you get good colour reproduction and wide viewing angles. Thanks to Lenovo's software, you get three viewing modes namely default, comfort, and super bright. You also get an option to manually adjust tone, saturation, and contrast. Lastly, there's a Gorilla Glass 3 for scratch resistance.
Specifications
Lenovo's Vibe Z2 Pro comes with a quad-core Snapdragon 801 chipset clocked at 2.5 GHz. There's Adreno 330 GPU to handle gaming. Multitasking is taken care off by 3 GB RAM. In the photography department, you get a 16 megapixel autofocus camera with OIS (Optical Image Stabilisation) and 5 front-facing snapper for selfies. The dual-SIM phone supports 4G LTE. Other connectivity options include Wi-Fi, Bluetooth 4.0, micro-USB 2.0 port, and NFC. The phone lacks a microSD card slot, but the onboard 32 GB of internal storage is more than enough. To keep this powerful phone running, there's a huge 4000 mAh battery.
Software
The Vibe Z2 Pro ships with Android 4.4 (KitKat). Like most Chinese brands, Lenovo has heavily modified the user interface, and the result is hideous. The Vibe 2.0 UI, as Lenovo likes to call it, is a mess that combines garish interface elements and bad selection of colours. The phone comes with six themes — DaVinci, Pulse, Age, Ribbon, Less is more, and Mirage (the default one). Of these, not a single one is pleasant to look at.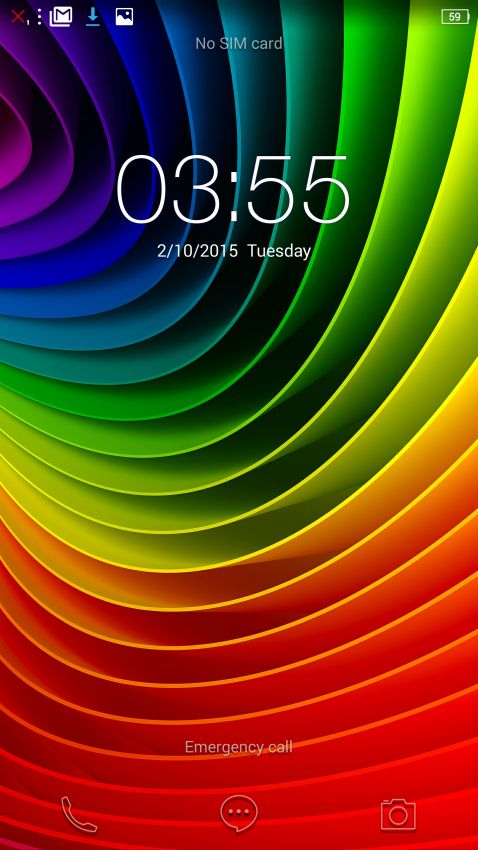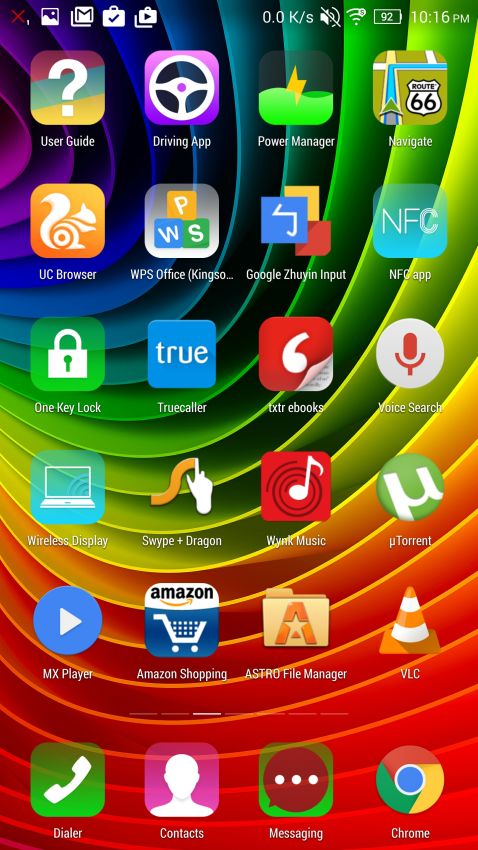 If you think the Koreans are bad at software design, you have to see what this Chinese brand has done here. The icons and folder view are a cheap imitation of Apple's iOS. To stand out, Lenovo has added a feature that lets you change a wallpaper using the page flip gesture. I'm sure 12 year old kids are going to love this. Some interface elements even overlap each other. In the left hand side screenshot, you can see that the text 'Games' is overlapping the clock and battery reading.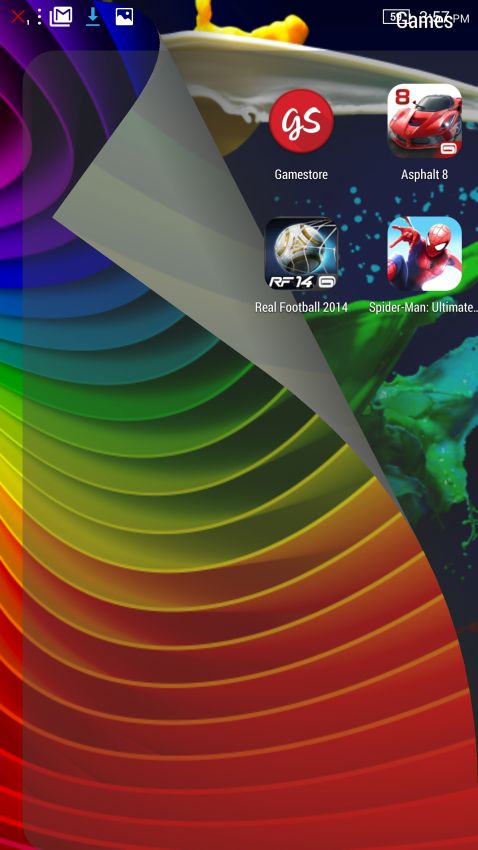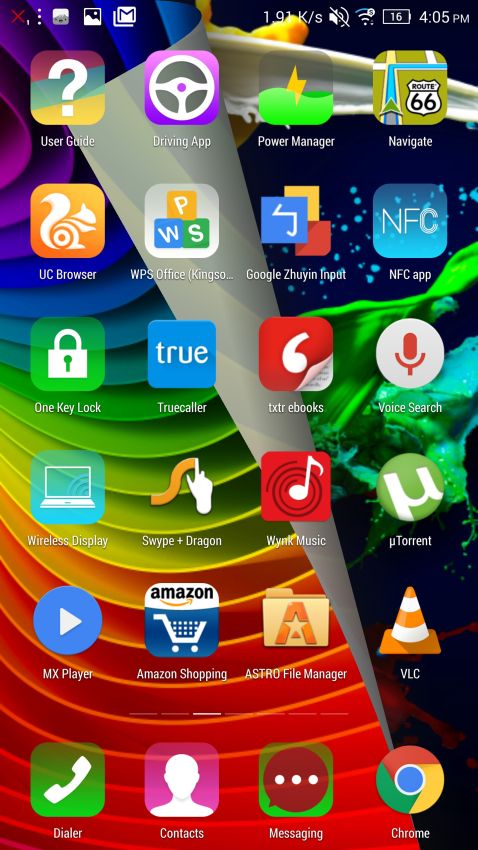 Like any high-end Android phones these days, the Vibe Z2 Pro comes with obligatory gesture controls. As usual, these call gesture, video gesture, shake lock are a hit-and-miss affair. Oh and dare I forget the Micro Screen feature. Draw a 'C' from the edge of the screen and the screen area shrinks in a weird way. That's one of the worst implementations of usability feature I have seen in my life. Rather than explaining it in words, I'm posting a couple of screenshots.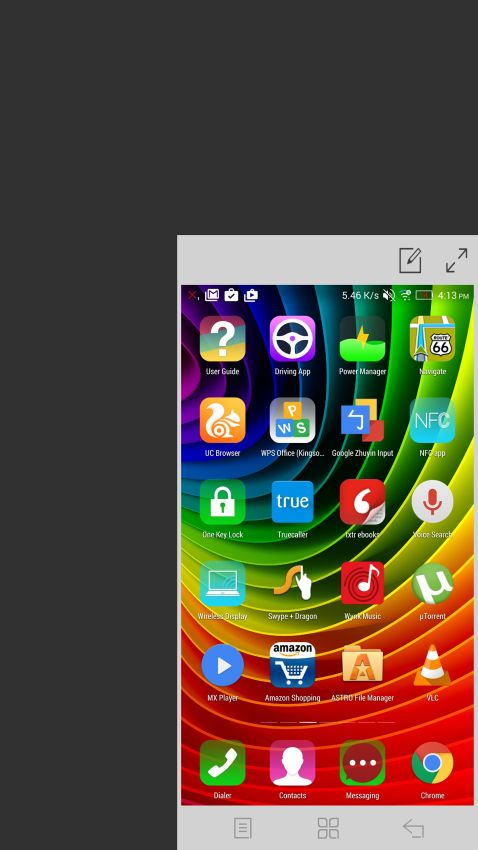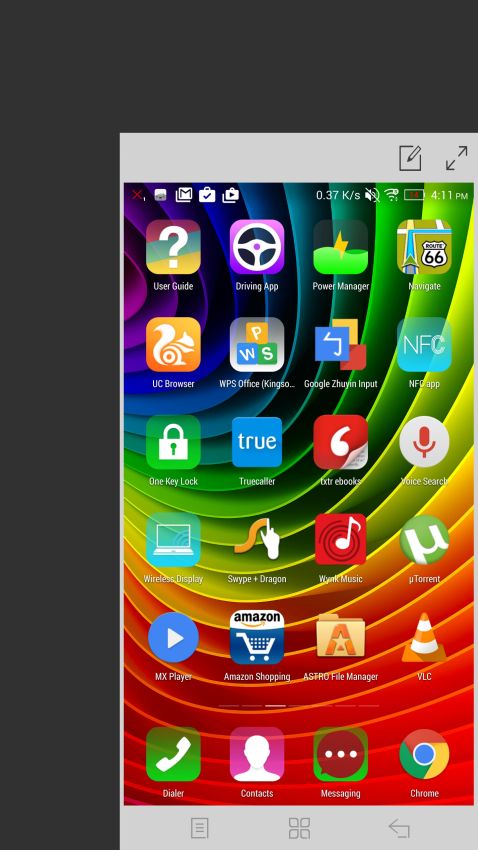 Fancy features take a toll and resources. So I was not shocked to see almost 2.4 GB of Random Access Memory hogged in the idle state. So yes, Lenovo's user experience sucks, but there is something this phone is good at and that's gaming. The Vibe Z2 Pro is incredibly powerful, and it has no issues running every high-end game I threw at it.
Media
Apart from gaming, the Vibe X2 Pro shines when it comes to content consumption. Movies look amazing on this handset. The built-in video plays many popular formats. If in case you want advance controls, you can download quality third-party video players from Google's app repository. Lenovo is so hell-bent on making everything obtrusive that using volume controls while watching a movie looks like this: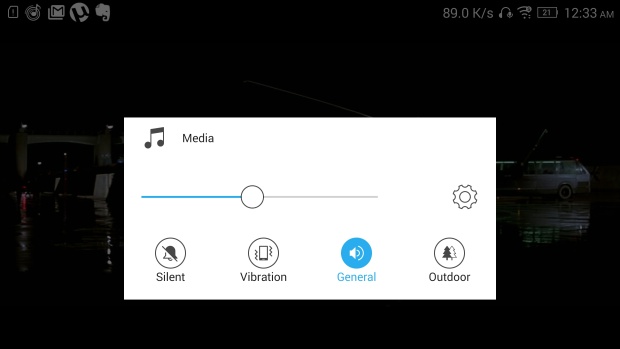 After making so many unnecessary changes to Android, Lenovo seems to have forgotten to develop its own music app. So you have to count on Play Music app to look after your songs collection. The phone ships with decent earphones. More importantly, the phone's sound output is very good. When paired with good IEMs from Sony, I was pleased with the depth in sound.
Camera
The Vibe Z2 Pro comes with a 16 megapixel camera with dual-LED flash. The camera assembly features OIS (Optical Image Stabilisation). Lenovo camera app offers two ways of snapping photos — basic and professional mode. The Pro Camera is shameless copy of Nokia's (Microsoft) Lumia camera interface introduced with the Lumia 1020. Lenovo has taken the liberty to copy every aspect of the Lumia camera, but the implementation is not that good. For starters, in spite of featuring a powerful processor, the viewfinder stutters while panning.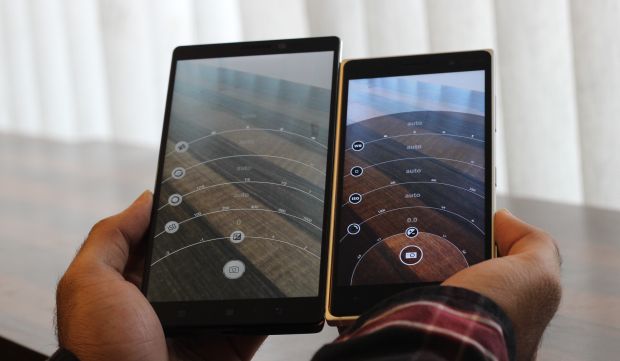 Lenovo Vibe Z2 Pro (left) and Nokia Lumia 830 (right).
The camera produces good results in daylight. The images contain impressive amount of detail. However, the colours don't look accurate and noise levels are more than what I had anticipated on a 16 megapixel camera. What's disappointing is that the low-light shots contain rampant visual noise.
Video recording is where you the OIS actually makes the difference. The camera skillfully cancels minor hand-shakes. It records QHD videos at 30 fps.
Cellular
During my week's usage, the phone's network reception was very good. In the messaging department, you get Swype + Dragon along with the standard Google keyboard.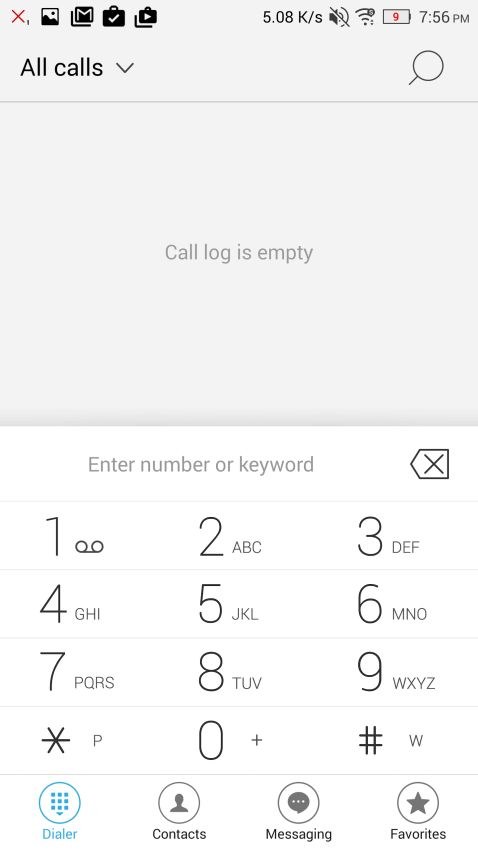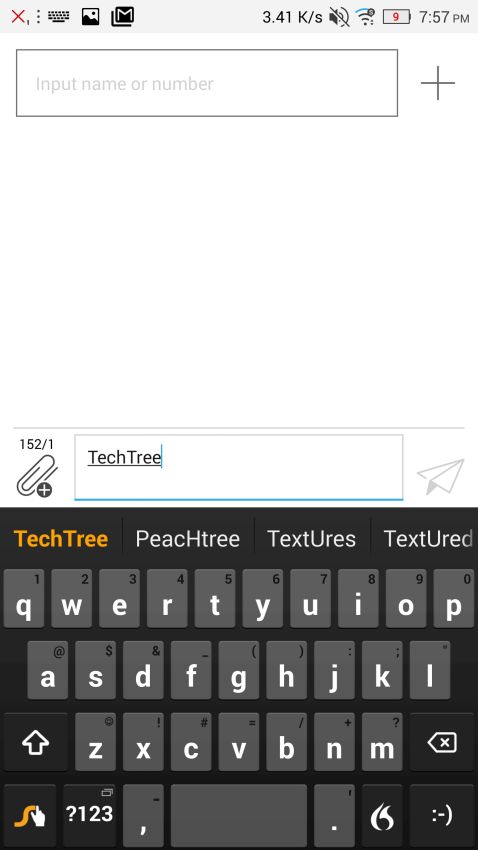 Battery
Supporting pixel-packed screens and absurdly powerful processor takes a toll on the battery life. Under normal use the juice only lasts for over a day. I know what you are thinking. The thing has a 4000 mAh battery right? Well, without optimisation that's just a number.
Verdict
The Lenovo Vibe Z2 Pro is proof that smartphone makers are running out of ideas. For most of these brands innovations mean big screen and fast processor. So yes, the Vibe Z2 Pro scores well in terms of fire-power. However, Lenovo has sidelined ergonomics and user experience. If I'm spending around 33 grand, I would not put up with a phone that features tasteless interface. In short, do not buy this handset. It is not worth your hard-earned money.
Overall: 2.5
Construction: 4/5
Aesthetics: 3.5/5
Portability: 2/5
Display: 3.5/5
Camera: 3.5/5
User Experience: 2/5
Multimedia: 4/5
Battery life: 3.5/5
Ecosystem: 4.5/5
Affordability: 3/5
TAGS: Mobile Phones, Android, Lenovo, Lenovo Vibe Z2 Pro