Motorola Nexus 6 Review: A "Big" Hassle | TechTree.com
Motorola Nexus 6 Review: A "Big" Hassle
The latest Android flagship feels like a thigh guard in the pocket.
Rating

3
/5
23rd Jan 2015
Pros:
Excellent screen; Powerful hardware; Perfect for enjoying movies.
Cons:
Awkwardly big; Done-to-death design; Software doesn't take advantage of the screen size; Average battery; Expensive.
Nexus 6 (32 GB)
Price: Rs 44,000

Nexus phones are considered as holy grail of Android. Unlike other Android handsets from Samsung and HTC, Nexus devices come with vanilla Android ROM. Additionally, Nexus phone are generally known to offer relatively better price to performance proposition.
Feels Like A Thigh-Guard
For years, Motorola has been known for its design innovations. No mobile enthusiast can forget the charm of the iconic Moto StarTAC and RAZR V3. Recently though, the company has showing a lethargic approach towards aesthetics. It's ok for budget smartphone to sport an uninspiring design, but if a handset costs Rs 44,000, it better be stylish. And unfortunately, the Nexus 6 is anything but good looking. Following Samsung's footsteps, Motorola has been recycling its designs. Doing that once or maybe twice is fine, but there's definitely a problem if your Rs 7000 and Rs 44,000 phones feature a similar design.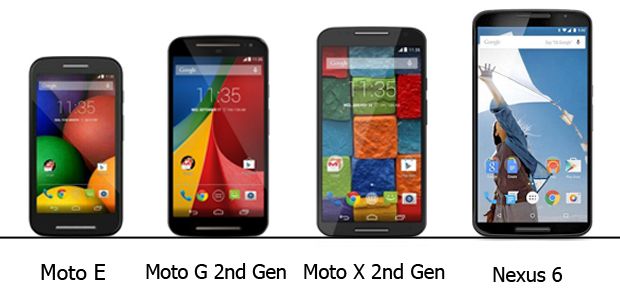 The latest Nexus phone looks like an overgrown Moto X (2nd gen). It has rounded corners and front is dominated by the screen. The metal frame adds sturdiness to the device. The thin bezels enabled Motorola to squeeze in a 6-inch screen while keeping the phone's footprint close to a 5.5-inch iPhone 6 Plus. Can't say if that's a good thing though, as due to the thin bezels you involuntarily end-up touching the screen when griping the phone. This, hampers the touch response of the phone.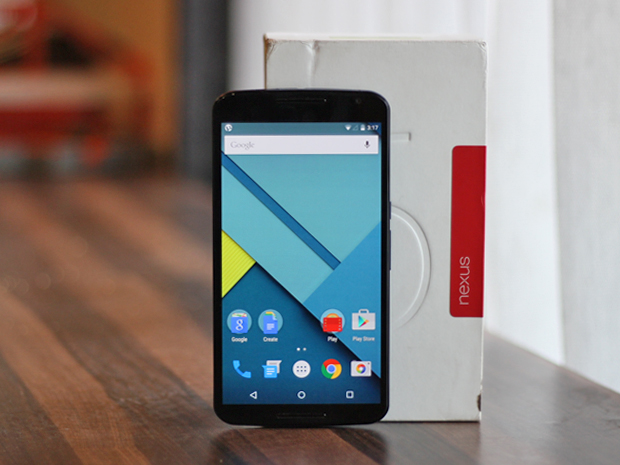 Motorola seems to believe that top-of-the-line phones have to big. Really big! That leaves us with a 6-inch flagship Android device, which is a nightmare in terms of handling. There's no way you can use this phone properly with one-hand. It's as big and awkward as the iPhone 6 Plus. In fact, it's broader than Apple's offering. The phone really feels uncomfortable in your pocket. Especially, if you wear Jeans, the Nexus 6 feels like a thigh guard used by cricketers. It's quite hefty at 185 grams, but that's manageable.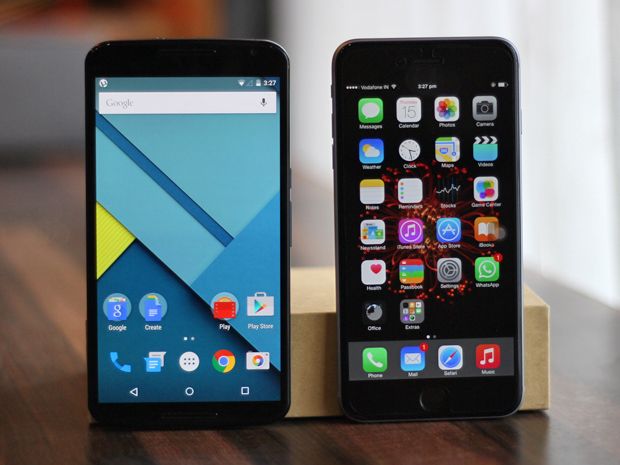 Obligatory iPhone 6 Plus comparison.
The back of the phone features nice curved that feel good in hand. I understand that Android fans would love to flaunt this device, but the typography is in-your-face even for a 6-inch phone. The back-panel is not user replaceable, which is fine. What worries me is the uneven gap between the backplate and metal frame.
The Nexus 6 is said to be water-resistant. This is different compared to Sony's waterproof line-up though. Motorola's offering does not have a specific IP (Ingress Protection) rating. So accidental splashes are fine, but do not immerse it in water.

Gorgeous display
The Nexus 6 features a 6-inch Quad HD AMOLED screen. That makes up for the pixel density of 493 ppi. That's insanely high when compared to the iPhone's Retina display with 325 ppi. While it is good to have pixel-packed screen, the UHD screens don't have any practical advantage over Full HD ones. Since it's an AMOLED panel, you get absolutely vibrant colours. Plus, you don't have to worry about the backlight bleeding problem associated with LCD screens. The viewing angles are wide. The only let-down here is the sunlight legibility. The display is protected by the latest scratch-resistant Gorilla Glass 3. Overall, the Nexus 6 screen is one of the best in the business.
Specs That Can Give Complex To Your PC
Let's talk about the strong points of the Nexus 6. First up is a quad-core Qualcomm Snapdragon 805 chip clocked at 2.7 GHz. Gaming is taken care off by Adreno 420 GPU. 3 GB RAM that taunts my old computer. 32 GB internal storage, but it lacks memory expansion slot. It sports a 13 megapixel camera with dual LED flash. For selfies, there's a 2 megapixel snapper. Other features include dual band Wi-Fi, Bluetooth 4.0, A-GPS, 3220 mAh battery, and Qi wireless (induction) charging support. Undoubtedly, the Nexus 6 is almost unbeatable on paper.
Not So Sweet Lollipop
This is one of the first 6-inch phones to run Android Lollipop out-of-the-box. Rather using extra real estate cleverly, the phone simply scales everything to fit the big screen. Apple offers some good options such as dual-pane in the landscape mode. The awkwardly big app icons on the Nexus 6 make you wonder if there's some sort of accessibility option turned on.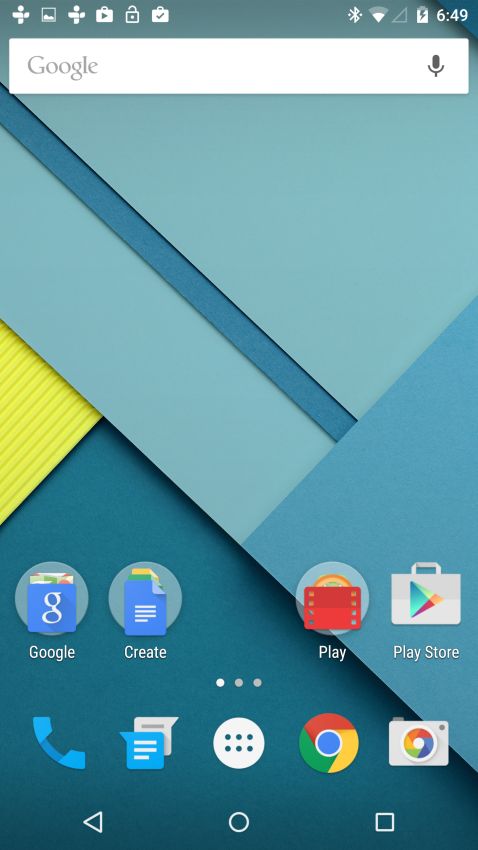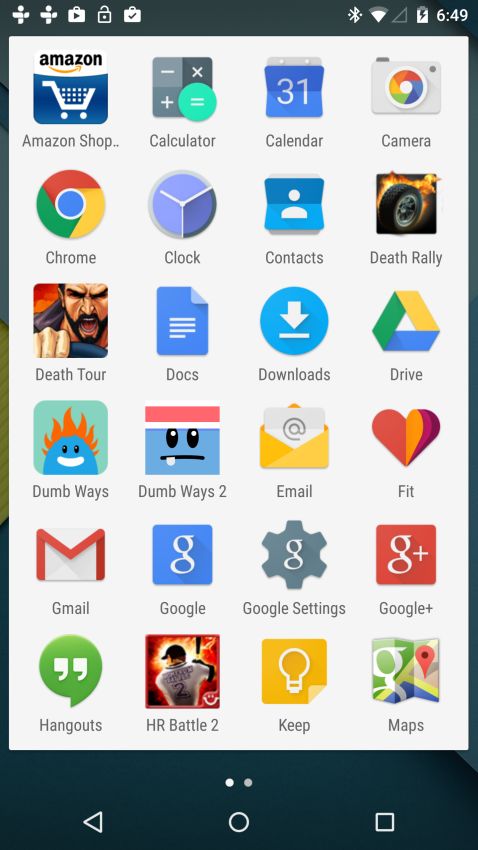 One welcome feature is that the lockscreen now displays all the notifications. If you receive an email, you can click on that notification card to jump right inside the Gmail app without unlocking the phone. That's neat. The search-giant has also added some smooth transition effects to the interface. Jumping from one screen to another does not feel abrupt any more. However, these transition effects don't feel polished compared to that of the iOS and Windows Phone platform.
Even in the latest iteration, the app icons lack uniformity. Even the default icons come in all shapes and sizes. Those who have come from iOS or Windows Phone will find the app drawer quite cluttered. The visual representation of app folder is not nice. In 2015, it kind of reminds me of the Windows 98. Unlike the previous version of Android, you cannot set a transparent background for the app menu.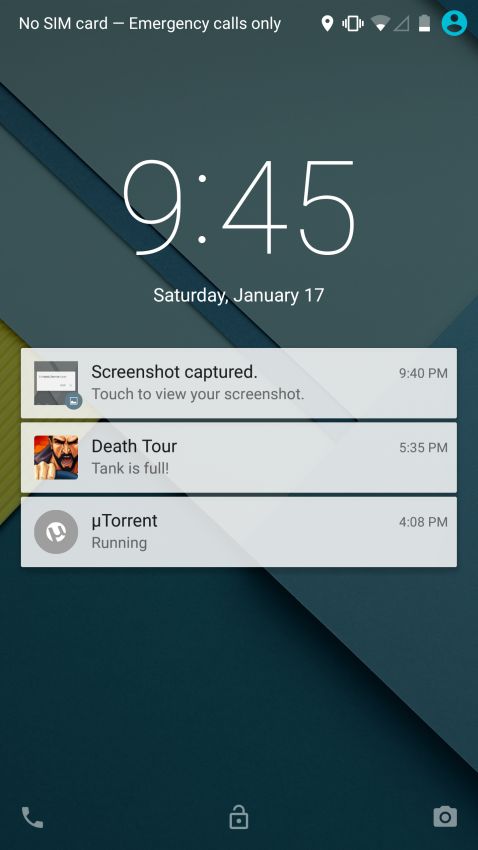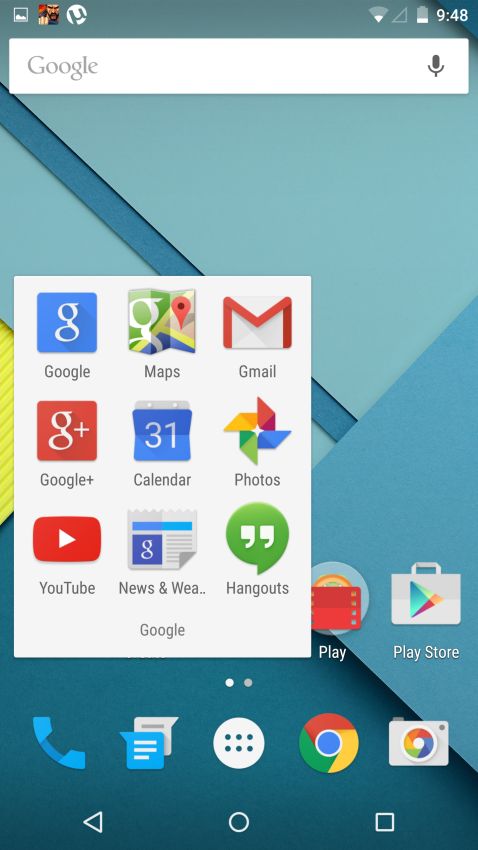 Since the phone is absurdly powerful, it's zippy to use. If I have to be nit-picky, the screen rotation is sluggish. And yes, like any other Android phone, apps do crash on the Nexus 6. For me, Chrome and TuneIn Radio were frequent offenders. Then, there are some games that are not yet compatible with the Nexus 6. Angry Birds: Transformer, Real Racing 3, Death Rally, and Home Run Battle 2 are few I stumbled upon. In use apps, Microsoft Office is not available for this phone. I can live without a few stupid games, but not this app. Anyway, most games run well even with graphics settings maxed-out. However, it lacks the iPhone's consistent frame-rates.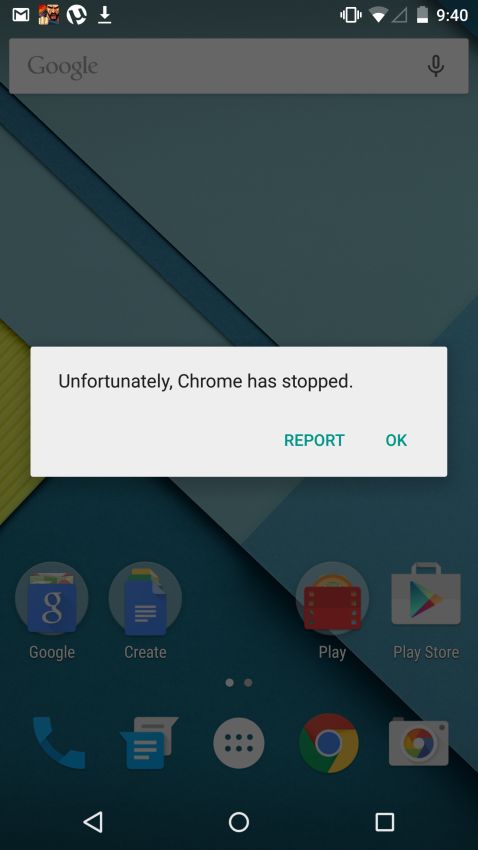 Ultimate PMP
The Nexus 6 front-speakers are loud enough to give netbook a complex. At a quiet place you can watch a movie without plugging in earphones. Speaking On movies, the Nexus 6 does not come with a video player. You have to find and play videos from the Photos app. Yes, it is as silly as it sounds. But, I wouldn't call it an issue since the Play Store is flooded with quality media players.
Play Music is the default audio player on the Nexus 6. It offers equaliser settings, bass boost, and surround sound. The device produces punchy sound. But the output is not clean as you would expect from such expensive handset. The volume controller is plagued with a weird bug. You can raise or lower the volume using the hardware buttons, but those levels don't reflect on the screen. So if you lower the sound levels down to zero, it will still show up at 100% on the software side. That's very confusing. To make the matters worse, you cannot control the volume using the on-screen slider. Let's hope that Google fixes this issue soon.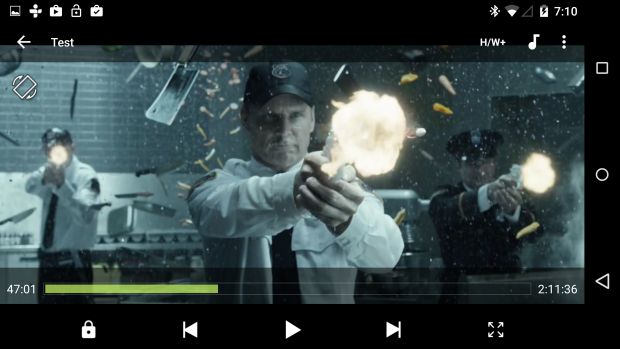 Camera Has Got Better
The Nexus 6 comes with a 13 megapixel camera with dual-LED flash. Motorola has used Sony's image sensor. The camera UI is simple. You get shutter button on the right side. You can click the ellipsis (three dots ) to access settings such as timer, HDR, flash, and grid. Swiping from left to right reveals options such as Photo Sphere, Panorama, Lens Blur, and video switch. For resolution and image quality settings, you have to dig in deep.
The camera is quick to lock focus. More importantly, it produces good snaps. Perhaps the best camera on Nexus line of phones so far. The images contain good amount of detail and colours look natural. Click here for the camera sample. So the camera is good, but is it better than the iPhone 6 Plus or Lumia 930? No, because it disappointing with the low-light performance.
The phone is very good at recording videos. At max settings, the Nexus 6 captures 4K Ultra HD videos at 30 fps. However, considering that the phone has limited storage, you better stick to 720p.
Cellular And Messaging
Lolipop comes with a revamped dialler app. Google has tried to make it look cool by using WP-esque bold colours, but has failed miserably at it. The end result is a garish layout that remind me of colourful Fisher Price toys. Another thing that gets to me is that just to delete a contact, you have to first edit it. To top it off, the options button is placed on the top right side of the screen to make sure you don't reach there easily.
For messaging, you have two apps Hangouts and Messenger to choose from. I prefer the latter as it's less cluttered. A nice touch is that the compose message button is placed near the bottom of the screen area easily accessible to your thumb. The keypad layout is nice and clean and it supports SWIPE functionality.
Battery Is Average
The Nexus 6 packs in a non-removable 3220 mAh battery. Despite the big number, the phone only lasts for a day under normal use. Clearly, pushing pixels for a QHD screen is taking toll on the battery.
Not Worth The Premium Price Tag
The Nexus 6 is a powerful phone with an excellent screen. It's great for watching videos and playing games. Having said that, its boring design and awkward size does not justify its premium price tag. So far Nexus line-up has been ideal for those looking for cost effective high performance phones. Unfortunately, that's not the case with the Nexus 6.
After using it for two weeks, I don't find it manageable as a phone. There's no denying that the Nexus 6 is unbeatable when it comes to synthetic benchmarks, but I don't buy phones to run benchmarks. The Nexus 6 is a reminder that phone manufacturers are running out of innovations. For the sake of upgrade, these companies are going for bigger screens and faster processors. I'm tired of this number game, as the performance improvements are barely noticeable in day-to-day use. I wonder how long before the consumers realise that.
Overall: 3
Construction: 3.5/5
Aesthetics: 2/5
Portability: 2/5
Display: 4.5/5
Camera: 3/5
User Experience: 3.5/5
Multimedia: 4.5/5
Battery life: 3/5
Ecosystem: 4.5/5
Affordability: 3/5
TAGS: Mobile Phones, Android, Nexus, Motorola, Nexus 6, Google Nexus 6