First On TechTree: Review: Canon IXUS 310 HS
Stylish, but a bit too expensive.
Rating

4
/5
25th Oct 2011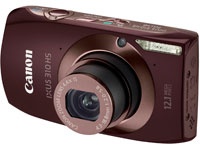 Pros:
Good image quality; Stylish form factor; 1080p recording; Large touch screen with good visibility.
Cons:
Noise in images and videos; Screen not very responsive; No dedicated video record button; Limited manual focus; Video capture file size restricted to 4 GB; Expensive.
Canon IXUS 310 HS
MRP: Rs 19,999
Street price: Rs 19,395 (Flipkart.com; Letsbuy.com)

For those who want style and fashion even in cameras, Canon has the IXUS series with sculpted bodies and decent specs. One such compact camera is the IXUS 310 HS, which is a 12.1 MP camera with 4.4x optical zoom along with Optical Image Stabilisation. This successor to the IXUS 300 HS, has a full touch screen interface with a large 3.2" screen. Powered by the DIGIC 4 processor, this baby can shoot 1080p videos at 24 fps without breaking a sweat, as against the 720p offered by its predecessor. A back-illuminated CMOS sensor promises better photography in darker conditions, while it also boasts of Super Slow Motion movies at 240 fps and high-speed burst stills. While these are the specs on paper, we found out what the camera really delivers.


The Canon IXUS 310 HS.
Bundle
Canon IXUS 310 HS
Li-ion battery
Wrist strap
USB data cable
A/V cable
Manual
Software disc

Design And Features
The Canon IXUS has a curvaceous sculpted stainless steel body with a metallic lustre. The construction is very rugged and the camera appears to be chunky when held in the hands. With a slim profile with only a slight bulge near the lens, it is small and light enough to be carried in a pocket. The retractable lens is protected by a cover, which automatically opens or shuts when the camera is switched on and off, respectively. A pair of stereo microphones is present on either sides of the lens to capture stereophonic audio. The horizontal flash is placed on the side away from the shutter button to minimise the chances of it accidentally getting blocked by fingers.
Front view of the Canon IXUS 310 HS.
Most of the controls are present on the top of the camera. The most prominent control button is the large round shutter button encircled by a spring-loaded zoom lever. A rhomboidal power button with a slight central bulge is present just besides it, slightly recessed into the body. Another recessed slider control is present besides the power button, which allows you to switch between Auto and Program mode of shooting.


Top view of the Canon IXUS 310 HS.
Almost the entire rear of the camera is occupied by the 3.2" large touch screen LCD. The only button available over here is the Play button to initiate the playback mode. The screen has double the number of pixels (461,000) as its predecessor (230,000), making the image a lot crisper. With good viewing angles and colour definition, the display is easily visible even under direct sunlight, making it possible to use the camera in broad daylight. This is essential for this camera because it does not come with an optical viewfinder. All the familiar Canon UI is present in this camera as well, albeit with touch control. A vertical list of icons is placed on the left of the screen, which can be scrolled by vertically swiping at the screen. Because the controls are placed so close to each other, you will be in a fix if you have fat fingers, thus unintentionally touching another control instead of the one you actually intended to touch. Although Canon states that the screen is capacitive, it exhibits the lack of responsiveness of a resistive screen. Canon also states that this screen is resistant to scratches.


Rear view of the Canon IXUS 310 HS.
The battery compartment is present below the camera, protected by a sliding door. This compartment also houses the SD memory card slot. The battery is a 1000 mAh Li-ion proprietary battery. There is a threaded metal socket to attach a tripod, which is placed off the centre of gravity, although it does not matter much in a camera as light as this one. A mini-HDMI port along with a mini-USB slot is present on one side of the camera protected by a flap, while the other side has a sieve behind which the speaker is placed.

The camera has integrated iSAPS technology, which analyses the scene being photographed and automatically chooses the best scene mode. The shutter priority mode lets you set a shutter speed from as high as 1/1600 of a second to as high as 15 seconds, while the aperture priority range covers F2.0 to F8.0. The large touch screen has been used to provide touch-to-focus functionality. However, there is no way to choose the focal distance. This makes it difficult to focus on subjects in situations such as when they are behind glass or grills, where the camera refuses to focus on the subject, preferring to focus on the glass or grills instead. The lack of a physical mode dial is evident, especially when you have to go inside the touch menu every time you want to change the mode, something which would have been easily achieved, had there been a physical mode dial.

Performance
The camera becomes operational within a second of pressing the power button. The average gap between two shots was found to be around 2.5 seconds.

Let us now take a look at the image quality.

The 310 HS features 4.4x optical zoom, which is usually the case with cameras sporting a slim and small form factor, although a slightly bulging camera such as this one could have easily accommodated more.


Shot without zoom.
Shot at 4.4x optical zoom.
Let us now take a look at the Macro mode shooting capabilities of the camera.


5-Rupees coin shot from a distance of just 3 cm with an exposure of 1/60 sec at ISO 100 in daylight.
Cropped photo of the coin at actual size.
Although the minimum distance at which the subject needs to be placed from the lens is restricted to 3 cm, Macro shooting results of this camera were found to be very good with the camera able to lock focus very fast.


Photo of a tree taken in daylight at ISO 250 with an exposure of 1/125 second.
ISO Test
In addition to Auto ISO, ISO sensitivity modes of 100, 200, 400, 800, 1600, and 3200 can be selected in Programmable mode. In general, you get good results up to ISO 200 if you zoom in to see the details, but noise increases noticeably with anything above that. But if you want to get a postcard size photo print, good results are obtained even at ISO 400. However, the image severely degrades after that with noise levels becoming too dominant to ignore. We must mention here that at least some amount of noise is noticeable even at ISO 100.
Box of crayons used as test subject for ISO sensitivity test.
ISO 100
ISO 200
ISO 400
ISO 800
ISO 1600
ISO 3200


One good thing we noticed with the camera is that fringing is almost non-existent, and it remains so even at the highest magnification. There is only a slight vertical fringing observed only at the highest magnification level and only on the edges of high contrast subject. Barrel distortion has been managed well and the focus is even throughout the field. Photos captured by the camera are a little soft, but they capture all the minute details with brilliant colour reproduction.

Thanks to the excellent optics and Image Stabilisation, the video quality is not bad, but it does not come close to what you get with a high-end HD camcorder at 1080p HD, primarily due to the presence of noise even when the scene is well-lit. Another problem is that Canon has restricted the recording file size to just 4 GB or 10 minutes at 1080p or 1 hour for other resolutions, making it impossible to record long clips. The lack of a dedicated video record button can make it difficult and inconvenient, because the only way to start video recording is by means of a red dot of a control button on the touch screen. Optical zoom is enabled while video shooting, although the zoom speed has been reduced, possibly to make sure that the motor works silently while the movie is being captured. Audio is recorded in stereo with a good separation for the left and right channels. Super Slow Motion movie capture works like a charm, allowing you to capture fast motion at 240 fps and play it back at the normal speed, which is a tenth of the recorded speed. One major problem we noticed while recording videos is that the captured file is saved almost uncompressed on the SD card. Recording for just 5 seconds in 1080p created an 19 MB file. The file is saved in the MOV format.

Good ergonomics has been deployed in the camera, making it possible to use it over an extended period especially because it is light. The buttons have excellent feedback and feel. The overall user interface is easy to use, but a new user may find it difficult to locate the manual controls which are situated deep inside the touch interface. The Li-ion battery is supposed to last for about 180 shots as per official specifications.

Verdict
The Canon IXUS 310 HS is a splendid example of an amalgamation of style, performance, and quality. It doesn't fail to amaze with its good still image quality and 1080p video capture, although we must add the otherwise flawless performance is marred with noise in the image at all ISO levels. The design is good, the size pocketable, while the UI with a huge 3.2" full touch screen easy to use. Manual controls or even shooting modes are not available by direct control buttons, but only after you go inside the touch UI, which may be daunting and confusing to many. The 4 GB \ 10 minutes limit of video capture is also another limitation enforced by Canon, probably to force people not to use this as a camcorder and buy its expensive models.

One of the major negatives about this camera is that the IXUS 310 HS, which is available in brown, pink, and silver, is priced very expensive at an MRP of Rs 19,995 with a 1-year warranty. At this price point, the Sony TX9 would have been a worthy competitor. However, it is no longer available, thus leaving this camera with no competitor to compete against. You can get this camera for just a little less at Rs 19,395 from Flipkart.com and Letsbuy.com.

Design And Build: 4.5/5
Features: 4/5
Performance: 3/5
Value For Money: 3.5/5
Mojo: 4/5

Overall: 4
TAGS: Canon, IXUS, Cameras, Jayesh