Review: JBL Synchros Reflect In-Ear Headphones | TechTree.com
Review: JBL Synchros Reflect In-Ear Headphones
JBL's sports earphones have put-on weight.
Rating

3
/5
05th Dec 2014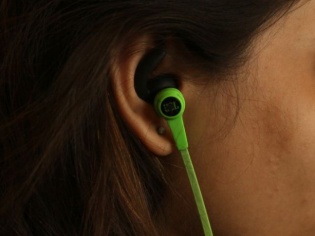 Pros:
Clean sound even at high volumes; Punchy bass; Funky design; Convinient in-line remote.
Cons:
Earphones are heavy; Silicone is not very flexible.
JBL Synchros Reflect In-Ear Headphones
Street Price: Rs 4000

Most technology addicts are prone to unhealthy lifestyle. That's simply because their work requires them to sit on their asses for hours. Don't get offended, I belong to this group too. A few months back, I tried to develop the habit of jogging. However, we are so hooked-up to the Internet and media that running without any form of entertainment gets rather boring. To overcome this issue, I started listening to 'house' music while jogging (I know this genre sucks, but it makes you want to run). Then, I ran into a new problem. The earphones would bounce out of my ears. This is where the JBL Synchros comes into the picture. These IEMs (In Ear Monitors) are tailored for such requirement. Lets see if its worth getting one of these?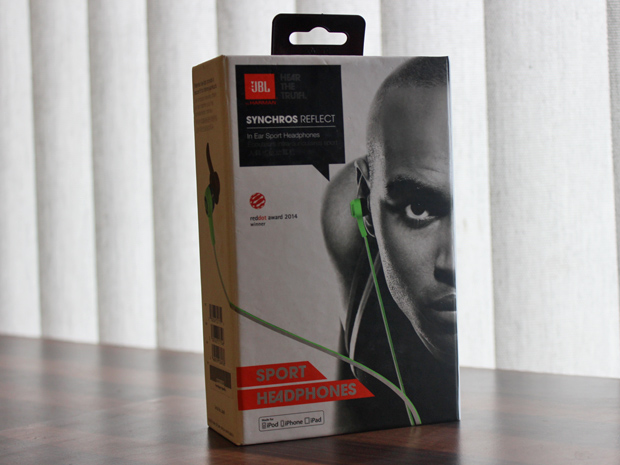 Design
The Reflect In-Ear headphones come in Pink, Blue, Green, and Black. As obvious from the pictures, we received the Green one for review. Most people will find it too flashy. However, that excessive flashiness is intentional. If you are jogging on a street in the evening (dawn is out of question for us lazy buggers), these bright coloured cables can save your life with its high visibility. I reckon, that's also the reason why it's called JBL 'Reflect'.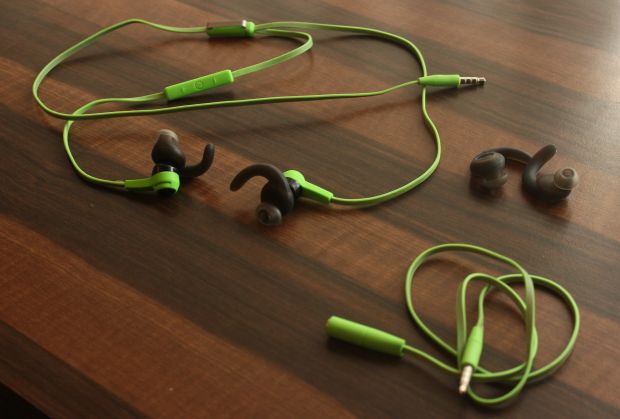 The length of the cable seems a little shorter than ordinary earphones. This is to reduce the slack if your phone rests on an armband. You can increase its length with the bundled extention cable. Another thing worth mentioning is that the earpiece are magnetic. When not in use, you can snap them together. On the flipside, the magnets block the JBL branding in a weird way. Being a sport-centric product, the JBL Reflect is sweat-proof.
To make sure that the earphones remain in your ears during the workout, JBL has designed angled ear-tips. During my week's usage, not once did they fall out of the place. The tip design is very similar to Bose's SoundTrue in-ear monitors. They're quite tricky to wear though. You have to press them really hard to for the perfect fit. On the other hand, I found the silicone in Bose's product more flexible and easy to wear. The biggest gripe I have is that the JBL Synchros are heavy. Wearing it for half an hour makes you feel uncomfortable. Don't be surprised if it induces headache after hours of use.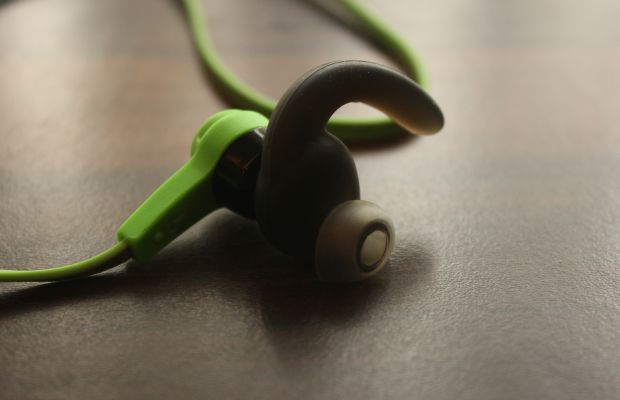 Performance
The JBL Reflect produces distortion free sound. What's more, it retains it even at high volumes. I tested it on the HTC One 8x (Beats Audio), Lumia 830 (Dolby), and Sansa PMP (regarded best for music). With all three devices, the earphones performed well. Its ability to enhance low-frequencies is easy to detect on the Sansa player. While listening to Sinéad O'Connor's "Nothing Compared 2 U", I felt that the bass is a little exaggerated, but then that's not necessarily bad for sports headphones. After all, the excessive bass might encourage you in workouts. For those not in the know, Bass and Bassoon are mostly low-frequency sounds. On the other hand, highs refers to treble — flute and violin. The highs are more accurate. Overall, the earphone's sound quality is good enough to please most users. Just don't expect it to impress audiophile though.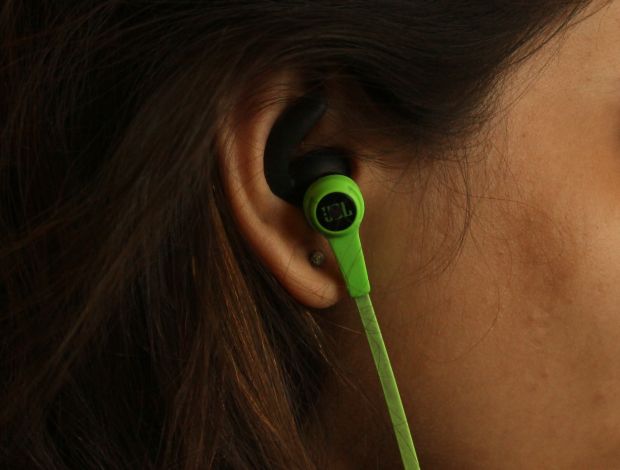 The IEMs have a built-in microphone that allows you to answer calls. To save you from the trouble of pulling the phone out of your pocket, the earphones come with an in-line remote control. It features volume controls and call receive/end button that also doubles-up as a pause resume key. There are two variants of this product — one compatible with iOS and other with Android. If you are a Windows Phone user, the iOS version works fine.
Verdict
For any product, design, performance, and comfort are the decisive factors. In Synchros Reflect's case, JBL gets the first two right. However, it loses out on the last point, comfort. As mentioned earlier in the article, these earphones are heavy. It makes you feel uneasy in a short duration. If you spending Rs 4000 earphones, this is undoubtedly a deal-breaker. If you are planning to buy a comfortable sports IEMs, the Jabra Active Music (approx Rs 3200) is a good option. Those willing to spend more should consider the Bose SoundTrue in-ear headphones (Rs 6200). Finally, for budget buyers, Panasonic RP-HS200E-K Earhook offers good value.
Rating: 3/5

Design And Build Quality: 4/5
Features: 3/5
Performance: 3/5
Value For Money: 3/5
Mojo: 3/5
TAGS: Music, Accessories