Review: BlackBerry Passport | TechTree.com
Review: BlackBerry Passport
A solid messaging phone that doesn't fit your pocket.
Rating

3
/5
20th Nov 2014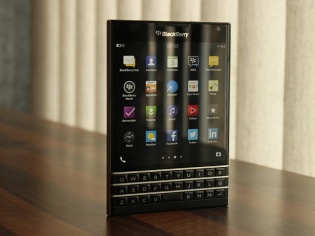 Pros:
Excellent Keypad; Keyboard that doubles-up as touchpad; Great build quality; Long battery life; Compatible with Android Apps.
Cons:
Awkward shape; Dificult to fit in the pocket; Many popular apps are missing, Expensive.
BlackBerry Passport
Street Price: Rs 49,000
Before the iPhone, handsets came in all shapes and sizes. Remember the wacky Nokia G-Gage, clamshell Moto V10, and Sony Ericsson's W550? Gone are those good-old days, what we have right now are boring black slabs. So it's refreshing to see a stand-out phone like the BlackBerry Passport. As opposed to popular all-round devices we see these days, the Passport is a niche product. It's targeted at people who spend their entire day working emails. But, is it the best they can get?
Design
The BlackBerry Passport is a peculiar device. On a first glance, its square design reminds you of the LG Optimus Vu. What separates them, however is BlackBerry's physical keypad. Since that's the highlight of the Passport, we will discuss that in detail later in the article.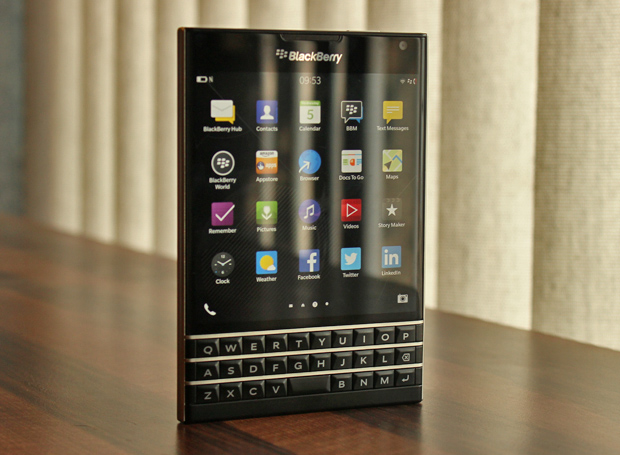 Due to its 4.5-inch square screen, the phone is wider than most devices. It's width is 3.5-inch. That's as wide as holding an iPhone 4s in the landscape mode. You need to operate it with both the hands, but then that's what the QWERTY messengers are meant for.
Weighing in at 196 grams, the Passport has got some heft. But, in return, you get super sturdy construction. The Passport is built around a metal-frame. The front is dominated by a combination of a touchscreen and keyboard. The contour edges on the sides are a nice touch. Moreover, straight lines near keypad and back of the device complement the phone's square design.
The back-panel has a pleasant matte finish that provides some much-needed grip. The rear is slightly covered for better handling. Unlike most BlackBerry phones, this one has a camera protrusion.

Keypad
Keyboard is the most unique feature of the passport. BlackBerry hasn't simply integrated its classic keypad, but has given it a modern twist. As you would expect, the keypad provides proper tactile feedback. It has proper backlighting, so you don't have to guess the buttons in the dark. What's interesting is that the entire keypad is a touch-sensing trackpad. With clever gestures, this takes the typing and scrolling to a whole new level. Type an alphabet on the physical keypad and you quickly get three suggestions. Depending on its relative position, you can select a word by using swipe-up gesture in that part of the keypad. The word prediction is quite good. Once you get used to it, you'll be swiping more than pressing the buttons. The trackpad also comes in handy for scrolling. It helps you avoid obstructing the view while reading.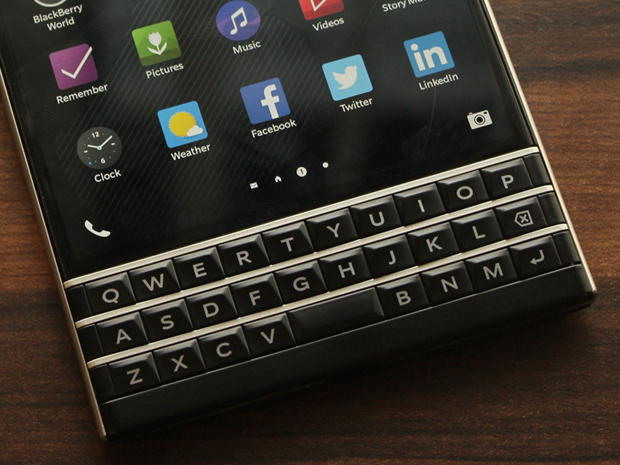 it has its share of niggles though. Since there are no number symbols on the keyboard, you have to go back to the touchscreen for keying-in numbers. This transition between the physical and virtual keyboard is kind of confusing since the latter is dynamic. Most BlackBerry users will also take time to get accustomed to the new position of the space-bar (thankfully, you can simply swipe to the left to delete the character).
Display
Similar to the Q10, the Passport comes with a square 4.5-inch screen. Packing in 1440x1440 pixels, the screen comes with the pixel density of 453 ppi. Since it's an IPS screen, you get wide viewing angles. There's nothing to complain regarding the brightness. Sunlight legibility is surprisingly very good. However, compared to the Q10's AMOLED screen, the Passport's screen is a step-down in terms of colour reproduction.
Key Specifications
In terms of power, BlackBerry has gone all guns blazing. With a Snapdragon 801 chipset and 3 GB of RAM, it can match the might of any Android flagship. Packed with 32 GB internal storage. it also supports up to 128 GB of additional memory. The battery capacity is 3450 mAh. Connectivity options include 3G, Wi-Fi, Bluetooth 4.0, and NFC. As you would expect from Blackberry, the phone's network reception and call quality is top-notch.
Software
The BlackBerry OS is no more an alien platform for tech enthusiasts. A year and half after its inception, it is now quite refined. In fact, BlackBerry's 10.3 OS is looks more polished than Android. The OS didn't lag or stutter on dual-core phones such as the Z10. Now with a powerful quad-core processor ticking inside, it runs buttery-smooth. Be it transition effects or homescreen swipes, you don't get to see any lag.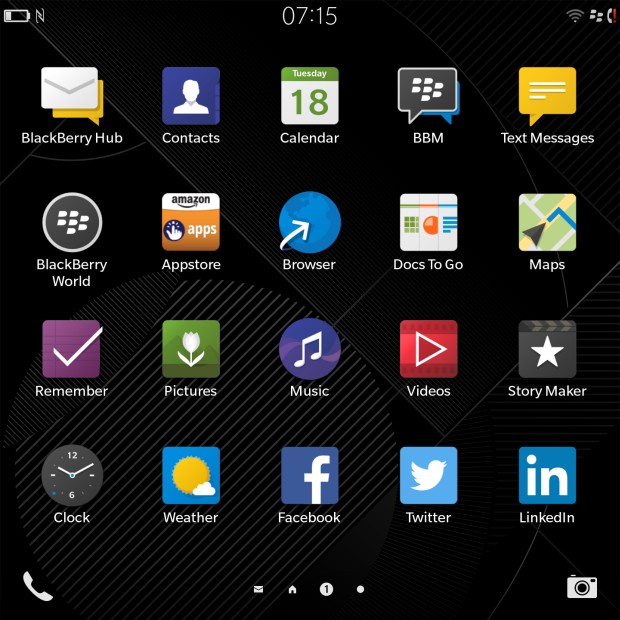 Since the platform lacks conventional menu navigation keys, you have to make use of swipe gestures. You can unlock the phone swiping up from the bottom edge of the screen. Inside an app, the same gesture minimises the app window and take you to the multitasking menu.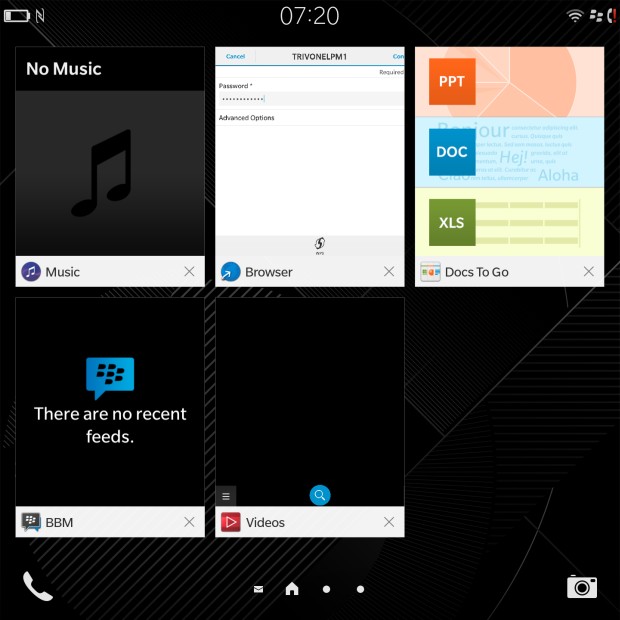 BlackBerry Hub warrants a special mention. It delivers all your text, email, and social network updates in a neatly stacked feed. If you find that overwhelming, you can go for the isolated view. The best part is that you can respond to any email or social networking interaction right from the Hub.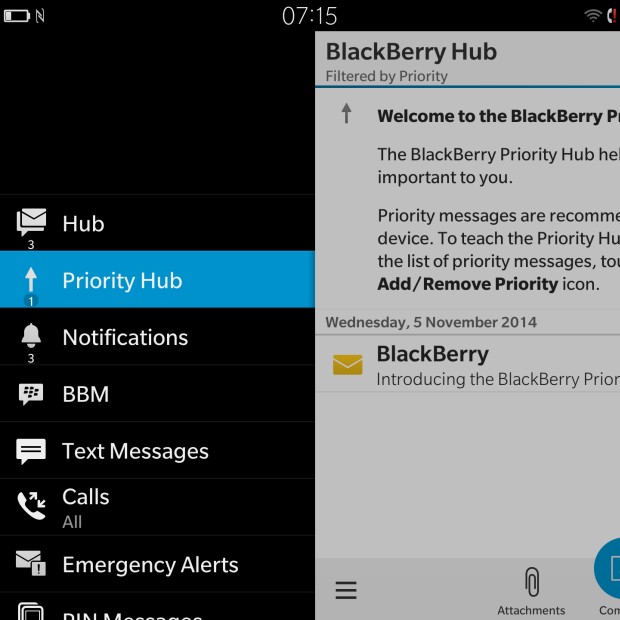 The swipe-down gesture is contextual. For instance, when inside an app, the swipe down gestures brings up app specific settings, whereas on the homescreen, the same gesture gives access to quick toggles for Bluetooth, Wi-Fi, Alarm etc.
Essential apps such as Documents-To-Go, BBM, and PDF reader come built-in. BlackBerry Maps are usable, but still nowhere near HERE Drive and Google maps. BlackBerry's app store has improved overtime. A few popular apps such as Instagram are missing (Actually, lack of Instagram is a good thing). To make up for that, BlackBerry uses the emulation workaround. Blackberry has also partnered Amazon Android Store easy access to Android apps. if your favourite Android app is missing, you can download its .APK file side-load it. It's not all that rosy though, as many apps either don't scale properly or show signs of stutter.
Camera
Let's face it, camera has never been a decisive factor for BlackBerry users. Still, it's good to see BlackBerry bump-up the megapixel count to 13. It comes with usual set of features such as touch focus, burst mode, and geo-tagging. Surprisingly, the camera quality is very good. It's way better than what you get on the media-centric phone Moto X. In low-light also it does a good job. Coming to the subject of videos, it records good quality 1080p videos at 60 fps.
Multimedia
Although not meant for music lovers, the Passport offers excellent sound output. Paired with good IEMs, it delivers clear sound with punchy bass. The video player is quite capable of handling most videos up-to 1080p quality. However, the size is not ideal for watching movies — you get huge banding due to the odd screen size.
Battery
BlackBerry devices are always known for solid battery life, and this one does not disappoint. The 3450 mAh pack easily lasts for two days.
Verdict
The BlackBerry Passport is a odd-looking device. It's uncomfortable for single-handed usage. The phone also feels uneasy in pocket. However, if you are a chat-addict, this is the ultimate messenger phone in the market right now. Since the Passport has no direct competition, you either buy it or go for the conventional handsets.
Rating: 3/5
Construction: 4/5
Aesthetics: 3/5
Portability: 2/5
Display: 3.5/5
Camera: 4/5
User Experience: 4/5
Multimedia: 3.5/5
Battery life: 4.5/5
Ecosystem: 3/5
Affordability: 2/5
TAGS: Mobile Phones, BlackBerry, Passport, BlackBerry Passport, BBOS 10.3, BlackBerry OS 10