Review: All-New Kindle 2014 (Touch) | TechTree.com
Review: All-New Kindle 2014 (Touch)
A must-have gadget for avid readers.
Rating

4
/5
29th Oct 2014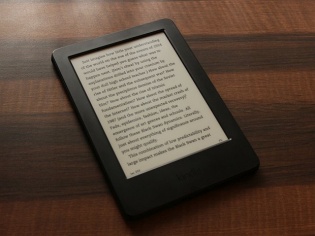 Pros:
Glare free screen; Mimics paper; Great build quality; Excellent battery life; Rich collection of books; Supports a wide-range of formats; Well-priced.
Cons:
Lock screen ads are annoying; Lacks screen illumination.
All-New Kindle 2014 (Touch)
Street Price: Rs 6000

Smartphones have replaced your MP3 players and point-and-shoot cameras. You can even surf the web and watch movies on phones. However, when it comes to reading books, the smartphones and tablets are just not good enough. Of course, there are plenty of book-reading apps available for phones, but squinting on an IPS or AMOLED screen is bad for your eyes. This is where the E-book readers kick-in with its specially design screens that mimic paper. Now that Amazon introduced its new touch-enabled Kindle at an affordable price, is it time to go digital?
Construction
Kindle's design hasn't changed over the years. However, Amazon has refined it in every iteration. This e-book reader won't catch your attention with its beauty, but looks good enough to accompany you. The design is simple. You have a sturdy plastic body that holds the fascia. The matte finish it offers not feels nice, but also helps with the grip.


The screen is a little recessed, making it less prone to damage in case of a tumble or fall. Slightly over a centimetre, the latest Kindle is thin enough for a 6-inch e-book reader. Besides, I don't see a need of anorexic e-book readers. At 190 grams, the Kindle is slightly heavier than a normal smartphone.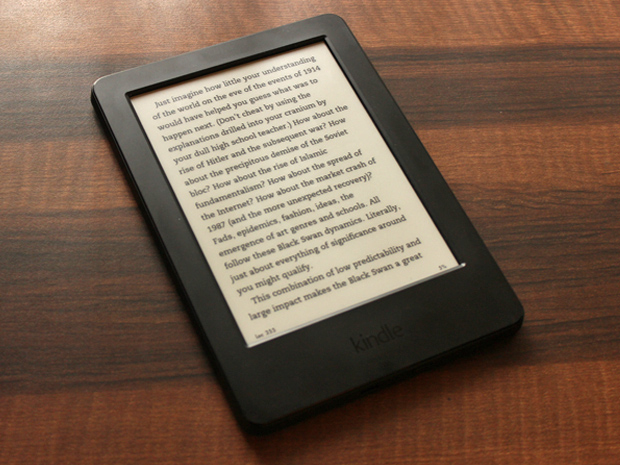 With touch-based navigation coming into play, it's free from the clutter of navigation controls. The only physical button on the device is for Power/Lock. It sits at the bottom along with a micro-USB port. On front, there's subtle Kindle branding. Same can't be said about the back though, as a big Amazon logo "smiles" at you there.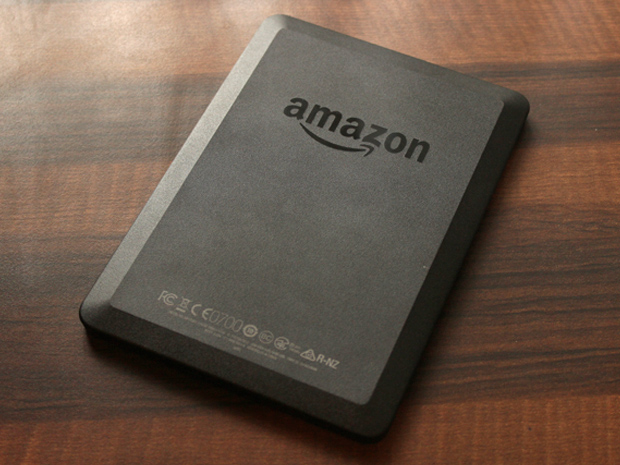 The retail unit includes the all-new Kindle and a USB cable. Thanks to Wi-Fi connectivity option, Amazon proudly tells you that you don't require a computer to download content. However, due to the lack of wall charger, you have to connect the USB cable to your computer for charging.
Screen
While nothing beats the feel of the good old books, the E-ink (electrophoretic)technology is closest thing to the conventional paper. In monocrhome E-ink screens, there are super-tiny microcapsules containing white and black particles. Here the white particles carry a positive charge, while the white particles are negatively charged. When the current passes through this system, these particles change places forming visible text and images.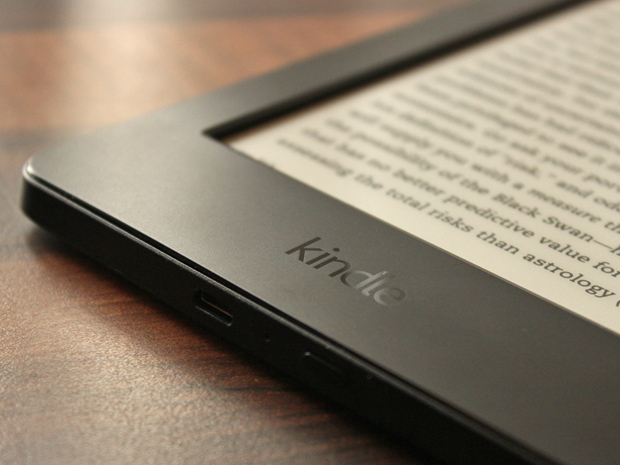 Since these screens are different than your usual LCD or AMOLED screens, their refresh rate is very slow. This is the reason why you see weird transition effects every time the screen content changes. On the bright side, the E-ink screen is free of glare. So compared to conventional displays, the E-ink screen doesn't strain your eyes.
Unlike your smartphone screens, the Kindle's screen doesn't lose its readability in direct sunlight. In fact, it looks even better in bright conditions. However, like the real books, this device does not come with a built-in light. That would have been a nice addition. But, then again reading in dark is bad for your eyes.
User Interface And Features
As mentioned earlier, digital books may not be better than the physical copies. However, they are convenient for sure. When it comes to real books, you have to think twice before carrying more than one. On the other hand, with Kindle, you can take the entire library with you. The device has 4 GB internal storage, which is good enough to hold more than a couple of thousand books. Plus, it's easier to add a bookmark, highlight, annotate, on Kindle. If you are reading some fancy author that requires you to look-up words every now and then, then Kindle's dictionary feature is godsend for you. Whenever you come across a new word, just press and hold it, and you get its definition in no time. Additionally, you can also translate the selected text to other languages.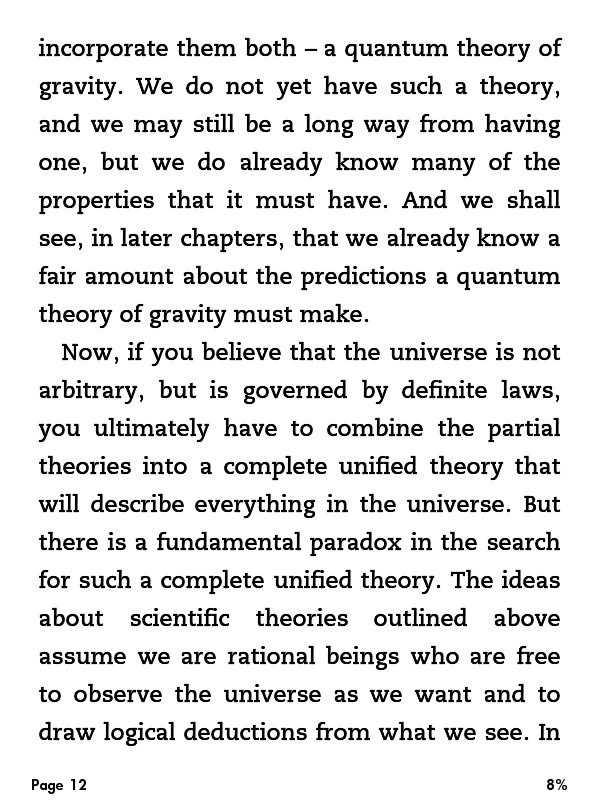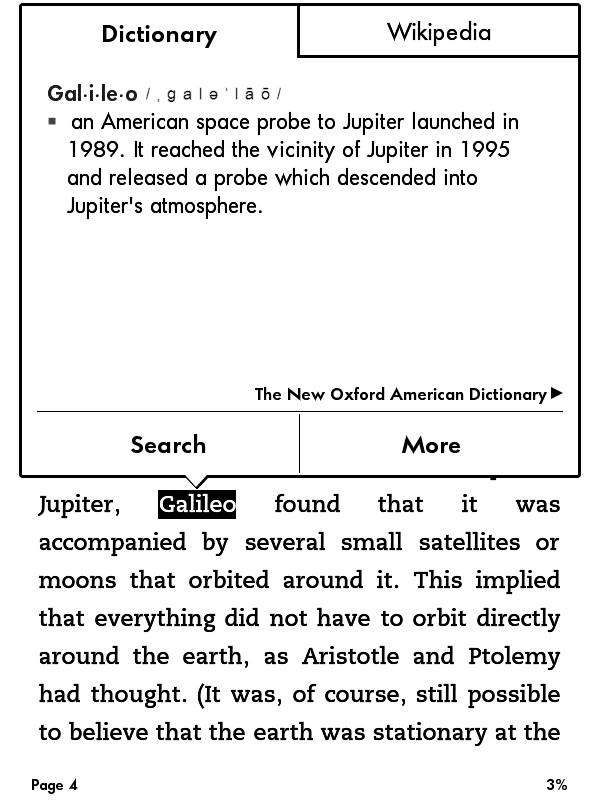 The basic UI revolves a menu bar at the top of the screen. it can be triggered by tapping the top of the panel. The menu provides quick access to Homescreen, Kindle Store, search function, and a settings panel. In reading mode, you get additional options such as font size, go to, notes, and bookmarks. Jumping to the next or previous pages can be done with a a single swipe. You can also tap on the right hand side to go forward and tap on left side of the screen to get back on the previous page. Overall, the latest Kindle is easier to use compared to the non-touch models.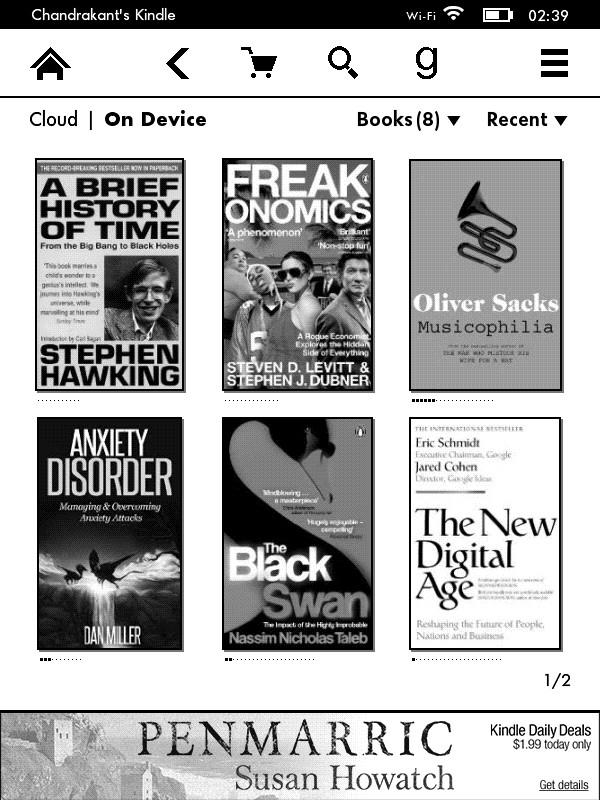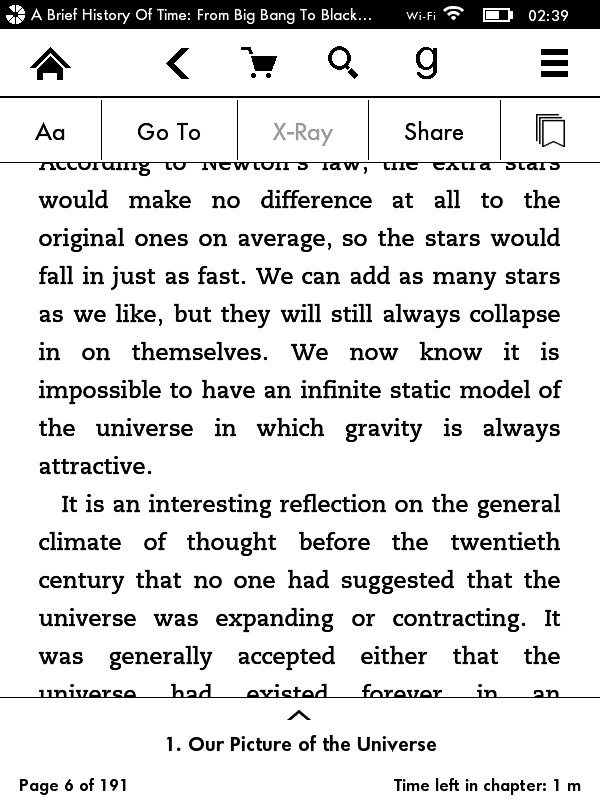 Only thing I hate about this E-Book reader is the way it bombards you with ads. Be it an idle mode or lock screen, it displays screen full of ads. Even while browsing the store, the footer ads nag you.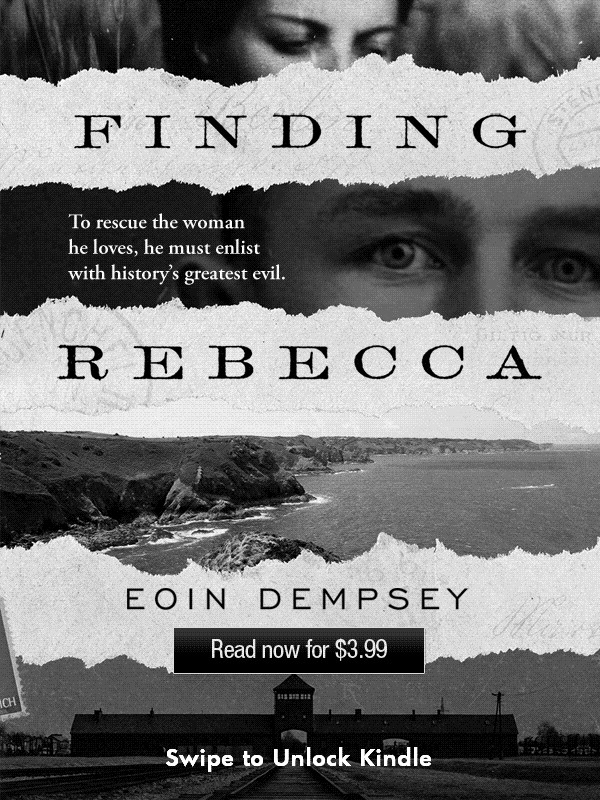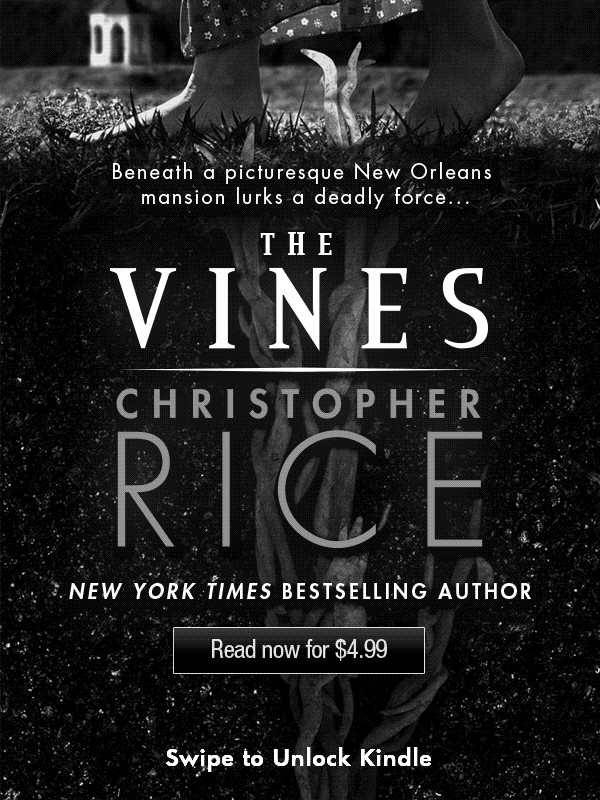 Lock screen ads.
Library
Purchasing books on the Kindle is as easy as downloading apps on your smartphone. Just go to the store, find the book, and purchase. Considering how big Amazon has become over the years, every possible book you can think of is available for Kindle. The prices generally vary from Rs 100 to Rs 500. For instance, books like A Brief History of Time costs Rs 104, whereas trending ones such as RR Martin's A song Of Ice & Fire sells for more than 400 rupees. The pricing is comparable to paperback versions that usually lose shape in a few months. If you don't like Amazon's store, you can download E-books from other sources and load them on the Kindle. The device supports a wide variety of E-book formats including AZW, TXT, PDF, unprotected MOBI, PRC, and Microsoft Word.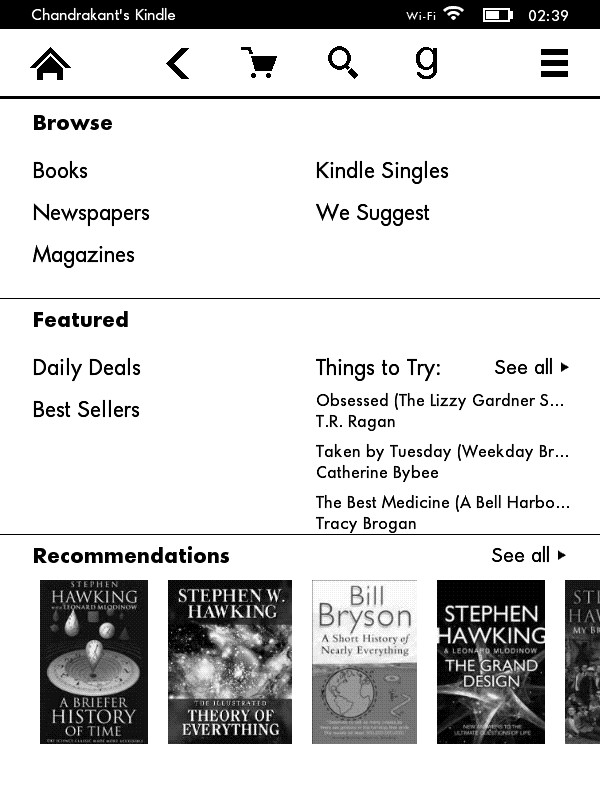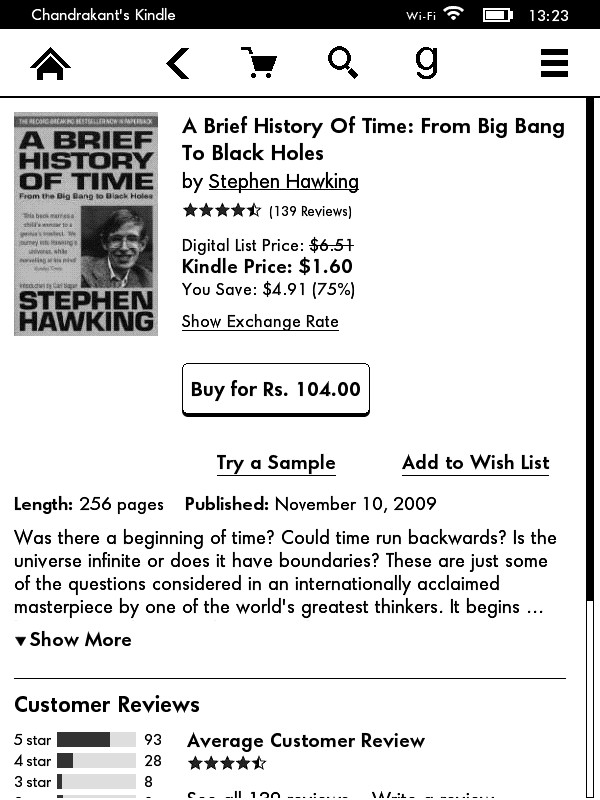 The good thing about buying a digital copy is that you can access it from multiple devices. Of course, you have to download the Kindle reader apps on your smartphone or tablet (Android, iOS, and Windows) for that. Using the Amazon cloud reader, you can even read it on your PC.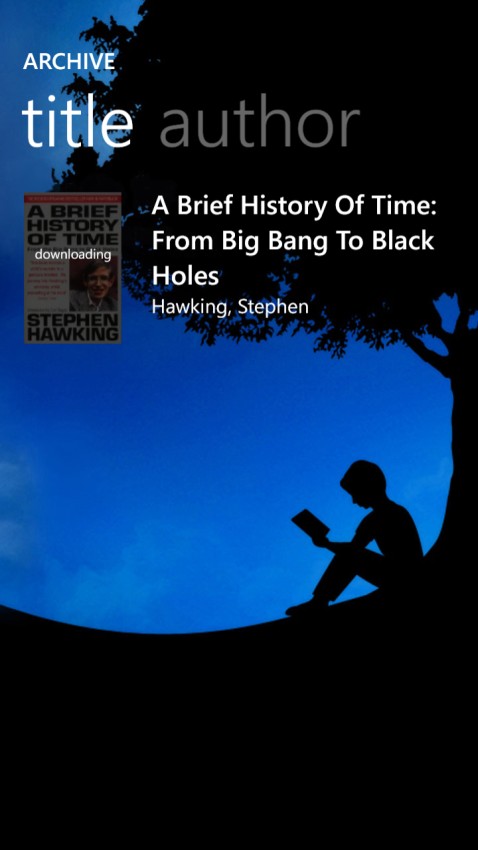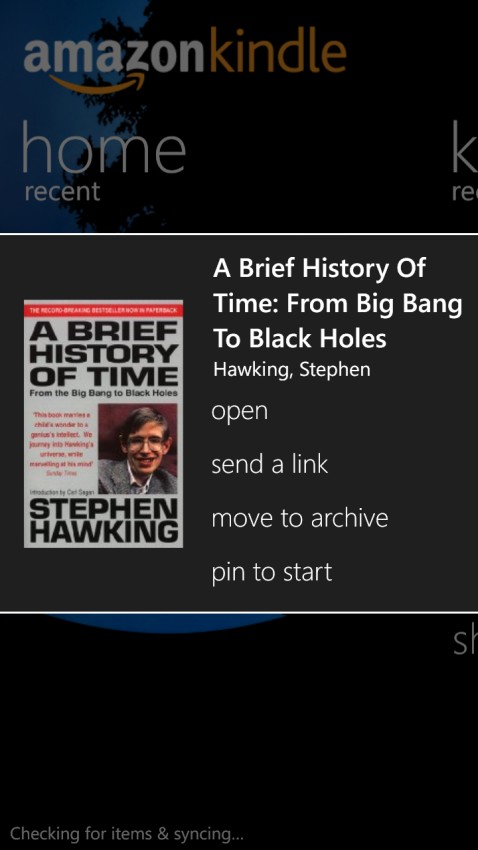 Syncing content to Kindle app on your smartphone.
Verdict
The Kindle has impressive battery life. I'm reading about two daily for a week now (with Wi-Fi on), and the battery level is still over 50 percent. It's display is as good if not better than the paper. It does not fatigue your eyes. Purchsing an E-Books is a lot more convenient than picking-up a physical copy from a store. So despite a few niggles, the all-new Kindle is a great deal for Rs 6000. For avid book readers, this is a must-have gadget. Those who are not, should also buy Kindle, and make it a habit to read good books.

Note: *good books* = not written by Chetan Bhagat.

Performance: 4.5/5
Design and Build Quality: 4/5
Features: 3.5/5
Value: 4/5
Mojo: 4/5

Overall Rating: 4/5
TAGS: e-Book Reader, E-Books, Amazon, Kindle