Review: Nokia MD-12 (Portable Wireless Speaker)
A well-built portable speaker with average sound.
Rating

3
/5
22nd Oct 2014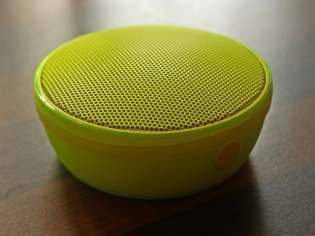 Pros:
Minimalistic design; Sturdy construction; Good at producing bass; Long battery life.
Cons:
Sound quality is average; Distorts at high volume.
Nokia MD-12
Street Price: Rs 3900

Apart from phones, Nokia (Microsoft mobile) is also known for its funky accessories. The range of products include earphones, battery packs, wireless (induction) charging plates, and wireless speakers. The latest one to hit the market is the MD-12 wireless speaker that costs around 3900.
Design And Build
The Nokia MD-12's retail package includes the speaker and a really short USB cable. There's no wall charger, so you have to use this cable with a computer or battery pack. Thankfully, using any Android or Windows Phone's USB charger is more convenient.
Similar to Nokia's Lumia series of smartphones, the DT-12 speaker comes in vibrant colours such as Orange, Green, and Yellow. Those who are not fond of flashy colours can go with the white one. The speaker looks like a cupcake without toppings. The design shows its Scandinavian roots with the minimalism and effective use of colours. You'll only find essential controls, ports, and indicators on the speaker. It's not littered with unnecessary LEDs. The only other company that builds such elegant products is Philips. The speaker won't even disappoint you in terms of detailing. All the curves, rims, and grilles are perfectly done.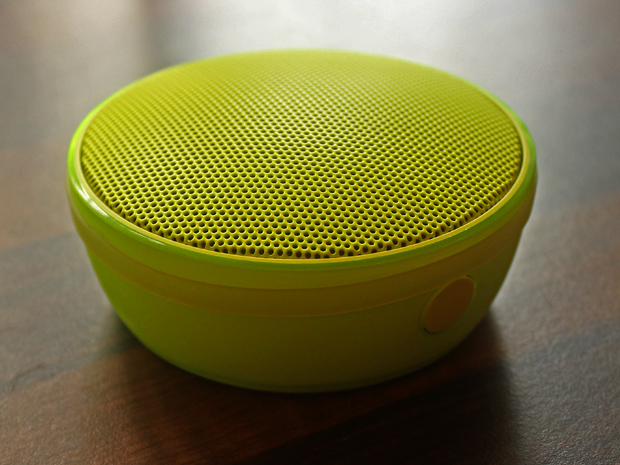 In addition to good looks, the speaker also offers sturdy build. During my weeks' usage, I dropped it at least 3-4 times, and it survived it without a scar (typical Nokia). The speaker is 4 cm in height and roughly has a diameter of an Apple. The DT-12 speakers tips the scales at 180 grams, which is slightly more than an average smartphone.


Setting It Up
Pairing the speaker to your phone is simple. Just press and hold the power button for a few seconds. The LED will blink, and the speaker will be discoverable on your phone's Bluetooth device list. Click on Connect/Pair, and it's done. If you have an NFC-compatible phone, things get easier, as you just have to tap your smartphone on the speaker. Although the MD-12 is advertised as a companion for your Lumia smartphone, the product works with any Android or Windows Phone device. Since Bluetooth drains your smartphone's battery, you can use a good old 3.5 mm cable for pairing. Of course, you can get output from any 3.5 mm cable compatible device such as computers, voice recorder, and even portable disc players (if you still have one).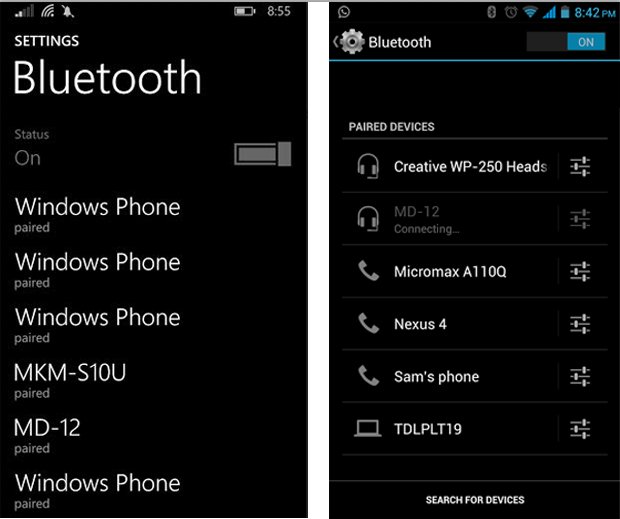 Performance
Considering its size, the Nokia MD-12 is seriously loud. It can easily fill a room with sound. Additionally, it's probably the only speaker in its class with powerful bass. The credit goes to the in-built actuator. However, contrary to what Nokia claims, the bass levels depend on the surface. I know it sounds weird, but on a metallic shelf, the sound becomes hollow. On the other hand, the bass gets better on a wooden table. Checking the acoustics of tables is initially fun, but you get bored of it soon. In comparison, the relatively cheaper JBL Micro II Mobile Speaker sounds right irrespective of where you place it. Another thing I didn't like about the MD-12 is that it distorts sound at full volume. In terms of clarity also, it gets beaten by JBL's portable speaker.
Misc And Battery
Although it's primarily made for music playback, you can even use the MD-12 as a speakerphone. You can use it for those boring conference calls in your office. The device packs in a 1020 mAh battery that easily lasts for more than 10 hours of music playback.
Verdict
In terms of aesthetics and build quality, the MD-12 is best in its price-range. This sporty speaker is very good at producing bass. It's compatible with most smartphones, and easily offers over 10 hours of playback. Although it's loud, the MD-12's sound quality is nothing to write home about. More importantly, the JBL Micro II that costs Rs 2500 sounds much better than this. So unless, you're crazy about bass, the Micro II is better than Nokia's offering.
Features: 4/5
Design and Build Quality: 4/5
Performance: 3/5
Value For Money: 2/5
Mojo: 3/5
Overall Rating: 3/5
TAGS: Nokia MD-12 Portable Wireless Speaker, Speakers