Review: Samsung GALAXY Tab S 10.5 | TechTree.com
Review: Samsung GALAXY Tab S 10.5
Excellent hardware, let-down by Samsung's TouchWiz.
Rating

3.5
/5
07th Aug 2014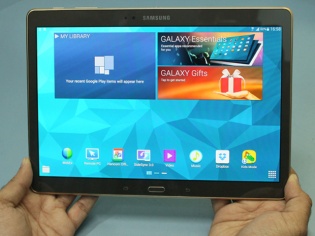 Pros:
Brilliant AMOLED screen; Slim and compact design; Good 8 megapixel snapper.
Cons:
TouchWiz beomes sluggish at times; Some high-end games look pixelated.
Apple successfully created a new market segment with the launch of an iPad. Since that tablet wasn't in the reach of most people, Android tablet came into the picture. Out of all the brands, Samsung turned out to be the most popular tablet-maker from the Android camp. However, most of its tablets were affordable compared to the iPad. Not any more though, as Samsung introduced a top-end Tab S 10.5, which costs Rs 44,800 for 16 GB version. The tablet boasts of an AMOLED screen and powerful hardware. Let's see if it can justify the price tag.
Aesthetics
The GALAXY Tab S 10.5 is quite fancy when compared to other Samsung tablets. What quickly catches your eye is the slim 6.6 mm body. yes, that's an mm less than the super slim iPad Air. On the other hand, there's nothing fresh to talk about in terms of design. The Tab S 10.5 brings in elements from the company's tablet, phone, and phablet line-up. Like any Samsung tablet, you get a dominant screen and rounded corners. Then, you get the perforated design pattern that comes from the Note series and the recently launched flagship GALAXY S5. Although it's not eye-pleasing, it improves the grip to a certain extent.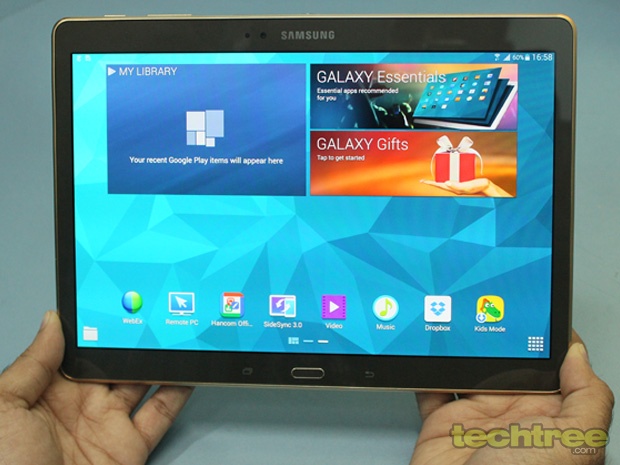 What we didn't like here is the faux-metal finish on the edges. Most Samsung products have such chrome colour painted on the plastic, which looses colour in a few months. The tablet is available in White and Titanium Bronze. The Bronze one looks unique, but we would recommend the White version if you're planning to use it in office.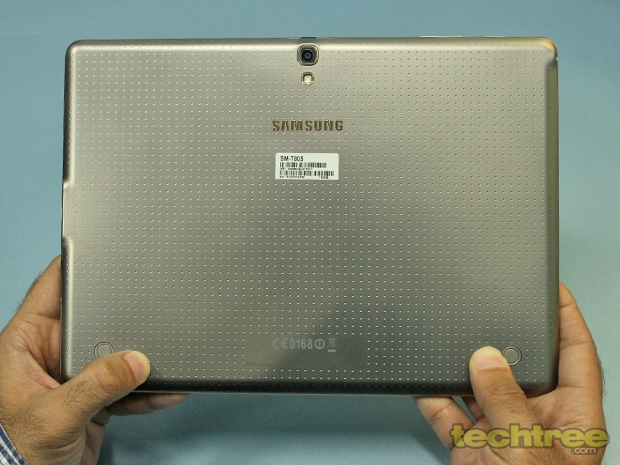 Display
The 10.5-inch AMOLED display is one of the high-points of this tablet. It's the largest AMOLED screen I've had my hands-on. The screen packs in 1560x1600 pixels, which translates to the pixel density of around 290 ppi. It may not look appealing on the paper, but the screen is very sharp. More importantly, the colour reproduction and contrast are amazing. You get exceptionally vibrant colours and deeper blacks on this screen. No other tablet in the market, not even the most expensive iPad matches the Tab S 10.5 's screen quality. This is due to the fact that AMOLEDs are emissive type screens. Unlike LCD panels, these displays don't require a back-light. So while displaying blacks, the pixels in that area are actually off. On the other hand, the blacks end-up looking greyish on the LCD panels due to the back-lighting.
Key Specifications
The Indian version of the Tab S 10.5 is powered by an octa-core Exynos chipset (A15 1.9 GHz + A7 1.3 GHz). It sports an 8 megapixel camera with LED flash and a 2.1 megapixel front-facing snapper for selfies. Other specs include 3 GB RAM, 16 GB internal storage, microSD card slot, 3G, Bluetooth 4.0, Wi-Fi, Infrared port, fingerprint scanner, A-GPS, and 7900 mAh battery. In our 720p video loop test the battery lasted for whopping 12 hours. That's a great number for an Android tablet.
Software
The tablet runs Android 4.4 (KitKat). It comes with Samsung's heavily customised TouchWiz UI. Samsung has toned it down a bit. For instance, there's now enough distance between two icons. However, compared to iOS and Windows 8.1, it still looks cluttered. Since TouchWiz doesn't look very good, Samsung has added Magazine Home to the existing software. It's quite like HTC's tile-based BlinkFeed. It does look fancy, but adding something to a problem doesn't solve anything. In fact, because of this Magazine UI, the UX feels more disconnected.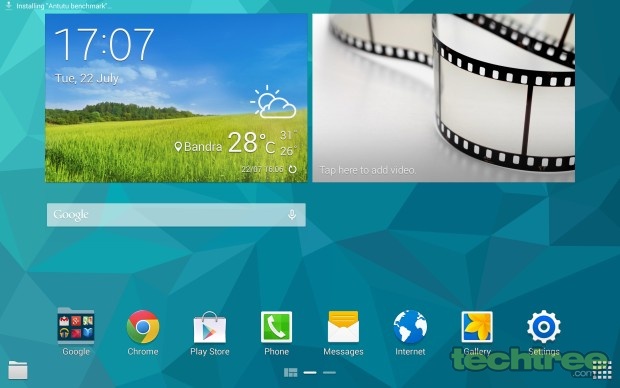 The Tab S 10.5 comes with Multi-Window feature that lets you run two apps simultaneously side-by-side. For instance, you can surf the web while watching a movies. Well, I probably wouldn't want to do something like that, but there's no harm in having extra features.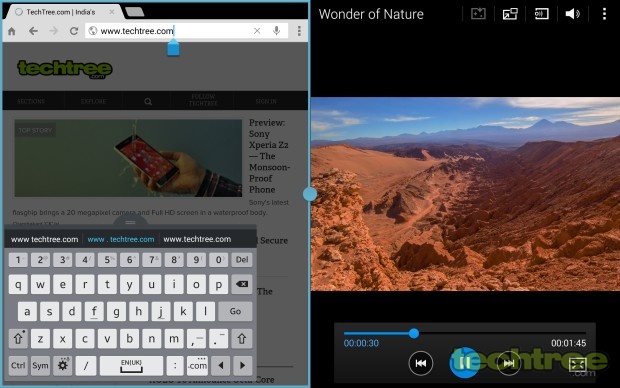 As seen on most Samsung phones, the quick settings menu is quite crowded on the Tab S 10.5. You can check it out in the screenshot below.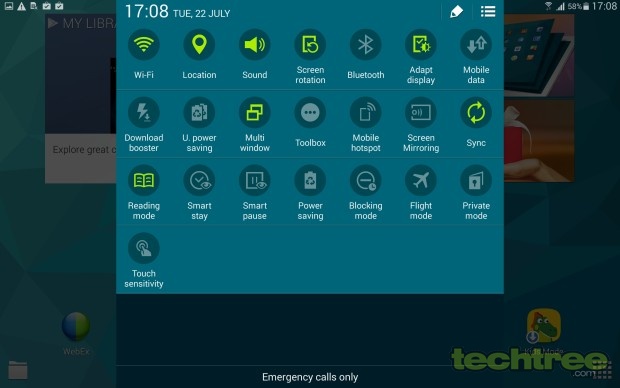 For security and convenience, the Tab S 10.5 features a 'Fingerprint Scanner'. It's used for unlocking the phone and authorising app purchases. For more details on this feature, refer to our GALAXY S5 review.
Navigating through the homescreen and menus is quite smooth. However, once you start installing apps, the tablet becomes sluggish. In the gaming department, it can handle all the popular titles. However, high-end games such as Real Racing 3 don't look very good. The 3D models have jagged edges. For synthetic benchmark results, check out our hands-on article.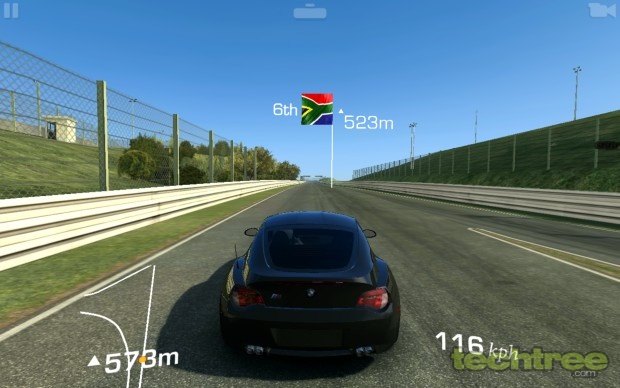 Multimedia And Camera
Although tablet is not something you would want to use for taking photographs, the Tab S 10.5 is equipped with a good one. The 8 megapixel camera produces sharp images. It's not something outstanding, but definitely better than what most tablet cameras offer.

In addition to the 16 GB internal storage, the Tab S 10.5's memory can be expanded using the microSD card slot. Like most Android devices, you can simply drag-and-drop media files from your computer. That's way better than syncing your media files on the iPad. The default video player supports all the popular video formats out-of-the-box. As mentioned earlier, the screen is brilliant, which makes the Tab S 10.5 ideal for watching movies. The Tab S 10.5 doesn't disappoint in terms of music either. The device's sound output is great. The only complain here is that this sub-50k tablet doesn't ship with earphones.
Verdict
The GALAXY Tab S 10.5 has the best screen in the tablet segment. If you're looking for a tablet for watching videos, nothing beat the Tab S 10.5. Samsung has also done a good job at keeping the tablet's size in check. It's compact and slim. Its camera is very good compared to most tablets. However, the software is a let-down. The GALAXY Tab S 10.5, as well as the iPad Air 16 GB Cellular model cost around Rs 44,800. If you're split between these two, we would recommend the Tab S 10.5 for its display and expandable storage and iPad Air for great user experience.
Features: 4/5
Design And Build Quality: 3.5/5
Performance: 3.5/5
Value For Money: 3/5
Mojo: 4/5
Overall: 3.5/5
TAGS: Tablets, Android, Samsung, GALAXY, Tab