Review: Cubetek EZCast HDMI Streamer | TechTree.com
Review: Cubetek EZCast HDMI Streamer
Packs in more features than Google's Chromecaster, but has a few rough edges.
Rating

3.5
/5
23rd Jun 2014
Pros:
Streaming feature works very well; Supports 1080p playback; Handy for office presentations; Well priced.
Cons:
Sluggish screen mirroring; Setup is quite confusing; Not compatible with Windows Phone.
Cubetek EZCast HDMI Streamer
Price: Rs 3100

These days, Televisions come with plethora of smart features including media streaming, wireless screen mirroring, and smartphone compatibility. That's worth calling "neighbour's envy, owner's pride" (we miss you Onida). If you've brought a television box a few years back though, it's unlikely to pack in anything more than an HDMI and USB port. Now, most people can't simply buy a new TV for these fancy features. This is where CubeTek's Air Streamer kicks in. This little TV accessory can turn your dumb TV into a smart one. But, is it any better than Google's Chomecast?

Hardware
Founded in 2011, "Cubetek" is mostly known for media players and bluetooth enabled bike helmets. The company's streamer follows Chromecaster's form factor. However, it has more sharp lines compared to Google's curvy product. The quality of plastic is quite good, but the construction isn't solid. The device creaks when pressed. But, that's fine considering that it's going to sit at the back of a television set anyway. Apart from the HDMI port, the device features a microUSB port to draw power. If your TV lacks a USB port, you can use a mobile phone charger to power the Air Streamer. The device has a single LED that tells you whether it is ON. Plus, there's a 'pin-hole' to reset/recover the device software. The device has a Wi-Fi receiver, 128 MB DDR3 RAM, and a 600 MHz AM8251 processor with support for 1080p media.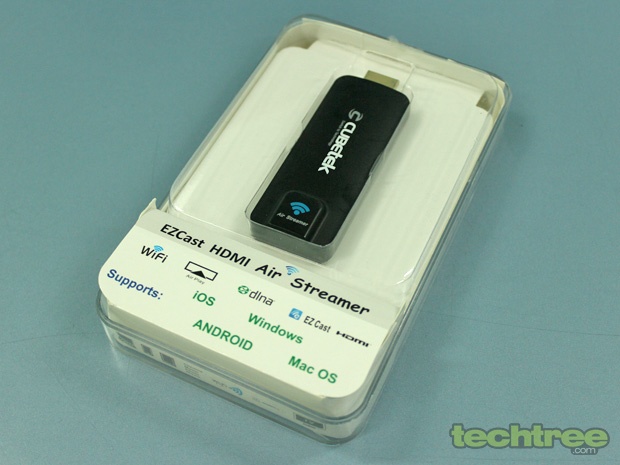 Usability
Plug in the Air Streamer, switch to HDMI on your TV, and you'll be greeted with the setup screen. The installation process varies depending on the gadget of your choice. Smartphone users are required to install the EZCast app on their Android or iOS devices (not available for Windows Phone). The same app is available for Windows and Mac OS powered laptops.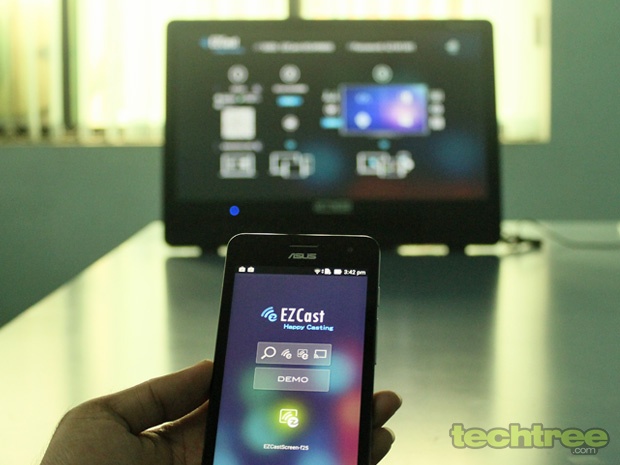 Once the app is installed, you can connect your gadget to the EZCast hotspot (created by the Airstreamer). After that, you can sit back and beam photos, music, and videos to the TV set. There's even an option to stream your phone's camera view-finder. That's good for folks who want to see themselves on TV.

Photo and music streaming works the way it should. During the video streaming, your smartphone / tablet turns into a remote controller — you get playback and volume controls. When I started reviewing the product, the videos used to take up to 30 seconds to load. However, a firmware update has resolved this problem. Forwarding / rewinding is also a lot smoother now. Earlier, it used to buffer 10-15 seconds every time you touched the seek-bar. Coming to the subject of playback, 720p videos work flawlessly. There's a slight stutter in 1080p videos, which most users won't notice.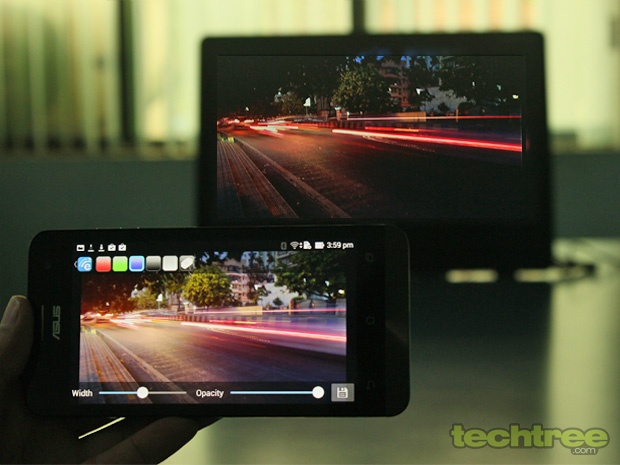 The tricky part comes when you want to browse the web or stream online videos. Since your phone / tablet can only connect to a single network at a time, you first have to connect it to EZCast and then hook-up the EZCast to your home network. Easier said than done, as many a times, Airstreamer simply refuses to connect to your home network. So one day, you'll have to try or half-an-hour to make it work, while the other day, it will be up and running in a few minutes. It can be as frustrating as being forced to watch someone play Candy Crush Saga. The device gets timely firmware updates that are ironing out such bugs.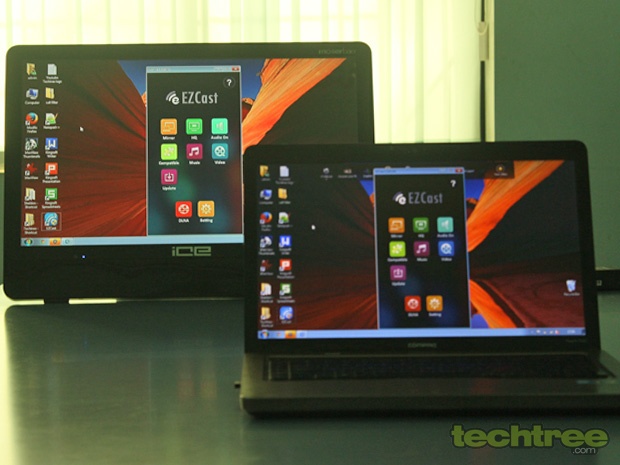 After getting this rocket science right, you have to select the EZMirroring option to duplicate your phone / laptop's screen on TV. This feature doesn't work smoothly though. There's noticeable stutter and lag when mirroring the screen. Clearly, this feature is not ideal if you want to share videos or enjoy mobile games on a large screen. All is not lost though, as this feature is still useful for web browsing the web and presentations.
Verdict
The Air Streamer is priced at Rs 3100. That's quite affordable considering that this little gadget can make your TV smart. Its streaming function works very well. There's a lot of room for improvement when it comes to the screen mirroring feature though. Airstreamer has its share of niggles, but none of them can considered as a deal-breaker. One should also consider that Google's Chromecaster officially doesn't support the screen mirroring. Plus, it's not officially available in India. So if you want your TV to play nice with your smartphone, tablet, and laptop, the CubeTek Airstreamer is a good option.

Features: 3.5/5
Design and Build Quality: 3/5
Performance: 3/5
Value For Money: 4/5
Mojo: 3.5/5
Overall Rating: 3.5/5

TAGS: Home Entertainment