Review: HTC Sensation | TechTree.com
Review: HTC Sensation
Lives up to its name.
Rating

4.5
/5
14th Jan 2013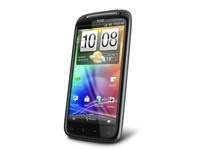 Pros:
Great UI customisation; Effortless multitasking; 1080p video recording; dual-core CPU; Excellent build quality.
Cons:
Lacklustre video player; Limited viewing angles.
HTC Sensation
MRP: 32,700
Street Price: Rs 29,600 (Flipkart.com; Letsbuy.com; Saholic.com)


Currently, dual-cores are ruling the droid roost. LG started off early with its Optimus 2X, but the product had many rough edges. On the other hand, Samsung did quite well with its Galaxy S II (GS2). It defeated every other flagship in the raw-power department. Now, we have received a true challenger to the GS2 - the HTC Sensation.

The unimpressive TouchWiz has been the Achilles heel of the GS2. On the other hand, HTC has been known for its expertise in UI customisation. If the company manages to strike a balance between eye-candy and performance, this device can dethrone the GS2 as the ruler of the Android kingdom.


Design And Build Quality
The phone comes with a detachable USB charger, earphones, and an 8 GB memory card. The first thing to grab your attention is its 4.3" screen, wrapped in well-crafted glass that's curved at the edges. The gadget measures 4.96" (l) x 2.57" (w) x 0.44" (d), and has been designed to highlight its dominant screen. Moreover, the chrome-finished earpiece that houses a notification light also stands out. As usual, this droid sports four capacitive touch keys, namely Home, Options, Back, and Search. Unlike the Incredible S, these keys don't rotate to match the phone's orientation. However, I'm not complaining, as long as the keys are backlit.




The device's curved back panel is composed of aluminium and high-grade matte plastic with a rubbery feel, which provides a comfortable grip. Overall, this 148-gramme device has a great design and excellent build quality.




Under the hood is a dual-core 1.2 GHz CPU with an Adreno 220 GPU to keep it company. It features 768 MB of RAM, an 8 MP rear and VGA front camera, Wi-Fi, Bluetooth 3.0, GPS, a 3.5 mm jack, MHL-enabled micro-USB port, microSD card support up to 32 GB, and a bunch of sensors.


Display
The device's 4.3" S-LCD screen is covered by Gorilla Glass and has pixel dimensions of 540x960. It is capable of producing rich colours and high contrast. The sunlight legibility is ok, but the limited viewing angles are a big downer.


UI And Applications
The Sensation runs on Android 2.3 (Gingerbread) with HTC's Sense 3.0 UI on top of it. Its unique lock screen features a ring and four customisable shortcuts. Dragging the ring to the centre unlocks the phone, and you can also drag the shortcuts into the ring to access their corresponding apps quickly.




The homescreen contains a typical HTC watch and other widgets. Swiping through its seven panes never gets boring, thanks to the super-smooth scrolling and plenty of eye candy. An overview mode can be activated using the pinch-to-zoom-out gesture or by tapping the Home key. Out of the numerous widgets, the company's Weather widget deserves a special mention for its excellent animation and level of integration. It not only simulates the weather condition on the screen in real-time, but also gives it depth with sound effects.




The notification bar doubles up as a task switcher. Moreover, it's tabbed and enables you to access frequently used features without having to go through the menu. Also present is a task manager that comes in handy if you prefer not to have several apps running in the background.

The onboard browser features a minimalistic interface, which helps utilise the entire screen for the web page. It can play 720p YouTube videos without any problems, but 1080p videos play like a slide show.

The GPS receiver didn't lock onto any satellites for about 30 minutes, until I ran out of patience and turned on the A-GPS (Assisted GPS).

The device can handle all the latest games without any problem. However, I found the loading time to be more than that of the GS2.


Gangstar: Miami Vindication in action.

All in all, the phone handles multitasking with ease, and manages to remain snappy all the time. Moreover, Sense 3.0 is simply the best looking customisation I've ever seen on any Android. It's also one of the few phones that can challenge the iOS's beauty.


Multimedia
The music player features a neat interface and is easy to navigate. You can jump to the next or previous track simply by using a swipe gesture.

Sound quality through the earphones is excellent, which can be enhanced further by activating the SRS effect. Additionally, there are plenty of equalisers too. FM radio is present; it features a simple interface and also supports RDS (Radio Data System), which allows you to receive extra information such as the song title, artiste, etc. Currently, it is supported by stations such as Radio Mirchi in Mumbai.




Like many Androids, this phone doesn't have a dedicated video player. However, clips can be played directly through the gallery. SRS enhancement is available, but there's no support for subtitles. It can handle 720p short clips without a problem. However, it cannot play movie-length 720p videos. Third-party apps solve this problem to some extent, but the frame rate remains unacceptable. Moreover, there is no support for MKV videos.

The device is DLNA-certified, which enables users to stream content to compatible TVs and music systems. It also features an MHL port that can be used to hook up HDTVs using an appropriate adapter.

Camera
The onboard 8 MP camera comes with a dual-LED flash. Its interface is simple yet efficient. It sports a zoom slider on the right side, while a virtual shutter, flash toggle, and other options can be found on the left side.


The Camera UI.

The image quality is just ok by 8 MP standards. The snapper fails to capture details - this could be because of the noise reduction filter going overboard.


Image sample.

The phone is capable of recording 1080p video at 30 fps. Unfortunately, these clips can only be saved in the 3GP format. Being able to shoot 1080p videos is good, but it's hardly any improvement over 720p recording. The resulting clips contain a reasonable amount of detail, and 30 fps minimises the jelly effect.


Telephony And Messaging
HTC's People app is your phonebook, and takes care of every detail from the landline number to the Facebook profile. It features multiple tabs for displaying All Contacts, Groups, and Call History.

The call quality and signal reception was very satisfactory throughout testing. Sound quality during the telecon was also good on both sides.

The phone displays messages in threaded fashion. While composing a message, you can copy and paste text. The portrait keypad is ordinary, but the landscape one has gone through some good customisation. Well-spaced keys and a relatively big 4.3" screen make it one of the best virtual keyboards seen on a mobile phone.




The generic email client can handle multiple accounts. It differentiates each account with colour coding, which makes sorting of emails easy.

Battery
The 1520 mAh battery managed to keep the device up just for 5 hours under heavy use. Then again, this is true for every dual-core Android. Hence, considering the screen size and CPU power, you can't really blame the poor battery.
Verdict
The Sensation is HTC's answer to Samsung's flagship GS2. Quality-wise, this phone scores over its rival. Moreover, TouchWiz stands no chance against the Sense 3.0 UI.
On the other hand, its video player is not up to the mark. In terms of raw power, I found the GS2 handled complex games with more ease, thanks to the GS2's superior Mali 400MP GPU.

Thus, it boils down to a matter of personal preference. If you want a well-built phone with a beautiful interface, get the Sensation. Those interested in raw power and running benchmarks should take Samsung's route.

Features: 5/5
Design And Build Quality: 4.5/5
Performance: 4.5/5
Value For Money: 4/5
Mojo: 4/5

Overall Rating: 4.5/5




TAGS: Mobile Phones, Android, HTC, ck