Review: Sony BRAVIA KDL-55HX925
Large-screen 3D entertainment in your living room.
Rating

4
/5
14th Mar 2012
Pros:
Good display quality; Stylish monolithic design; Comes with Corning Gorilla Glass; Wide viewing angle; Low power consumption; Comes with excellent extras.
Cons:
Expensive; Some colour bleeding; Flicker visible in 3D mode; Wobbly swivel stand; No NTFS support.
Sony BRAVIA KDL-55HX925
MRP: Rs 2,59,900
Street Price (As on 19-Jan-2012): Rs 2,37,000 (Infibeam.com); Rs 2,49,900 (Letsbuy.com; GrOffr; Letshop25.com)

There was a time when televisions were considered to be a luxury rather than being a necessity. With newer technologies such as LCD and Plasma replacing CRTs, large screen televisions have become fairly common and increasingly affordable. Like all other industries, this one is also going green with the power efficient LED-backlit technology replacing CCFL. Sony has been one of the leading companies in TV technology and it continues to introduce newer TVs through its BRAVIA brand. One of the latest is the 55" KDL-55HX925, which supports Full HD and 120 Hz 3D. Based on the new X-Reality PRO engine and powered by a dual-core chip, this Smart TV supports internet-related goodies too. Its MotionFlow XR 800 technology claims to provide smooth playback regardless of the source by introducing additional frames. Let's get on with the review.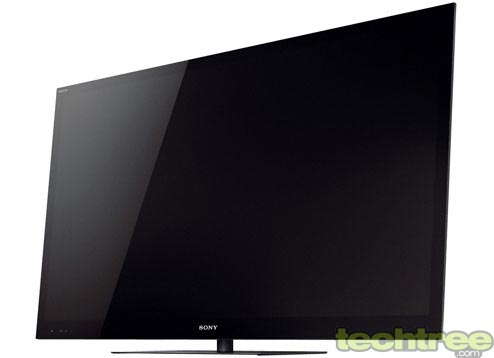 The Sony BRAVIA KDL-55HX925.
Bundle
Remote control with two AA batteries.
Two pairs of LCD shutter-glasses.
Web-camera with inbuilt microphone CMU-BR100.
Adapter cable for composite and component inputs.
Quick Start Guide.

Remote Control
The TV's remote control with BRAVIA Sync functionality. The dedicated media control keys near the top let you control supported Sony devices connected via HDMI. There is a power button underneath for easy access. The somewhat long remote control has neatly labelled keys for every function so you don't have to go to the TV for anything. Most of the keys are backlit with a blue LED. However, this lasts for barely 5 seconds, which is insufficient while looking at it in the dark. Also, labels on the smaller media control buttons are not legible when the LED is on. The remote is powered by two AA batteries.

The remote control gives access to every function of the TV.
3D Glasses
Sony provides two pairs of LCD shutter-glasses with this TV. These contain an inbuilt rechargeable battery unit and therefore are not exactly compact. However, its size is deceptive as it was not very heavy and comfortable to wear even over spectacles. Batteries can be charged using USB cables and can last for a few movies once charged fully. A pair costs Rs 3500, in case you plan to buy more.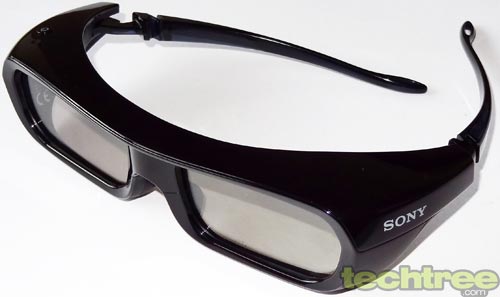 The seemingly oversized glasses are surprisingly comfortable to wear.
Web camera (CMU-BR100)The TV supports Skype and Sony has made sure that they deliver a complete package by bundling a web camera along with a built in microphone. The camera has a sticky surface at the bottom to fix it on top of the TV. It works via USB, thus taking up one of the two USB ports when in use. The web cam is not compatible with PC or Mac, so you can only use it with this TV.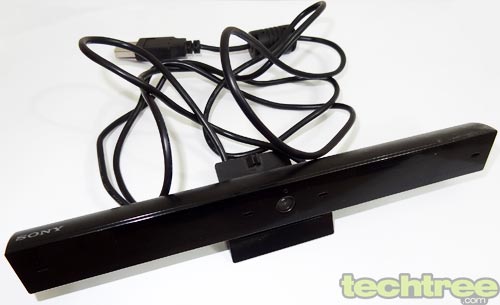 Design And Features
The Sony BRAVIA KDL-55HX925 is an edge LED-backlit LCD panel based TV measuring 55" diagonally. This TV comes from the X-Reality PRO series and is powered by a high-end Sony image processing chip. The difference between the ordinary X-Reality and the PRO version is that the latter is dual-core. All of Sony's 3D TVs are based on this new chip to handle the double image processing requirements of 3D technology. The image quality is supposed to be identical to the single-core version.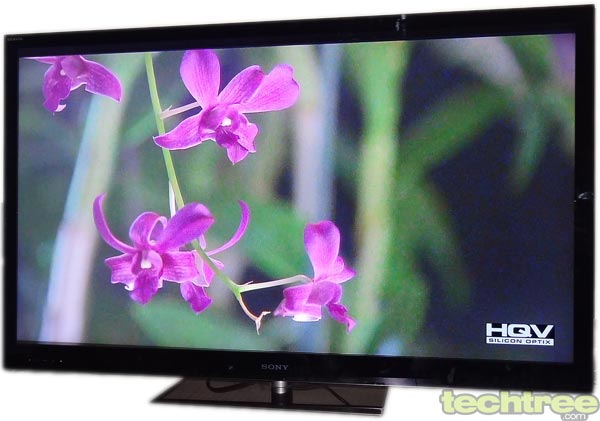 The TV sports a rich look with Sony's iconic monolithic design in which a glass sheet covers the entire front surface. It is manufactured using Corning Gorilla Glass and is therefore highly resistant to scratches. Sony calls it the OptiContrast Panel and claims that the air in the cavity between the LCD panel and glass plate has been replaced by a resin to improve image quality. This is achieved by reducing light transmission losses caused by refraction when air is used. The "SONY" logo appears on the bottom bezel at the centre lights up with a soft white backlit LED while the unit is switched on.

The bezel is around 4 cm thick at the bottom and 3 cm on the remaining three sides. Here is some information you may find useful while installing the TV. The TV stands at 80 cm with the pedestal stand, is 128 cm wide, and is 30.5 cm thick (including the thickness of the pedestal). If you are going for the wall-mounted option, then the height of the TV is 77 cm, with the width obviously, remaining the same. Wall mounting is the best way to install this TV according to us because it occupies a much lesser space; its just 3.5 cm at its thickest part. Also, you won't lose any connectivity options as almost everything is available on the left and through supplied the adapter cable. While the pedestal stand option provides for swivel functionality of 20 degrees on either side and up to 6 degrees backward to suit your seating arrangement, it is still a bit wobbly and therefore not preferable. In case you still opt to go for the latter type of installation, you must know that the TV weighs 31.6 kg with the stand. So, it is necessary to make sure that the table on which it is placed is strong enough to support the weight. The TV weighs 26.1 kg when it is wall mounted, but since Sony takes care of installations, so there should be nothing to worry about.

Control buttons are present on the right side of the TV, just behind the bezel. These include Power, Channel, Volume, Source, and Home. They are sufficient to handle most basic functions if your remote control malfunctions or runs out of battery. This TV also has an Energy Saving button just below the other buttons, which is a physical power switch, rather than the soft power switch present at the top. Switching it off is therefore equivalent of disconnecting the TV's power AC cord from the wall outlet, thus preventing power usage even in the standby mode.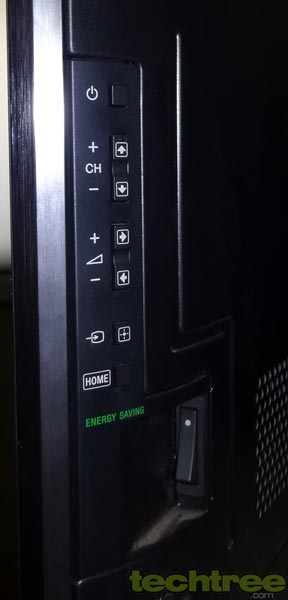 Most of the connectivity ports are easily accessible from the right side of the TV just behind the bezel. These include two USB 2.0 ports, two HDMI ports, D-Sub to connect a PC, along with a 3.5 mm audio input port to receive PC audio. The sigital audio out is available by through an optical port to connect compatible home theatre systems. Also, there is a headphone jack to hook up your favourite cans, but they better have a long cable as it is impossible to sit too close to this large screen.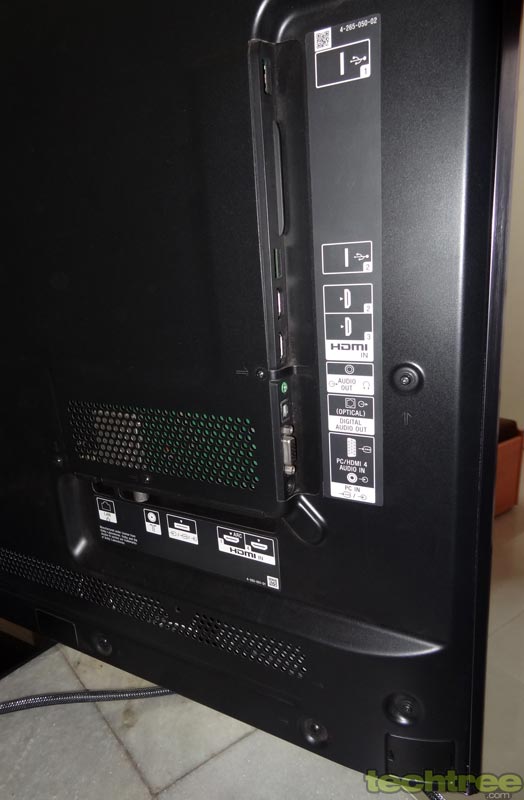 In case you are wondering, the TV does have a co-axial port to receive normal cable TV. This downward facing port is situated on the bottom of the hollow area at right angles to the ports mention above. Two additional HDMI ports are also present here, which allow you to connect all your devices such as a media player, HD set top box, game console, and gaming PC at once. Due to space constraints, a proprietary port is present that connects to the provided adapter for component and composite inputs. An Ethernet port is also present over here for network connectivity. We must also state here that this model comes with integrated Wi-Fi support.

The USB ports are capable of reading select photo, audio, and video formats. It has been a common complaint with all X-Reality models that the USB ports do not support NTFS drives and this TV is no exception. With support for only FAT32 drives, the file size is limited to 4 GB, eliminating most of the high quality content. However, this is likely a way of curbing illegal content sharing because most such content is often pirated. Nevertheless, this definitely is a negative point as far as this TV is concerned.

An Ambient (light) Sensor is present just to the left side of Sony logo on the bottom bezel. When enabled, it senses ambient light to automatically adjust the brightness of the panel for optimal viewing. It does work as advertised. This also houses the Presence Sensor, which uses Face Detection to automatically switch the TV on.

The user interface provides detailed setup options to control the video and audio features of the TV. The video options include 8 scene modes, aspect ratio, noise reduction, colour, contrast, brightness, temperature, etc. The level of LED backlighting can also be controlled. The audio section lets you control bass and treble in addition to the various audio preset modes. Pseudo surround mode using S-Force Front Surround 3D is also present to create a wider soundstage.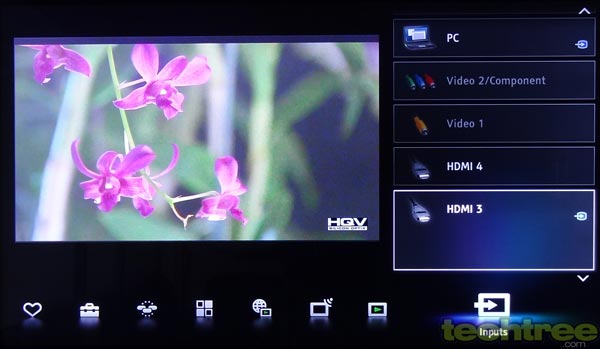 The TV is capable of displaying 3D video at 1080p using its fast 120 Hz refresh rate. It supports various common 3D formats including Side-by-Side and Top-Bottom, in addition to providing support for Blu-ray 3D by means of automatic detection. Since 3D content is still sparse, it also features 2D to 3D conversion.

This is an internet-enabled TV with Wi-Fi as well as Ethernet port for connectivity, and so social networking sites Facebook and Twitter have dedicated widgets. Skype is also present and the bundled webcam helps you video chat with your relatives, friends, and colleagues. Streaming videos can be accessed via YouTube, Sony Entertainment Network, and BRAVIA Internet Video apps. The TV also supports DLNA to share media with supported devices on a home network. A unique feature known as Remote Keyboard allows you to connect this TV to a VAIO through Wi-Fi so that you can use the keyboard of the laptop for easy text input. Last but not the least, it also supports Wi-Fi Direct, which allows sharing of content with another Wi-Fi device without having to connect to a network.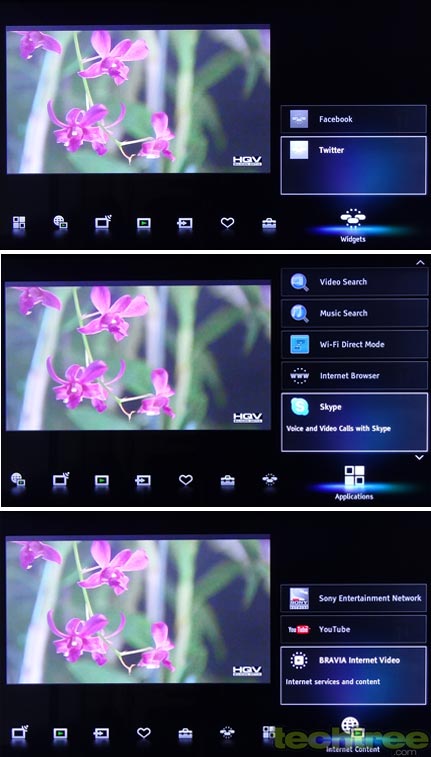 Performance
We connected the Amkette Flash TV HD media player to test the HD video playback capability of the TV, while we also ran PassMark MonitorTest by connecting it to a PC. We connected to the HDMI port in both the instances.

HQV Benchmark: HQV benchmark was run via the media player. The TV does a good job at noise reduction and passed the Jaggies test with positive result, meaning that it effectively antialiases the edges of objects to give them a smooth appearance. It even sailed the almost impossible to pass Video Resolution Loss test, which means that it is adept at handling interlaced signals just as well as progressive signals. All in all, the TV is passed all the HQV tests with flying colours.

Video Playback: The TV is capable of displaying a wide colour range and smooth transition from one shade to another, unlike the staircase effect in a few TVs. The backlight is evenly spread across the panel with nominal light leakage phenomenon and the contrast is very good with deeper blacks than what we see in LCD TVs. We must mention here that at least some amount of bleeding was seen when contrasting colours are placed next to each other. This can be a little bothersome as it adversely affects image quality in scenes where such combinations exist. Viewing angles are good in all directions without any colour loss. HD video playback is excellent and there is no visible ghosting or streaking in fast-paced action scenes, indicating a good filtering engine.

3D Stereoscopic Playback: This TV supports 120 Hz refresh rate and therefore relies on LCD shutter-glasses alternately flickering at 60 Hz each for left and right eyes. The effects were found to be convincing, but you cannot move around much as it causes noticeable crosstalk (double images). Flicker is noticeable for those with sensitive eyes, making it difficult to continue watching for more than a few minutes. On the plus side, the image is considerably bright and colourful. Also, you can actually view 1080p 3D videos as opposed to half HD videos when viewing on TVs utilising using polarised glasses technology. 2D to 3D conversion works well most of the times. This 3D technology is fully compatible with 3D Blu-ray players and NVIDIA 3D Vision for those who are interested in gaming.

The TV supports Picture-in-Picture as well as Picture-and-Picture features, showing videos from two connected sources simultaneously. Audio playback is considerably good for such a slim form factor with the 2.1 speaker present within the unit firing 10 W per speaker.

Power Consumption
The TV consumed 125 W in the normal mode, and the consumption peaked at 145 W during 2D to 3D conversion. With the ECO mode set to High, the power consumption registers a welcome drop to just 70 W at the cost of some image brightness. For the sake of comparison, the Philips 46PFL6556 46" TV consumed around 75 W in the normal mode.

The Verdict
The 55" Sony BRAVIA KDL-55HX925 is more of an aspirational product and is meant to adorn the living rooms of the rich and famous. Its opulent Corning Gorilla Glass monolithic design aptly complements such luxurious settings. The TV is also a terrific performer with good image and sound quality. 3D performance does need some refinement as it is still miles away from what we witnessed with the Panasonic VIERA TH-P65VT30D. Smart TV features have been provided including Skype video chatting via the bundled webcam and social networking support. However, newer TVs will come with apps support, which is something Sony needs to look into possibly via a future firmware update.

As is expected, this TV is available at an MRP of Rs 2,59,900, putting it out of reach of most mere mortals. The somewhat lower street price mentioned at the beginning of this review doesn't change the situation. Adding a stylish brushed aluminium display stand with active 2.1 speaker system will set you back by Rs 15,000. You can also avail the special 3D bundle being currently offered for an extra bundle comprising of two more pairs of 3D glasses, a PlayStation 3 160 GB, HDMI cable, three 3D movie titles, and two 3D game titles worth a total of Rs 33,200 at a discounted price of Rs 20,000. For those who can afford it, this is a very good 55" option, and for those who can afford something more, the 65" Panasonic VIERA TH-P65VT30D is the one to go for.

Design And Build: 4.5/5
Features: 4/5
Performance: 4/5
Value For Money: 3.5/5
Mojo: 4/5

Overall Rating: 4/5

TAGS: Displays, Sony, BRAVIA, Jayesh