Review: ZOTAC ZBOX ID92 Mini PC | TechTree.com
Review: ZOTAC ZBOX ID92 Mini PC
A compact yet powerful mini PC that's good at almost everything except gaming.
Rating

3.5
/5
23rd Dec 2013
Pros:
Haswell Core i5 is fast; UHD (4K) compatible; Feature packed; Excellent design and build quality; Power efficient; Upgradeable; Dual DisplayPort outputs.
Cons:
Expensive; Intel Graphics is a letdown; No SSD; Lacks HDMI.
Price: Rs 46,000 (Plus); Rs 36,000 (Non-Plus)
I personally love the Mini-ITX form factor. It's just the right size that strikes a perfect balance between portability, performance, and power efficiency. Computers based on this form factor have a TDP [What is Thermal Design Power (TDP)?] that's typically in the rage of 25 to 45 watts, without sacrificing on performance for general, everyday computing. This opens up a range of possibilities including usage as a HTPC, download rig, or even as a primary work PC. Owning an alternate power-efficient mini-PC is indispensable for most gamers like me. That way, we don't have to use my over-clocked gaming rigs for anything apart from gaming.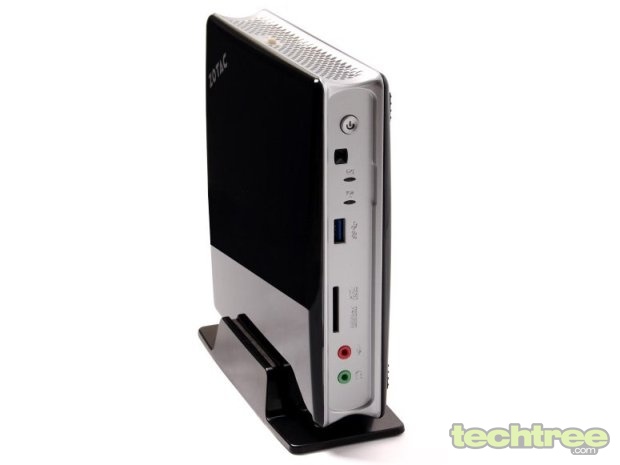 That's exactly why I had bought the ZOTAC ZBOX ID11 almost four years ago, and it still runs like a charm despite the heavy usage it was subjected to. This isn't surprising considering the quality of components used. ZOTAC's pursuit for quality is uncompromising with solid capacitors all round, even as the mini-PC is packed to the gills with all the features you won't even find in a full-fledged desktop computer. This time around, the TechTree Labs received the latest ID92 variant of the ZBOX.
If It Ain't Broke, Don't Fix It
So how much of a design improvement is the ZBOX ID92 over my nearly four year old ID11? Surprisingly, it's still virtually unchanged. The mini PC still has the same black and silver cabinet the size of a regular mithai box — albeit, one with dainty rounded edges. The black glossy plastic used on the top and the bottom halves of the chassis is top-notch. I would have bitched about its proclivity for fingerprints, but this isn't exactly a mobile device, is it?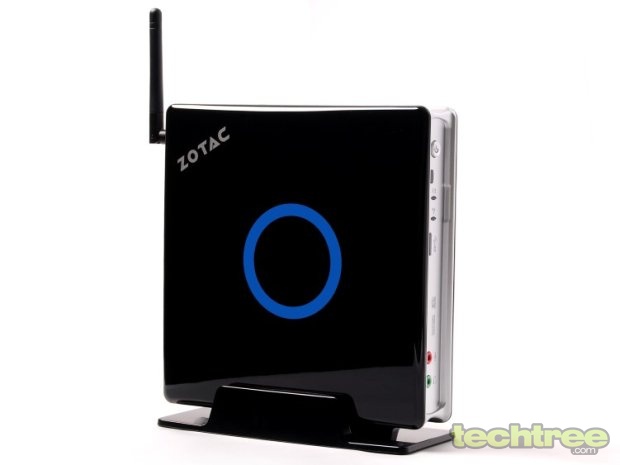 The rest of the chassis sandwiched between the glossy black lids is matte and houses various I/O ports, status lights, and power button on two sides, while the remaining two house honeycomb-styled perforations for intake and exhaust. At the front, you get a multi-card reader, infrared port, and ports for speaker as well as mic. The ZBOX can be placed horizontally on non-skid rubber feet, vertically aligned with the supplied stand, or behind your TV/monitor using the VESA mount, which is included in the package. My only gripe here is that unlike other ZBOX models, this one doesn't ship with a remote control.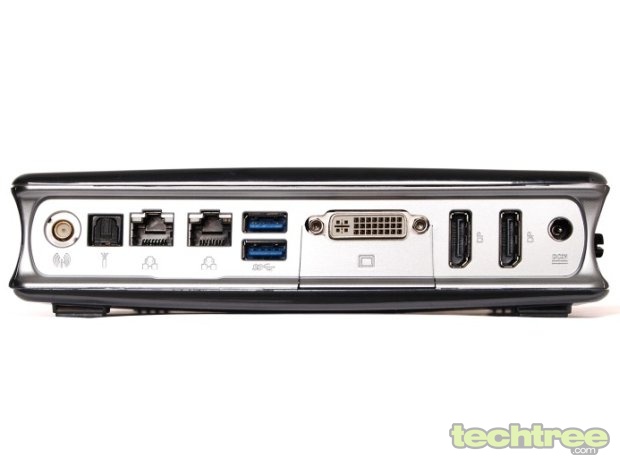 The ZBOX ID92 has pretty much everything covered in terms of connectivity. You get two gigabit Ethernet ports in addition to an 802.11ac Wi-Fi radio with a powerful antenna and Bluetooth 4.0. The number of USB ports has gone down from six to four USB 3.0 ports, with two being placed at the rear, one at the top, and one in the front. The HDMI port is conspicuous by its absence, but since it's nothing but a low-video bandwidth variant of the DVI standard, you can always use the supplied adapter to route HDMI video as well as audio through the DVI port to your TV without any issues. Strangely, you get not one but two DisplayPort inputs instead.
An Iron Fist In A Velvet Glove
At its core lies the Intel Haswell Core i5-4570T. The dual-core i5-4570T processor may not have as many cores at the quad-core i5-4570 (sans the T suffix), but it draws almost 60 percent less power at 35 watt. They are both clocked at 3.6 GHz (Turbo), but the power-efficient version used in the ZBOX has a lower base clock of 2.9 GHz and reduced L2 and L3 cache than full-fledged variant. The choice of H87 chipset is pretty smart as well. It possesses all the bells and whistles of the more performance-oriented Z87, but without superfluous aspects such as overclocking and triple SLI configurations.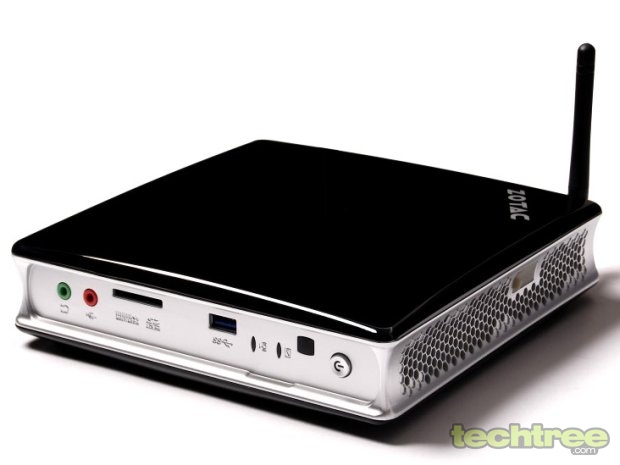 This is the Plus version that ships with Hynix-made 4 GB RAM (DDR3 1600 MHz, 204-pin single SODIMM module) and a 500 GB Western Digital hard drive (5400 RPM). There is a free SODIMM slot that you can use for another matched 4 GB module for optimum DDR bandwidth. The plain vanilla version doesn't come with a HDD or RAM, thereby allowing you to choose your own. The Plus version costs Rs 46,000, whereas the regular one is priced at Rs 37,000. Needless to say, it makes sense to go for the cheaper version and install the hard drive and RAM of your choice for much cheaper. The whole process is tool-less and just five minutes and two thumbscrews away.
The CPU is covered by a custom graphics card-like cooler that can be removed using a screw driver to reveal the processor. This way, you may safely upgrade the i5 to a similar low powered Haswell i7, if you are so inclined. However, doing to may void your warranty, so be advised.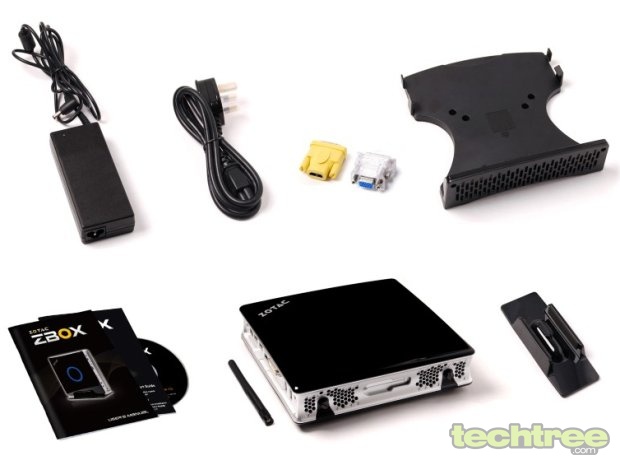 However, such an upgrade would be pointless, because the ZBOX ID92 is more than proficient at your average daily tasks. I used the 'box with a lowly 19-inch monitor to a large 55-inch UHD TV running at 4K. Yes, the onboard Intel HD Graphics 4600 can support displays with pixel dimensions of up to 3840 × 2160. That's one of the reasons why it has two DisplayPort and one DVI outputs instead of HDMI. Your standard HDMI cable can display that screen size only at a halved refresh rate of 30 Hz due to bandwidth limitations.
Excellent CPU Marred By a Mediocre GPU
The processor may be a power efficient dual-core, but it isn't a slouch when it comes to heavy, multi-tabbed web browsing, office and productivity software, and Photoshop. The ZBOX didn't freeze or lag even a bit even when I ran all these software simultaneously. Having said that, ZOTAC should have thrown in an SSD considering the premium it asks for the product. That's one of the factors undermining its PC Mark score of 2653 (average), despite the competent Haswell core. The way below average Raw Storage score of just 300 points pretty much shows that the overall rating would have been vastly improved with an SSD. In simple terms, unlike low-powered computing solutions such as the Intel Atom and the AMD Brazos chipsets, there's nothing that will faze the ZBOX, this side of heavy video encoding and 3D rendering.
However, unlike the Brazos and Atoms sporting mobility Radeons and NVIDIA's GPUs, the ZBOX ID92 has to make do with an onboard Intel HD Graphics 4600. This is bad news for those who want to get some gaming out of this mini PC. It's clear that the Intel GPU solution isn't ideal for any kind of serious gaming. Yes, you can get away with modern games provided you dial the graphics and resolution all the way down, but even then you can forget 60 fps. A generation older games such as Quake 4 and COD MW 2, for example, will run fine at moderate settings. The best example of the GPU's ineffectiveness can be seen in Indie titles such as Super Meat Boy and Limbo, which refuse to run at fluid frame rates at 1080p. And this reflects in the GPU score of 3027 in the older 3D Mark Vantage benchmark. In the newer 3D Mark 11, the performance is a dismal 869 points with the "performance" setting and 1738 with the test parameters set to the Entry-level setting.
Only For Those With Deep Pockets
In the simplest of terms, the ZBOX ID92 Plus is quite expensive indeed for Rs 46,000. I would recommend the non-Plus version for about nine grand less at Rs 37,000. That way, you can shove in an SSD and RAM for a wee bit more over the difference. And that should do wonders for performance in productivity apps. The latest version of Intel's NUC may only have a Core i3, but it sports a better Intel HD Graphics 5000 chipset. It's much cheaper as well, if you can find a way to import it. However, the ZBOX ID92 is still a great choice if you seek the raw processing muscle of the Haswell Core i5-4570T.
Those seeking a good balance between processor and GPU performance might want to check out ZOTAC's ZBOX NANO AQ01. Its quad-core A4-5000 APU may not have the muscle of the Haswell Core i5 of the ID92, but the integrated Radeon HD 8330 GPU should give you a good balance between light gaming and regular productivity apps. The best part is that it's much cheaper at Rs 25,000 and thereabouts. It's a way better choice over the ZBOX ID92 if you primarily need a low-power mini PC that's cheap. The ID92 offers performance, but it comes at too steep a premium for it to be feasible for all but those with deep pockets.
Features: 4/5
Design and Build Quality: 4/5
Performance: 3.5/5
Value For Money: 2/5
Mojo: 3.5/5
Overall Rating: 3.5/5
TAGS: computers