Review: Acer Chromebook C720 | TechTree.com
Review: Acer Chromebook C720
An absurdly expensive web-browser.
Rating

2
/5
11th Dec 2013
Pros:
Slim and well-built; Good screen for the price.
Cons:
Chrome OS is a glorified browser; Very-limited offline functionality; Most apps in Google's Chrome Store are website links; Paltry internal storage.
Review: Acer Chromebook C720
Street Price: Rs 23,000

Ever since its inception, the Chromebooks have been pushing for cloud-based storage solutions. These machines mostly ship with paltry onboard storage, while giving away a generous 100 GB space on Google Drive. This reflects Google's belief that the user data is more secure on their servers than the local drives. Not many agree with it though as Chromebooks failed to make a mark in the laptop market, which is dominated by Windows-powered machines. Two years on, is the 2013 Chromebook line-up heading in a right direction? In this case, does the newly released Acer Chromebook have got what it takes to compete with conventional laptops?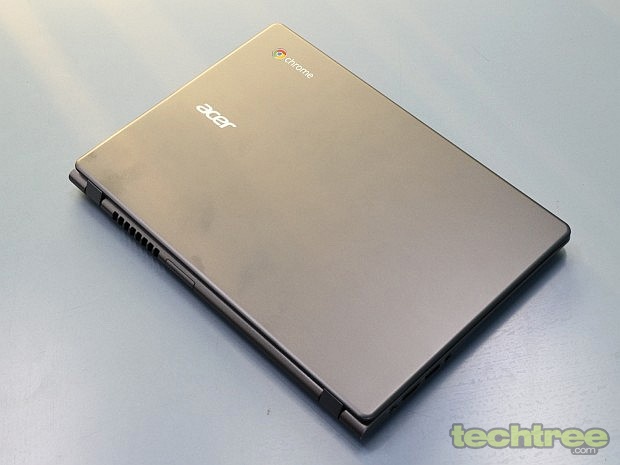 Aesthetics
The Acer Chromebook C720 is one of the sleekest looking laptops you can get under 25k. The Taiwanese manufacturer has kept the design clean. At the same time, it has enough cuts and curves to bring in some character. The lid seems to have made of aluminium, but it's actually plastic. It looks very good nonetheless, and resists fingerprints too. Just be careful not to get it scratched though — white spots on an ash grey laptop don't look good. Acer has gone easy with branding, the lid is all clean save for the Acer and Chrome logo. The chassis and hinges are quite sturdy. The back has been made out of high-grade plastic. The company has done a good job keeping the Chromebook slim, there's not even a battery protrusion on the C720's back. To be precise, the Chromebook is 2 cm thick, and fairly light at 1.2 kg.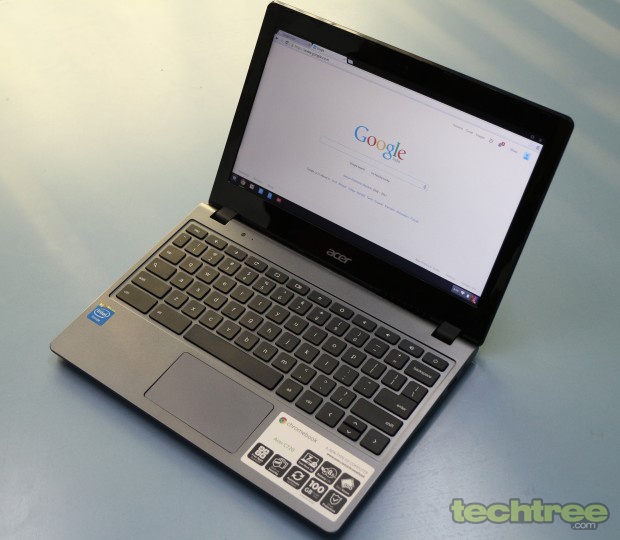 Display
Acer's Chromebook comes with an 11.6-inch screen with pixel-dimensions of 1366x768. The number might not sound impressive, but the display is sharp enough for most users. I was pleased with the panel's colour reproduction. However, the viewing angles could have been better, especially vertically, as it would have provided more flexibility when setting up a display angle. The bezel around the screen is also too big for my liking. The manufacturer could have easily fitted a larger screen in the given frame, if they wanted to. That said, there's not much to crib about here. In short, in the screen department, you easily get what you pay for.
Keyboard And Trackpad
The C720 features an island-style keyboard. Unlike conventional laptops, the Chromebook lacks the function keys. Instead of that, you get dedicated browser buttons such as Back, Forward, Reload etc. The keyboard is quite recessed, which makes it a dust-accumulation heaven. Typing is not an issue since the keys are well spaced. However, I wish the buttons had a little more travel.
The trackpad is very much like what we've seen on normal laptops. What makes it different is the lack of right click button. The touch sensing surface also supports a few swipe gestures including forward and back for browsing. However, it doesn't let you zoom in or out. The C720 comes with two USB ports (one of which is high-speed USB 3.0), SD card slot, 3.5 mm jack, and an HDMI port.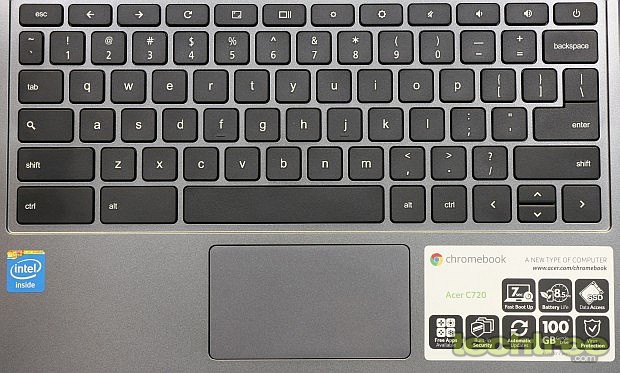 Specs
Near the TrackPad, Acer has cleverly put up a sticker that boasts of Intel Inside logo. Surprisingly, there are no details about the processor, and there's a good reason for the Taiwanese company to do so. Seriously, who in their right mind would flaunt a 1.4 GHz Celeron Dual Core 2955U processor in year 2013? At 4 GB, I must say that there's sufficient amount of RAM. Connectivity features include Wi-Fi and Bluetooth 4.0. The machine comes with 16 GB SSD storage, of which, around 9 GB is user accessible. For more storage, you have to add an SD card. Of course, this being a Chromebook, you get free Google Drive storage of 100 GB for two years.
Usage
Google's Chromebook ads show how quickly these machines boot up. 7 seconds to be precise. So yes, that's quite fast compared to full-fledged Windows 8.1 convertibles. But then, is it actually an OS or just a glorified browser? Let's get into that. First thing first, the Chrome OS is a strange creature. It's built on Linux, but doesn't support full-fledged apps. Similar to Microsoft's Windows OS, the Chrome OS has desktop and wallpapers. But, that's where their similarities end. On Chromebook you get an app launcher and you can add new apps to this list from the Google store. There's a caveat though — be it camera, Gmail, Fruit Ninja, or even Wi-Fi settings, they all open in a browser (Chrome). So basically, you install a game, only to realise that the so-called installed app loads the flash file with at least three ads in all glory. Makes me wonder why on Earth Google calls these website links (bookmarks) as applications?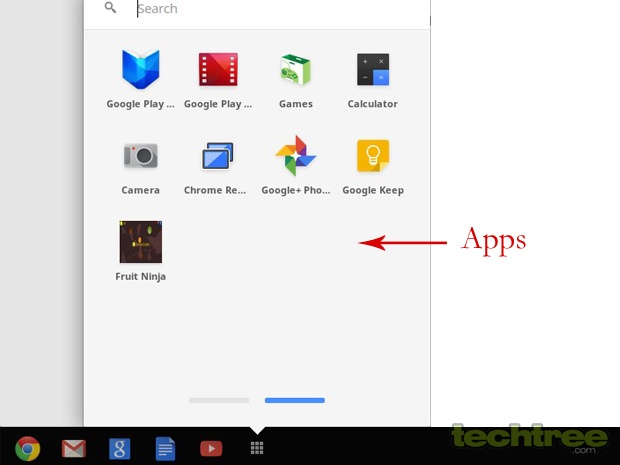 Click on Fruit Ninja...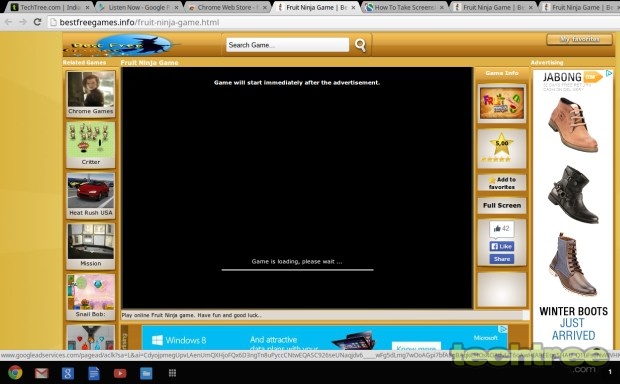 ...And see Chrome direct you to an ad-laden website.

Google claims that you can do a lot stuff in the offline mode too. For instance, to use Google's word processing app in offline mode, you'll have to type in http://drive.google.com/#offline. We off course tried this, but the results were a hit-and-miss affair. I mean, sometimes Chrome actually tells you that Drive's offline version is "not available offline". Ditto with the official Angry Birds game that actually flaunts "Runs offline" mark.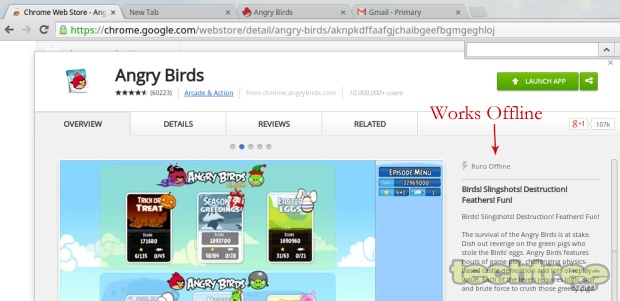 Since the document editor runs in a browser, there's no "save as" option. So at the end of the day, you must sync it with Google servers to make sure you don't lose your data. Even when online, connection drops (which is a quite normal in India) can make the document editing quite painful. And since each and every document you write is forcibly synced with Google servers, the search-giant can access your documents, along with the track-changes. I'm not saying that it does, but then why force a mandatory server sync on users?
The Chromebook isn't ideal for multimedia usage either. With only 9.5 GB internal storage, you can't even think of putting your music and movie collection on it. You can, however, load media from pen drive and play it. In that case, the Celeron processor does a good job by playing HD quality MP4 and MKV files without an issue. But then, why would I do so many workarounds, when a similarly priced Windows laptop ship with at least 500 GB of hard drive? Another issue is that, Google's Play music player doesn't work in India yet.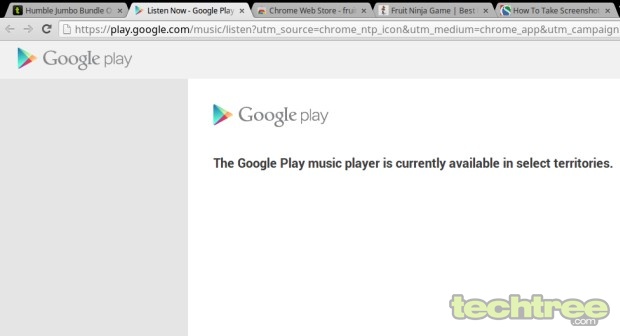 Verdict
When it comes to internet companies, Google is one of the best companies in the business. Their search engine unbeatable, and it's unlikely to be challenged by anyone in the near future. However, the same can't be said of its Chrome OS project. In an attempt to take on Microsoft, it has created an OS, which is not even half as usable as second grade distros of Linux. Needless to say, it's very difficult to recommend the Chromebook, because fully-functional Windows 8 laptops are available for a lot cheaper. Finally, if you're looking for a light-weight companion for productivity and media consumption, Lenovo's IdeaPad S206 and Acer Aspire One A725 are much better options.

Features: 1/5
Design And Build Quality: 4/5
Performance: 2/5
Value For Money: 1/5
Mojo: 2/5
Overall Rating: 2/5