Review: Cooler Master CM Storm Devastator Gaming Gear Combo | TechTree.com
Review: Cooler Master CM Storm Devastator Gaming Gear Combo
One thing this awesome combo won't devastate is your bank account.
Rating

4
/5
08th Dec 2013
Pros:
Unrivaled value for money; Backlit keyboard and mouse; Great tactile feedback on both devices; Dedicated DPI swithcing button (mouse); Solid tracking (mouse); Feature packed.
Cons:
Poor choice of DPI presets (mouse); 2KRO only (keyboard); Keyboard lettering isn't easily visible without backlighting.
Cooler Master CM Storm Devastator Gaming Gear Combo
MRP: Rs 3,499
MOP: Rs 2,750

The sky-rocketing dollar has made gaming-grade mechanical keyboards and high-end mice prohibitively expensive. Case in point, the Razer Black Widow Ultimate I had bought last year for some seven-odd thousand bucks is available for well over ten thousand rupees now. Heck, the cheapest gaming-grade mechanical keyboard will set you back by a minimum of Rs 6,000. This is the sort of money an average computer user spends on his motherboard. It's evidently difficult to find a decent gaming keyboard and mouse combo that won't break your bank.

If you're wondering how a gamer on a shoestring budget would cope in this scenario, Cooler Master has just what the doctor ordered. Allow me to introduce the CM Storm Devastator Gaming Gear Combo. Don't be fooled by its name. The only thing this bundle won't devastate is your bank account. Priced at Rs 3500, the combo includes the MB24 membrane keyboard and MS2K optical mouse. Mind you, these gaming-grade products live up to their credentials with all the bells and whistles one would expect out of expensive gaming gear.

There are two basic parameters any gaming keyboard/mouse should fulfil. The keyboard should allow you to game in a darkened room without disturbing the sleeping wife/girlfriend/parents. Secondly, a dedicated button for switching mouse resolution (DPI) on the fly is imperative for sniping/assault. The MB24 keyboard is backlit and so is the mouse. The latter sports a dedicated button DPI switching as well. The Devastator combo, thus, fulfils the minimum criteria required to back up its gaming credentials.

The MB24 Keyboard
The low price of the combo seems improbable when you consider the way it looks. Both the keyboard and the mouse look undoubtedly like gaming peripherals. Black, angular, lit up like a dance bar, and with the bells and whistles you expect from more expensive products. I cannot call the MB24 keyboard well built. Quality isn't the word that comes to your mind when you witness the matte and glossy blend of plastic used on the device. The MB24 has a fair bit of trampolining, which causes it to buckle slightly at the middle under pressure. However, it isn't pronounced enough to make any perceptible difference.
On the bright side, all keys are grip coated, which gives it a premium feel that's uncharacteristic for the price. The keys themselves are laser-etched for durability, whereas the whole shebang is held firmly in place with a generous spread of rubber pads at the bottom. What surprised me the most was how each row of keys is angled different for better ergonomics. The same rows in an ordinary keyboard are flat with all keys being identical. This is what separates a cheap keyboard from an expensive one, because the manufacturer has to bear the added cost of separate injection moulds for each rows of keys. It's good to see that Cooler Master hasn't cut any corners; even where it could have gotten away with it easily.
The keyboard feels pretty good as well. The membrane switches have been specially designed for improved durability as well as better tactile feedback. The keys are light enough for ease of typing, but still have a strong rebound action that ensures a rapid response for gaming. A quick run through Super Meat Boy pretty much confirmed this. The fact that I could beat the excruciatingly difficult alternate "Dark World" levels with this keyboard proves its credibility.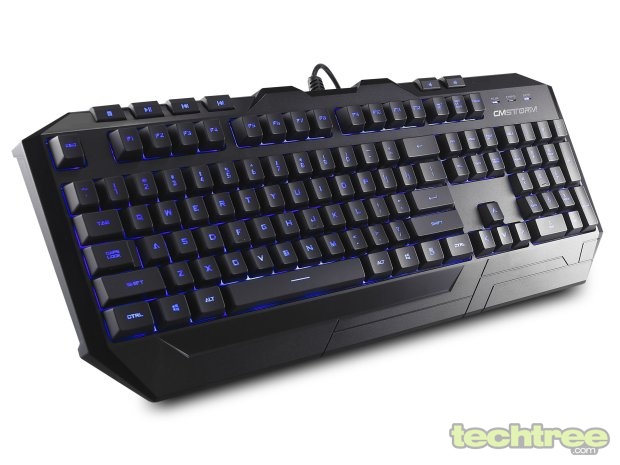 While there are no additional macro keys, the keyboard does include dedicated multimedia keys for quick access to playback and volume controls. It's a pity that these keys feel wobbly and lower quality than the rest of the keyboard. The MB24's over-dependence on backlighting means that the transparent font has readability issues even with sufficient lighting. At any rate, this isn't a deal breaker because you can always keep the backlighting switched on.
The keyboards two-key rollover (2KR0) is woefully below the minimum required for gaming keyboards. I know that sounds Greek and Latin, so here's a short primer on what the phenomenon really is. It all starts with ghosting. It occurs when you press two or more keys and the keyboard accidentally registers an extra key that wasn't pressed at all. This is thanks to a keyboard design that determines key input by shorting entire rows and columns of the keyboard matrix. This is countered by key blocking. It is the tendency of the keyboard to refrain from registering any further input when multiple keys are held down simultaneously. The key rollover figure is closely related to this phenomenon. It will usually be advertised as X-key rollover, where X is the number of keys that can be pressed simultaneously before key blocking occurs.
This is crucial in certain types of games such as stealth-based FPS (sneaker shooters) that necessitate multiple modifiers for crouching, running, leaning, and zooming being held down even as you press more keys. Will the MB24's 2KRO affect gameplay in such games? In all practicality, you're unlikely to hold down so many keys at the same time for this to be a problem. I tested various common manoeuvres in FPS games to check if the 2KRO limitation affects gameplay in any way. It didn't, so I wouldn't consider this a deal breaker, if I were you. Certainly not at this price.

The MS2K Mouse
The MS2K mouse looks particularly impressive with its angular design and light show. In fact, considering its bells and whistles, I wonder how Cooler Master managed to price the combo so low. Like the keyboard, it's lit up with blue LEDs. This includes the oversized scroll wheel for faster and more accurate weapon switching. The mouse is clad with rubber pads on the sides for maximum grip and comfort. The weight itself strikes a great balance between the manoeuvrability offered by lighter mice and the steadiness of heavier ones. The ambidextrous shape is optimised for both left and right-handed users. However, since the two thumb buttons aren't mirrored on the other side, they are inaccessible for left handed users.
The best part of the mouse, is a dedicated button that allows you to choose between three resolution presets of 1000, 1600, and 2000 DPI. Well, that and the excellent micro-mechanical switches. The DPI switching feature is indispensable in FPS games for switching play styles, but I don't agree with the steps Cooler Master has chosen. 1000 DPI is a bit too high for fine work in my book. The optical sensor rated to 2000 DPI is pretty decent, if not the most solid performer. MS2K tracks flawlessly at 1000 DPI, but a hint of jitter is still palpable at 1600 DPI. At 2000 DPI, it gets conspicuous.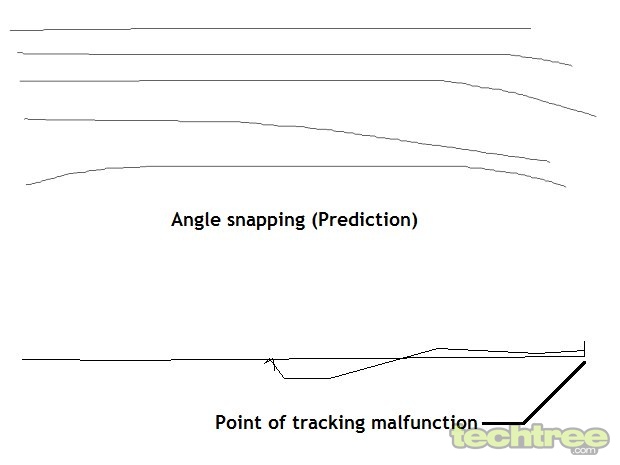 Most of the jitter problems are worsened by the aggressive angle snapping (prediction). If that sounded like Sanskrit and Bhojpuri to you, here's some dope on the phenomenon. A mouse exhibiting angle snapping, or prediction, tends to filter out shakes generated by the human hand, thereby allowing it to track in a straight line. Although that may be beneficial to keep the crosshair locked along the Y-axis (height) for easy headshots, it is disastrous in games incorporating any iota of verticality, or those with player models of varying heights. In that case, not being able to aim the crosshair up and down freely is a bad idea.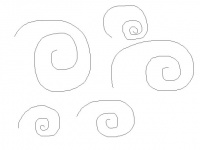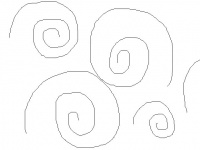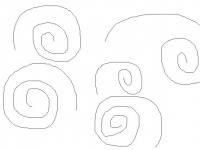 Tracking accuracy: 1000 DPI (left), 1600 DPI (centre), and 2000 dpi (right)

Having said that, this level of performance is still better than most laser sensors out there. Case in point, the point of tracking malfunction—that is, the speed at which the sensor experiences negative acceleration—cannot be achieved without a violent shove. This is good news for low-sensitivity gamers (Snipers mostly) that are known to pull really long and fast swipes.

Worth Every Paisa
The whole shebang costs less than the cheapest gaming mechanical keyboard and comes with a two-year warranty to boot. It has a few niggles such as Cooler Master's weird choice with the mouse sensitivity presets and the 2KRO limitation for the keyboard, but the number of features it packs in at the price is more than enough to dismiss these minor issues. It's nigh impossible to find a gaming mouse and keyboard of this competence at an MRP of Rs 3500, that can be bought as low as Rs 2,750 on the street. The Devastator Gaming Gear Combo, then, comes highly recommended.


Features: 4/5
Design and Build Quality: 3.5/5
Performance: 4/5
Value For Money: 5/5
Mojo: 4/5

Overall Rating: 4/5
TAGS: Gaming, Input Devices