Review: Fujifilm FinePix X-M1 Mirrorless Camera
A pricy combo of a light mirrorless camera, and impressive array of lenses.
Rating

3
/5
27th Nov 2013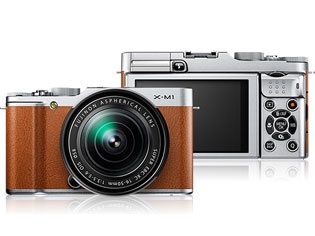 Pros:
APS-C sized sensor; Easy to use; Wi-Fi and GPS support.
Cons:
Not suited for motion shots; Expensive.
Fujifilm X-M1 (XC 16-50mm F3.5-5.6 OIS/ XF 27mm F2.8 lenses)
MRP: Rs 48,000 (+ Rs 32,000 for the 27mm lens)
Who Should Buy it:
Who have a lot of money to throw around.
Those looking for a non-conventional wide-angle kit lens with a mirrorless camera.
Those who can't wait home to transfer images, or can't keep track of places they visited (Wi-Fi/GPS support).
Who Shouldn't:
Those who want a DSLR-like camera for cheap.
If you want a touch-based interface, give this a miss.
If you are interested in capturing motion shots.
People looking for Electronic View Finders in a mirrorless cameras.
Mirrorless cameras seem to be a rage these days. Why shouldn't they, after all these offer DSLR-type quality in a lighter and more compact body, lighter lenses, and wider sensor sizes. With more and more makers introducing APS-C sized CMOS sensors in snappers that boast of ease of usage, the competition in the space is really heating up. Does Fujifilm's latest offering, the Fujifilm FinePix X-M1 live up to its price tag? Let's find out.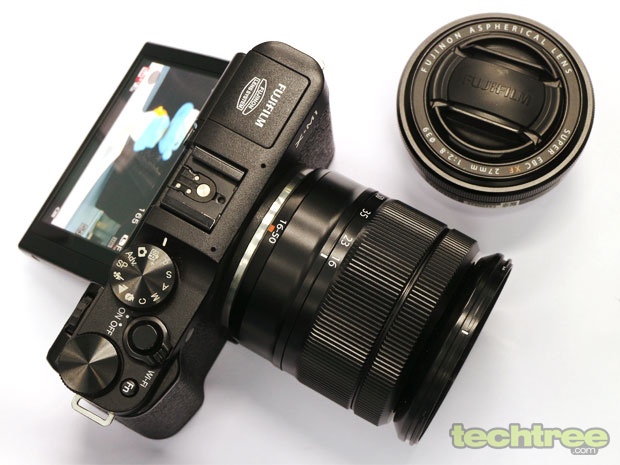 Design And Build
FujiFilm usually has very robust cameras in its line up, and this one is no different. The plastic body has a nice textured finish, which further assists in making it quite ergonomic to hold. The camera does away with too many dials, which is a welcome change. It boasts of a 16.3 MP X-Trans (APS-C equivalent) CMOS sensor, and is a mirrorless camera. I haven't really found too many kind words to say for electronic view finders (EVFs) in the past, so it's good that Fujifilm hasn't even bothered to add one here. But if you really can't do without it, you can attach one via the hotshoe attachment. There is a built-in popup flash, which looks very brittle. The mechanical button to force it open is at the back, just above the LCD screen. The right side houses the Mini HDMI and Micro USB ports.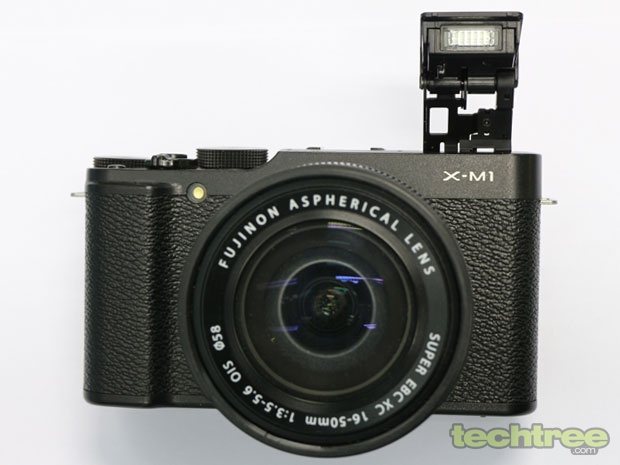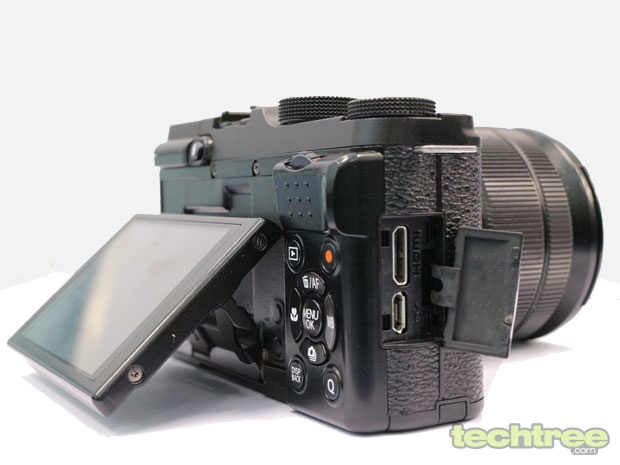 There are two control rings that you can use to toggle aperture and shutter speeds with: one on the top of the camera, and another at the back. The mode selection dial offers options such as Advanced SR AUTO, AUTO, Advanced Filter, Multiple Exposure, Scene Position, Program AE, Custom, Shutter Priority AE, Aperture Priority AE, Manual, Portrait, Sport, and Landscape modes. More on those later. There is the customisable FN button, control ring, shutter release with power setting around it.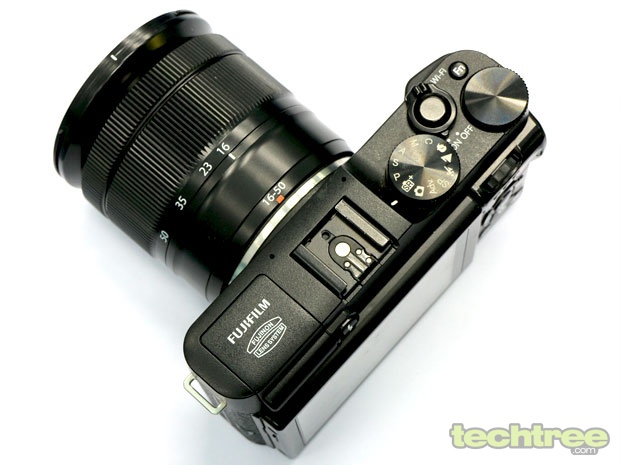 There is a 3" semi-tilt TFT colour LCD monitor to help you frame shots with ease, and the camera is not touch-enabled. At the back, along with the record button, you can set the white balance, enable macro, autofocus options, shot mode, or change menu settings. It also supports Wi-Fi data transfer and Geo-tagging of images. Overall a better offering from Fujifilm than the one I last used.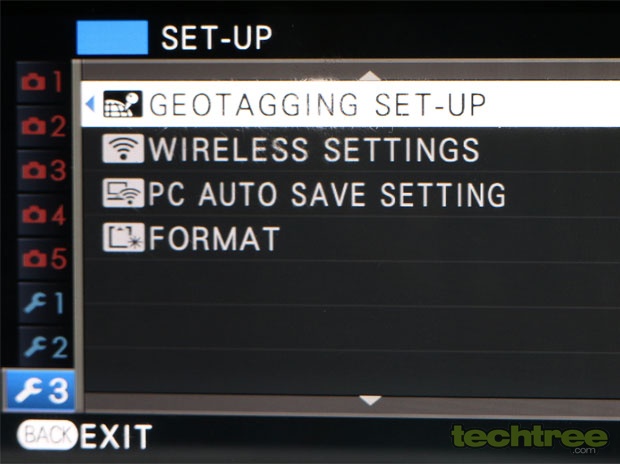 User Interface
When you compare this to the brand's X-E1, this one is a piece of cake. My favourite though is the Q button that lets you change settings from one screen, using the dial.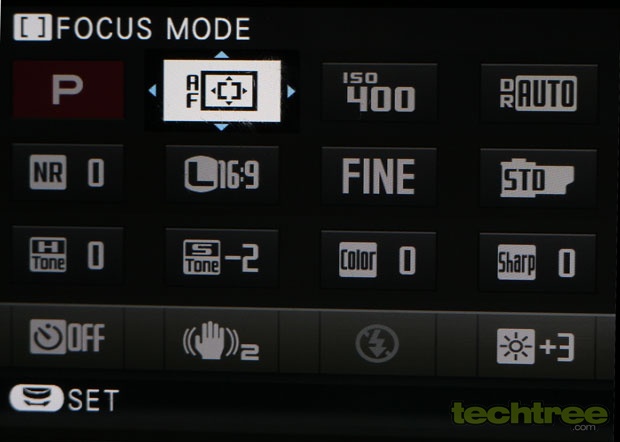 We had two lenses from the brand, the kit OIS-enabled f/3.5-5.6 16-50mm lens, and a prime 27mm F2.8 lens to work with, both of which offer crisp details.
Of all the modes, the Advanced SR AUTO is the most interesting. Based on the object in focus, it picks from the camera's built-in scenes, and automatically sets shutter speed, aperture and other settings to take interesting pictures. There is also the Film Simulation modes that lets you play around with colour saturation in your shots, which includes Provia (standard), Velvia (vivid), Astia (soft), monochrome, and sepia.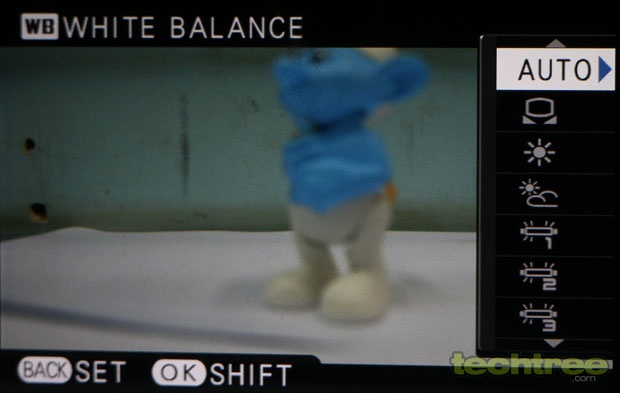 The most interesting thing about Fujifilm snappers is the focus mode. Apart from the 49-point auto mode, there is the single-point select, continuous, tracking, and manual. The multi-exposure settings are quite annoying, but the camera supports HDR as well.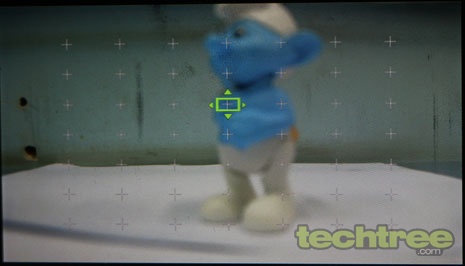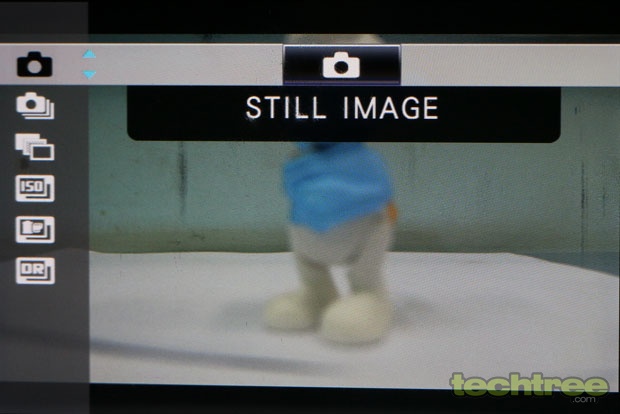 Overall, this camera is quite easy to handle.
Performance
After struggling with Fujifilm initially, I can safely say that the brand isn't as bad as I first thought. This baby has several options, and pictures to play around with. Its video quality is also very decent. Like I mentioned before, entry level users will enjoy shooting in the Advanced SR AUTO mode. The camera is very good with low light and slow shutter shots too, and the PASM (Program, Aperture, shutter priority, and manual modes) come across as a blessing. Check out a few test shots below.
Coming to ISO settings, after ISO 3200, the photo grain becomes too noticeable, with a sharp loss in details.
Another noteworthy point is the focal length. Since we had the 27mm prime lens handy, we tried our hands on that one two. However, as compared to a 50mm lens on my mirrored camera, this one has a wider point of focus: the minimum required distance is longer. However, this isn't a limitation of the lens, but the build of the camera. This distance switches on the 50mm canon lens too when using the eyepiece (view finder), and using the LCD to focus on a subject.
Verdict
This latest offering from Fujifilm is quite an interesting offering. However, at Rs 48,000, its asking price is a bit too steep. Instead, you can pick up the Canon EOS M for as little as Rs 32,000. If you can compromise on the sensor size, the Olympus EPL3 with a micro four-thirds sensor which is worth around Rs 20k will be a much better investment.
Features: 3.5/5
Design And Build Quality: 3.5/5
Performance: 3/5
Value For Money: 2.5/5
Mojo: 3/5
Overall Rating: 3/5
Specifications:
16.3 MP X-Tans (APS-C equivalent) CMOS sensor with EXR Processor II.
FUJIFILM X mount.
3.0-inch semi-tilt TFT colour LCD monitor.
USB 2.0 High-Speed, mini HDMI output
Remote release terminal for RR-90 (supported accessory).
NP-W126 Li-ion battery.
1920 x 1080 Full HD movie recording at 30 fps with stereo sound.
Click here for the complete list of specs.
TAGS: Cameras, Fujifilm, FinePix