Review: AOC LE23A6730/61 3D TV - The Bachelor's TV | TechTree.com
Review: AOC LE23A6730/61 3D TV - The Bachelor's TV
Bang for the buck. Now in 3D.
Rating

3.5
/5
19th Nov 2013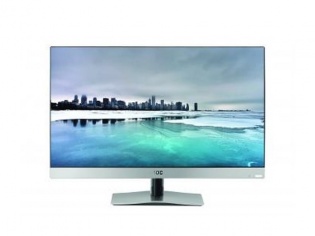 Pros:
Cheap; Loaded with features; 3D capability; Four 3D glasses bundled; Great connectivity options; Decent build quality.
Cons:
Average picture quality; Exhibits black crush; Glossy screen prone to glare.
AOC LE23A6730/61 3D TV
MRP: Rs 20,000
Street Price: Rs 18,000

Those on the lookout for cheap television sets are an ignored lot. Surprisingly, it's the major TV manufacturers that do the ignoring. While you have loads of cheap TV options in the 20-inch to 28-inch category, none of them have the sort of features that a young, tech-savvy consumer seeks. In the crammed metros, there's an army of young professionals with more money than living space. They crave features of a high-end TV while living in a tiny rented accommodation with no room for a large screen TV. Although there's no specific name for this niche category, I call them the bachelor's TVs.

These are small TV sets that incorporate analogue inputs for your cable TV connection, inbuilt speakers for your consoles, VGA/DVI connections for your PC, and HDMI for your Blu-ray players. The idea is to have one display on the desk for all your entertainment needs. A perfect solution for the average bachelor who lacks the luxury of separate rooms for the PC and console/cable set-top box.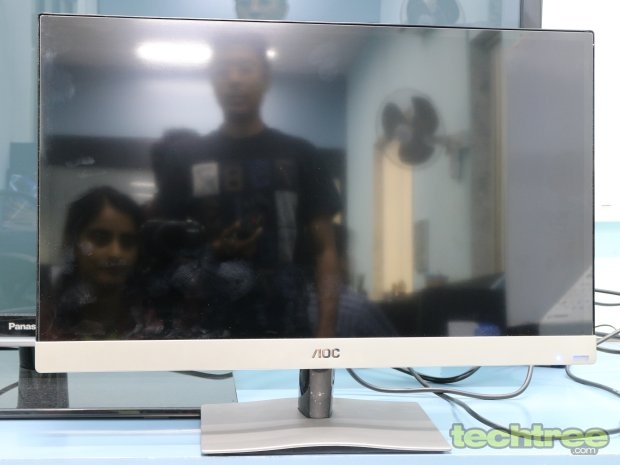 Look at the bright side; the TV doubles up as a mirror

The AOC LE23A6730/61 3D TV is the epitome of a bachelor's TV. For less than Rs 20,000, you get a 23-inch LED-Backlit TV with 3D capability. Yes, 3D support with four free 3D glasses to boot. I can't recall any brand that offers 3D at this price. The TV even looks pretty good for the price. The interestingly moulded base and the slightly thicker lower bezel have been fashioned out of champagne-gold plastic that contrasts well with the black glossy screen. The remaining three sides of the bezel are covered by a thin strip of black glossy plastic. With a total depth of 5 cm, the whole TV set is pretty compact, with the all-important swivel adjustment for rake.

The AOC 3D TV is pretty sorted out in terms of connectivity. You have a pair of HDMI inputs, which is impressive at this price. You also get one D-Sub (VGA) input for the PC, whereas the analogue front is covered with component and composite inputs, in addition to a 75 ohm RF input for old-school cable connection. This way, you can connect your cable set-top box, videogame console, and still have an HDMI port free for the PC. On the side, you get a USB port and headphone output, along with basic operating controls.

The screen is glossy, and that's usually good for colour and image sharpness. The AOC 3D TV, however, overdoes the glossy bit. That means, you see yourself and the lights on the screen than video content. That's the only major complaint with the TV, though. One that can be fixed with careful positioning. Otherwise, the TV is chock full of features. For starters, you get Full HD (1080p) capability with 1:1 pixel mapping hidden away in the 'Zoom' menu for optimum fidelity with PC and consoles. There are comb filters and video noise reduction options galore, along with the usual video processing gimmicks for contrast and colour enhancement.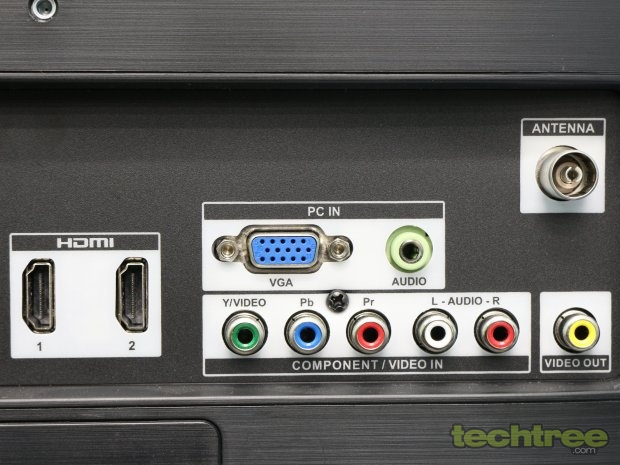 Two HDMI and a VGA input, in addition to analogue ports means you don't have to swap cables

As always, I switched them all off and put the TV through the paces with test patterns. To put it simply, it became apparent what you lose out on in a TV that offers top-notch features for a song. The picture quality is strictly average. A fact that's apparent on the TV's inability to resolve a fair deal of blue, red, and green swatches on the contrast test pattern. Ditto for gamma, which is way off what could be considered acceptable.

The greyscale gradient shows discolouration and banding, which is a clear sign of FRC/dithering. Then again, you can't expect a true 8-bit panel at this price. The black levels are dismal, and show an utter lack of the TV to resolve darker details. Expect significant amount of black crush in movies shot in the dark. The decent viewing angles and white saturation levels (at 95% contrast level) are the only saving grace.

This lack of visual fidelity is reflected on the Blu-ray test suite. The Descent and Pandorum are known for challenging displays with its abundance of dark scenes. The AOC 3D TV doesn't really cut it here. The colours in Shaun of the Dead and Star Trek look exaggerated and devoid of finer details. The 1080p capability in a 23-inch screen however translates into excellent details, which was evident in Zombieland and Suck Blu-rays.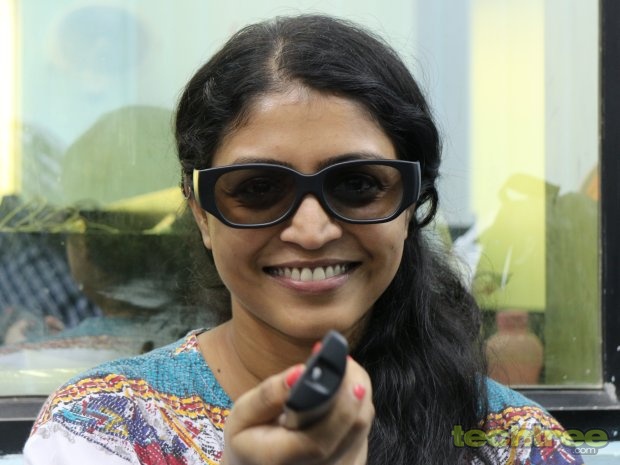 You'd be this happy as well if you received four free 3D glasses

The AOC implements 3D through passive polarised glasses, which means the resolution may be halved, but the image is more stable and flicker-free. This is true in practice as well, because the 3D capability is pretty impressive for a TV sold at this price. The vertical viewing angles may be limited, but from the dead centre, the 3D image is pretty solid and devoid of blurriness. The Bolt 3D movie I tested looked pretty good, and the 3D depth and immersion were pretty impressive.

The AOC LE23A6730/61 3D TV may have a strictly average picture quality, but at a street price of Rs 18,000, it offers a staggering amount of value. It has excellent USB media playback that supports all sorts of modern video formats, including 3D movies. What's more, it even comes with four 3D glasses to boot. An abundance of connectivity options allows you to hook up all sorts of devices without having to bother with swapping cables. Then you also get a remote that may not be swanky, but it does the job well enough.

In short, if you're in the market for a 3D TV with abundant connectivity options for a song, this offering from AOC is absolutely peerless in that regard. If you can get past its average picture quality, you might want to consider this one.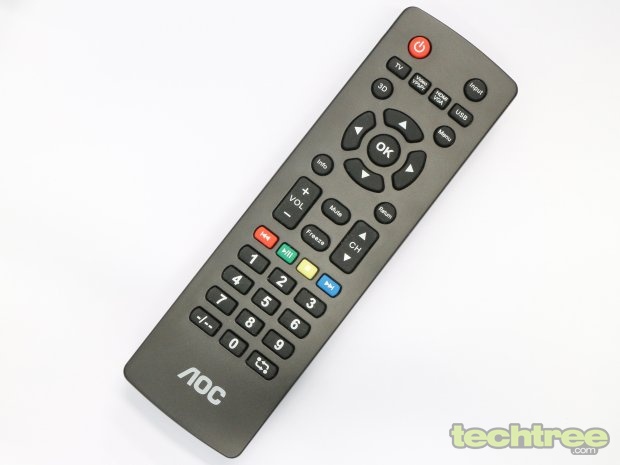 The remote control is simple but easy to use

Features: 4.5/5
Design and Build Quality: 3.5/5
Performance: 3/5
Value For Money: 4/5
Mojo: 3/5

Overall Rating: 3.5/5