Review: Fujifilm X-E1 — A Retro-Style Compact Mirrorless Camera
Very retro, and cumbersome to use.
Rating

3
/5
11th Nov 2013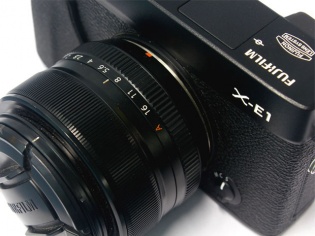 Pros:
APS-C sized sensor; Well built; Supports 1080p video recording @24fps; Delightful 35mm f/1.4 lens.
Cons:
Steep learning curve; Too many controls on different dials; Processing algorithms don't work well; Expensive.
Fujifilm X-E1 (35mm f/1.4 lens)
Street Price: Rs 63,160

Who Should Buy it:
Those who have loads of patience, and a very keen sense of technicalities of a camera.
Those who are photography pros and want an APS-C sensor mirrorless camera.
Those who want to indulge in landscape and still photography.
Who Shouldn't:
If you're looking for snapping moving objects or close ups.
Give this one a miss if you are looking for a DSLR replacement.
Something that is easy to handle.
At this price point, there are better options with APS-C and micro Four-third sized sensors. Some even cost lesser.
These days the Pentax-style retro film cameras seem to be a rage. The Fujifilm's retro-style mirrorless camera fills in the gap with X-E1. But does it take old school cameras forward, or is it just eye-candy? Let's find out.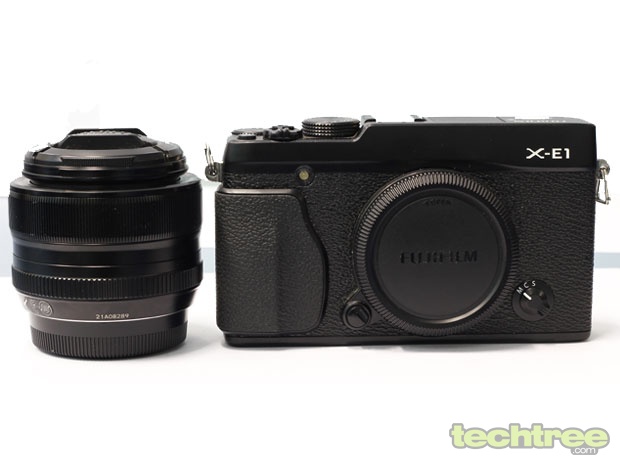 Design And Build
Like I mentioned before, the X-E1 has a very old-school, retro feel to it. Most controls such as shutter speeds, EV balance, and aperture can be set using dedicated separate dials. There is a three-step autofocus, on the right side on the face of the camera, below the lens. Also located near the shutter button is a function key that can be customised to your comfort. The top of the camera also houses a hot shoe and a pop-up flash.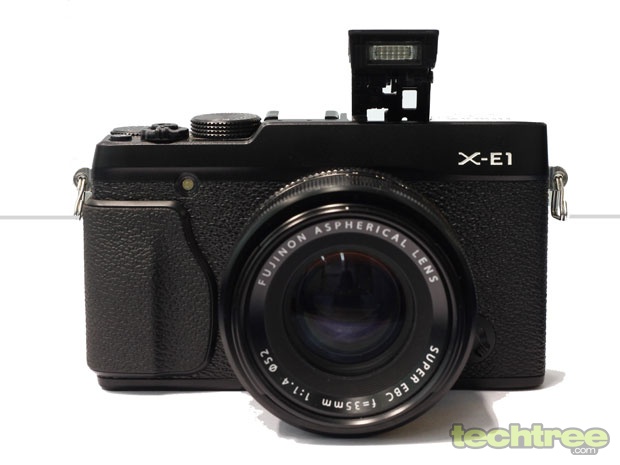 The back sports the Electronic View Finder (EVF) (with the dioptre control), Flash control button, display toggle (View Mode), autofocus buttons (AE/AF), Zoom keys, Shooting mode shortcut key (Drive), macro key, playback button, and a display back button to switch out of the EVF. The Q button shows you the settings selected to capture the shot.
The left side of the camera house connection ports including USB port, mini HDMI out, 2.5mm microphone stereo mini connector.
Overall the camera is sturdy to hold, and is made with good quality materials. It has good grips, making it easy to hold when taking pictures. It is quite easy on the eyes too, so no complains about how it looks.
User Interface
Here's where the things get quite un-intuitive especially for those used to current generation DSLR's. Unless you have the experience of using analogue cameras, X-E1 has a rather steep learning curve. You have to be a very technically sound photographer to use this one, since all settings are on dials. Setting the shutter speed to A puts your camera on Aperture mode, and A on your Aperture settings puts the camera on Shutter Priority mode. Setting both to A and setting the focus to S will put your camera in full auto mode. M is for Manual Focus, and C will bring up the Cross-hair focus point.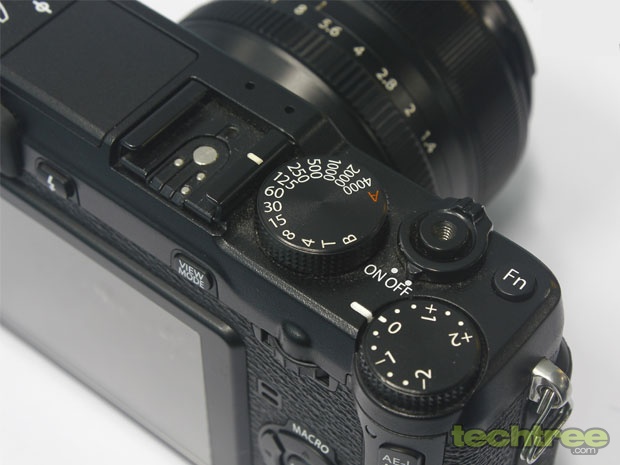 Once you set the focus value to M or C, you need the AE/AF buttons to kick in the focus mode. So that way, you need a lot of patience to actually work with this camera. The Q button will show you the shot settings, and you can change setting on the pane with the dial near the view mode button, which is a blessing.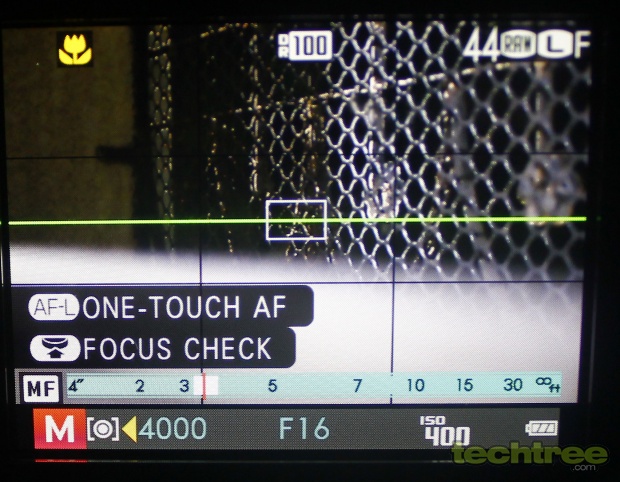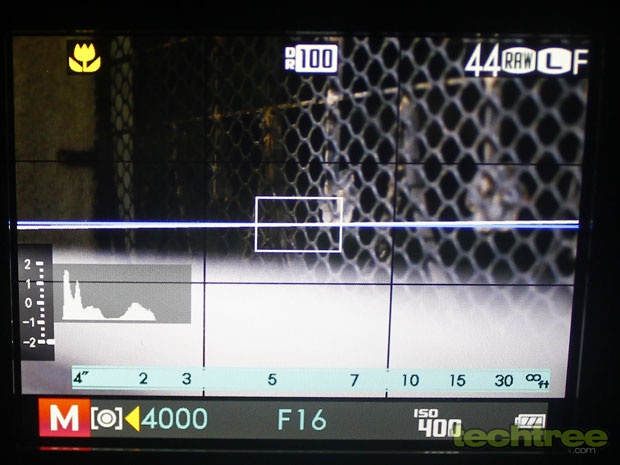 Important controls such as ISO, and flash control modes are so deeply nested, that figuring out how to configure things is painful. So forget about capturing moving objects with this one. However, what I found most impressive is the number for focus point that you can pick in the MF mode, so you can frame your shots well. But that is where the comfort ends.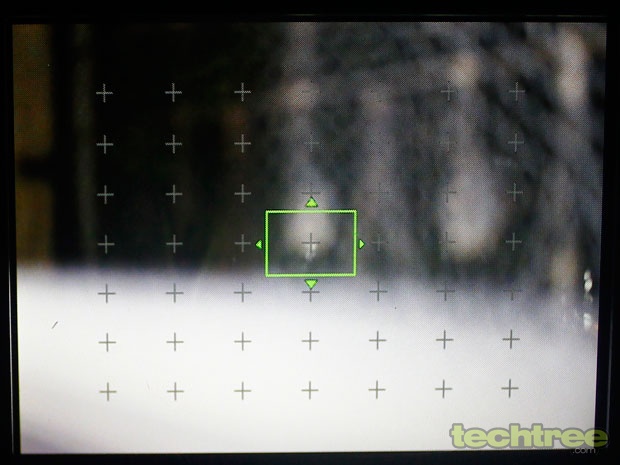 The Drive button is yet another important button, it lets you switch between shooting modes. In the burst mode, you can pick between 3 and 6 fps modes. For those who enjoy video recording, you can shoot 1080p videos at 24fps, with stereo sound. Apart from a decent inbuilt mic, you can also attach an external mic for better sound.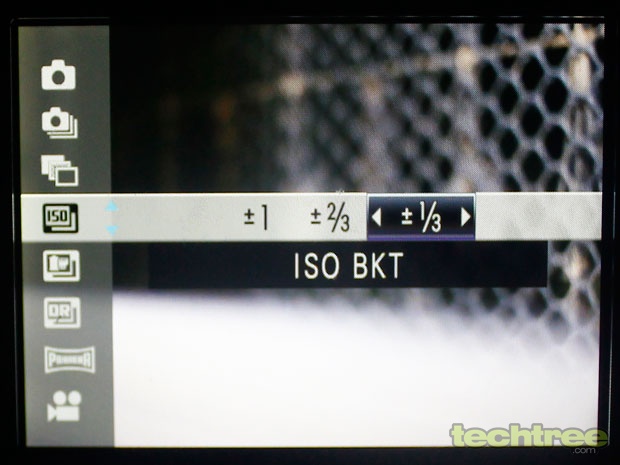 Performance
The camera boasts of HDR support, and lets you take bracketed, film simulation bracketed, multi-exposure as well as panorama shots. It takes a while to get the hang of things, once you've set up the camera, it works well. However, to get a decent focal length (approx 20 cm) closest to your subject, you will have to keep the macro mode on, which is a bit annoying.
.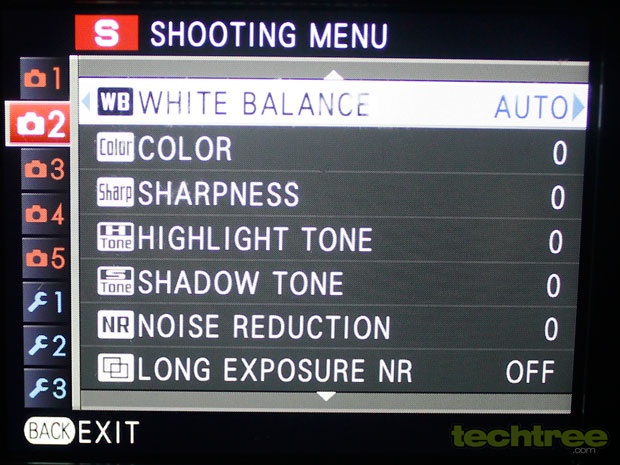 You can play around with white balance, and the camera comes with several inbuilt image correction tools. But in the short while I spent with the camera, it wasn't something I tried at length. The good part though is that image stabilisation and autofocus is taken care of by the camera body and not the lens. On the other hand, EVF is nothing to write home about.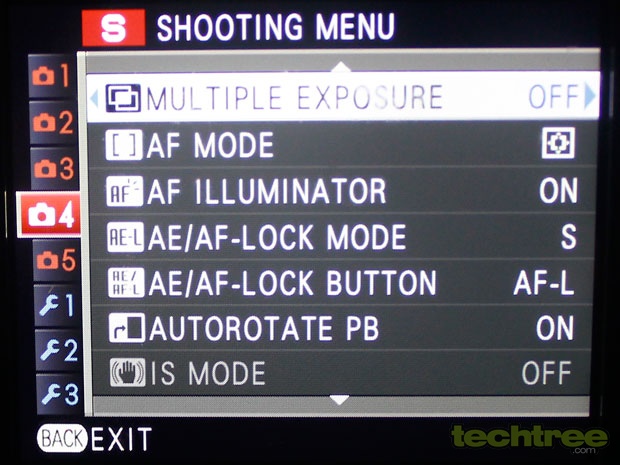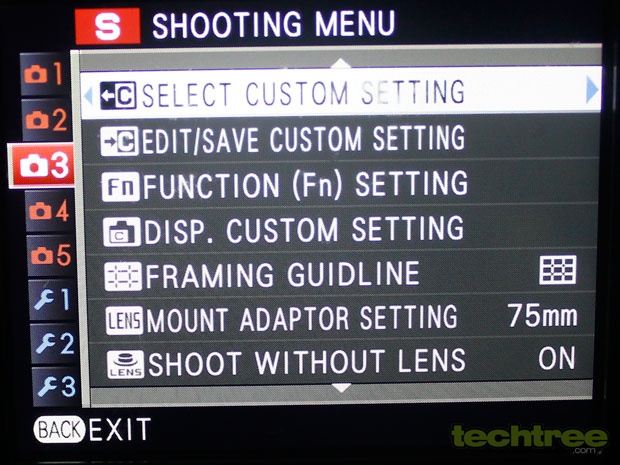 On the ISO front, right up to ISO 4000; the noise levels are fine. After that, the moiré is very noticeable.
The 35mm lens that it came with is fun to work with, but the body disappoints. For instance, check out the scaled test shot below. Shot at f/1.4, the point of focus seems scattered, and that too randomly.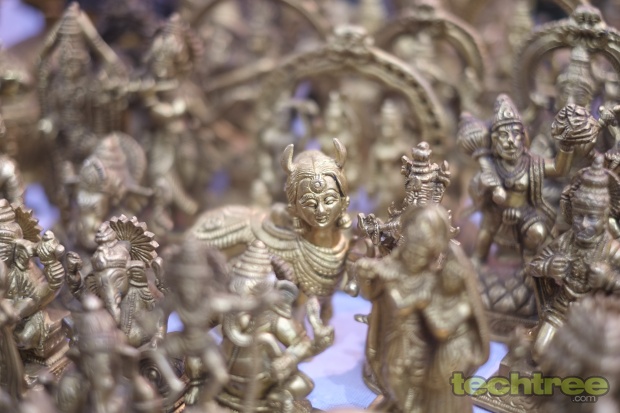 Another irregularity cropped up when I tried to shoot this low light scene on ISO 400, at shutter speed of 1/400, f/1.4, and EV of 0, and yet another at ISO 400, at shutter speed of 1/400, f/1.4, and EV of 1, there is little difference. For the record, the shutter speed and aperture had been set at auto, so I'm not sure if only the review unit doesn't consider exposure bias value or it's an issue with the entire lineup.
Check out more test shots below:
Verdict
The Fujifilm X-E1 is a truly compact mirrorless camera, and is quite a looker. However its vanity comes at the cost of its usability. It takes quite a while to get the hang of, and is unreliable at times. Low light shots are disappointing. The camera with an X-Trans CMOS (APS-C equivalent) sensor, and 18-55mm kit is priced at Rs 67,000 (Rs 55,500 for body only), and the one with the 35mm lens is worth Rs 63,160. At that price point, you have several better options to pick from, including the Panasonic G6 at Rs 50,000 (with a micro four-thirds sensor), or even the Canon EOS M, which is worth Rs 32,000. But if it is retro that you crave for and can handle it well, don't look elsewhere.
Features: 3.5/5
Design And Build Quality: 4/5
Performance: 2.5/5
Value For Money: 3/5
Mojo: 3/5
Overall Rating: 3/5
Specifications:
16.3 megapixels (effective).
(APS-C) X-Trans CMOS sensor.
RAW format support.
Records H.264 (MOV) files in 1920 x 1080p, 1280 x 720p with stereo sound at 24 fps.
FUJIFILM X lens mount.
Manual pop-up flash.
Hot shoe support.
Electronic Viewfinder.
2.8" TFT LCD screen.
USB 2.0 High-Speed, mini HDMI out, 2.5mm stereo mini connector.
NP-W126 Li-ion battery.