Review: HP SlateBook x2 – Not Ready For Work
A tablet that tries too hard to be a laptop.
Rating

3
/5
12th Nov 2013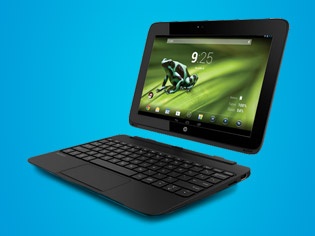 Pros:
Fast, Responsive, Sharp display, Good keyboard dock, Rear-mounted volume/power controls, 64 GB internal storage, Mouse works
Cons:
Software not suitable for work, Yellow tint on display, Unimpressive battery life, Bulky charger
HP SlateBook x2
Street Price: Rs 40,000
Who Should Buy:
- If you don't mind trying out new devices
- If you are open to trying out a new way of working
- If you want a powerful tablet with a keyboard attachment

Who Should Not:
- If you want to do serious work
- If you dislike poor battery life
- If you simply cannot tolerate mobile apps for all work

HP SlateBook x2 is a hybrid device (so to speak), that has a bit of identity crisis. It's a tablet that wants to ape the functionality of a laptop, but yet in essence be a tablet. As HP likes to call it, 100% tablet, 100% notebook, 100% Android and as we call it, 20% work-friendly.
Work-friendly, you ask? Of course, why else would you slap on a full sized QWERTY keyboard. You don't need a separate keyboard to play Angry birds or surf the internet. This is meant to be a work laptop kind-of device that ends up being just plain, meh overall! And this has to do more with the software than the hardware itself.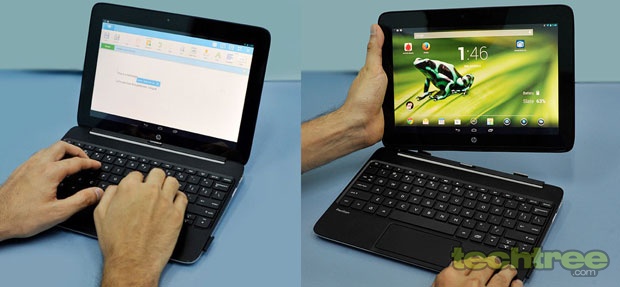 (Left) Laptop mode comfortably docked (Right) Detachable Magic!
Hardware/Build
HP SlateBook x2 has to be one of the best hardware driven tablets. Not only is it powered by the powerful NVIDIA Tegra 4 chipset, but also comes with a 10.1-inch Full HD touchscreen. The build quality is very good too. The SlateBook x2's hinges that hold the main tablet with the keyboard dock are very sturdy. Expect it to withstand many knocks and yanks when using it.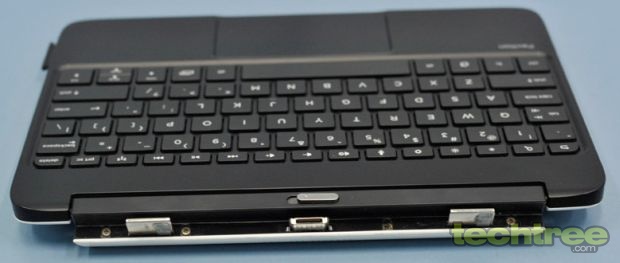 The Keyboard dock hinges
In order to keep the design smooth and flowing, the 3.5 mm jack, hinges, docking port and MicroSD card slot, are all kept well hidden in the thickest part of the tablet design, at the bottom. While it makes for good design sense, it does mean that you cannot plug in headphones or external speakers when it is docked into the keyboard unit.


At the Bottom: Hinges locks, MicroSD card slot, keyboard dock port, and 3.5 mm jack
Screen
The 10-inch screen has pixel dimensions of 1920 x 1200. It's sharp and yellow. That's right; the screen has a noticeable yellow tint. This means that all colours look slightly different than what they are supposed to, which is not a good thing.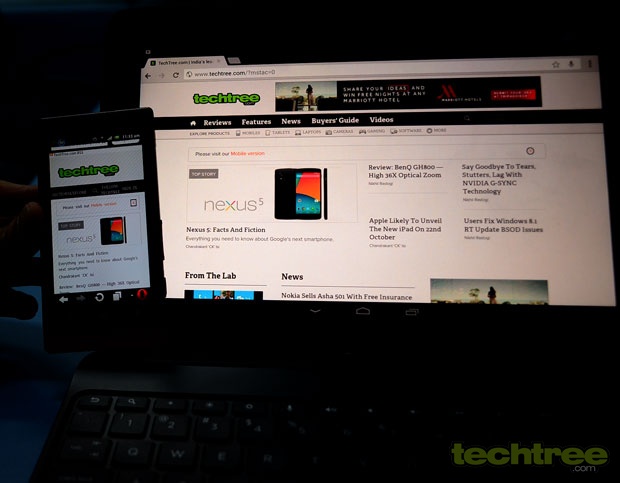 Yup, that is really yellow when compared to other devices, otherwise the screen is sharp
Battery Life
Strangely, the battery life is certainly not as impressive as HP advertises. It doesn't last for even half a day as normal tablets would, and this despite the fact that it comes with a 3375 mAh battery in the tablet and 2960 mAh battery in the keyboard unit. Also keep in mind that the x2's charger is hefty, more like a laptop charger, if you plan to carry it around.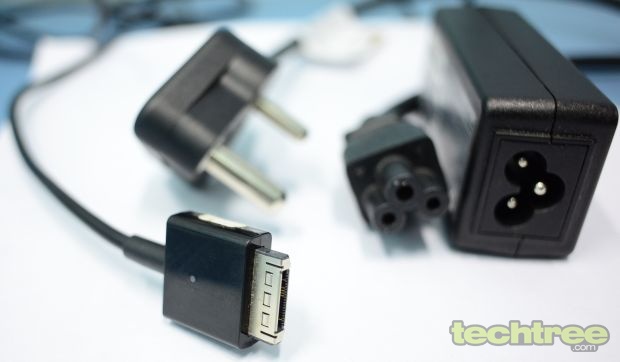 Woah what's with the hefty charger and the proprietary connector?
Benchmarking
Testing Tegra chipsets is always a concern as the difference between Maximum performance and Balanced battery setting is huge. We got around 17,000 points in Antutu in Balanced mode, however our review sample kept re-booting in Maximum performance mode. If reports online are to be believed, the Tegra 4 chip ought to reach around 30,000 mark in Maximum performance mode.

Expect much more than 17000 points in Maximum Performance mode

Using The SlateBook x2
No matter how much HP tries to convince you that the x2 is great for work, it is at the end of the day, an Android tablet. And it is certainly not suitable for work. I have written and surfed using this device in the laptop mode, and it is not a pleasant experience. Don't get me wrong, it works well in multi-tasking with 2GB RAM, comes with Kingsoft office preloaded, and you can install browser of your choice. But this doesn't guarantee you the same amount of flexibility when working with documents.
Our experience
- All sites always load in mobile version, simply because this is a mobile device not a Windows laptop. Thankfully desktop modes are just a tap away.
- Using multiple tabs in browsers is not as efficient as the desktop counterpart, you cannot crt+tab, there are no shortcut keys for the keyboard for a mobile device.
- External mouse works great and truly brings a laptop-like experience but of course intuitive things like right-click will not work.
- Tablets are meant for well tablety-things; using a trackpad is a chore. Good luck if you want to text select something. But why would you do that when you have a touchscreen?
- This device is touchscreen first, that means finger swipes take precedence over trackpads and mouse cursors. In fact, other input methods only tend to confuse you about when to use what. Trial and error is the only way here.
- The power button and volume button at the back of the device are highly ergonomic.
- Even those who aren't into heavy writing will appreciate the QWERTY keyboard for simple tasks like sending email. However, you'll be turned off with the heaviness it brings to the package - 0.59 kg (Tablet), 1.25 kg (Base).

(Left Side) USB port (Right) HDMI (Right Side) Proprietary charging connector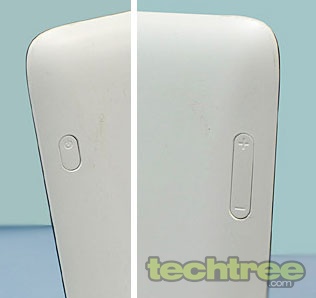 Power and volume controls at the back work really well
Verdict
While it's great that HP is experimenting with the SlateBooks, the problem lies in the fact that this product is still a work in progress. Most of the issues we had with the HP SlateBook x2 are more to do with software rather than hardware itself. For an experience like this, you need to make much better and tighter integration for the product as a whole, and this means re-thinking everything, not just slapping on tweaks.
Despite HP SlateBook x2 being well priced under Rs 40,000, we cannot recommend this tablet-cum-laptop to anyone, especially those seeking laptop functionality more than a tablet. If you really want a tablet for content consumption, emails, and light work, please buy yourself a top notch Android tablet or iPad, which will cost you less than the x2. But if you really want to do serious work, stick to full blown laptops. A hybrid device even though packed with good hardware, just lands up being a compromise, at least for now.
Features: 3/5
Design And Build Quality: 3.5/5
Performance: 4/5
Value For Money: 2/5
Mojo: As experimental as this product
Overall Rating: 3/5
Specifications:
- 10 inch, 1920x 1200 pixels, LED Anti-glare IPS Display
- NVIDIA Tegra 4 CPU clocked at 1.8 GHz
- 2 GB RAM
- 64 GB Internal storage; Micro SD Card slot
- Android 4.2 (Jelly Bean)
- Front Facing 720p HD Camera with Integrated LED Flash, Rear Facing 1080p Full HD Camera
- dts Sound, Dual Speakers
- 1 USB, 1 HDMI port
- 1 Year Accidental Damage Protection (ADP)