Review: Bose QuietComfort 20 Acoustic Noise Cancelling Earphones | TechTree.com
Review: Bose QuietComfort 20 Acoustic Noise Cancelling Earphones
The most comfortable and effective noise cancelling earphones for those with deep pockets.
Rating

3.5
/5
18th Oct 2013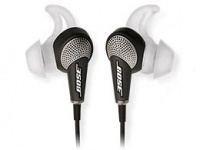 Pros:
Unparalleled comfort; Superlative noise cancellation; Innovative ear tip design; Good battery backup; Works sans battery as well; Alert Mode comes handy.
Cons:
Prone to excessive wind noise; Wrongly placed mic; Build and sound quality could have been better for the price.
Bose QuietComfort 20 Acoustic Noise Cancelling Earphones
Price: Rs 22,380

A surprisingly high number of earphone users tend to have reservations against shoving silicone tipped IEMs deep into their ear canals — a fact that Bose tries to address with its proprietary StayHear+ ear tips. How effective they truly are and of course, how well the heavily advertised noise cancellation actually works, let's find out.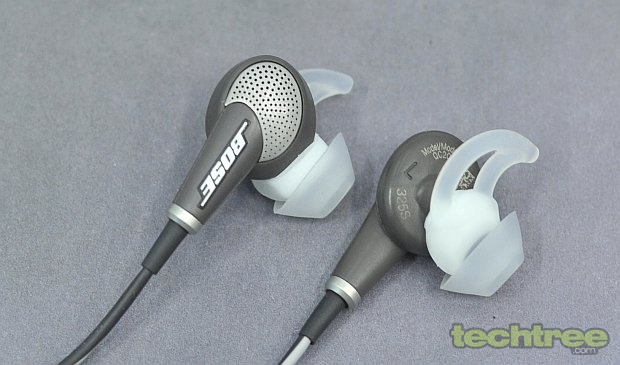 Design and Build Quality
The Bose QuietComfort 20 aren't the most handsome earphones around. In fact, their larger-than-average size, when combined with the tendency to stick further out of the ear than your average IEM, makes them look rather unfashionable. I'm not a big fan of the gaudy logo or the silver-accented grille that dominate the open-backed earphone enclosures either. But then, I'm not a style conscious person, so the QC 20's cosmetics don't bother me much. However, some of the ladies around had an interesting take on earphones' appearance. They confessed that they wouldn't want to be seen with one because they look more like hearing aids than classy, expensive earphones.


This can be a problem for a gadget that asks Rs 22,380 for a build quality and visual design that's only just a notch higher than average. Mind you, this is by no means poor. However, for a near quarter of a lakh, I expect my plastics to be softer, with less conspicuous panel gaps, and tell-tale injection moulding marks. I mean, if Nokia can cram more expensive hardware in a phone, and still shove it all in an expensive machined plastic shell for the same price, I don't see why Bose cannot.




While the cable doesn't bear the trendy flat design seen on most expensive IEMs, it's still reasonably tangle-free and sports just the right length. The earphones emerge in the standard Y-cable configuration from a tiny box housing a microphone, inline call answer button, and dedicated Alert Mode button. The inline mic exhibits a pretty decent sound quality, which is more than enough for your telephony needs. However, it's hilarious how Bose has placed the inline microphone on the side that rests on your chest and not the one that faces away from it. This is a design flaw because I discovered that unless I manually hoisted the inline mic away from my chest, my T-shirt would muffle it and prevent my voice from being heard coherently at the other end of the line. Ironically, this takes the hands-free bit out of this hands-free setup.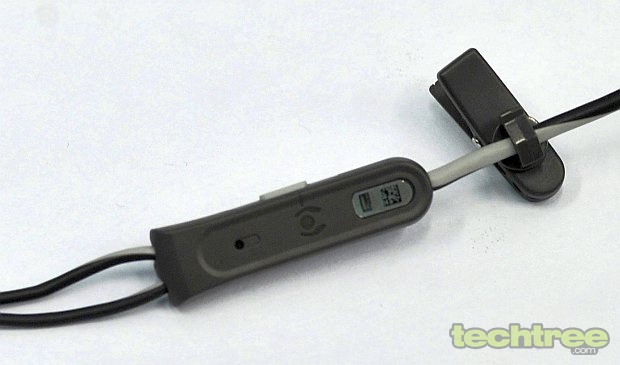 Since the QC 20 is one of the rare earphones featuring active noise cancellation (ANC), it needs battery backup. Thankfully, unlike other competing ANC earphones, these puppies will keep functioning even when the battery has gone flat. The ANC box housing the lithium ion battery is slim and petite enough, but a woefully small cable run between the box and the 3.5 mm TRS plug means that the battery module ends up in close proximity to your media player or smartphone. Fortunately, the box bears benign rounded edges and a soft rubberised skin to keep it from scratching the audio source. It's pretty minimalist with a toggle switch to enable ANC, LED indicators for battery and ANC status, and a micro USB charging port.

Bose pegs the battery life at 16 hours, and I found that to be more or less true. I managed to get a week's playtime with an average usage of two hours per day, and about two days of battery backup when I would use it for about 7 hours a day. That isn't bad at all, unless, of course you run out of juice at a beach or during a commute. Bose hasn't deemed it necessary to throw in a wall socket power adapter for the price.

Comfort and Ergonomics
If there's one important aspect I expect from expensive products, it's innovation. That way I know my hard earned money has at least enabled engineers to create something potentially revolutionary than just filling up the company's coffers. The QC 20's StayHear+ ear tip design is just the innovative aspect I seek. Instead of going in deeper into the auditory canal like your average IEM, the QC 20 sits unassumingly at the very entrance of the ear canal. While this may seem similar to a regular ear bud type earphones, the StayHear+ tips do not exert any force on the ear canal or its opening at all.

The earphones may be a tad bit heavier than your average IEM, but that isn't an issue at all. All thanks to the unique design of the silicone supporting wings that latch snugly and imperceptibly to the contours of your outer ear. The support structure encompasses the mutually exclusive traits of solid anchorage and unobtrusive comfort to create the most brilliant IEM ear tip solution I have witnessed. Not only does it save your ears from the undue pressure of firmly fixed ear tips, but these tips stay in place even while running on a treadmill at speeds up to 15 km/hr. I didn't go beyond that speed though, because I'm not paid enough to risk a heart attack.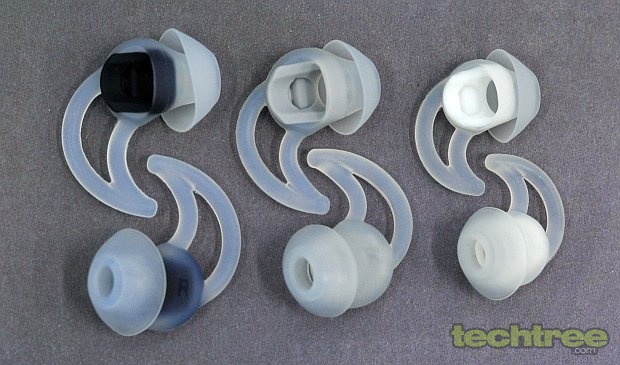 The real test of this ear tip design's potential to make IEMs more appealing to the masses lies in fielding them to those who suffer from an almost pathological inability to wear in-ear earphones. Some find the pressure exerted by the IEM ear tips to be quite painful, whereas a few suffer from debilitating episodes of claustrophobia brought upon by the hermetic seal created by IEMs.

Not surprisingly, the StayHear+ ear tips conclusively solve the former issue of IEM-induced pain. I will personally vouch for their comfort because these are by far the most comfortable pair of earphones I have ever put on. As for those who suffered the second condition in our office, they did not experience any claustrophobia or discomfort with the ANC switched off. When the feature was switched on, its ability to create a near perfect sonic isolation triggered the claustrophobia. Mind you, this is hardly the QC 20's fault. On the contrary, it only underscores the efficacy of the earphones' active noise cancellation prowess.

Performance and Active Noise Cancellation
Bose is known for its near flawless ANC implementation. The QuietComfort series itself has shrunken from circumaural to supraaural, and now an in-ear design. Achieving ANC in such a small footprint is rife with multiple challenges, one of which is the lack of mechanical dampening offered by the loosely fitting StayHear+ ear tips. That means, most of the heavy lifting involved in achieving sound isolation is done by the earphones' ANC circuitry and not by the relatively weaker mechanical dampening afforded by ear tips.

The ANC is achieved by microphones embedded in each earphone enclosure that capture ambient noise and then relay an out-of-phase signal to cancel it out. As simple as it may seem, ANC is quite hard to nail. Bose has traditionally been more successful than its peers at this, thanks to its clever ANC implementation courtesy of bespoke DSP that does its job rather well. Not only is it competent at cutting out ambient noise, but it is one of the rare ANC systems that actually improves sound quality when switched on. Everything from the bass and high-frequency details, to the tonality and soundstage improves by leaps and bounds with the ANC switched on. That's just brilliant.

What's more, unlike competing ANC implementations, the degree of sound pressure exerted by the the QC 20's noise cancelling system on the ear drums is considerably lower. Needless to say, I could wear these for hours without facing any fatigue or discomfort. The ANC is strong enough to allow me to block out the pathetic fare played at the gym, and instead listen to my own preferred playlist on my PMP.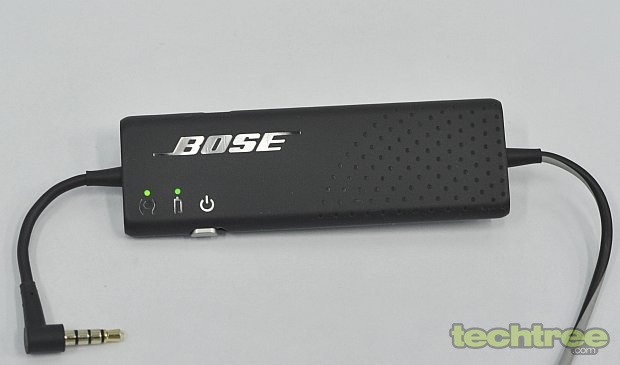 For those who are worried about being hit by a bus when using noise isolation earphones outdoors, there is a very interesting feature here called Alert Mode. It uses the microphone to relay certain important frequencies from the outside world whenever you wish to. I do see a point in the convenience of being able to hear an enhanced version of ambient sounds at the press of a button. I found this feature a godsend, for example, when I wanted to hear traffic for safety purposes in busy sections whilst cycling, or when listening to important announcements at the airport. But kids, don't don't be reckless like me, and avoid listening to music when cycling, riding, driving, or when operating heavy equipment.

Unfortunately, Bose engineers haven't paid any heed to wind deflection while designing the StayHear+ ear tips. As a consequence, if you cycle or run at a reasonable clip, or otherwise assume the window seat of any vehicle, the ensuing wind noise is annoyingly intrusive irrespective of the ANC being engaged or not. This manner of oversight is inexcusable in a product costing as much, especially when fixing it meant adding a small piece of plastic to deflect the wind.

I usually keep the performance section quite comprehensive, but this one will be an exception. And for a good reason too. With noise cancellation switched on—and that's exactly how the QC 20 should be heard—these puppies deliver a sound quality that is comparable to regular IEMs costing around Rs 5,000. The tonal balance may not be accurate, but it's pleasing nevertheless. The mid-bass response is typically Bose and is a tad too accentuated. The detail in the higher frequencies is adequate, but don't expect much because these roll off quite prematurely for earphones costing quarter of a lakh. The soundstage is good with decent separation between instruments, but it won't really blow your pants off with its depth and expansiveness. In short, the overall aural quality is not exactly what you would expect from earphones costing as much, especially if you are an audiophile. It operates within a safe frequency range, and does very well in its comfort zone, but doesn't try to venture beyond.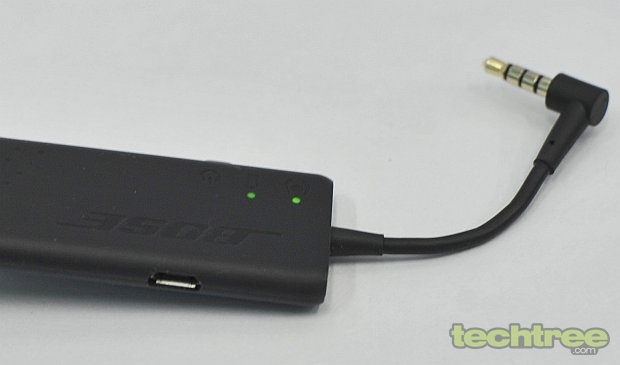 In Conclusion
In the simplest of terms, while the Bose QuietComfort 20 earphones deliver a sound quality that can be deemed inadequate considering their asking price of Rs 22,380, there's more to these babies than that. These are easily the best active noise cancelling earphones I have heard. The degree of isolation afforded by them just beggars belief. There's nothing, this side of an MLRS-250 artillery system expending its 12-rocket load, that's as noisy as a creaky old, hand-me-down Bombay harbour line train running along at full clip. The way Bose's ANC system makes that entire racket dissolve into absolute silence is astonishing.

As I find myself seated in a noisy train, I realise that the QC 20's middling sound quality (for the price, of course) in the dead silent listening conditions created by the ANC system is worth more than that of the best IEMs rendered tinny and hoarse by excessive ambient noise. It's kind of like the FN P90 PDW versus a harpoon under water. The former is definitely technically superior, but the latter is indispensable when submerged. Just by the same logic, I'd much rather take the QC 20 on a train ride over anything else.

Is it worth the asking price of nearly quarter of a lakh? No, unless you are looking for great noise isolation over sound quality, or you are into lifestyle products for better exclusivity and show off value they have. It all then comes down to finding the right balance. The question is—should you choose cheaper ANC earphones and save a lot of money at the cost of sound quality? Or should you buy a good audiophile grade IEM and put up with a bit of ambient noise that invariably leaks in? That's for you to decide. But, if you have deep pockets and wouldn't mind compromising a bit of sound quality for the best isolation money can buy, the Bose QuietComfort 20 ANC earphones should be right up your alley.


Features: 4/5
Design and Build Quality: 3.5/5
Performance: 3/5
Value For Money: 3/5
Mojo: 4/5

Overall Rating: 3.5/5
TAGS: Headphones, Bose