Review: BenQ W1100 DLP Projector
Devours oversized flatscreen TVs for breakfast.
Rating

4.5
/5
10th Jan 2012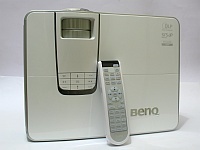 Pros:
Excellent picture quality; Great colour accuracy once calibrated; Performs well despite ambient light; Handles motion well; Well suited for video games; Comprehensive connectivity options; Lightweight.
Cons:
Average black levels; Default colour calibration is off; High power consumption; Tacky remote controller.
BenQ W1100 DLP Projector
MRP: Rs 95,000


When I look at the 55" LCD TV and the Full HD DLP projector lying in the test lab, I wonder what manner of an idiot will choose the big-ass flatscreen TV over the projector. If you invest well over a quarter million bucks in a display, it is understood that you'll use it to watch movies and play games as the good lord intended - with the curtains drawn and lights out.

In that case, projectors beat flatscreen panels hollow across the board. The former can project ridiculously large images with higher image quality and better colour fidelity for a fraction of the cost. Mount one from the ceiling or place it on a coffee table, and it takes up less space than a 15" LCD monitor. Moreover even regular projectors can display a 100" screen in little over 10', while short-throw ones can achieve the same in less than half the distance.

If you have decided to make the smarter choice, I have just the right candidate for you.


Packed To The Gills
At Rs 95,000, the BenQ W1100 isn't exactly cheap. It's a Full HD home theatre projector that looks every bit as expensive as it really is. Composed of high quality plastics, its beige and grey chassis assumes a footprint of approximately one square foot. It weighs in at a modest 3.6 kg despite its bulk, which is a good thing if you prefer ceiling mounts.

The silver accent surrounding the lens may be tacky, but its ample 1.5x zoom makes up for it. This allows the W1100 to project a 120" (diagonal) image from about 12' away. Silky-smooth zoom and focus rings share the projector top with a cluster of buttons enabling essential menu navigation.


The base accepts standard ceiling mounts and includes a retractable foot at the front for height adjustment, in addition to an extensible leg at the rear for lateral balance. This three-point variable support arrangement makes screen setup a quick and effortless affair. The projector bears two vents at either side replete with exhaust fans. Each fan is flanked by a 2" speaker rated at 10 watt, taking the total sound output to a healthy 20 watt.

The W1100 is blessed with all major video input ports except DVI. At the rear you'll find a pair of HDMI ports, along with inputs for component, composite, S-video, and USB. This is in addition to I\O ports for D-sub video and 3.5 mm audio. Although backlit, the remote controller still looks and feels extremely cheap.


Click to enlarge the image.
With Flying Colours
The projector powers up relatively quickly and it's easy to setup, thanks to a simple yet comprehensive UI. Out of the box, the W1100's colour accuracy is far from perfect. However, the colour fidelity is exemplary once you tinker around with its exhaustive calibration options. You can store up to three user-defined settings - each conveniently assigned to a separate button on the remote.

The purity of whites had me amazed once I had properly dialled it in. Its wide colour gamut rated at 10-bit per colour (30-bit total) lets it render colours with a level of accuracy that's unparalleled even by very expensive LCD monitors. It's little wonder that the BenQ passed the DisplayMate tests with flying colours.

Its 2000 ANSI lumen brightness and 4500:1 contrast ratio allow it to display vivid pictures even in room with a fair bit of ambient light. In a darkened room, however, the intensity was overkill even for a 10' large image. That's a good thing, in case you're wondering. This way, you can get away with a much larger projection without the fear of dulling image quality.


Click to enlarge the image.
Built For Movies And Gaming
The W1100 was in its element when fed with 1080p content. The Transformers Blu-ray showed a level of vividness that's rarely seen even in expensive in flat panel displays. Skin tones were rendered perfectly on the Corrs Unplugged performance, while the strobe lights in the Wembley concert underscored excellent contrast levels without a hint of colour gradation. This projector incorporates the holy trinity of picture clarity, colour accuracy, and vividness that makes it ideal for home cinema.

Image sharpness is remarkable for a DLP projector, which isn't surprising considering its price. Video games are a treat to behold due to the W1100's ability to handle motion and avoid any vestige of the colour-wheel effect. Splitscreen co-op gaming on a colossal 120" screen is an experience that cannot be replicated on any flat panel TV. This one's highly recommended for gamers willing to switch off the lights and immerse themselves in wall-to-wall gaming action.

The only chink in the W1100's armour is its inability to resolve deeper blacks. However, that can be easily fixed with a grey screen, which should improve black levels. Its power consumption of nearly 300 W may sound a lot, but just look at the size of the screen! Its 230 W lamp is claimed to last 2500 hours in the regular mode and 4000 hours in the economy mode. We're looking at a lamp life of about two years, if you watch two movies per day at full brightness levels. That's not bad considering a replacement costs anywhere between $180 (Rs 9500 approx) and $250 (Rs 13,500 approx).


A Smarter Choice
What's more; features such as a heat-reflective lamp coating that provides resistance to colour decay, offline cooling, and filter-free DLP design hint towards years of maintenance-free operation. Decent 55-60" flatscreen TVs cost well over Rs 2.5 lakhs, whereas the BenQ retails at 95,000 bucks. That's a difference of 1.5 lakhs, which leaves you with enough dough to buy a dozen replacement lamps.

Rupee-for-rupee, this projector then easily beats flat-panel TVs in every single department. Like I said earlier, you'd have to be crazy to choose anything else for dedicated home theatre and gaming usage.


Performance: 4.5/5
Design And Build Quality: 4/5
Features: 4.5/5
Value: 4.5/5
Mojo: 5/5

Overall Rating: 4.5/5

TAGS: Displays, BenQ, Nachiket