Review: Sony Cyber-shot DSC-WX300 - Compact 20x Zoom Camera | TechTree.com
Review: Sony Cyber-shot DSC-WX300 - Compact 20x Zoom Camera
Compact size, powerful zoom, good performance.
Rating

4
/5
15th Aug 2013
Pros:
Good overall performance; Fast shooting; Crisp screen; Full manual control; Powerful zoom in a compact and lightweight body with solid build, Wi-Fi remote control from Android devices.
Cons:
Noise in photos; Expensive.
Sony Cyber-shot DSC-WX300
Price: Rs 19,990
Every traveller likes to preserve memories of his/her journeys, and a camera is the best way to do that. Such a camera falls under the travel-zoom category and ideally features compact dimensions, light weight, powerful zoom, GPS, and long battery life. Sony's Cyber-shot DSC-WX300 gives it all in addition to Full HD movie capture and Wi-Fi. In fact, the company is touting it to be the world's smallest and lightest camera with 20x optical zoom. We have reviewed it today.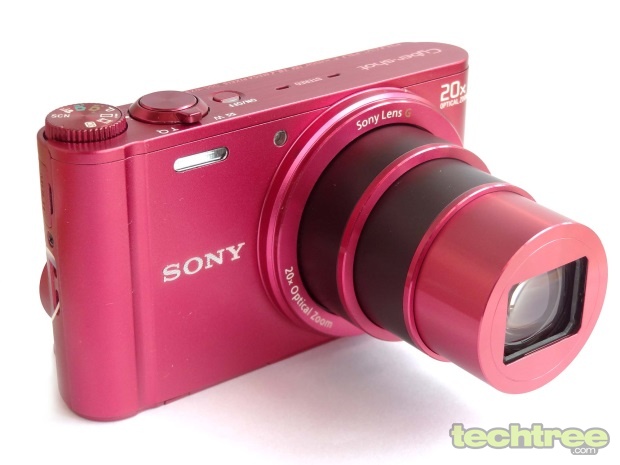 Design And Features
The Sony Cyber-shot DSC-WX300 is claimed to be the world's smallest and lightest camera with 20x zoom and it is just 25.7 mm in thickness, weighing only 166 grams with battery and memory card. The piece we received was dark pink (although it is officially Red) with a brush metallic finish. It is also available in black, brown, and blue. The build quality is very good. However, the body has a slippery surface and is therefore difficult to get a good grip upon.
The camera sports the Sony G lens with a 35 mm equivalent focal length of 25-500 mm (for 4:3 still images). It comes with a solid 20x optical zoom, which is nicely fitted in the small dimensions of the camera. The lens is protected by a cover, which automatically opens or closes when the camera is switched on and off respectively. An autofocus sensor is present to the top right of the lens. A Xenon flash is present on the top right.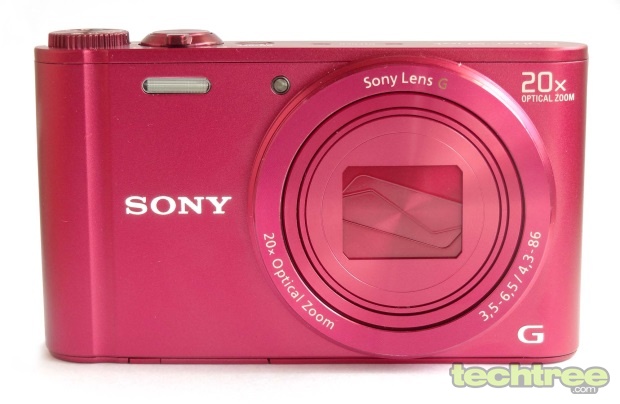 Stereo microphones for left and right are located near the centre. A sprint-loaded zoom lever encircles the largish power button, while a mode dial is present just besides this to select different shooting modes. The barely visible tiny power button is situated besides this. It would have been better if these were a little larger.
The back of the camera has a large 3.0" 4:3 screen with 921,600 dot high resolution, which displays very crisp and vivid images. The camera has a dedicated Movie Record button, a Play button, Menu, and Options button. There is also a jog dial with a centre button to access various functions and to cycle through recorded content in playback mode.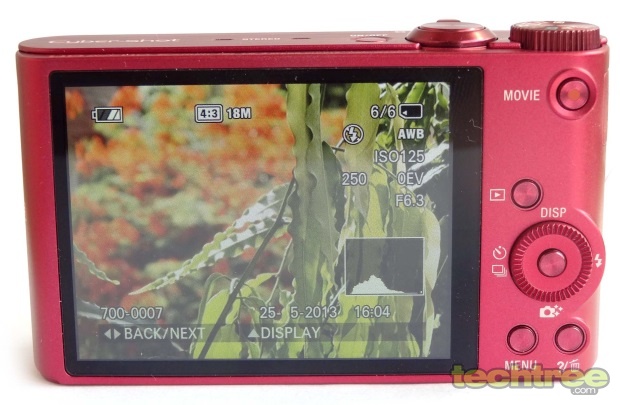 At the bottom of the camera, a flap with a latch houses the battery compartment and the memory card slot. This camera supports Sony's MS Pro Duo as well as SD, SDHC and SDXC memory cards. The slim Lithium ion battery is a proprietary 3.6V Sony N-type NP-BX1 with a typical rating of 1240 mAh with a stated capacity of 500 shots as per CIPA specifications. The battery can only be charged in the camera by connecting the camera via the USB cable to the provided charger or a PC's USB port. Lastly, there is a threaded tripod mount socket made of plastic, which brings its durability into long run into question.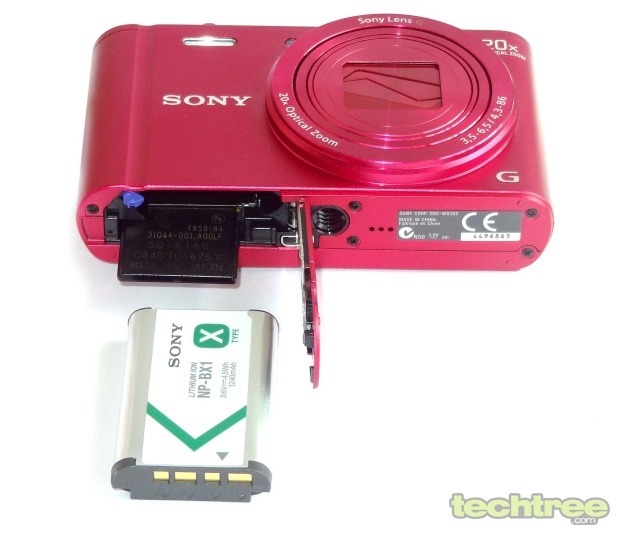 The DSC-W300 comes with a lot of features. Intelligent Auto Adjustment mode is one feature we liked the most. It essentially puts the camera in autopilot mode in which the camera decides what parameters to use for getting the best shot. It is very interesting to see how the camera changes the scene modes from Backlight to Twilight as you move the camera to point a subject in brightness shifting to an area of darkness. Then there is a Superior Auto Adjustment mode in which, the camera takes six shots in quick succession and combines them to create an image with low noise and higher dynamic range. One of the features that we liked is the Background Defocus feature which can blur out the background and focus on the subject.
There are 14 scene modes to choose from, which are Soft Skin, High Sensitivity, Twilight, Handheld Twilight, Night Portrait, Soft Snap, Landscape, Beach, Snow, Fireworks, Backlight Correction HDR, Anti Motion Blur, Gourmet, and Pet. Notable is the Soft Skin mode, which recognizes skin tones and reduces appearance of blemishes and wrinkles without adversely affecting the rest of the image. The camera takes six successive shots in Handheld Twilight mode to get better image in low light and in Anti Motion Blur mode to get sharper images without a tripod.
There are other notable features such as Smile Shutter, which detects the subject's smile and clicks photo automatically at the right moment. Face Detection can distinguish between an adult and child, and can detect up to eight individual faces in a scene and make appropriate settings to get the best shot. 3D still photography has been included as has been customary since the past two years.
Before we forget to mention, the camera has built-in Wi-Fi that allows you to transfer photos and videos to an Android smartphone or tablet. Additionally, you can also remotely control the camera from your mobile device to eliminate camera shake or to click group shots/self-portraits. However, the Wi-Fi functionality does not let you directly upload and share photos and videos on the Internet.
Performance
The Sony Cyber-shot DSC-WX300 takes roughly 2.3 seconds to switch from Off to ready-to-shoot state. Shot to shot timing was found to be around 1 second, while it reduces to around 2 seconds when flash is used. With an advertised burst speed of 10 shots per second, it actually averages at around 6.5.
The camera comes with an amazing 20x optical zoom, which brings far away subjects within reach. This is especially useful for nature photography. The lens has a minimum focusing distance of 5 cm, which is not bad, but could have been better if the subject could have been placed closer to the lens. That being said, intricate details are aptly captured.
We also used the Twilight mode to snap the above shot under very dark conditions with only a few fluorescent tubes illuminating the scene from a distance. The shutter speed was slowed down to 0.25 seconds at ISO 3200. Since the ISO value is high, the shot is noticeably noisy, though not as noisy as many other conventional cameras. The back-illuminated Exmor R CMOS does seem to work very well with pictures taken in low light environments.
ISO sensitivity modes of 100, 200, 400, 800, 1600, 3200, 6400, 12800 can be selected in Programmable mode in addition to the Auto ISO mode.
You can see that the sharpness decreases and noise increases as the ISO value is increased. In general, you get good results up to ISO 400, but noise increases noticeably with anything above that, especially in dark shooting conditions. As a general rule, we found the photos to have at least some level of noise even at the lowest ISO level when they were viewed at actual size and this could be attributed only to the image sensor and the imaging engine that are not able to handle noise as well as some of the previous Sony cameras we have reviewed.
Sony has managed to keep fringing under control in this camera. A hint of fringing or chromatic aberration is visible only at maximum zoom towards the outer borders of the image.
As noted earlier, the camera supports recording full HD video with stereo sound. Movies are recorded in 1080i AVCHD format which is Blu-ray compatible. Videos can be captured at 1920x1080, which is Full HD in AVCHD format or 60i at 17 Mbps and also at 1440x1080 at 30fps 9 Mbps in MP4 format for more YouTube-friendly content. Video quality is good with natural colours and crisp picture quality and sounds. Zooming is possible while shooting videos and it is silent. Continuous auto-focus also works while shooting movies.
The camera comes with Optical SteadyShot image stabilisation using a built-in gyro sensor, which detects camera shake and compensates by automatically shifting the lens to prevent blur and preserve image quality. Optical SteadyShot is especially useful while using zoom and while shooting videos. In our test, it performed exceptionally well, producing amazing hand-held results at 20x zoom such as the test shot at the start of the performance section.
Overall, the image quality is good, though the colours can get slightly vivid. Focusing is very fast and it invariably attains a sharp focus, almost eliminating the need to use manual focus. The camera is very easy to use and anyone without a photography background can easily master it in minutes. We must mention here that Sony's over-enthusiastic noise reduction algorithm continues to play spoil-sport by taking away some details from the photos.
Our Verdict
The Sony Cyber-shot DSC-WX300 is a very good Wi-Fi-enabled camera as far as performance and features are concerned. The slim design and its incredibly light weight with a solid build makes it an ideal camera to carry around in your entourage. The camera sports full manual control, packs 20x optical zoom in the small body, has image stabilisation that works like a charm, and has a GPS for geo-tagging. The images look just right no matter how you click them, and if you make use of the Super Auto Adjustment mode, they are simply brilliant. The Macro mode is brilliant and even though it lacks Super Macro mode, the results are pleasing. The wide angle lens can capture a large crowd in your party and can detect up to eight faces at a time. Low-light photography is also handled nicely. You can also capture full HD videos with stereo sound and play back on your HDTV or upload to YouTube.
One of the cons of this camera is that the images have at least some level of noise even at the lowest ISO. Sony's infamous noise reduction algorithms also kick in to take away some details. But this is not noticeable unless you blow up the image to view at its actual size. Therefore, it doesn't really make a difference when printed.
Overall, this 18.2 MP camera has a very easy to use interface for anyone who has no background in photography. There are several nifty features crammed into this camera - far too many to state in this concluding paragraph. The Sony Cyber-shot DSC-WX300 is available for an MRP of Rs.19,990, while it is available for a little less if you search online. If the Wi-Fi feature doesn't interest you, you can save Rs 1000 and get the Nikon COOLPIX S9500 instead.
Design And Build: 4.5/5
Features: 4.5/5
Ease Of Use And Ergonomics: 3.5/5
Performance: 3.5/5
MoJo: 4.5/5
Overall Rating: 4/5
TAGS: Cameras, Sony, Cyber-shot