Review: Weather-Proof Nikon COOLPIX AW110
This all-weather camera is a superb performer.
Rating

4
/5
07th Aug 2013
Pros:
Waterproof, Dustproof; Shockproof; Good performance; Great OLED screen; Wi-Fi remote control from smartphones; Various filters; Price.
Cons:
Noticeable fringing in macro shots; Lacks manual control; Wi-Fi doesn't support web uploading and printing.
Review: Nikon COOLPIX AW110
Price: Rs 16,950
The rainy season is here and this is possibly the most dangerous time of the year for all your electronic gadgets. If you are an avid shutterbug, then your camera is also one such gadget you don't want to get wet. Nikon has the COOLPIX AW110 that is not just resistant to water, but also to dust and shock. This compact camera comes with a GPS, digital compass, altimeter, hydro-barometer, and Wi-Fi. It does look like it's built for road warriors, so let's find out if it can weather the weather.
Design And Features
The AW110 is a solidly built camera with pocketable dimensions and size. The camera features a front plate that comes in five colours, while the rest of the body is predominantly black and it seems to be entirely made up of strong polymer.
The front plate is not removable and has perforations that make it easy to drain off water in case the camera gets wet. The Nikkor lens with 5x optical zoom is present near the top left of the camera. The entire zoom lens elements are present within the camera and no part moves out when zoomed. The lens bezel protrudes a bit and protects it by absorbing the shock in case the camera falls. This is one of the first design quirk/flaw that we noticed in this camera as there is a high possibility that the left hand accidentally blocks the view while shooting. The camera features lens shift image stabilisation to take care of blur-free photos and videos. It has a 16 MP BSI CMOS sensor that should produce good low light photos. A Xenon flash is present near the top adjacent to the autofocus assist lamp/timer LED and there are stereo microphone pores just below.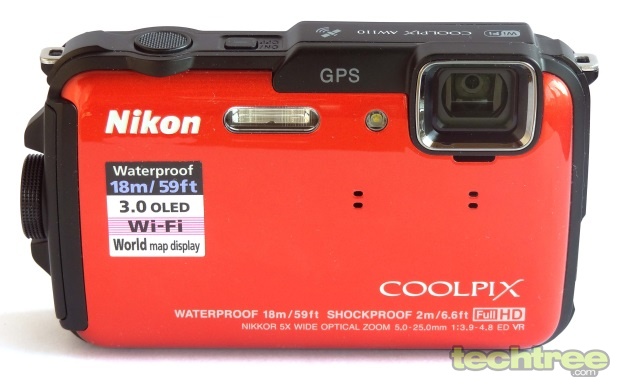 The top has just two control buttons: a recessed square power button and a large shutter button with a textured finish besides it. There are two metallic eyelets on the left and right to attach the neck strap.

The 3" OLED screen at the back is certainly better than the TFT LCD screens usually found on most other cameras. The colours are great with really black blacks. Its visibility is great even outdoors and underwater and you won't miss the EVF that is not present in this model. A directional pad is present on the right with various functions such as macro, electronic exposure, flash, and timer. The Menu button below it gives access to various other functions. A horizontally placed spring-loaded zoom rocker is present near the top with vertical movements, while a dedicated movie recording button is present just on its right. Just below is a dotted area designated to rest the thumb while holding the camera.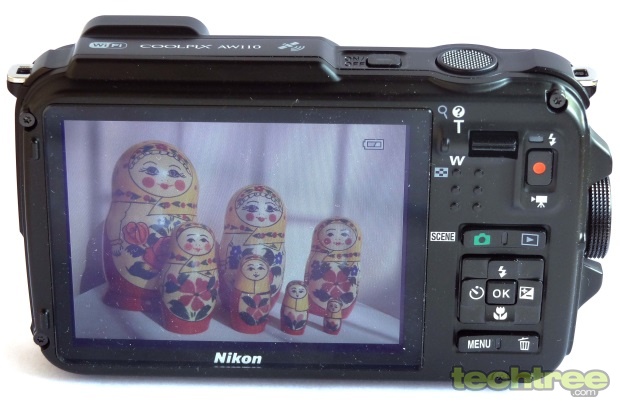 Since this compact camera doesn't have a mode dial, the various modes are controlled and set via the Scene button situated below the aforementioned thumb-rest. This button allows you to access various scene modes including Auto (for those who are new), 20 scene modes (including Night, Backlighting/HDR, Panorama, and 3D), 6 filters (such as soft, nostalgic, selective colour, painting, toy effects, and cross process), and Smart Portrait. A World Map button is present on the left that displays the world map on the screen to help you locate your coordinates in case you get lost. There is even a digital compass to help you find your way. Of course, the primary function of these is to embed the information into photos and videos for your later reference.
The battery compartment on the right is protected by a hinged door with a rubber gasket and a failsafe rotary lock. It also houses a slot for a SD card, a micro-HDMI port, and a proprietary USB charging / data connectivity port. The Li-Ion battery is of 1050 mAh capacity with a CIPA rating of 250 shots on a full charge. A tripod mount attachment threaded groove is situated at dead centre on the bottom surface, but it may also not last for very long as it is made of plastic rather than metal.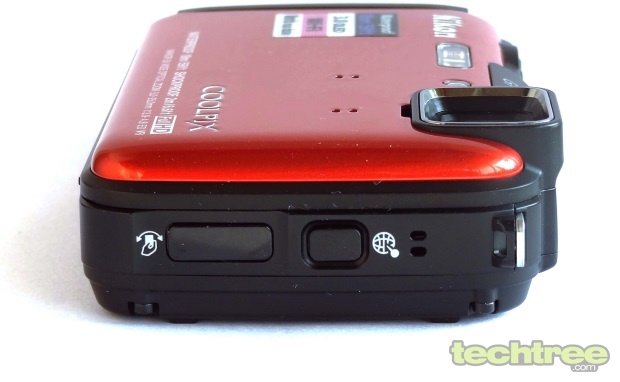 Left side view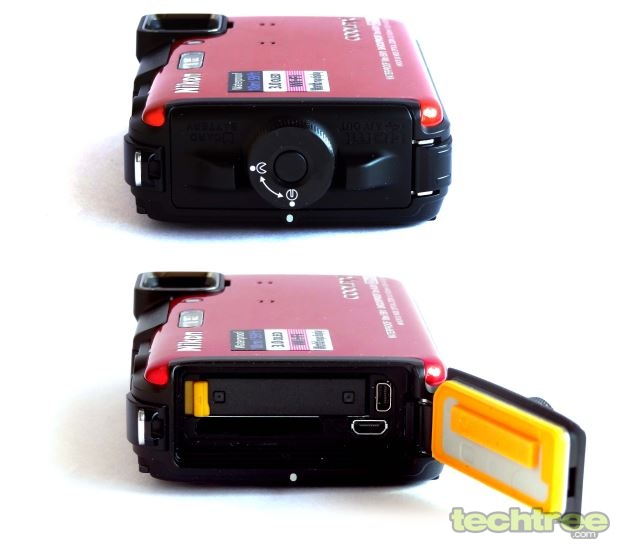 Right side view
Movie recording up to 1080p is supported. Autofocus is supported while movie recording and slow motion (HS) mode is also present. The camera supports Wi-Fi to download pictures to a mobile device once the Wireless Mobile Utility is installed on the iOS or Android mobile phone. The utility can also be used as a remote control for the camera to preview the image and release the shutter button. However, you cannot use it to directly upload images to the internet.
The camera currently comes with a free 4 GB SD card, camera pouch, and HDMI cable.
Let's turn our attention for a bit to the main USP of this camera – its all-weather design. The camera is solidly built as mentioned earlier and Nikon says that it can survive a fall of 2 m, which is more than the average height of a full grown man. Looking at its design, we think that it is likely to be true because the company has taken due care to provide adequate protection to the camera's exposed glass parts by means of elevations around them. Also, the camera can not only be submerged in up to 18 m in water, but it can even shoot at that depth. It also features, what Nikon calls Action Control, which allows you to take photos by simply swinging it in the air. The motion gets registered as a shutter click, allowing you to take photos when it may not be physically possible to press the shutter button such as when underwater wearing gloves.
As mentioned in the intro, it also features a hydro-barometer that shows the elevation above sea level, humidity, and air pressure. Nikon also mentions that this camera can work in freezing cold weather up to -10 degrees C.
Performance
The camera switches on and gets into the ready-to-shoot mode within a couple of seconds. The shot-to-shot time is a little over a second without flash and is surprisingly similar even with flash, thus showing a fast flash recycle. Autofocus is fast when the subject is well-illuminated and it takes a little longer in the dark, but that's not really a negative as this is not unusual.
The camera has a 5x optical zoom that it accommodates within the body since it avoids moving parts outside the casing. Macro mode is excellent with the camera capable of shooting subjects as close as 1 cm from the lens.
Here are a couple of more samples.
The white balance automatically adjusts to the changed surroundings and results in good photos. Night shots were fuzzy and indicated that the camera finds it difficult to focus in dark conditions. To its credit, noise was well-suppressed and colours came out as well as they were visible to the eye. It can take shots well even underwater.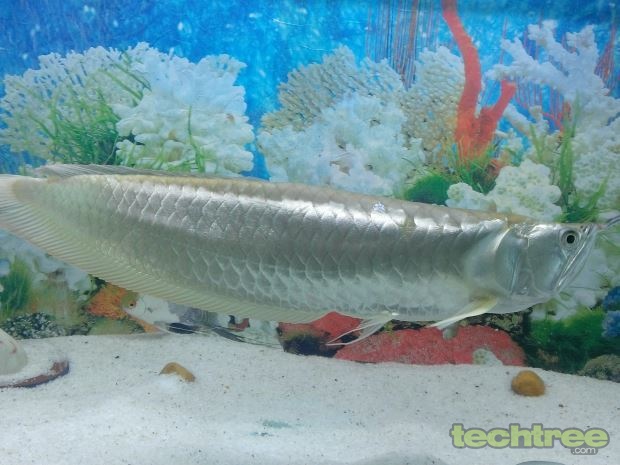 Details and colours are well-preserved up to ISO 800. Noise becomes increasingly noticeable at higher ISO levels.
The colour reproduction was found to be good and a good amount of details were present in the photos. Fringing is noticeable especially when photos are examined up close and also visible in brighter images with contrasting subjects. Effects can be applied to the photos immediately after they are shot, in case you didn't use one of the real time filters, although this is possible only when you shoot using the Auto mode. While they look cool and Instagram fans will appreciate, I am not sure how many will actually use this feature.
Movie recordings appear good with good details and accurate colours. The zoom motor, which is not exposed and is completely contained within the camera body, produces almost no sound, which makes it ideal while shooting movies. The auto-focus works very well while shooting movies.
The lack of manual controls is certainly felt as a sore point with this camera because manual controls are expected in this price range.
The camera can be easily operated with one hand, which is the right hand. It is easy to maintain a grip due while operating it even with a gloved hand. As mentioned earlier, the off-centre lens makes it susceptible to the view getting obstructed accidentally during operation.
Our Verdict
The Nikon COOLPIX AW110 is a great camera for adventure-seekers. Its rugged build, GPS, electronic compass, hydro-barometer, altimeter and water/dust/shock-proof features combined with the small size and weight make it an ideal camera for road warriors. The camera is able to capture fairly accurate colours and details even underwater. If there is one problem with it, then that would be the chromatic aberrations that adversely affect an otherwise excellent photo quality. Its startup time is fast and it can take photos in quick succession even with flash. The 5x zoom works well and the image stabilisation aptly handles vibrations. Various filters allow you to play around with your creativity. Wi-Fi functionality lets you transfer photos to a smartphone or control the camera from it. However, you cannot upload photos to the internet or even print wirelessly. It looks good and is available in several colour options. However, there are a few more cameras available such as the Panasonic Lumix DMC-FT3 and Olympus STYLUS TG-2, which are also waterproof, but the AW110 is still a better option due to its lower price and feature packed design.
Build And Design: 4.5/5
Features: 4/5
Performance: 3.5/5
Value For Money: 4/5
Mojo: 4.5/5
Overall Rating: 4/5