Review: Amazon Kindle Fire HD 7" (16 GB) | TechTree.com
Review: Amazon Kindle Fire HD 7" (16 GB)
An excellent e-book reader that doubles up as a well-oiled, but limited Android tablet.
Rating

4
/5
27th Jun 2013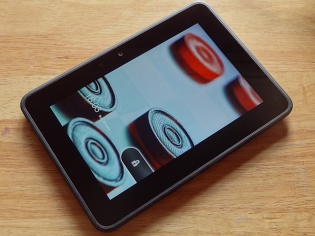 Pros:
Crisp screen; Excellent speakers; Good performance; Good battery backup; Excellent voice narrator; Access to huge book store.
Cons:
Expensive; Doesn't support Google Play Store (only Amazon Appstore); Limited video format support; No 3G (only Wi-Fi).
Amazon Kindle Fire HD 7 (16 GB)
MRP: Rs 16,000
Amazon is known for the sheer number e-books it has in its store. With the advent of Android tablets, it is evident that the company also felt pressurised to introduce an Android-based Kindle tablet known as the Kindle Fire, which broke away from the traditional e-ink screen in order to satisfy consumers' multimedia pangs. It did well and that's why the company later introduced the Kindle Fire HD in two screen sizes having more pixels for crisper text and images. Until now, the Kindle Fire HD was not available in India, but with Amazon now getting serious in India, it is available for us to buy it in local currency. Let's take a look at whether this is really worth the extra bucks.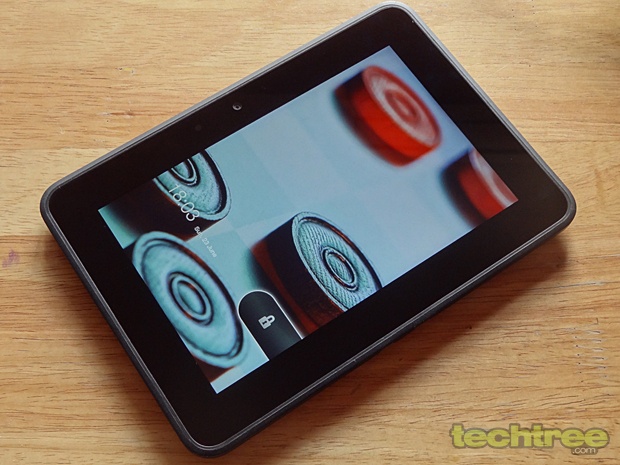 Design And Build
The Kindle Fire HD may look like any other Android tablet at first glance, but it is different. With a dark grey body and a screen with black bezels, it certainly is a good-looking device. The back of the device has a soft-touch rubberised finish that helps get a firm grip. In fact, it appears like a unibody design which extends to surround the bezel from all sides. This actually provides as a structural reinforcement and imparts the Kindle Fire HD a solid build. The device has dimensions of 7.6" (L) x 5.4" (W) x 0.4" (10.3 mm) (D) and weighs about 395 grams, although it does feel heavier than that.
The 7" IPS screen has pixel dimensions of 1280x800, which gives it the 16:10 standard widescreen aspect ratio. It has a glossy finish, but is bright enough to be readable in a normally lit room. Amazon states that it has fused the touch panel and the LCD panel into a single glass sheet to improve clarity by avoiding the air gap between them. Also, it uses a polarising filter on the glass to reduce reflections and enhance viewing even in bright conditions. The screen is protected against scratches by Gorilla glass. This touchscreen features a 10-point capacitive input. A front HD camera is present on the top bezel for video chat.
Stereo speakers are present at the back under a black band, covered by grills on the left and right. Each of these contain dual drivers, thus ensuring louder audio with a range better than the average tablet speakers.
There are only a few buttons on the device; a power button and a volume rocker that are set flush into its left hand side. A 3.5 mm stereo audio jack is present just above the volume rocker. A micro-USB connector is present below the lower bezel alongside a micro-HDMI port. The micro-USB connector allows you to connect the Kindle Fire HD to a PC for data transfer using MTP mode, but you can only charge the 4400 mAh battery with the supplied charger, which charges it completely in 4 hours.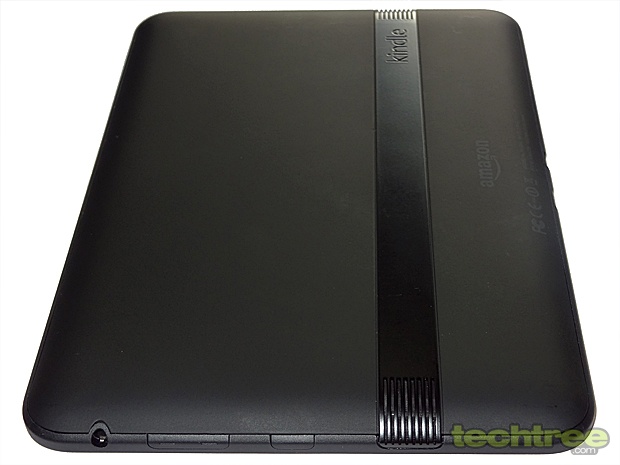 A dual-core 1.2 GHz OMAP 4460 CPU with a PowerVR SGX540 GPU clocked at 307 MHz power the Kindle Fire HD, thus packing enough firepower to run demanding games. The processing power is well-complemented by 1 GB of RAM and 16 GB of internal storage. There is no memory card slot, so you can only depend on the 5 GB of Amazon cloud if you run out of this local storage.
This version supports Wi-Fi with dual antennas and dual-band. These features are meant to improve the signal reception and it really did perform better at streaming video content as a result. Bluetooth 3.0 + EDR is also supported with HID and A2DP profiles only.
The device runs Android 4.0.3, but this is almost not evident once you get past the familiar lock screen. The carousel interface of the device is nothing like what you would expect from an Android device. It is a horizontally scrolling list of e-books, apps, games, videos, music, etc from your library or from your cloud. Amazon does a good job at completely hiding the stock Android interface and uses its own UI, which is fluid.
E-book Performance
When you buy it, the Kindle Fire HD comes pre-configured with your Amazon id and thus you will find all your e-books and apps already present in it. Of course, these are present on the Amazon cloud and are downloaded once you click on them. It supports AZW, TXT, PDF, MOBI, PRC, DOC, and DOCX formats for e-books, and still misses out on the EPUB format.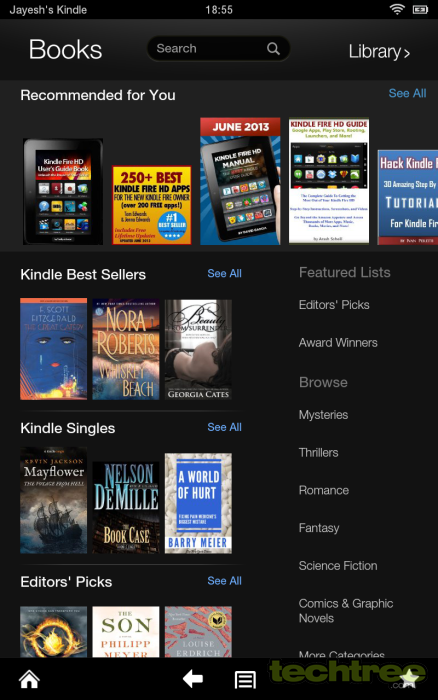 Thanks to the HD pixel dimensions in a 7" size, the text appears quite sharp on the screen with good readability. Individual pixels are not visible if the tablet is held at a traditional reading distance of around 30 cm from the eyes. Contrary to our expectations of experiencing eyestrain due to the LCD backlighting, it was actually comfortable to read on the device for long hours. Of course, the e-ink panel is definitely easier on the eyes, but this one doesn't hurt either. The default brightness and contrast is probably adjusted to facilitate this good experience. Being an IPS panel, the screen colour doesn't change when viewed from any angle. You can also adjust the font size (1 to 11), font type, colour scheme (white, sepia, and black), and line spacing to suit your viewing comfort. The accelerometer automatically orients the page from portrait to landscape and vice versa as you require.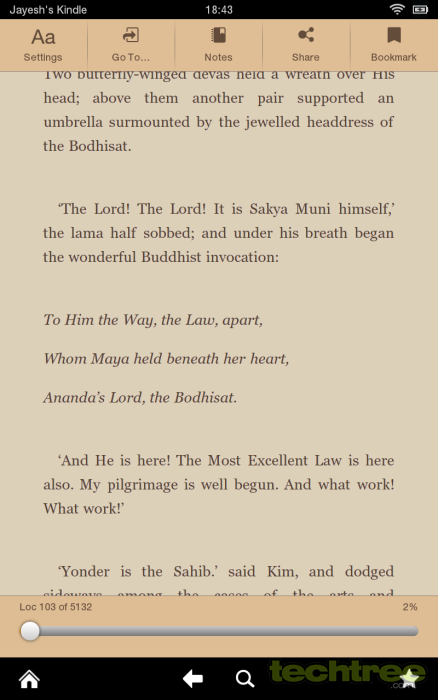 In case you are too lazy to read or just want to rest your eyes, there is the text-to-speech engine that reads out the book to you. The Amazon Kindle Fire HD uses Ivona's Salli voice, which is a female voice with an American English accent. While there is no option to choose any other voice, Salli sounded as authentic as a real woman reading out the text to you. In fact, we can say that this sounds a lot more natural than what we have seen with text-to-voice efforts by Google on its Android OS or by Microsoft on its Windows OS. While Salli's voice is pleasant to hear, we do expect that the company provides its user with options to select other voices as well in the future by means of software upgrades since Amazon has acquired Ivona this January and now has complete access to other voice types as well.
Currently, this is still possible by paying for the professional-sounding Immersion Reading from Audible.com (which was acquired by Amazon a while back), but this has to be purchased separately after you purchase an e-book and the cost varies according to the deal available at the time. Unlike the text-to-speech engine that is built into the device, this is an audio file that gets downloaded to the device once purchased for individual e-books. Thanks to Whispersync for Voice, you can seamlessly sync between reading and listening to an e-book without missing on any content. We must say that the professional narration is certainly worth the download as it is really immersive and not lifeless like a machine version.
X-Ray is yet another feature that has been introduced in the Kindle Fire HD, which analyses the page being displayed for names of people and places, and displays their appearance across the various pages in the books in a graphical manner. Some of the other noteworthy features about the e-book reader are the ability to add bookmarks so that you can visit a page later, ability to add notes (annotations), and the option to share the page or an excerpt online. It is interesting to note that the e-book reader also provides you an estimate of the time it will take you to read the book by learning the speed at which you read the first few pages.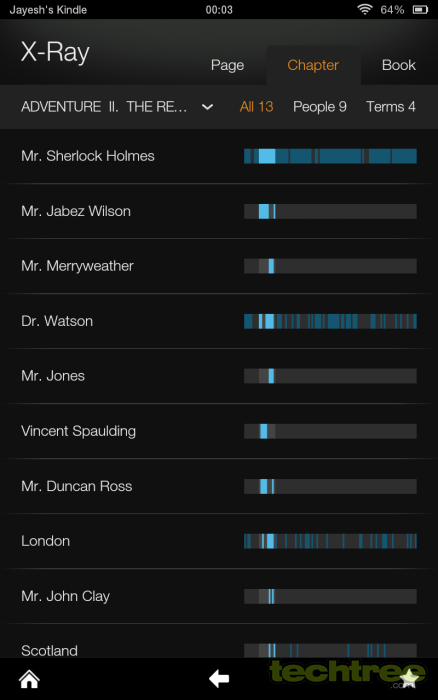 The Kindle Fire HD comes with 30 days free access to various international magazines specially tailored for the device. These include Cosmopolitan, OK!, Maxim, Smithsonian, Guns & Ammos, and Women's Health.
Multimedia Performance
In addition to being an e-book reader, this device is a formidable multimedia performer. The dual driver stereo speakers at the back produce possibly the loudest sound we have heard from speakers on a tablet or even a laptop. The stereo sound separation with the clarity of voice, makes it a delight to watch movies on this tablet.
We must mention here that while the Fire HD connects to the PC and may show up similar to a USB mass storage device; it actually connects in the MTP or Media Transfer Protocol mode just like a Windows Phone 8 handset. While this allows transfer of data files, it monitors the video and audio files being transferred for playback compatibility with the Kindle Fire HD. It seems that Amazon has decided to support only MP4, 3GP, and VP8 video file formats, even though it should technically be able to play any format due to the powerful hardware.
The inbuilt video player is just a plain video player that does play movies well. However, in order to support subtitles, we installed the MXPlayer and we liked it better than the stock video player due to its sheer number of settings that can be tweaked around. The videos play flawlessly in either of the players, while the Dolby sound ensures clarity of dialogue. Thanks to the micro-HDMI port, you can watch the movies on your big-screen TV as well.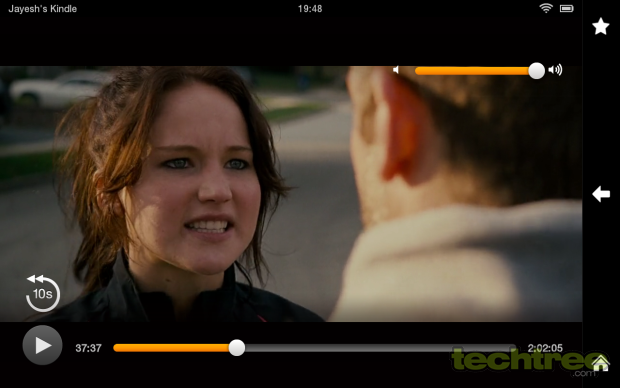 The 3.5 mm audio jack can be used to plug in a headphone to listen to music. The audio quality is really good overall.
Internet Experience
As mentioned earlier, the Kindle Fire HD has got Wi-Fi connectivity with dual antennas and with dual bands. This indeed accelerates the throughput as we found out. YouTube videos that stuttered in HQ mode on the Lava eTab Xtron played smoothly on the Kindle Fire HD using the same Wi-Fi source. We must mention here that YouTube doesn't come pre-installed on the device so we had to install the APK. Nevertheless, the results are definitely stellar.
The Kindle Fire HD has the Amazon Silk browser which is said to use cloud acceleration (something similar to what Opera does), to speed up loading of web pages. It indeed works as advertised, but it does lack Adobe Flash and uses HTML5 instead where available. It must be noted here that the original Kindle Fire did support Flash, but the support has been withdrawn by Adobe since August 2012 for Android devices having version 4.0 and above.
Apps Performance
The Kindle Fire HD has access to the Amazon Appstore, which has only a small fraction of the apps that are available on Google's Play Store. Some of the apps that come on the Kindle include Skype, which works very well with video calling, thanks to the good front-facing camera.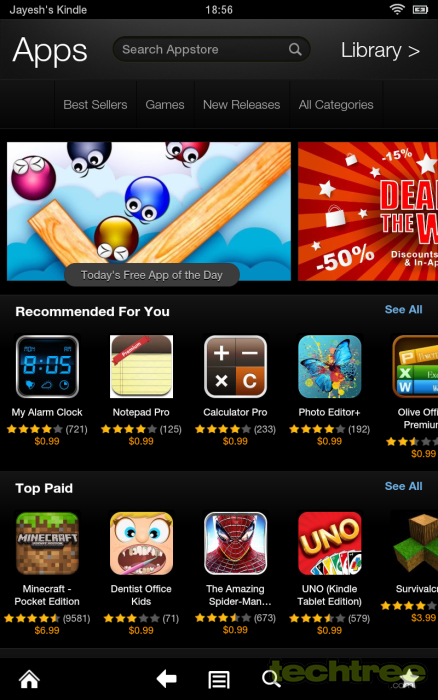 As mentioned earlier, there is no access to Google's Play Store. You can only download apps that are available for download on the Amazon Appstore, which doesn't have many. However, it is possible to install APK files on the device by downloading them on the PC and transferring them to the Kindle Fire HD. This opens up the opportunity of installing apps that are not available on the Amazon Appstore and also increases the versatility of the device, which Amazon should have done in the first place by not placing such restrictions.
We installed a few games to try out the performance. The hardware is powerful enough to be able to easily handle most games. Our standard benchmarking game of Temple Run 2, which we use to test the various aspects of an Android tablet such as its screen responsiveness, accelerometer, and graphics performance, ran well on the Kindle Fire HD, thus proving it to be a good gaming tablet, especially for games not too heavy on graphics.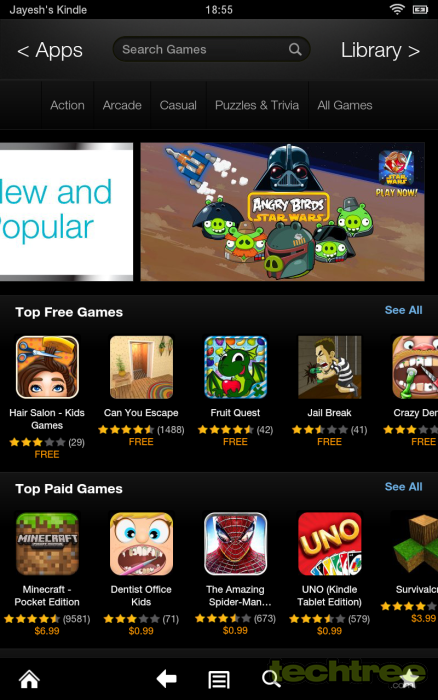 We also ran the Antutu benchmark. The results are consistent with what we expect from a 1.2 GHz dual-core CPU.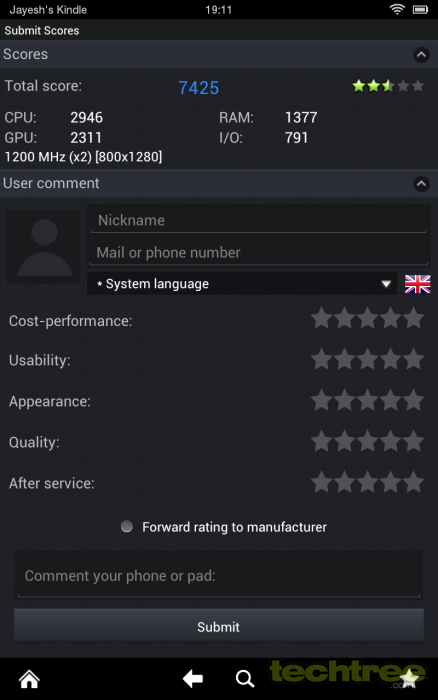 The Kindle Fire HD worked for around 10 hours on a full charge, which is almost in line with its 11 hours claim. Wi-Fi was on during the test and we played a 1.5 hour movie as well. The device only became moderately warm at most.
Our Verdict
The Amazon Kindle Fire HD performs great as an e-book reader and also as a multimedia device. The crisp screen makes reading easy and the exclusive e-book reader features such as the amazing text-to-speech and X-Ray sets it apart from other Android tablets. Its multimedia performance is great with the loud and clear twin driver stereo speakers and the HDMI out that can take the action to a big screen. However, you can only play a select few movie formats and will have to convert other formats to make them compliant with this device. Possibly due to Amazon's restrictions, it performs remarkably better than Android tablets with similar specifications. There is no access to Google Play Store, so you are restricted to Amazon's Appstore with only a fraction of the apps, but you can still easily install any app by simply transferring to the device the APK file for the same. The high price tag of Rs 16,000 is probably the only deterrent for this otherwise great tablet. The 32 GB version is available for Rs 19,000, which is again too expensive. Unfortunately, there is no 3G version so you can only use the internet connectivity in the presence of hotspots such as at home or office.
Features: 3.5/5
Build: 4.5/5
Performance: 4.5/5
Value for money: 3.5/5
Mojo: 4/5
Overall rating: 4/5
TAGS: Tablets, Android, Amazon