Review: Vodafone Blue 555
A low-cost feature phone for FB addicts.
Rating

3
/5
22nd Dec 2011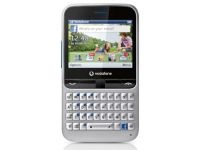 Pros:
Low-priced; Facebook integration; Well laid-out QWERTY keyboard; LED flash.
Cons:
Lacks 3G and Wi-Fi; No dedicated video player; Sluggish interface.
Vodafone Blue 555
MRP: Rs 3800

The Vodafone Blue 555 phone is targeted at the millions of Facebook users who are addicted to the social networking site and would love to get and post updates on the go.

Design And Build Quality
The device is well-designed, with a silver-white plastic casing and rounded corners that fit in your palm comfortably. It's definitely a tough competitor to the HTC ChaCha with its well laid-out QWERTY keyboard. And yes, it does have a Facebook button, which acts as a shortcut to your News Feed. It also has a shortcut button for the camera.
The phone weighs nearly 100 grammes, and with a dimension of 4.3" (l) x 2.4" (w) x 0.5" (d), fits into your pocket quite easily. Other features include a 2 MP camera with LED flash, a 3.5 mm audio jack, and a microSD card slot that supports up to 16 GB.

A small button at the centre of the navigation pad acts as a trackpad for navigating through the interface. A volume control button on the right side and a charging port on the left are also present. The phone has a 2.4" display with pixel dimensions of 320x240. The connectivity of the phone isn't that great since it has only EDGE support, which isn't sufficient for fast access to the internet. At least a 3G facility should have been made available for this price.


UI And Applications
The moment it's switched on, the device prompts you to log into your FB account. After you get past that screen, you are greeted with the What's on your mind? field, from where you can post updates directly to Facebook.


The phone has a Java-based operating system, but with just a 200 MHz processor, it is not speedy enough to run even the installed applications smoothly, degrading the user experience. Navigating through the menus is easy, thanks to the responsive trackpad and keyboard shortcuts, such as [alt] + [B] for Bluetooth, [alt] + [F] for News Feed, and [alt] + [M] for the music app. One major complaint is that while the News Feed is supposed to be updated automatically, this never happens, forcing you to manually refresh the page for the latest updates.

The applications included with the phone fail to impress, with lacklustre examples that include a weather app, calculator, organiser, note taker, and some Java games such as Sims 3. The only bright spots are a Java-based Facebook chat application that allows communicating with multiple friends, as well as Palringo that supports multiple IM accounts.


Multimedia And Camera
Fortunately, the Blue 555 has a decent music player and FM radio with RDS for displaying the song and artiste information. The major audio formats supported include MP3, AAC, and WMA. Strangely enough, the phone doesn't have a dedicated video player, but it supports video playback for MP4, 3GP, and H.263 files directly through the Gallery. The sound quality of the speaker is decent, but the bundled earphones seem to be inferior as the music tends to distort at higher sound levels.

The 2 MP camera isn't good enough to capture detailed snaps, even though it includes an LED flash. I wish the manufacturer had added basic editing features, which could have made the images more viewable. On the bright side, the device surprisingly keeps colours true to life. There's also an option to share images via e-mail, Bluetooth, MMS, or upload them straight to FB.


Capturing video on the Blue 555 also isn't a good experience due to the lack of basic editing features. Moreover, videos cannot be shared online due to a lack of connectivity features, as they are too large to be uploaded through the EDGE connection.


Telephony And Messaging
One of the few impressive features is the ability to integrate your Facebook contacts with the local contacts list from the SIM card. Once you've logged in to your account, the phonebook integrates the list of your FB friends with SIM contacts that have the same name. Even if someone is left out, you can always choose the Merge To Facebook option.


Battery And Verdict
With a 1000 mAH Li-ion battery, the phone gives a talk time of 6 hours and a standby time of 60 hours, allowing me to use the phone for two complete days on a single charge.

The Vodafone Blue 555 is aimed at the young market. Making the phone attractive-looking, with a decent bit of features and Facebook integration is Vodafone's USP. However, a generation obsessed with smartphones may not like this product due to the lack of connectivity features such as 3G and Wi-Fi. All said and done though, this is still a decent device available at a very competitive price.


Features: 3/5
Design And Build Quality: 3.5/5
Performance: 2.5/5
Value For Money: 3.5/5
Mojo: 3/5

Overall: 3/5
TAGS: Mobile Phones, Vodafone, Swagatam