Review: Nikon COOLPIX S6500
Good image quality with Wi-Fi remote control.
Rating

4
/5
11th Jul 2013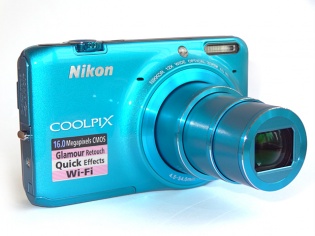 Pros:
Good performance; Wi-Fi remote control from smartphones; Various filters; 12x Zoom, Price.
Cons:
Lacks manual control; Wi-Fi doesn't support uploading and printing; pathetic Autofocus in low light.
Nikon COOLPIX S6500
MRP: Rs 11,950
Sometimes, it is more convenient to keep things simple. Point-and-shoot cameras are such examples where they are devoid of the complexity of DSLRs and instead trade off with simpler controls. The Nikon COOLPIX S6500 belongs to this genre, but it brings more to the plate than just that with 16 Megapixels, 12x zoom Full HD movie recording, Wi-Fi connectivity and a lot of visual effects filters. Let's take a look at how well it performs.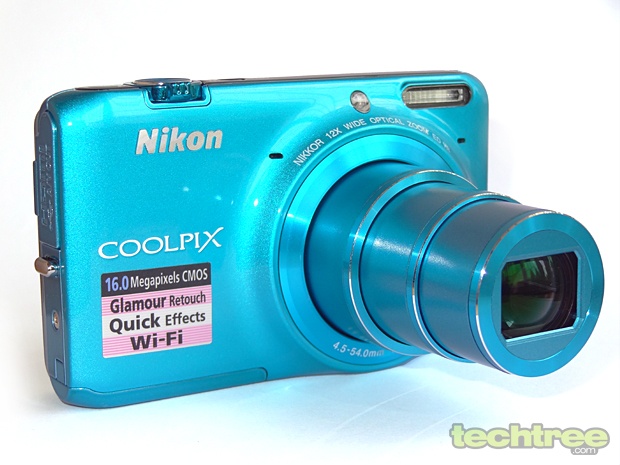 Design And Features
The Nikon COOLPIX S6500 is a 16 MPcamera with a chunky design and is about just as large as a clenched fist. The body is made of polycarbonate and the piece we received had a blue colour with a very glossy finish. It is also available in red, silver, black, and orange. The build is very good with no creaking anywhere. It is quite lightweight and can be easily carried in a pocket.
The camera has a Nikkor wide-angle lens with an optical zoom of 12x. It supports lens-shift image stabilisation to minimise the effects of camera shake while taking photos. The lens is protected by a cover that automatically shuts when the camera is off and opens when it is on. Stereo microphone pores are present on the top left and right of the lens, while there is a speaker opening near the bottom. An autofocus-assist/timer lamp is present right above the lens. Xenon flash is embedded near the top left.
The top panel has a tiny round power button surrounded by an LED ring that lights up to indicate powered on status. A large shutter release button is present towards the right, encircled by a spring-loaded zoom lever. A red LED present near this button blinks red while the flash is being recharged, stopping once it is fully charged and ready to use.
The back has a rather large 3" screen, which serves as the viewfinder because there is no EVF. It is bright enough to use outdoors, but is not very crisp, thus the pixels are noticeable. A directional pad is present on the right that lets you access various functions such as flash control, exposure control, macro mode, and timer. The Menu button below it opens up additional settings. Playback button is present above the D-pad, and there is even a dedicated movie recording button with a red dot above it. A dotted area is present next to the movie recording button to rest your thumb while holding the camera; of course this applies only to right-handed photographers.
Since this compact camera doesn't have a mode dial, the various modes are controlled and set via the Scene button situated between the screen and the playback button. This button allows you to access various scene modes including Auto (for those who are new), 20 scene modes (including Night, Backlighting/HDR, Panorama, and 3D), 12 filters (such as soft, nostalgic, selective colour, painting, toy effects, and cross process), and Smart Portrait.
The battery compartment at the bottom also houses a slot for a SD card. The Li-Ion battery is of just 700 mAh capacity and we doubt it will last long enough if you take this camera out on a trek. Nikon mentions that it can shoot 150 photos or record 25 minutes of movie on a full charge. A tripod mount attachment threaded groove is situated at dead centre, but it may also not last for very long as it is made of plastic rather than metal. The camera has a micro-HDMI port on one side in addition to the proprietary USB charging / data connectivity port. Both these ports are protected by a flap.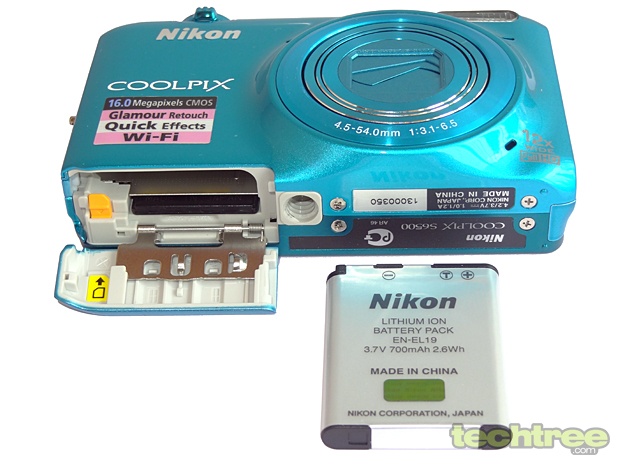 Movie recording up to 1080p is supported. Autofocus is supported while movie recording and slow motion (HS) mode is also present. The camera supports Wi-Fi to download pictures to a mobile device once the Wireless Mobile Utility is installed on the iOS or Android mobile phone. The utility can also be used as a remote control for the camera to preview the image and release the shutter button. However, you cannot use it to directly upload images to the internet.
The camera currently comes with a free 4 GB SD card, camera pouch, and HDMI cable.
Performance
The camera switches on and gets into the ready-to-shoot mode within a second. The shot-to-shot time is rather fast at under a second without flash and less than 3 seconds with flash, which indicates a fast flash recycle. Autofocus takes a little longer though at under a second.
The 12x optical zoom is just enough for most purposes, except if you are interested in nature photography. Macro mode is somewhat disappointing because the minimum distance for the subject in this mode is 8 cm from the lens.
Night shots were not really as impressive as expected. Sharp focus could not be achieved even after multiple attempts and therefore the photo looks fuzzy. It must be noted that colours were good even in this mode.
The camera supports ISO modes from 125 to 3200 at full resolution.
Details and colours are well-preserved up to ISO 400. Noise becomes increasingly noticeable at higher ISO levels.
The colour reproduction was found to be good and a good amount of details were present in the photos. Fringing was not seen, which is indicative of good optics. Effects can be applied to the photos immediately after they are shot, in case you didn't use one of the real time filters. I am not sure how many will actually use these, though.
Movie recordings appear good with good details and accurate colours. The zoom motor becomes comparatively noiseless when used while recording movies, but the motor sound is still noticeable in recordings.
The lack of manual controls is certainly felt as a sore point with this camera because manual controls are expected in this price range.
The camera can be easily operated with one hand, which is the right hand. However, it is difficult to get a firm grip on it due to the lack of curves and the slippery body, therefore necessitating the use of the left hand as well to stabilise.
Our Verdict
The Nikon COOLPIX S6500 is a good performer as far as the image quality is concerned. The colours are accurate and the photos are fairly detailed. It starts up very fast and is quick at taking successive photos. It has a fairly powerful 12x zoom and image stabilisation that works. Various filters allow you to play around with your creativity. Wi-Fi functionality lets you transfer photos to a smartphone or control the camera from it. However, you cannot upload photos to the internet or even print wirelessly. The size makes it pocketable and it looks good with its different colour options. However, there are a few more cameras available such as the Canon IXUS 240 HS and the Panasonic Lumix DMC-SZ5, which offer competition to Nikon with similar features. However, we cannot yet comment about their performance without a proper review, while the S6500 still seems to be a better option owing to its lower price.
Build And Design: 4.5/5
Features: 4/5
Performance: 4/5
Value For Money: 4/5
Mojo: 4/5
Overall Rating: 4/5