Review: Panasonic SDR-H101 | TechTree.com
Review: Panasonic SDR-H101
A decent camera with some nice features and huge storage.
Rating

3.5
/5
13th Mar 2012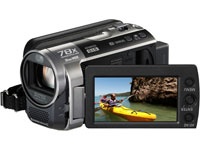 Pros:
Compact size and light; Good image quality; 70x optical zoom; Optical image stabilization; 80 GB hard drive + SD HC storage; Good battery life; Zoom microphone works well.
Cons:
Poor performance in dim environment; Lens-glare issues; No headphone jack; Power button can be occasionally unresponsive.
Panasonic SDR-H101
MRP: Rs 18,000
Street Price (As On 15-Dec-2011): Rs 16,600 (eBay.in); Rs 17,500 (Letsbuy.com; Flipkart.com)


The New Year and Christmas season is fast approaching and most people will go out on a vacation. Vacations have special moments, which become treasured possessions of our memories. There is certainly a way to preserve these memories and also share them with your loved ones. We are talking about a camcorder and we have with us today, the Panasonic SDR-H101, a standard definition hard drive-based camcorder. This has a huge storage space of 80 GB to capture videos and additional storage via an SD HC card slot. It comes with optical image stabilization and a huge optical zoom of 70x. The size and weight are very manageable and we will take it into the field to find out if it is worth a buy.

The video review for the Panasonic SDR-H101 is given below.

BundlePanasonic SDR-H101
Battery pack VW-VBK180
Battery charger
DC power adapter with two power cords
AV cable
USB 2.0 cable
Software utility disc
Three user manuals in different languages
Warranty card
Battery handling information leaflet

The bundle seems to be adequate and complete except that it does not come with a carry pouch. The battery can only be charged while it is inside the camcorder, which we find a bit inconvenient, especially when using an extra battery pack.

Design And Features
The Panasonic SDR-H101 is considerably lean for a camcorder with an internal hard drive. The polymer body is primarily black with a few parts sporting a steely metallic lustre. The build is quite rugged, though that does not mean that you can absolutely get away by dropping it; it can handle a few knocks well. The hard drive inside has drop protection mechanism that parks the head when it detects a state of falling, thus protecting the drive and data.

At the front, you can see the zoom lens protected by a cover that can be opened or closed manually by a lever present on the side. It has a focal length of 1.48 to 104 mm with 33 mm wide-angle filming capability. It sports a huge optical zoom of 70x, which means that an object at a distance of 700 meters from the camera will appear as if it were at a distance of 10 meters at this magnification. It features optical image stabilization, in which the lens moves to compensate for jerks in the camera, to maintain a stable image on the LCD. Just below the lens, there is the zoom stereo microphone that lets you record audio in stereo. When the zoom microphone function is enabled, you can enhance its directional sensitivity and record sounds from sources placed much farther. A white LED is present just above the lens to illuminate subjects in the dark.
An adjustable cushioned leather grip strap is present on one side, making it suitable to be held comfortably with the right hand. Of course that leaves left-handed people in the lurch, but such is usually the case with just about any of the camcorders available. The grip is comfortable, but the body is not as well-contoured as those in Canon camcorders. At just 330 grams, this is pretty lightweight to handle.


A spring-loaded zoom rocker control is present near the rear at the top and it is very easy to just flick it with the index finger to make adjustments to the zoom. The rocker is smooth and does not make any sound, so you do not have to worry about any unwanted noise getting recorded while zooming. A shutter button to capture still images is present just behind the zoom rocker, while a sieve concealing the speaker is present just ahead. Panasonic has provided a button to manually switch between automatic (iA or Intelligent Auto) modes and manual modes. There is also a button to switch the optical image stabilisation, though we think it is best to always let it stay on. These buttons make it easier to work with the camera as you don't have to delve deep inside the menu to access these functions. All the control buttons are placed within easy reach via one-handed control.


The rear side has the protruding battery. Panasonic includes the proprietary VW-VBK180 Li-Ion rechargeable battery pack with the SDR-H101. This battery has a capacity of 1790 mAh. In addition to the video recording button that can be operated by the thumb, there is also a slider to switch between recording and playback modes.


A mini USB port and an A/V port are revealed once you open the LCD. You can connect the camera to the PC using this USB port to access the recorded contents, while the A/V port allows you to view the recorded videos or photos on a TV. An SD card slot protected by a flap is also accessible here. It officially supports SDHC cards with capacities up to 32 GB. The Power button and Delete button are conveniently placed at your disposal for easy access to these functions. The Delete button in the playback mode doubles up as the switch for the front LED in the shooting mode. Missing over here is a reset button, which is useful when something goes wrong, letting you reset the camcorder to the factory default settings.


The 2.7" colour TFT LCD display opens up at right angle to the optical axis of the camera, and you can even rotate it 90 degrees on one side and 180 degrees on another side, allowing you to capture video even in awkward angles. The monitor has 123,200 pixels, which makes it appear a little coarse by current standards. A joystick that aids in navigation in the user interface is situated on the left bezel, while buttons to manually control the autofocus and automatic exposure (AF/AE) and to access the menu are also present above and below it respectively.


There is also a tripod receptacle at the bottom, allowing you to mount this camcorder on a tripod for some serious video recording.

The SDR-H101 has specs that look good, but it will only be the performance that will let us judge how good it really is.

Performance
After you switch on the camcorder, it hardly takes 1.5 seconds to get to the ready-to-record state. This is quite fast, considering the fact that the hard drive has to initialise in the same time.

We proceeded to examine the user interface of the camcorder and it seems to be pretty straightforward and navigation is very easily done by using the joystick. Panasonic is probably the only camcorder company featuring Hindi as one of the interface languages and choosing this language turns every single menu into pure Hindi.


In the Video recording settings, you can select up to ten scene modes, select recording quality, aspect ratio, etc. You can also enable or disable digital zoom, wind filter, zoom microphone, etc. This camcorder has provision to enable Backlight Compensation for better visibility of subject(s) with the light source(s) behind. Web Mode recording option sets the video recording limit to 10 minutes, which is useful for online video sharing websites with such limits. There are also other settings such as Intelligent Contrast, Soft Skin Mode, Auto Slow Shutter (to automatically slow down the shutter speed in dark environments to capture more light), and Colour Night View (which basically does the same as the previous setting in addition to enhancing the colour). Manual adjustment of white balance and focus are also permitted. Most of these settings become unavailable as soon as you switch to iA mode.

The first thing that we notice is that the LCD is very usable even in daylight and you will not miss the optical viewfinder, which is not present in this camcorder lacks. There are four present levels of brightness you can set for the LCD to suit your needs. A thing to keep in mind is that a higher brightness will reduce battery backup time and lower will likewise increase it.

Even though you may choose the wide-screen option, the movies are always captured at a resolution of 704x576 at 25 fps regardless of what aspect ratio you choose. So if you have chosen a wide-screen aspect ratio, the video will fill up your widescreen monitor and if it is 4:3 aspect ratio, then you will see dark vertical bands on the left and right hand sides. Video recording takes place in the MPEG-2 format, while audio is recorded as Dolby AC3 48 Khz stereo at a bitrate of 256 Kbps. Photographs are captured at a low resolution of 640x480 (4:3) and 640x360 (16:9), which at best, may be used to print postcard size prints.

Video can be recorded at three quality settings: XP (Best at 10 Mbps VBR), SP (Standard Play at 5 Mbps VBR) and LP (Long Play at 2.5 Mbps VBR). We tried recording at all the settings and found that it is better to use XP for a decent recording quality. The image quality deteriorates a lot when you go to the lower quality settings.

The image quality is good in general as far as colour and details are concerned. Everything appears crisp and there are no visible artifacts. Even fast-moving objects do not exhibit the infamous combing artifacts. The backlight compensation feature really helps better the visibility of a subject in front of a light source. The optics are quite efficient at gathering all the available light, thus making sure that at no point is the recorded image duller than the actual source. It works well when shooting well-illuminated objects, but it is disappointingly grainy in low light conditions. The camcorder also finds it difficult to adjust to high contrast subjects. For example, it becomes next to impossible to capture a flying bird against the backdrop of the bright sky. Additionally, the camcorder also suffers from terrible glare issues, very similar to those optical instruments with uncoated lenses.

Autofocus works well, and it is pretty fast. While there is autofocus for still image mode, the shutter button misses out on the most common function of a digital camera, which is the button does not have the facility to focus when depressed midway, it just clicks when depressed, relying entirely on the autofocus mechanism, which may not always be a good thing. The zoom works great and thankfully, the image does not lose its brightness even when you zoom at the maximum optical zoom. Optical image stabilisation does a great job at stabilising images. While it is always useful, it is more useful when using zoom. The zoom microphone works well too and we could pick up conversations between people who were more than 200 feet away from us. Wind filter on the other hand, seemed to be useless and it made no difference whether it was turned on or off.

Zoom up to 70x with image stabilisation switched on.
With image stabilisation switched off.
With image stabilisation switched on.
Unlike its older versions, this camcorder does not require you to connect the DC power adapter when connecting it to the PC to access its contents. This makes it convenient when you are carrying the cam outdoors with your laptop, hoping to transfer or edit some captured footage while on the move.

File transfer takes place from the camcorder at a rate of 21 MB/s, which is pretty fast. The battery gets fully charged in just under 3 hours. It lasts for around 2 hours 40 minutes with the provided battery for all the recording modes, which is more than twice the Panasonic specified 1 hour 15 minutes. This timing is pretty good for a hard drive-based camcorder, though we advise you to buy and keep a spare charged battery or two ready if you are going to take this camcorder on an excursion of a long duration. Alternatively, you can get the VW-VBK360 with a twice the capacity and ideally, twice the recording time.

To give you a rough idea of how much space each video recording mode occupies, we recorded clips of one minute duration in all three modes. The resulting file sizes are as follows:

LP: 20 MB
SP: 36 MB
XP: 67 MB

According to official specifications, you can record up to 74 hours 30 minutes in LP mode, 37 hours in SP mode and 18 hours 30 minutes in XP mode on the 80 GB hard drive. Of course, the battery won't last long enough for any of the recording modes.

The camcorder bundles along VideoCam Suite to edit the videos and transfer them to DVDs. When the camcorder is connected to the PC, the DVD Copy button on the camcorder launches this application and starts creating a DVD from the captured videos (if a blank DVD is inserted in the DVD writer).

You can easily start one-touch recording to an external DVD writer such as the VW-BN2 and the VW-BN01, both from Panasonic.

The Verdict
The Panasonic SDR-H101 has several good features such as a huge 80 GB hard drive to store up to 74 hours or video recording. With good colour and detail level, the image quality is on par with recent SD camcorders. If that is not enough, you can also use the SD HC slot to add storage. Thanks to the really functional image stabilisation, you can actually shoot at the full 70x optical zoom without a tripod, provided that you have a steady hand. At lesser zoom levels, even people with shaky hands can shoot and produce good results. The zoom microphone works as intended and is useful in situations such as bird-watching.

The camcorder allows you to manually control various features such as recording quality, focus, white balance, etc. The user interface of the camcorder is simple and easy as well and even a new user will not find it difficult. The photo size is limited to a maximum of 640x480, and we seriously think that even a run-of-the-mill mobile phone can click better and larger photos these days.

With a 3-year warranty, the Panasonic SDRH101 comes with an attractive price tag of as low Rs 16,600 as you may find at the start of this article. Additionally, you even get a few extras such as the much needed carry pouch and even an extra battery pack to aid you when the camcorder unexpectedly runs out of juice at the wrong time. If you are satisfied with SD quality video capture, then this camera is worth buying, and if you have a few more thousand rupees to spare, then we suggest going for an HD camcorder such as the Canon Legria HF R205.

Features: 4/5
Performance: 3.5/5
Ease Of Use: 4/5
Value For Money: 3.5/5
Mojo: 3.5/5

Overall Rating: 3.5/5


TAGS: Cameras, Panasonic, Jayesh