Review: BenQ GH650 (26x Zoom) Camera
A competitively priced high-zoom camera with not so competitive performance.
Rating

3
/5
20th Jun 2013
Pros:
Rugged build and stylish looks; Powerful 26x optical zoom; Variety of creative filters; Price.
Cons:
Colours appear dull; Autofocus may not work well; OIS non-functional; No 1080p capture.
BenQ GH650
MRP: Rs 11,990
Other than megapixels, what is one camera parameter that is wowed by the layman? The optical zoom! This feature is valued because it brings far off objects within the photographer's reach, and especially useful for nature photography. However, the price of such cameras has been on the higher side. BenQ attempts to break the price barrier with the recently introduced GH650, which is a bridge camera camera (a camera segment that aims to bridge the gap between point-and-shoots and SLRs) with a 26x optical zoom. With a 16 mp image sensor, it features OIS to take care of jitters during photography. While it does look good on paper, we'll try to find out if it can really deliver.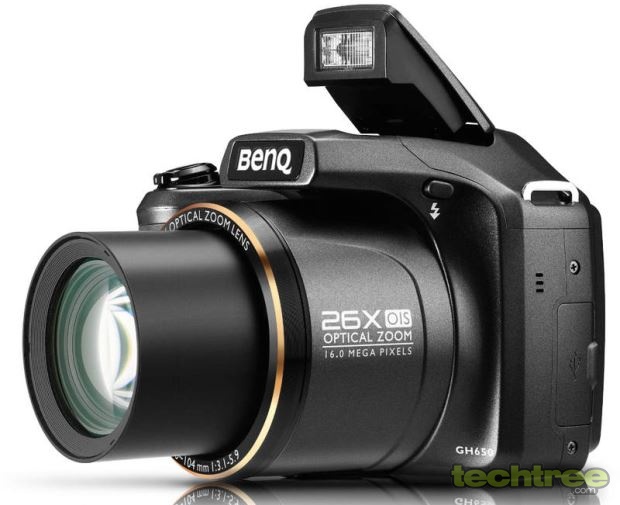 Design And Features
The BenQ GH350 that we received was of slate-grey colour with a slight lustre rather than black as mentioned on the website. The such a long zoom lens, the camera's on the heavier side at around half a kilogram. However, it is almost as large as an entry-level D-SLR camera that takes away some of its portability. The build is very chunky and strong for a camera in this price range and it even looks good.
The rear of the camera is dominated by a large 3" fixed LCD. A directional pad with a central OK button is present on the right to adjust various setting such as macro mode, electronic exposure, flash type, and self-timer. The Menu button gives access to the various setup options while the AE-L/AF-L locks focus and exposure values while shooting. A dedicated movie shooting button is present near the top, while a playback button is also there to review the recorded contents.
Coming to the top, there's a large shutter button encircled by a zoom lever, both come with a glossy piano-black finish. A physical mode dial is present to conveniently and quickly select various shooting modes. The power button is present just besides this. A pop-up flash is present on top of the lens that can only be opened via a spring-loaded mechanical switch on its side. There are two pores for left and right microphones to record stereophonic audio. Metal eyelets to connect straps are present on both sides, although you will have to purchase the strap separately.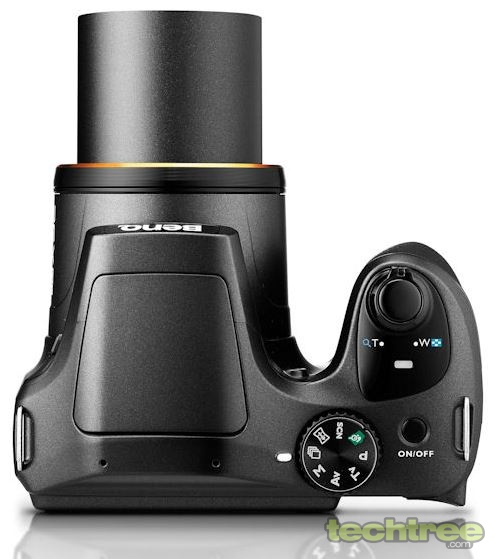 A speaker grill is present on the left, just above a flap protecting the proprietary USB connector. No video-out is present. The camera is powered by four AA batteries hidden behind a flap at the bottom. The SD card slot is also present besides these batteries behind the door. A durable metallic groove is present on the bottom for the tripod mount. The camera can shoot up to 350 shots until the batteries exhaust, as per specifications.
In addition to the high zoom levels, the camera supports super-macro mode capable of shooting subjects as close as 1 cm from to the lens. It can record 720p movies (not 1080p) with optical image stablisation that helps to reduce the chances of a blurry photos due to camera shake. It also support a variety of creative colour filter modes, including the LOMO Mode that can apply different artistic effects to photos. HDR is also present The user can also opt for selective colour photography, meaning that only a single colour is captured and displayed, while the rest is in greyscale. The usual shooting modes including Panorama, P, Av, Tv, M, Speedy Burst, Beauty Enhancer, and Advanced Smart Scene Mode are supported. Some of the additional scene modes are HDR, Toy, Night, Waterfall, and MagiQ.
Performance
The camera starts up really fast within a second. The time between two shots is around 4 seconds, while it increases to an atrocious 10 seconds with flash.
The powerful optical zoom of 26x, which is the primary USP of this camera is really as good as it is claimed. You can check out the samples at what is achievable with such a high powered zoom.
ZoomPerformance
Here are a few more sample shots including Super Macro photos.
SampleShots
The camera supports ISO values from 100 to 6400. Here is the performance for the different ISO values. You'll notice the image starts losing definition and colour starting ISO-400. This can be blamed on the smaller image sensor. In an attempt to keep the noise levels low, the camera switches to a lower resolution of 3 mp for ISO settings of 3200 and 6400.
ISO Test
The colours appear to be a bit dull out most of the times. While auto-focus locks really fast, sharp focus is usually not achieved, resulting in loss of details. The lack of manual focus becomes evident here. This is especially true when the lighting conditions are dim and when the shooting is done hand-held. OIS in this camera practically does nothing to help reduce the chances of blurry photos. Some amount of noise is evident even at ISO-100. Night scene photos appear brighter due to the higher ISO levels, and a fair amount of details is captured, but they are practically of no use as they are mostly blurry. Most of the creative filters work as expected, but HDR doesn't seem to do anything.
The camera completely depends on auto-focus and this does not always result in sharp focus. Unfortunately, there is no manual focus to remedy this situation. As with most low-end cameras, it is difficult to achieve a good focus in darker conditions.
Movie recordings appear good in general and the auto-focus works while recording. The zoom motor produces some sound that gets recorded while it is used, but it is not so irritating when you consider the affordable price point of the camera.
BenQ has paid attention to ergonomics of this camera. The rubberised grip on the right along with the thumb-rest on the rear makes it easy to grab and hold while shooting with one hand. Most of the buttons including the still image shutter and video shoot button are also accessible by the right hand in this state. The buttons and dials have a good feedback and don't feel tacky.
Our Verdict
The BenQ GH650 boasts of a powerful 26x optical zoom and it really works well, and it can come handy for nature photography. However, it is somewhat let down by image quality. The automatic focus and OIS work erratically, thus producing blurry photos every now and then. The images are noisy and colours appear dull.
To its credit, the camera boasts of excellent build quality. While it lacks 1080p capture, it does 720p fairly well and the auto-focus works while this is being done. The various filters that can be applied before and after photography are an added bonus that will let your creative juices flow. Priced at Rs 11,990, the BenQ GH650 would have been a good deal if the image quality would have been better. The almost similarly priced Sony Cyber-shot DSC-H200 seems to be a worthy competitor, but we can only comment about the performance after we receive a review unit.
Build And Design: 4.5/5
Features: 4/5
Performance: 2/5
Value For Money: 3/5
Mojo: 2.5/5
Overall Rating: 3/5