Review: ASUS VivoTab RT | TechTree.com
Review: ASUS VivoTab RT
Splendid looks and portability are offset by a lack of applications.
Rating

3.5
/5
06th Jun 2013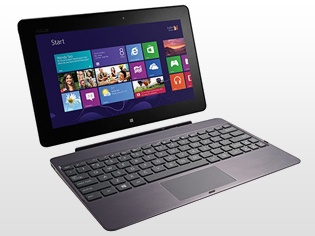 Pros:
Lightweight and portable; Good looks and build quality; Excellent battery backup; Office RT pre-installed; Good bright IPS screen.
Cons:
Sluggish while multi-tasking; Windows RT lacks in apps; No USB port on tablet; Expensive.
ASUS VivoTab RT
MRP: Rs 62,000
When Microsoft launched Windows 8, it also launched Windows RT, which is a version of the operating system designed to run on devices powered by ARM processors rather than those based on the x86/x64 architecture. Microsoft's own Surface RT was the first tablet to run this OS. ASUS, which has a myriad of Windows 8 devices, also has a device named VivoTab RT. With a configuration similar to the Surface RT, the VivoTab RT is actually a convertible with a keyboard dock that can be disengaged to use it as a tablet. We have this NVIDIA Tegra 3 powered device with us for a review.
Build And Features
The ASUS VivoTab RT looks strikingly different from other laptops and sports a stylish design. It has a grey colour with most of the body being made of aluminium. The size and weight are small enough for it to be easily carried around. The device is effectively a tablet that snugly docks into a keyboard, instantly transforming into a laptop. The locking mechanism is easy to operate and the tablet is securely attached via mechanical locks. The cradle into which the tablet docks is attached to a hinge on the keyboard dock which seems to be quite sturdy.
The 10.1" IPS screen has pixel dimensions of 1366x768, which is sufficient to natively display 720p videos. Of course, 1080p videos can also be played, although they will be scaled down to this size. The screen has bezels with piano-black finish on all sides with a 2 mp HD webcam at the centre of the top bezel and a capacitive Windows button on the bottom bezel.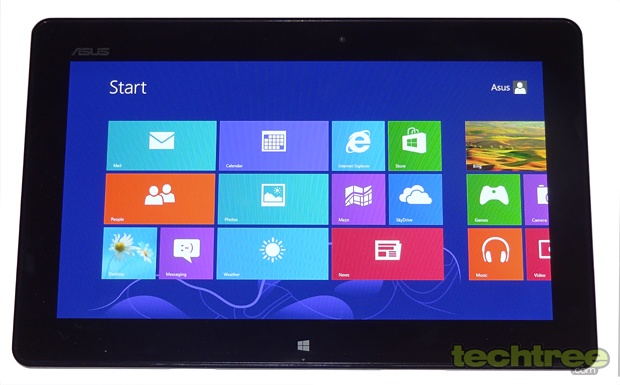 The rear of the tablet is mostly made of brushed aluminium, while a couple of inches of the top part is ribbed plastic with a soft touch feel. This area also serves to hold the tablet (sans the keyboard) with a firm grip. An 8 mp camera with LED flash is present on the rear of the tablet in the top plastic part. The front as well as rear cameras can both record HD videos.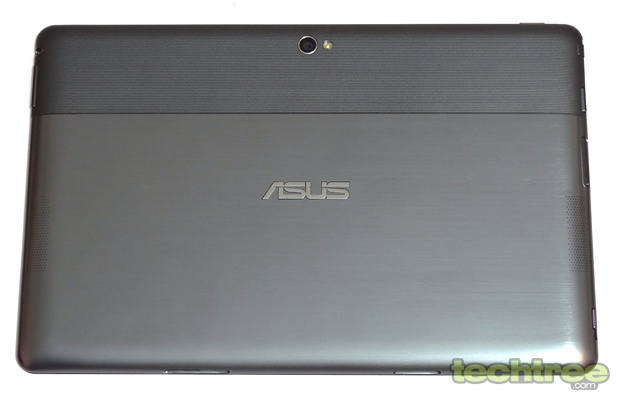 All the ports and buttons are spread along the edges of the tablet. There is a power button, volume rocker, micro-SD card slot, micro-HDMI, micro-SIM slot, and headphone combo jack. A couple of microphone pores are also present for stereo audio input. ASUS seems to have forgotten to add an orientation lock button that comes handy when the device is used in the tablet mode.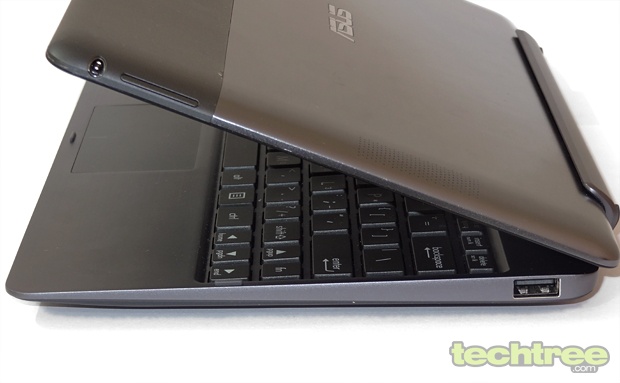 Strangely, there is no USB port on the tablet. However, one USB 2.0 port is present on the keyboard dock with option to add one more by means of a bundled adapter that plugs into the charging port. Also, ASUS provides an adapter that plugs into the charging port on one side and provides a USB port on the other side. This works with the charging port on the tablet as well as the keyboard. However, it seems to be a last minute addition as it fits rather loosely and you wouldn't want to trust it to connect any peripheral device unattended.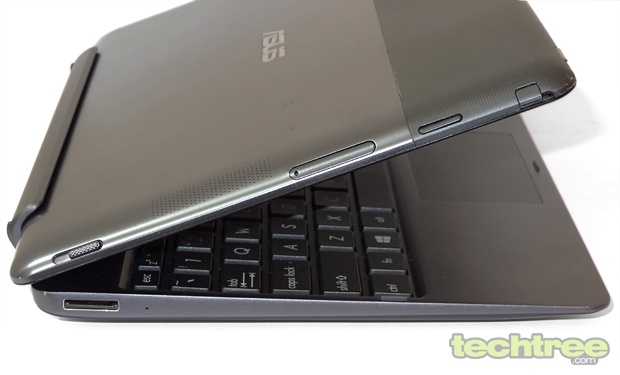 The keyboard dock is also beautifully crafted out of aluminium with the keyboard placed slightly deeper than the surrounding area. The keyboard is of island type and it is not backlit with the exception of the Caps Lock. The keys are of a darker graphite colour which is also the colour of the rather small touchpad present below the spacebar. This keyboard dock also contains a 22 Wh Li-Polymer battery that adds to the tablets 25 Wh battery, thus providing additional battery backup.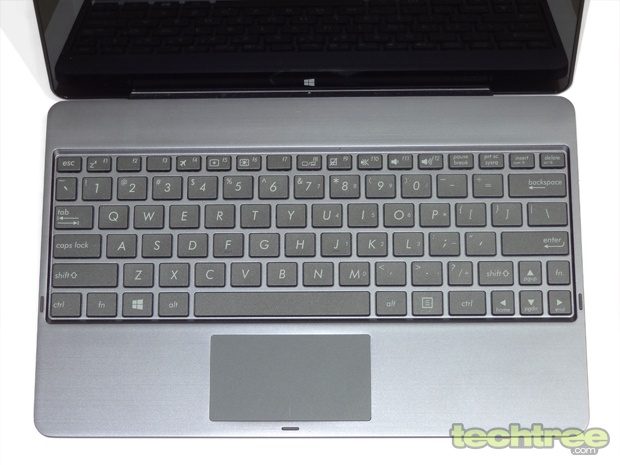 Just like the Microsoft Surface RT, the ASUS VivoTab RT is also powered by the quad-core NVIDIA Tegra 3 SoC. Storage is taken care of by a 32 GB SSD. Here we must remind you that the Windows RT OS and other software take up a huge amount of space, leaving less than 14 GB free for the user. The device comes equipped with 2 GB of RAM that is not upgradeable. Since Windows RT is a 32-bit OS, it cannot support more than 3.2 GB in any case.
Windows RT comes with Office Home & Student 2013 RT, so you will not have to purchase it separately. While it looks exactly the way Windows 8 does, it must be noted that this OS will not run programs that can run on Windows 8. It can only run apps from the application store and there are very few such apps at present.
Some of the other sensors in the unit include GPS, NFC, gravity, light, gyroscope, and e-compass.
Performance
The VivoTab RT takes around 38 seconds to start up, which is a little too long considering that it boots off an SSD. Normally, the boot time for Windows 8 devices with SSDs is under 10 seconds and for those with HDDs is still under 20 seconds.
Since Windows RT is still new, hardly any apps exist on the application store. It cannot run benchmark applications that run on Windows 8, therefore we could not run benchmarks to compare it with other devices. We had to rely on real world experience instead. The overall experience with the device was smooth. However, it does start slowing down if you open too many applications such as too many windows in a browser. The experience is better than a Windows 8 device powered by an Atom CPU but almost similar to a Core i3.
When it comes to NVIDIA, we always expect good gaming performance. Although there are very few apps in the application store, our experience with the 3D game Adera was very smooth. We expect the performance to be good with other future games that appear on Windows RT platform.
The screen has extraordinary brightness which practically takes care of the distractions that would have resulted from the glossy surface. This makes it possible to use it even in broad daylight. The colours are very good and the IPS panel ensures very good viewing angles without discolouration. Since it has 1366x768 pixels packed into 10.1", the images appear crisp. The touch response was also found to be excellent with almost no lag.
The speakers are surprisingly loud and clear and you will not need headphones while watching movies. Speaking of movies, the device can easily play 1080p movies without breaking a sweat. Although the display doesn't feature Full HD pixel dimensions, the micro-HDMI port can be used to output the high definition video to a large screen.
The keyboard is a little crammed, but it may be just right for regular laptop users. Strangely the touchpad almost always behaved erratically with no correlation to the real input.
The VivoTab RT never heated up during the entire testing duration, thus proving that it is a very stable device, considering that it is very compact with no ventilation.
Battery Life
The battery life is one thing that this device excels at. We used only the tablet (without the keyboard) with the power management setting set at Balanced as this was the only power scheme available on the device. It was found that the battery lasted for around 10 hours of normal usage that includes using Office apps, viewing streaming YouTube videos, and listening to music. The battery backup increases to a little over 16 hours when we reduced the screen brightness to the minimum. These are excellent numbers and although we didn't try out, it is certain that these numbers will almost double when we use the keyboard battery as well, thus lending excellent portability to the device.
Our Verdict
The ASUS VivoTab RT is a convertible that sports an excellent design with good build quality. It can instantly switch to a tablet from a laptop without breaking a sweat. It is great as a portable tablet alone, while the keyboard dock only adds to increase battery life and productivity. The multimedia performance was great all thanks to its bright colourful screen, loud speakers, flawless 1080p playback, and good gaming performance.

However, there are a flaws that hold it back such as the lack of apps for Windows RT, slow performance when multi-tasking, and the asking price of Rs 62,000, we feel is a tad too expensive for what it offers.

Build And Design: 4.5/5
Features: 3/5
Performance: 3.5/5
Value For Money: 3/5
Mojo: 3/5
Overall Rating: 3.5/5