Review: BenQ RL2240H LED Monitor | TechTree.com
Review: BenQ RL2240H LED Monitor
A gaming monitor at almost the cost of a similar sized regular LED monitor.
Rating

3.5
/5
07th May 2013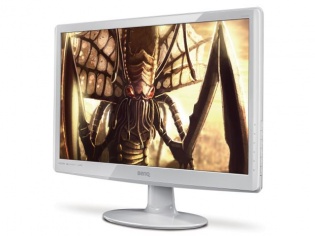 Pros:
Good image quality; Fast response time; Full HD; Variety of inputs; Extensive controls with game profiles; Well priced.
Cons:
Wobbly stand; Bad viewing angles; Hard buttons; White frame adversely affects viewing and requires high maintenance.
BenQ RL2240H
MRP: Rs 9,800
It is no secret that gamers crave for monitors with faster response time so that they don't miss out on even a single frame of the critical action in the blur. BenQ has a new model - RL2240H, that the company classifies as a professional gaming monitor. It is claimed to have been co-designed with the famous StarCraft II team – StarTale. This 21.5" Full HD LED-backlit monitor sports a fast response time of 2 ms (GTG) and various features useful for gamers that are not found in basic monitors. Let's find out if this monitor really performs any different from a standard one.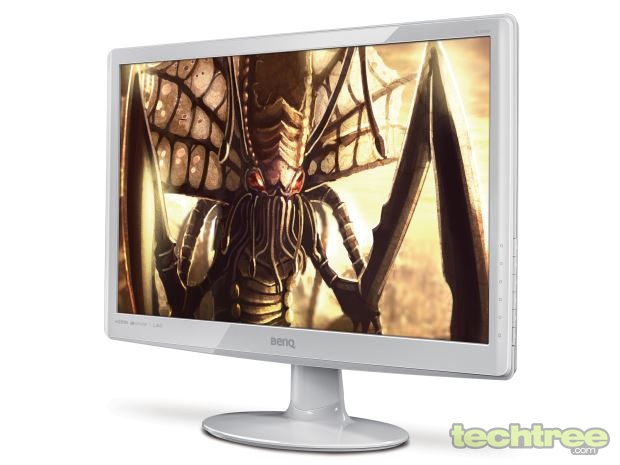 Design And Features
This monitor is markedly different in appearance from other monitors due to its glossy white exterior. Incidentally, this results in it visibly collecting dust and you having to clean it more frequently than a black monitor. The bezels are about 1" thick on all sides with the bottom being slightly thicker. The 21.5" Full HD monitor is based on TN panel technology with LED-backlighting.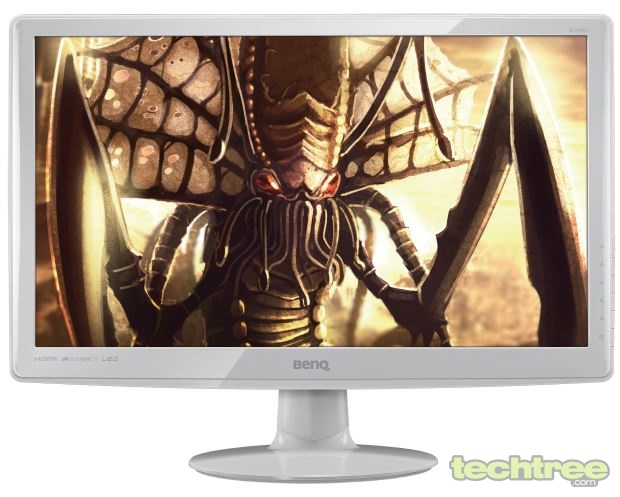 The monitor is held upright by a stand on an oval base that allows it to be tilted vertically at up to 5 degrees to the front or 20 degrees to the back. Height or horizontal adjustments are not present. Although thin at the edges, the monitor swells up to 2.3" near the middle. The base is around 7" in thickness (front to rear). While the oval base with four rubber feet makes sure that the monitor is firmly grounded. However, the stand itself is wobbly and even a slight jolt to the desk makes it oscillate. Since there is no VESA mounting at the back, you cannot mount it on a wall. Speaking of the back, BenQ has incorporated a beautiful design made out of pores of different sizes, which are actually vents to let out hot air from within the body.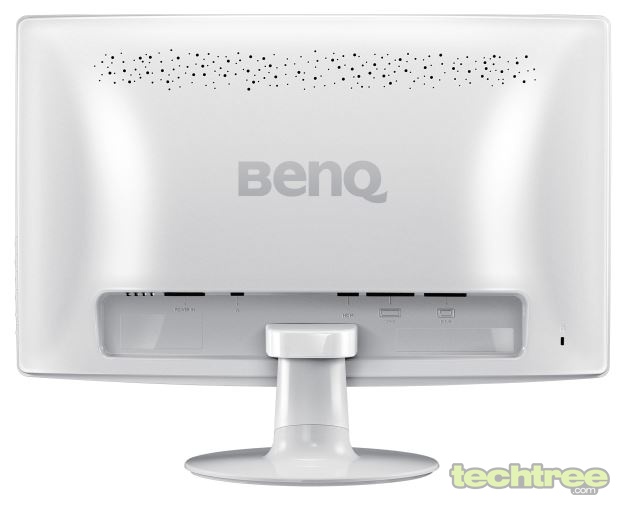 The monitor has downward-facing ports on the back side. The ones to connect display devices include an HDMI, DVI-D, and D-Sub thus allowing you to connect multiple multimedia devices such as a PC, media player, Blu-ray player, and game console. There is also a 3.5 mm stereo audio port to connect external speakers to route the HDMI audio, since the monitor itself doesn't have in-built speakers. We must mention that this monitor comes with only a VGA cable, thus you will have to purchase a DVI or HDMI cable separately.

Mechanical control buttons are present on the left of the monitor along with an LED-backlit power button. The lack of labelling may irk many a user, but it is not really a problem because when you start using them, the current function of each of the buttons appears on the screen adjacent to the button. The interface is fast, smooth, and easy to understand as well as operate as it is well-labelled. However, the buttons are a little rigid and you have to press rather hard, thus ending up shaking the already wobbly monitor too much whenever you use them.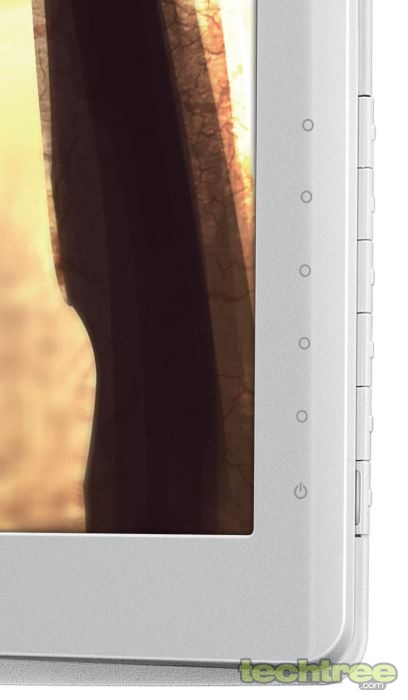 An RTS mode is also there, with contrast, brightness, and colours claimed to be tweaked with RTS games in mind (StarCraft II in particular). Of course, this is just another preset that you can adjust manually with the resultant image being slightly warmer. It doesn't really bring any advantage while playing the RTS gaming genre though. Additionally, there are three Gamer modes where you can save your own custom settings for the monitor. Yet another gamer-specific utility in the monitor is the Black eQualizer that can enhance dark scenes to offer better visibility, without over-exposing the bright areas, thus preserving the vital details. This is especially useful to gamers to gain a competitive edge. The monitor includes AMA (Advanced Motion Accelerator) – a feature found in the more expensive models from the company, which claims to improve the grey level response time. The Instant Mode feature is stated to adjust image processing to reduce the input lag, which is dreaded by FPS gamers.
Also noteworthy is the auto-scaling option that lets you switch from a standard 21.5" (16:9) full-screen view to 17" (4:3), 19" (4:3), and 19" (16:9) modes. These modes are useful if you are still playing older games that were not designed for today's high resolution monitors. For example, if you choose the 17" (4:3) mode, the graphics in an older game supporting a low resolution such as 1024x768 will appear crisper, rather than stretched, although you will notice black borders on all sides of the screen. This feature won't really make sense to you if you are more likely to play games that were made within the past five years, almost all of which support 16:9 Full HD resolutions. However, if you still play older games like Counter Strike 1.6, this is a very handy feature to have.
Performance
BenQ mentions that this monitor is designed for RTS games, which is a genre with no specific requirements as far as a monitor is concerned. However, the 2 ms (GTG) that comes with this TN panel display is fast enough to play modern FPS games without missing a frame.
A very slight bias towards blue is noticeable although this is not really bothersome as a small colour calibration takes care of the issue. Thankfully, bleeding is not seen in the monitor and colours were evenly reproduced at all points as seen using Displaymate. Also, black levels are really good with only slight hints of bleeding of backlight overall. It was noticed that although it is not flicker-free, the monitor is considerably comfortable to use for long hours and gamers will surely benefit from this. The 1080p images are quite crisp and sharper than a 24" monitor, primarily because the pixels are more densely packed in this sized screen.
The matte finish screen reflects very little and is therefore good to view. However, this is offset by the glossy white bezels that compensate for the reflections (in a bad way), and are also less pleasing to the eyes to view images than it would have been on a monitor with black bezels. Lastly, the viewing angles are not good as you quickly notice discolouration even at angles as low as 120 degrees, but that is to be expected of a TN panel.
Power consumption was found to hover around 23 W during normal operation, which is higher than a standard 21.5" LED-backlit monitor which normally consumes between 15 W and 20 W. Thankfully, BenQ has provided an Eco mode that slashes the power consumption to just 17 W, which is still slightly higher than a monitor with a similar sized screen. It must be noted that even at the lowest brightness, the monitor is not really dark and can be used comfortably even with the room lights switched on.
Our Verdict
The BenQ RL2240H is a good monitor for what it offers. We must say that BenQ is being cheeky about promoting this as a professional gaming monitor, while claiming that it is for the RTS gaming genre. Most professional gaming monitors are rather designed for FPS games as that is the genre that has stringent requirements. That said, the monitor works quite well even with FPS games thanks to the fast response time of 2 ms (GTG). With all types of input ports built in, this monitor has a good image quality with fairly accurate colour reproduction (after a little calibration), although the viewing angles are narrow. Also, a black body with a matte finish would have made it more desirable to gamers. There are several features such as preset RTS mode, three custom gamer modes, AMA, Instant Mode, and Auto-scaling, that separates it from the crowd, although we think that these are of little importance to the general consumer. Available for Rs 9,800, this monitor costs around Rs 1500 more than a standard 21.5" monitor (without HDMI), and around Rs 1000 less than a 24" model. We would rather suggest you go for the black AOC e2262Vwh with a similar screen size and features, if you don't mind the lack of the gaming add-ons, as it is priced lower at Rs 9000 and even looks good with its stylish L-shaped stand.
Features: 4.5/5
Build: 2.5/5
Performance: 4/5
Value For Money: 3.5/5
Mojo: 3/5
Overall Rating: 3.5/5