Review: Fujifilm FinePix SL1000 | TechTree.com
Review: Fujifilm FinePix SL1000
Amazing optical zoom, but the rest is ordinary.
Rating

3.5
/5
31st May 2013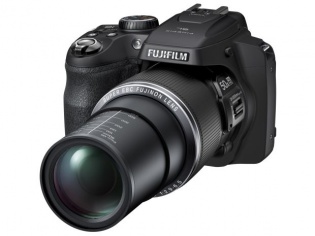 Pros:
Powerful 50x optical zoom; Captures in RAW; Good low-light photos; Supports 1080p capture; Pull-out LCD; EVF.
Cons:
Soft focus; Chromatic aberration; Bulky; Noisy zoom motor in movie recording; No GPS; Expensive.
Fujifilm FinePix SL1000
Street Price: Rs 27,500
The new breed of bridge cameras aim to give the consumer a D-SLR-like feel, but without having to spend as much. Also, these cameras don't have interchangeable lenses, so it is less of a hassle. That in mind, Fujifilm has the FinePix SL1000. Its main USP is a powerful 50x optical zoom. The 16 mp camera also offers RAW format support, which gives "pure" details, as compared to JPEGs riddled with compression losses. Let's see if this camera can live up to expectations.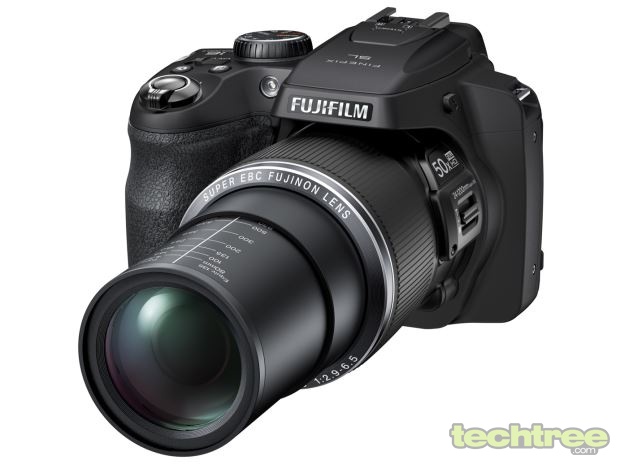 Build And Features
The SL1000 has a rather bulky body that takes away one of the advantages of a bridge camera, as compared to D-SLRs. The looks are similar to professional cameras with a serious black body and a long barrel to support its long focal-length lens. Most of the body has a rubberised finish. The overall build seems to be solid.
The most prominent feature at the front is the FUJINON zoom lens with focal length from 24 mm to 1200 mm and an aperture of F2.9 to 5.6. It features a powerful 50x optical zoom with improved Optical Image Stabilisation (OIS) to reduce jitters while handheld shooting. The good thing about this lens is that it is as capable of shooting objects as close as 1 cm. There is a rocker control on one side of the lens barrel to control the zoom. The barrel has a corrugated rubber finish, but it doesn't rotate for manual zoom or focus. A window housing the focus beam/timer LED is also present near the lens.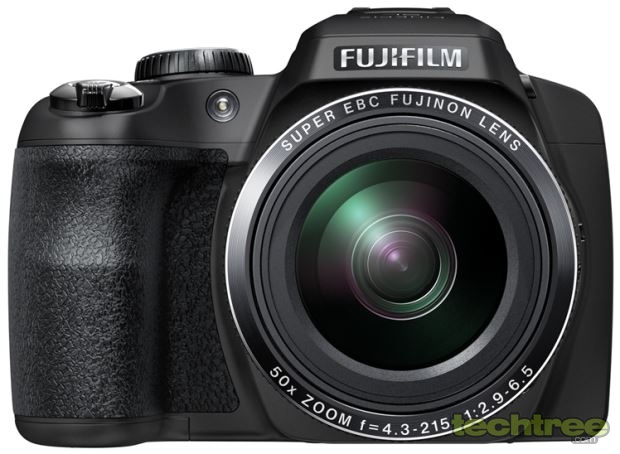 The top has a flash at the centre, just above the lens, which can be manually popped-up using a mechanical switch, you can also connect an external flash with a hot shoe. Stereo microphone pores are present just between the flash and the hot shoe. A prominent shutter button is present near the front, surrounded by the primary zoom rocker control. Buttons to select shot mode (such as bracketing) and exposure value control are present in the space between these buttons mentioned earlier.
There is also a mode dial that lets you select the various shooting possibilities such as SR Auto, Auto, P, A, S, M, and custom. There are also advanced modes such as Pop Color (emphasises contrast and colour saturation), Toy Camera (creates shaded borders to create effect like a toy camera), Miniature (adds blur to top and bottom for a diorama), Partial Colour, High Key (enhances brightness and reduces contrast), Cross screen (introduces starbursts around bright objects), and Soft Focus.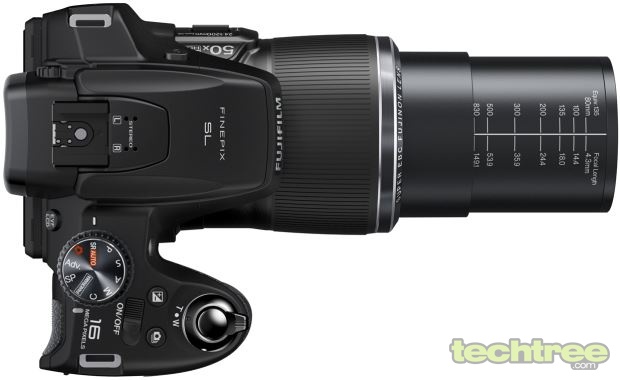 The rear is mainly occupied by a 3" LCD that can be pulled out and angled directly up or 45 degrees down. While the sunlight legibility is not bad, Fujifilm has given an electronic view finder (EVF) with dioptric adjustment. While the LCD display has good number of pixels producing a crisp preview image, the EVF seems to have less and the preview image quality is nothing to write home about. There is a dedicated movie recording button as well as a 4-way navigational pad with a click ring to choose settings such as flash, macro, and timer. The navigational pad's "up" click can be assigned various functions.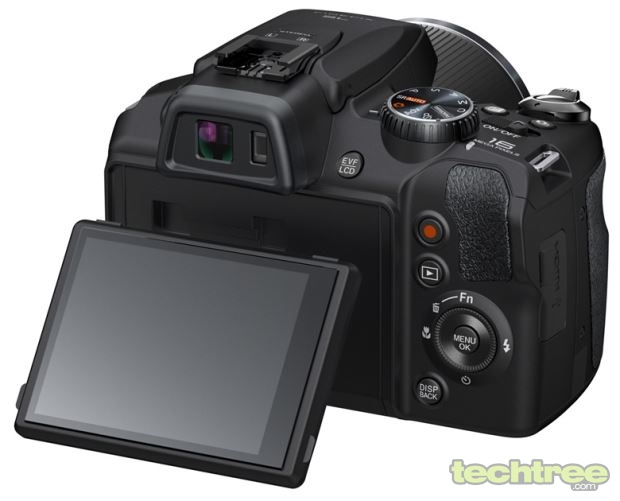 The underside has the NP-85 Li-Ion battery with a 1700 mAh capacity that is said be good for up to 350 shots per charge, alongside the SD/SDHC/SDXC memory card slot. The speaker is also located on the underside. A flap on the right of the camera conceals a mini-HDMI port and a proprietary port to connect the camera to a PC via USB or to output analogue AV via a bundled cable.
The SL1000 is capable of capturing photos in JPEG, RAW, as well as RAW+JPEG formats. The 16 mp CMOS sensor with backside lighting (to allow it to shoot better low-light photos), is of 1/2.3-inch type, thus not comparable to D-SLRs. Fujifilm advertises a continuous shooting mode of 10 fps at full image size. The camera can record 1080i 60fps movies and also high speed (slow motion) clips at 480 fps (240x180), 240 fps (320x240), and 120 fps (640x480). Movies are recorded in the MOV format.
The MyFinePix Studio software and RAW File Converter EX that is provided with the camera let you work with RAW images.

Performance
The camera is up and running in around 3.5 seconds, which is a lot slower than the advertised timing of 0.9 seconds. So if you are into last-moment shots, like wildlife photography, you might want to keep it on at all times. Luckily, the autofocus works very fast. Time between two shots is just a little over a second, but it increases to 2 seconds when flash is used. The flash recycle time is better than most of the cameras we have tested so far.
The powerful optical zoom of 50x is certainly a photographer's delight. You can check out what can be done with such high-powered zoom.
Here are a few more sample shots including Super Macro photos.
The camera supports ISO values from 100 to 12800. Here is the performance for the different ISO values.
The image starts losing definition and smudging is noticeable from ISO-400, which is probably because of the smaller image sensor. In an attempt to keep the noise levels low, the camera switches to a lower megapixel count for ISO settings of 6400 and 12800.
The image quality is be good, and the colours are captured correctly. Some amount of barrel distortion is present and the sharpest focus is near the centre of the image. While chromatic aberrations or fringing is not noticeable normally, it becomes increasingly magnified as you shoot at higher zoom-levels. The phenomenon is more noticeable near the left edge.
Some amount of noise is evident in outdoor shots even at ISO-100. While we did mention earlier that autofocus locks in fast, the photos were more likely to have a soft focus, so there is a 50% chance that the photos would be crisp, especially if the subject is 10 m or farther. The absence of manual focus is sorely felt here. Night scene photos appear brighter due to the higher ISO levels, and a fair amount of detail is captured.
Movie recording is great with Full HD video and stereo sound. The image stabilisation works well and you can shoot relatively jitter-free movies while moving around. Autofocus functions while the movie is being recorded. Unfortunately, even though the zoom motor has three speed settings with the lowest speed to minimise noise, it still produces too much noise.
Ergonomics have been well-taken care in the camera. The buttons are placed such that they are easily accessible. The only problem we encountered was with the spring-loaded, sliding power switch, as it may not always switch on/off the camera in a single go.

Our Verdict
The Fujifilm FinePix SL1000 absolutely blows you away with its powerful 50x optical zoom. While it is bulky, the build is very good. In addition to the pull-out LCD, there is also an EVF that is more useful during outdoor shoots. The overall image quality is good and the colours are faithfully captured. The option to shoot RAW gives it an advantage. However, the smaller image sensor produces some noise of its own, somewhat offsetting the advantages offered by RAW photo capture.
The lack of manual focus leaves you at the mercy of the AF, which may not always give you the best shots. For a camera in this price range, it should've offered GPS support. The camera does come with quite a few interesting filters though. However, at the price, we expect a little bit more on the performance front. If you are looking for competing products, there is the Canon PowerShot SX50 HS or the Sony Cyber-Shot HX300 (which will become available soon).

Build And Features: 3.5/5
Performance: 3/5
Ease Of Use: 4/5
Value For Money: 3/5
Mojo: 3.5/5
Overall Rating: 3.5/5
TAGS: Cameras, Fujifilm, FinePix