Review: Nikon COOLPIX P7700
A high-end compact camera that poses a real threat to entry-level D-SLRs.
Rating

4
/5
25th Apr 2013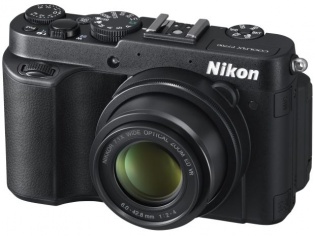 Pros:
Great image quality; Good low-light performance; Shoots in camera RAW; 3" flip LCD; Several built-in effects and filters including ND; Supports external flash and mic; GPS.
Cons:
Slow performance; No movie recording button; No viewfinder.
Nikon COOLPIX P7700
MRP: Rs 25,000
Most serious photography enthusiasts aspire for a D-SLR, but hate to lug around the bulk. Thankfully, many camera manufacturers have brought out high-end compact cameras with features packed to the gills. The Nikon COOLPIX P7700 is one such offering, which giving users extensive control over all photography aspects. This 12 mp camera with a 7.1x optical zoom comes with several filters to unleash your creativity, and there is also the in-built ND filter to shoot decent photos in broad daylight. With RAW shooting capability, this camera aims to challenge D-SLRs in a big way. Let's see if it can succeed.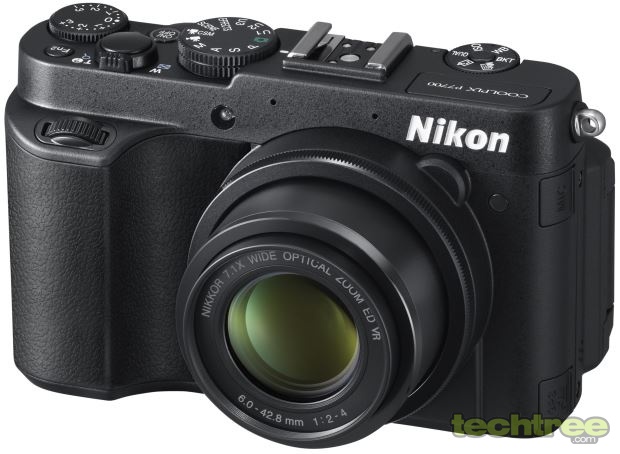 Design And Features
The Nikon COOLPIX P7700 is a compact-sized camera with dimensions of 4.7" (w) x 2.9" (h) x 2" (d), and weighing 392 grams (including memory card and battery). That doesn't make it exactly pocketable, and it is best to attach it to a neck strap. The camera body is rather chunky and sports a great build quality. Since Nikon has gone for a polygonal design, there are only a few curved surfaces here. The classic black colour with a matte finish gives it a professional feel. The body is entirely made out of strong but light magnesium alloy.
The camera features a NIKKOR lens with aperture of f2-4 and a focal length of 28-200 mm for 35 mm equivalent. The camera incorporates a lens-shift VR image stabilisation that should take care of jittery hands. There is a 12.2 mp CMOS image sensor of 1/1.7" type with backside illumination. An AF assist lamp (to illuminate the subject and help the camera focus in the dark), which also serves as a self-timer warning lamp is present to the top right of the lens, while an IR receiver is present on the top left, which works with the optional wireless remote control ML-L3 that can be purchased separately. A pair of pores on the left and right near the top are openings for microphones for stereo audio recording. A function button (Fn1) at the bottom right and an angled sub-command dial (control wheel) on the top right are some of the other features.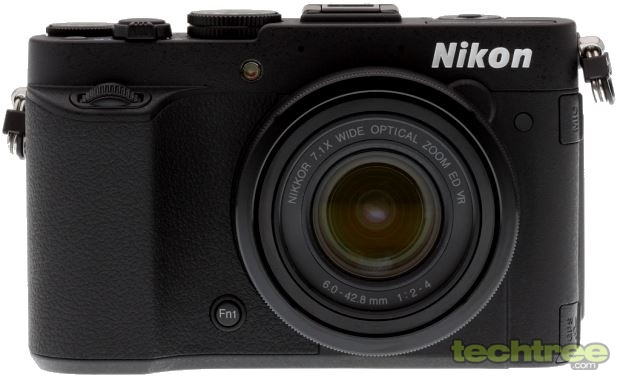 The top of the camera has most of the controls. The most unique among them is a quick menu dial that allows the user to quickly rotate and use the central quick menu button to change settings such as Quality, ISO, White Balance, Picture Control, Bracketing, or even customise the menu items. This saves you the time and trouble of going inside the settings UI and is also convenient. The mode dial is there to select various photography modes such as Automatic, Programmed Auto, Shutter priority, Aperture priority, Manual, Scene, Effects, Movie, Custom Movie, and three User defined modes. The shutter button on the right, is encircled by a zoom lever. In addition to the nicely-recessed power button, there is a secondary function button (Fn2), and a dial to control the exposure compensation value (-3 to +3, stepping 1/3). A pop-up flash is present on the left, that completely disappears into the body until it is popped out via a spring-loaded mechanical button on the top left of the rear side. An accessory shoe at the top, protected by a removable cover, lets you attach an external Speedlight flash, if necessary.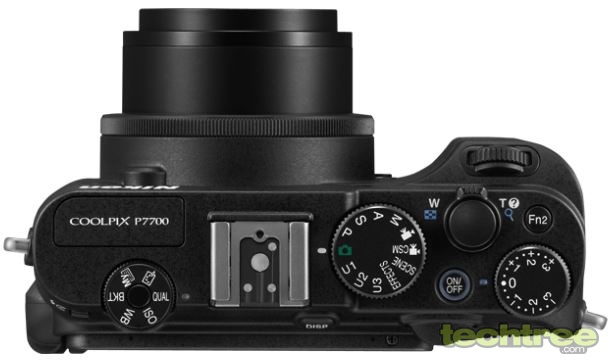 The rear of the camera has a 3" hi-res LCD panel that is hinged on the left and can be swivelled 90 degrees to face down or 180 degrees to close. The camera doesn't switch on when the LCD is closed, which is a good thing as it prevents the camera from being accidentally switched on while it is stored inside a bag. Unfortunately, there is no viewfinder in this model, so you will have to depend on the screen, which thankfully is very visible even under bright sunlight. Like in most cameras, a rotary multi-selector dial with a central OK button is present on the right to select and change various settings and also to navigate in playback mode using the left, right, top, and bottom click controls. This also serves to control the flash mode, self-timer, shooting focus distance (macro, infinity, etc), and focus mode. There is also the AE-L/AF-L to lock focus and exposure values while shooting, the main command dial, a Disp button to control the amount of information being displayed on the screen, and a playback button. The Menu button near the bottom allows access to the various other functions in the camera UI. A rubberised thumb-rest is present on the top right to let the user comfortably hold the camera while shooting. However, a dedicated movie recording button is missing, despite the camera supporting Full HD video recording.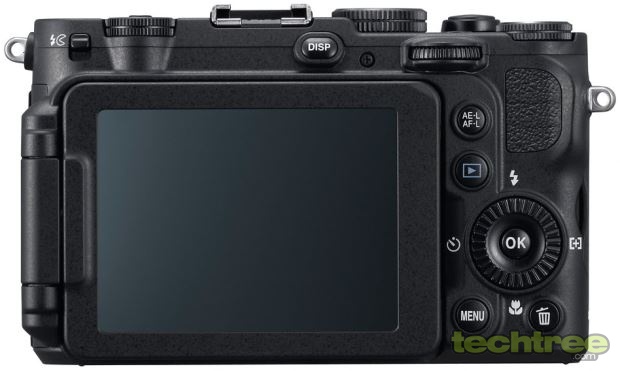 The function buttons can be assigned various custom functions to make life easier for the user. While they can be assigned individual functions, Fn1 can also be combined with the shutter button, command dial, and selector dial for additional functions. The main command dial can be used to change shutter speed and other parameters, depending on the shooting mode, while the sub-command dial can be used to change aperture value or values of items being displayed in the quick menu.
Flaps on the left and the right of the camera concealing various ports. A large flap on the right holds a mini-HDMI port and a proprietary port to connect the camera to a PC via USB or to output analogue AV via a separate cable. On the left, you'll find a microphone port near the top to connect an external mic for better audio recording, while another accessory port is at the bottom to connect an external GPS.
The camera is powered by a 1030 mAh Li-Ion battery, which Nikon mentions lets the camera can shoot up to 330 shots or record 1 hour 10 minutes of movie on a full charge. An SD/SDHC/SDXC card slot is also present besides this battery, accessible when the door is open. A durable metallic threaded hole, can accommodate a standard 1/4 (ISO 1222) tripod mount. Due to the camera design, the memory card is not accessible when the camera is mounted on a tripod.
Nikon is currently retailing the P7700 with a 4 GB memory card, pouch, and HDMI card.
Noteworthy Features
Various scene modes are supported including Portrait, Landscape, Sports, Night Portrait, Party/Indoor, Beach, Snow, Sunset, Dusk/Dawn, Night Landscape, Close-up, Food, Museum, Fireworks Show, Black and White copy, Backlighting, Panorama, Pet Portrait, and even 3D photography.
The Effects mode lets you really unleash your creativity in a big way. There are modes such as the Creative Monochrome (with adjustable graininess and contrast), Painting, Zoom exposure, Defocus during exposure, Cross process, Soft, Nostalgia sepia, High key, Low key, and Selective colour (where you can opt to capture only one colour, while the rest of the photo is captured in monochrome).
The camera supports continuous shooting at up to 8 fps. If the resolution is dropped to 1 mp, the camera can even 60 or 128 fps. Automatic bracketing is also supported with options to vary the exposure with shutter speed, ISO sensitivity, or white balance. This is very useful for HDR photography enthusiasts.
The P7700 supports RAW (NRW) photo shooting format, which is coveted by photography enthusiasts. Due to its unadulterated quality, images shot in camera RAW don't suffer from the losses encountered while saving as JPEG. It can also save shots in RAW and JPEG formats simultaneously.
Movies can be captured at up to 1920x1080@30 fps. Slow motion is also supported at up to 120 fps for 640x480. Movies are recorded in the MOV format (H.264/MPEG-4 AVC with stereo AAC sound).

Performance
The P7700 takes roughly 1.8 seconds to get to the ready state from a powered off mode, which is good for its class of cameras. It takes roughly half a second to focus and shoot. A JPEG photo can be shot every 1.5 seconds, while this time increases to a slow 3.5 seconds when RAW or RAW+JPEG format is chosen. You can click a JPEG photo every 3.5 seconds with flash. Thus, the camers's overall performance is slow.
As mentioned earlier, the camera supports an optical zoom of 7.1x, which is not great. Here is what you can expect when using such a zoom.
Here are some shots in the Macro mode.
Here are a few more sample shots.
The camera supports ISO values from 80 to 3200. Here is the performance for the different ISO values.
As you may have noticed, the ISO performance is great with even ISO-800 being quite usable with very little noise.
The image quality is excellent and compares well with an entry-level D-SLR. The optics and image sensor works in tandem to capture very fine details. While the photos in the RAW file format are devoid of noise, the JPEG files are also clear of noise. Focus is sharp from edge to edge (for subjects at the same distance from the lens), but there is some degree of barrel distortion. Luckily, the irritating phenomenon of fringing, or chromatic aberration is absent.
The movie recording quality is great. Autofocus works while recording movies. However, the optical zoom is restricted up to only 2x. The Custom movie recording mode also lets you adjust the ISO sensitivity and shooting mode to make better quality movies with better control over the parameters.
Nikon has paid good attention to ergonomics with the P7700. The rubberised grip makes it very easy to get a firm hold on the camera. Most of the buttons and dials are well within reach for easy right-handed photography. The buttons and dials have a very good feedback so the user is sure that there is no false input.

Our Verdict
The Nikon COOLPIX P7700 is an excellent performer as far as the image quality is concerned and can very well give an entry-level D-SLRs a run for their money. Moreover, it is considerably compact and easy to carry around. It offers complete manual control over every parameter associated with photography, and it is sure to please the professionals. It comes with a host of filters including an inbuilt ND filter and several creative effects that can be previewed before taking a photo. However, it has its negatives too, such as slow speed of writing to the memory card and a restricted optical zoom of 2x while shooting movies. However, as a photographer, you can overlook these niggles, because the quality of images outweighs them by a large margin.

Features And Build: 4.5/5
Performance: 4/5
Ease Of Use: 4/5
Value For Money: 4/5
Mojo: 3.5/5
Overall Rating: 4/5