Review: Universal Remote Controller Watch | TechTree.com
Review: Universal Remote Controller Watch
A "serial" killer.
Rating

3
/5
06th Dec 2011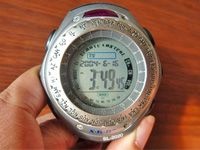 Pros:
Remote controller works; Inexpensive; Fun to use; Fully functional watch.
Cons:
Doesn't work beyond three metres; World time calculator is not useful for India; Looks tacky.
Universal TV/VCR/DVD Remote Controller Watch with World Time
MRP: $7 (approx Rs 375)


Why do I hate daily Hindi soaps? Not just because these serials are boring, but also because they are fundamentally offensive. For example, shows featuring child marriage make you wonder whether they are for or against it. Don't even get me started on the topics of polygamy, serial marriages, and extra-marital affairs. And then they say that western shows are corrupting our youth. Sadly, you can't change the channel, because the women of the house won't hand over the damn remote. Well, it's time to take back control. All thanks to our Chinese brothers, who are selling a miracle watch that lets you control the TV.


It's Chinese!
If that doesn't give you an idea about the quality, read on. The watch is made of rubber, plastic, and metal. Its front looks tacky, with a rotary metallic bezel that has a list of countries, serving as a reference scale to calculate the time across various zones. It's not very useful for us though since India isn't on the list.

The rubbery strap looks ok and feels comfortable. Although the watch doesn't feel delicate, the buttons and strap may come off if used too roughly. Oh, and the manufacturer says that the watch is water-resistant, but that is a highly dubious claim.
The buttons have been marked for better understanding the instructions below.
FeaturesThe watch has extra features such as an alarm, stopwatch, and an EL backlight. I'm not going to bore you with these standard features. Let's get to the most interesting part - the remote controller. According to the company, the device can control TVs, VCRs, and DVD players. However, VCRs are obsolete and the watch didn't work with my DVD player. Hence, I'll only focus on the TV part.

The timepiece comes with an English guide that seems to be a direct Google translation of the Chinese version. Worry not, I've decoded the instructions after much effort. Refer to the image above, wherein each button has been labelled:

1. Press the [C] button to cycle through the TV, VCR, and DVD modes. Make sure it's set to TV.

2. Now press and hold [B] for two seconds to bring up the editing mode. Repeat until you get an option to enter the code for your TV set.

3. Codes for more than a hundred manufacturers (except for Indian brands such as Onida, Videocon, and BPL) have been listed in the manual. Sadly, these codes aren't very accurate. For example, LG's codes have been shown as 14 and 96, but for some reason the LG at my place worked only with 33. Hence, you'll probably have to try all 99 codes to find the one that works with your TV.

4. After entering the right code, you can use [D] and [E] to change the channel. Volume can be controlled using [C] and [F], while [A] works as the power button. Note that the controller has a limited range of three meters, which is rather inconvenient.

Once you've mastered the controls, you're ready to set yourself free from the drudgery of daily soaps. Now change channels just when Kkusum is about to shed light on her second husband's death to her first spouse, whom she's going to marry again!

Having said that, make sure you're stealthier than a ninja, because once exposed, your secret weapon will probably be seized.
This snap explains why the Chinese made this watch.
VerdictFor an asking price of Rs 370 or so, the product's mediocre build quality is understandable. Getting it to work is also tricky. However, if your TV habits are reeling under the onslaught of Hindi soaps, this is your only hope. Give it a shot, and if it works, you'll thank us for this suggestion.

If you're not interested in a watch and merely want to control your TV, try this innocuous gadget instead.


Features: 4/5
Design And Build Quality: 2/5
Performance: 2/5
Value For Money: 4/5
Mojo: 4/5

Overall Rating: 3/5