Review: Acer C110 Pico Projector
Only good for presentations.
Rating

2
/5
06th Dec 2011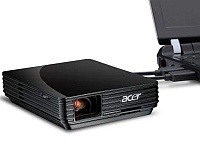 Pros:
Cheap; Portable; Compatible with tripods.
Cons:
Cannot run games at all; Video playback is broken; Random compatibility issues; 16-bit colour gamut is inadequate; Supplied cable is too short.
Acer C110 (EY.JCP06.007)
MRP: Rs 16,000 + Rs 2500 (optional screen).
Street Price (As On 5-Dec-2011): Rs 17,000 (eBay.in)


While people are being robbed blind with LCD gimmicks such as 3D capability and LED backlighting, the idea of employing projectors as a much better alternative has fallen by the wayside. Quality wise, your average DLP (Digital Light Processing) projector will humiliate the best LCD and plasma panels at a fraction of the cost. Even if you aren't keen on investing another 40 to 80 grand on an HD \ Full-HD projector, you may want to consider pocket-friendly pico projectors.


Here are a few reasons why:
They are cheap, with a price tag under Rs 20,000.
They're portable enough to be carried around for your own private screening.
You can buy three of these and have a really cheap, bezel-free multi-display setup for panoramic gaming.
Some even feature battery backup for projection on the move, when paired with smartphones and PMPs.
You can make console gaming even more casual by grabbing a controller, lying on the bed, and projecting the action onto the ceiling.
As you can see, there are a lot of fun things you can do with pico projectors. Acer's C110 pico projector however, does none of that. Those interested in movies or games might as well stop reading now. The three readers that are interested in having spreadsheets and presentations projected on their ceilings may want to hang around, because there's loads of interesting stuff coming your way.


The lens assembly lacks zoom adjustment.
A No-Frills Approach
The C110 is built like a Fiat Uno - small, sturdy, angular, and totally utilitarian. Despite its scratch-prone piano gloss finish, its small footprint and nondescript looks help it merge into the scenery - just the way it should. The projector has a lens at the front, flanked by a flimsy focus adjustment jog dial on its right. A single USB port at the rear accepts both data and power. A flip-out stand at the bottom provides a bit of elevation (and keystone deformation as well). I recommend using the mounting screw on its belly that accepts standard tripods. Pair it with a GorillaPod and you can start projecting on the walls and ceilings in a hassle-free manner.

The tiny projector's LED lamp is rated at 50 lumens, with a claimed life of 20,000 hours. The maximum screen size has been quoted at 100". What you should know is that a projector's screen size is restricted by its brightness. A 100" projection at 50 lumens will appear washed out even in the darkest of rooms. I found acceptable brightness and contrast levels when I projected an image of roughly half that size. Using it in well-lit rooms, however, calls for a smaller image size preferably projected onto a high-gain screen. Acer provides an optional 25" grey screen for Rs 2500, which strikes a good balance between contrast and brightness. The foldable screen is too pricey considering the lack of a stand, but it does let you get away with greater ambient light.


A tripod is recommended for ceiling projection.
The projector has a native image size of 854x480 (16:9), but it can sustain maximum pixel dimensions of 1280x800. The colour fidelity, contrast, and brightness levels are on par with average DLP projectors, but there's really no point harping about DisplayMate test results, because all you can do with this projector is watch boring presentations. Video playback and gaming is out of the question. This can be squarely blamed on the USB interface. For the C110 to function at all, it requires a driver that's accessible once you connect it to a Windows PC. That's your cue to stop reading, Linux and Mac users, because at the moment Acer hasn't expressed any interest towards making it compatible with non-Windows systems.


The optional screen is expensive, but does its job well.
No Movies, No Games, No Fun
The projector can be hooked up to a single USB 2.0 port, but requires power from two ports to unlock the full lamp intensity. It ships with a USB Y-cable, which is too short to be of any use. I had to connect it to two USB extension cables to get the right projector placement. The USB interface also means that while a regular projector simply draws video signals from your graphics card, the C110 completely bypasses it. No matter if you have onboard graphics or a full-blown Radeon HD 6950, anything that requires gaming APIs such as DirectX or OpenGL absolutely refuses to run. This projector does gaming as well as a Viking warrior does knitting.


A 40" projected image in a well-lit room shows how effective a high-gain screen can be.
Video playback is downright pathetic. I tried the C110 with over half-a-dozen systems ranging from lowly netbooks to high-powered gaming rigs, but none of them could coax out decent video playback from the projector. The problems ranged from really low framerates to ghastly artefacting and aliasing, despite trying out various permutations and combinations of systems, codecs, and playback software. Despite a claimed 24-bit colour gamut, the C110 could only muster up a 16-bit colour depth on every single system that I hooked it up to. Unless you like your movies in slow-motion, replete with psychedelic colours and artefacting, this projector is out of the contention.


Higher lamp intensities require power from two USB ports.
The Taliban Will Be Proud
At the press event for this projector, we were told that it's supposed to be a "notebook companion". It was assured that the C110 would handle presentations as well as multimedia with great aplomb. The movie experience, they said, would be a treat. All those claims clearly turned out to be a big pile of horse dung, because the C110 is only good for presentations. For a few thousand more, you might as well import HDMI or D-sub (VGA) compatible alternatives such as the Samsung SP-H03 or Optoma Pico PK301, which don't shy away from movies and games. Even the C110's older sibling - the C112 - has HDMI capability.


The Acer C110 then is a bit like the Taliban - movies, games, or any form of fun is categorically banned. I'm sure the religious fundamentalist regime would approve, because all anyone can do with the projector is revel at opium sales bar graphs and PowerPoint presentations projecting the number of infidels to be killed next quarter.


Performance: 1/5
Design And Build Quality: 3/5
Features: 2/5
Value: 2.5/5
Mojo: 1/5

Overall Rating: 2/5

TAGS: Displays, Acer, Nachiket