Review: COWON EM1 (With Remote And Mic) | TechTree.com
Review: COWON EM1 (With Remote And Mic)
Sounds good, but could've been better.
Rating

3
/5
24th Apr 2013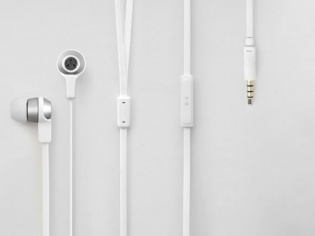 Pros:
Comfortable; Tangle-free flat cable; Handsfree functionality.
Cons:
Audio appears to be held back in bass and mid-range; No volume control.
COWON EM1 (With Remote and Mic)
MRP: Rs 1150
COWON, which is known for its audiophile-grade products, had recently launched its new EM1 in-ear monitors (IEM) or canal-phones. This is actually a headset with a microphone that lets you use it as a handsfree with most smartphones sporting a 3.5 mm audio port. Priced lower that its other audiophile products, are they really worth the money? Read on to decide whether you should go and get one of these.

Features
The EM1 earphones look nothing out of the ordinary at first glance. These appear like standard IEMs with a predominantly black colouring and some lustrous faux-aluminium finish. However, a closer look reveals that the black parts are made or rubber that should endure some rough usage, while the rest is plastic and may lose the shiny coating after using it for a while. They come fitted with a pair of silicone ear tips, and ship with two pair of smaller and larger sizes that will fit most ears.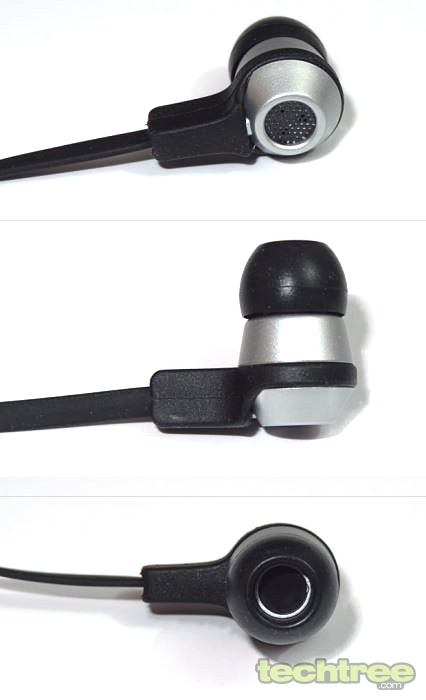 Enclosed within are 10 mm drivers that claim to reproduce a major part of the audio spectrum that is audible to humans i.e. 20 Hz to 22 KHz. The drivers are protected from the front by a microfiber mesh that allows audio waves to pass without hindrance and keeps the dust out. The back has 3-4 perforations to facilitate air displacement that is more associated with the production low frequency (bass).
One of the noticeable features of the EM1 is the flat cable. This cable doesn't get tangled like round cables. Moreover, the rubber coating of this cable is also not sticky, which also helps. The overall cable length of 1.2 m makes it easy to use, without straining the chord. As is expected of good quality audio equipment, the 3.5 mm jack is gold-plated to minimise noise and to establish better electrical contact with the audio source.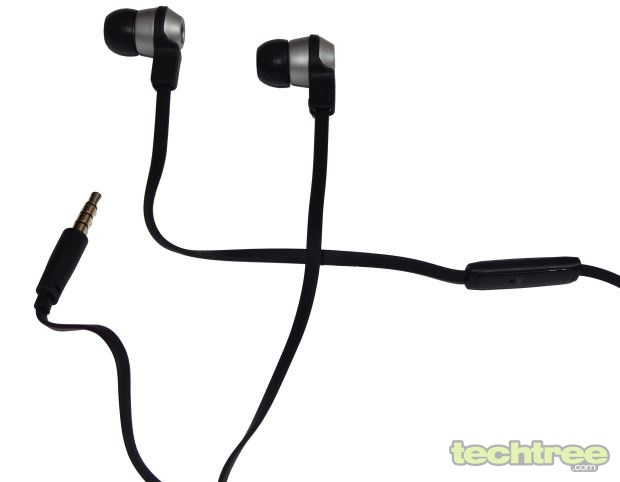 The flat cable is shaped like a Y, with equal lengths of 33 cm available for the left and right sides — a third of the total cable length. An inline remote control is present on the left cable. This unit has a Play/Pause button on one side and a microphone pore on the other. You can double up the EM1 as a wired handsfree for most mobile phones with a 3.5 mm audio socket, and the single button can be used to accept or disconnect calls. The microphone hangs at the chin-level when the user wears the EM1, thus making sure that it is not too far from the mouth while in use.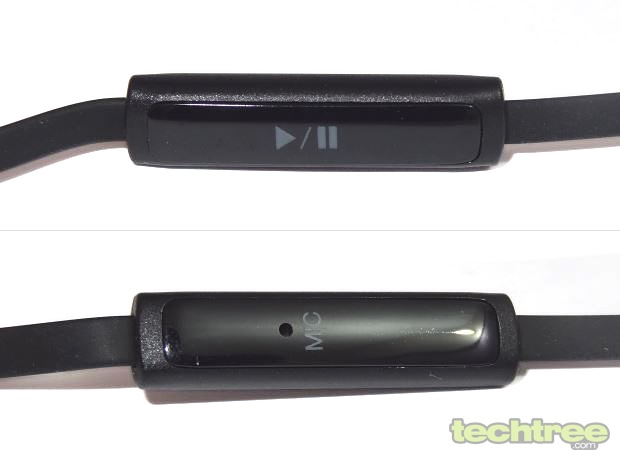 Performance
The COWON EM1 fits well into the ears and creates a near-perfect seal that effectively excludes most of the ambience. The flat cable design indeed works as expected and there wasn't a single instance when I had to untangle the mess of earphone cable, even when I had clumsily stuffed the EM1 into my trouser pocket. While the EM1 produces decent sound in general, it seems to be unable to produce bass and mid-range at the fullest when plugged into a mobile phone or a PMP. We tried out with an iPhone and other mobile phones to make sure. The audio sounds as if it is being held back in these frequency ranges, while the treble is cheerful and bright. Just to make sure, we plugged it into the soundcard output of a PC equipped with a Creative SoundBlaster X-Fi Titanium and it sounded perfectly well as one would expect of a COWON product. We deduce that drivers do not receive sufficient power from the audio circuitry in a mobile phone or a PMP, and therefore plugging it into an amp makes a difference.
There is nothing to complain about the soundstage performance, as the earphones are able to precisely reproduce locations of various musical instruments as crosstalk has been aptly taken care of.
As far as comfort is concerned, the EM1 are very light and comfortable to use. However, we must state here that wearing any IEM for long durations is not recommended because it can encourage ear infections.

Our Verdict
The COWON EM1 earphones are generally good to hear, but they fall short of the audiophile grade quality that we have come to expect of products from this company. While the treble is well-reproduced, it underperforms in the bass and mid-range and requires an amp to rescue it, which is hardly possible when using with a mobile phone or a PMP — its expected usage scenarios. Ergonomics has been well taken care off and the flat tangle-free cables are worth noting. At Rs 1200, we would have recommended it as a better IEM with handsfree functionality, had there been volume control. However, we think that if you may still be better off with the slightly more expensive SoundMAGIC E10M that sounds a lot better. If you don't need the handsfree, you can actually opt for the cheaper EM1 without remote and mic for Rs 750 or the Creative EP-630, which actually sounds better.

Features: 3.5
Performance: 3
Ergonomics: 4.5
Value For Money: 3
Mojo: 2.5
Overall Rating: 3/5
TAGS: Headphones, Accessories, COWON