Review: Stellar Phoenix JPEG Repair | TechTree.com
Review: Stellar Phoenix JPEG Repair
Reclaims all your lost images.
Rating

3.5
/5
04th Jul 2012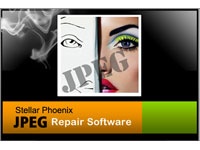 Pros:
Very easy to use; High rate of success in repair.
Cons:
Repairs only JPEG image format; Relatively slow repair rate; Expensive.
Stellar Phoenix JPEG Repair
Price (As On 03-Dec-2011): $39 (Rs 2000)

Photography in one form or the other has become a part of our life. It can be done using cameras or even mobile phone cameras. It has been observed that sometimes, photos captured and stored on memory cards become corrupt due to some reason. This can happen due to improper handling of the memory card, virus infection, defect in the media, or even due to a malfunctioning memory card reader. In such cases, files can often be partially visible, show garbled visual, or may be completely unreadable. However, most of these lost memories can be repaired and reclaimed by various software tools available in the market today. Stellar Phoenix JPEG Repair is one such tool we are going to try out today.

Features And Performance
Stellar Phoenix JPEG Repair is available for Windows 7 \ Vista \ XP \ 2008 and is just a 3.84 MB download. Once downloaded and installed, you can start using it. The downloaded file is a demo version capable of recovering corrupt JPEG files and works without any time limit, but the recovered images have an embedded watermark. The registered version can recover without this watermark.

Once launched, you will find that the software is extraordinarily simple to use. There are only two options on the main page; one is to repair JPEG files, while the other is to extract thumbnails. The second option comes in handy when a large number of corrupt files are to be recovered and viewing thumbnails helps pinpoint which of the files should be recovered. This saves a lot of time and effort. We shall click on Repair JPEG.
The next page lets you browse to the corrupt or damaged JPEG files. You can select as many files as required and click Open.


The files to be recovered will appear enlisted in the next page. At this stage, you can also opt to recover Thumbnails, although we are not sure of the purpose of recovering thumbnails when we are going to recover the entire file.


Ensure that you check the boxes preceding the files in the list as necessary. Clicking on Repair Selected starts the recovery and repair process.


Occasionally, a file may not be recoverable. The software will pause and inform you about such a file after which, you can press OK to continue the recovery process.


Once the repair process finishes, you will be presented with the list of files that were repaired.


Clicking on the file will show you a preview of its contents. Now you can click on the Save button below the preview, browse a location on your hard drive, and save the repaired JPEG files.


In our case, out of the 21 corrupted JPEG files, this software could repair 20, which is a good score. The software approximates the missing data using various proprietary techniques, hence the final repaired images may still have some anomalies we it happened in a few of our test images. However, it still does a decent job at repairing the affected files, which appeared seemingly hopeless to recover. The time taken to recover the files will depend on the number of files and the amount of damage they have suffered. In our case, it hardly took two minutes. The similarly priced JPEG Recovery Basic can do the same within 10 seconds with the same success rate.

The Verdict
Stellar Phoenix JPEG Repair does what it is intended for and it does as expected of a software coming from a company famous for its data recovery software. The user interface is very simple and easy to use due to the absence of complexities. It does recover files with ease and the success rate was found to be higher than its competitors. However, the speed of repair could be improved, considering the fact that its competitors such as the similarly priced JPEG Recovery Basic can do the same within a fraction of the time and with a similar success rate. Price-wise, this software costs almost Rs 2000, which is a bit high, given the fact that it only recovers JPEG files. We would rather ask you to not let the situation occur by regularly backing up your photos at more than one location.

Features: 3/5
Performance: 4/5
Ease Of Use: 5/5
Value For Money: 2/5
MoJo: 3/5

Overall Rating: 3.5/5