Review: Nikon COOLPIX S01
Is it good enough to beat camera phones?
Rating

2.5
/5
01st Apr 2013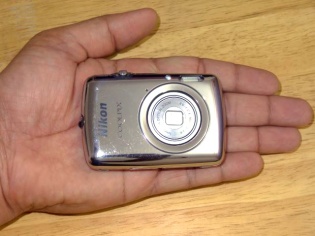 Pros:
Extremely portable; Easy to use; Captures 720p movies.
Cons:
No manual operation; Heats up while shooting video; Unreliable AF; Low-res screen; No memory card slot.
Nikon COOLPIX S01
MRP: Rs 9000
Camera phones have almost obliterated point-and-shoot cameras with better optics, and bigger megapixel count. However, Nikon seems to be challenging these competitors with the world's smallest COOLPIX camera – the S01. Inside its tiny body, it manages to pack in a 10 mp image sensor with 3x optical zoom. Let's find out if this small camera can come out stronger than its foes.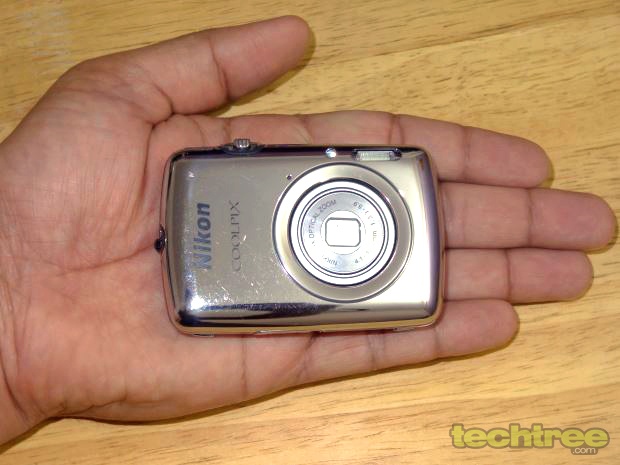 Design And Features
The Nikon COOLPIX S01 is a tiny camera with dimensions of 3" (w) x 2" (h) x 0.68" (17.2 mm) (d), weighing just 96 grams. This makes it a very portable gadget that can go in just about any pocket. The body is almost entirely made of shiny metal with a glossy finish. The overall build quality appears to be very rugged and there are almost no moving or creaking parts.
At the front is a Nikkor lens with 4.1 to 12.3 mm focal length, which is effectively 29 to 87 cm on a 35 mm film camera. Although the body is considerably compact, it still manages to have an optical zoom of 3x. There is a 1/2.9" CCD image sensor with 10.1 effective megapixels. While it does come with is Electronic VR image stabilisation, the technology is nowhere as effective as lens/sensor shift mechanisms. So you will need a pair of really steady hands to shoot blur-free photos. A small window housing the AF lamp is present just above the lens, while a tiny pore for microphone is to its right. A small Xenon flash is present on the top left side.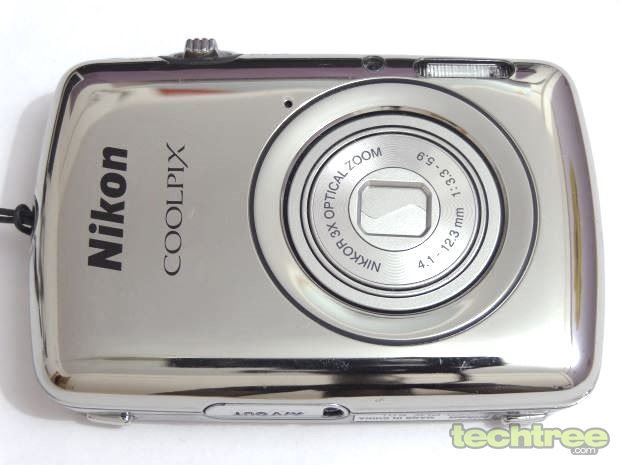 The top features a few controls such as the backlit power button, a play button, and a comfortably large shutter button encircled by a zoom lever. The first two buttons are placed into the plane of the camera body, so it is difficult to find them in the dark.
The rear has a 2.5" LCD touchscreen with a 4:3 aspect ratio and 2,30,000 dots resolution. This is actually smaller than even some entry-level touchscreen phones and the pixels are not packed too densely, so the resulting images are not too sharp. Moreover, since there are no other control buttons, you will have to depend on this screen and a tiny capacitive home button for everything.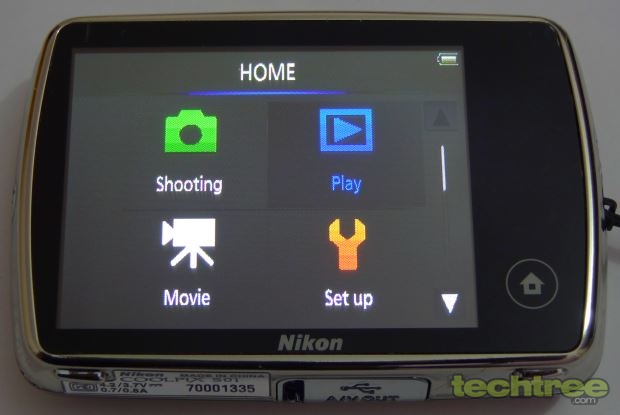 The bottom surface has just a flap that protects the USB/AV port (the AV-out functionality can be used on purchase of a compatible cable from the company). Two tiny legs are present near the rear to help place the S01 upright. The battery is built-in, so you cannot replace it. It can be charged via a PC's USB port or through the bundled mains charger. It is meant to last for up to 190 shots, as per specifications. Also, there is no memory card slot, so you will have to depend on its 8 GB internal storage, which is not bad. However, a microSD slot would've been a welcome addition.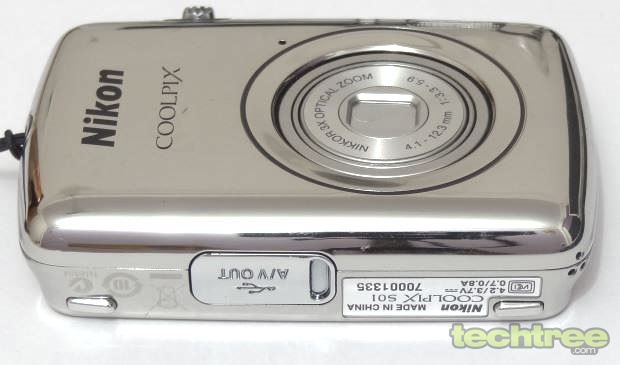 The camera UI consists of oversized colourful icons, four of which are visible at a time: Scrolling down with the flick of a finger reveals more. The icons include choosing photo and movie shooting modes; self timer (on, off, 10 seconds); flash mode (Auto, Auto/Red-eye Reduction, Off, On, Slow Sync/Red-eye Reduction); special effects (filters for sepia, high key (high brightness); low key (darker shade), and high contrast monochrome); exposure value (-2 to +2), image size (10 mp, 4 mp, 2 mp); and touch shooting.
Nikon has taken 'Point and Shoot' a bit too seriously here. You cannot control most of the parameters. These include shutter speed, aperture, ISO value, and manual focus. Although you can't tinker around with it, the camera supports ISO values from 80 to 1600. However, you can enable touch-to-focus from the settings. But, it is best to avoid this mode as you might accidentally start shooting by touching the screen trying to grip this tiny device.
Movie capture is supported, although there is no dedicated movie recording button. You are required to change to the movie recording mode through the UI to record movies in 1280x720 (720p with 16:9 widescreen aspect ratio) or 640x480 (VGA with 4:3 aspect ratio), with mono audio. Movies are recorded in the MOV format.

Performance
The camera comes to the ready state in around 2 seconds after pressing the power button. There is around 2 seconds delay between two shots, which doubles to 4 seconds while using flash. The flash is effective as long as the subject is not over a couple of meters away from the camera.
The camera sports 3x optical zoom, which is not much. But you wouldn't expect more from such a tiny camera, would you?
The camera claims to be capable of shooting objects placed as close as 5 cm away from the lens. In practice, however, we found that this distance to be around 15 cm, as even though the camera senses an object 5 cm away, the resultant photos are out-of-focus and blurred.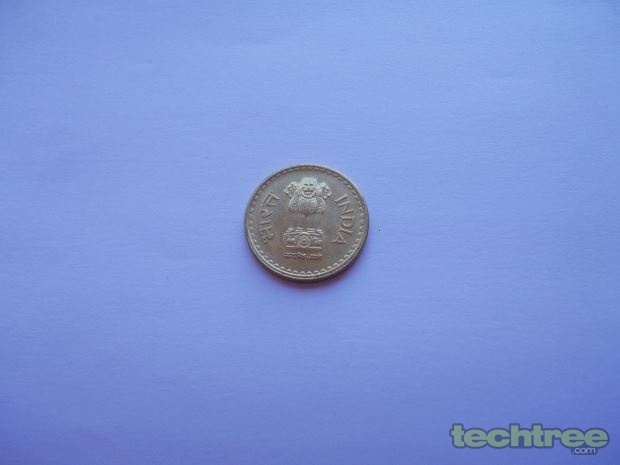 Macro mode performance (click to view full size)
Here are a few other sample shots.
The colours appear to be natural. The camera focuses rather fast within a second. However, the end result was more often than not, blurred images. Noise is fairly evident in darker environments, but is just about tolerable in daytime photos. Chromatic aberration is handled fairly well, with only slight fringing visible at the edges of zoomed objects.
Since it doesn't use a memory card, images and videos can be transferred to a PC by directly using the bundled USB cable, which also charges the camera at the same time. The data transfers at an average speed of 15 MB/sec, which is quite good.
Movie recording is strictly okay. The colours are good, but you cannot use optical zoom while recording (and it is not worth trying the digital zoom). The lack of effective image stabilisation is very much felt, as you try to move around while shooting movies making the results quite jerky. Videos can take up to 4 GB of file size, which translates to 29 minutes of recording at a stretch. Considering file system restrictions, movie recording cannot continue further even if there is ample free space. In fact, we could barely go beyond 15 minutes of movie recording at a stretch, as the camera gets too hot and switched off during test.
Being tiny has its advantage as you can quickly pull out the camera to shoot. However, the lightweight device doesn't offer the stability of a heavy camera. Also, we found ourselves having trouble gripping the glossy and smooth camera body, which tends to slip more often. Here attaching the wrist strap will turn out to be a prudent decision.

Our Verdict
When you consider its size and the amount of goodies it packs into a small frame, the Nikon COOLPIX S01 is an average performer. The camera follows the point-and-shoot camera philosophy to the letter. While it is very easy to use for someone who is new to the world of cameras, a more experienced user will feel frustrated due to the lack of manual controls. However, adding wireless connectivity would have helped it compete better against camera phones. While its image quality is better than most midrange camera phones, it doesn't really match up to many entry-level snappers. The tiny size and light weight makes it easy to carry around, and take some quick snaps and clips. AF is not trustworthy so you may need to click a photo more than once, just to be sure. Nikon needs to do something about the heating issue that crops up while recording videos, and also get a microSD slot in place. A price tag of Rs 9000 seems to be a tad too high for this camera. In that respect, it is better to go for other point and shoot alternatives with better image quality and higher zoom in that budget even if they have a slightly larger footprint.
Features And Build: 3.5/5
Performance: 2.5/5
Ease Of Use: 3.5/5
Value For Money: 2/5
Mojo: 2/5


Overall Rating: 2.5/5