Review: BlackBerry Curve 9360 | TechTree.com
Review: BlackBerry Curve 9360
Low on features, high on price.
Rating

3
/5
01st Dec 2011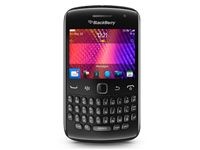 Pros:
Sleek looks; Fresh UI; Great keypad; NFC-ready.
Cons:
Expensive; Buggy software; Lacks scratch-resistant screen; Unimpressive camera; Lacklustre sound quality; Emails restricted to BB Internet Service.
BlackBerry Curve 9360
MRP: Rs 20,000
Street Price (As On 28-Nov-2011): Rs 19,200 (Infibeam.com; HomeShop18.com)


With the 9360, BlackBerry returns to its roots with a QWERTY keypad. The device sports the new BlackBerry OS 7, a pixel-packed screen, and a relatively faster CPU than its predecessors. The phone seems like a good upgrade for existing BB users, but let's find out how it fares against the competition.


Design And Build Quality
The retail box packs in a phone, USB cable, charger, and earphones. The package also contains a 4 GB microSD card, but we didn't receive one with the review unit.

The device measures 4.3" (l) x 2.4" (w) x 0.4" (d), and weighs 99 grammes. It looks similar to the Curve 8520 and Bold 9780, except for the slim body. The glossy plastic on the front looks ok, but having the same finish on the back doesn't do anything for the grip. Having said that, at least it looks better than previous BlackBerrys.

I was expecting a touch-and-type interface, which I enjoyed in the Nokia E6. However, this phone lacks a touchscreen; thus, navigation is taken care of by five physical buttons: [Call], [Hang Up], [Menu], [Back], and an optical trackpad. The physical keyboard is a standard BlackBerry affair. The keys are reasonably spaced and perfectly sized - a treat for heavy texters.
The phone is powered by an 800 MHz CPU and has 512 MB of RAM. Other specs include NFC, Wi-Fi, Bluetooth, GPS, a 5 MP camera, 3.5 mm jack, microSD card slot, and a 1230 mAh battery. NFC can be used to pair supported devices by tapping them together. Moreover, it can be used to read tags and share data (such as contacts) easily.

The 2.4" LED-lit screen has pixel dimensions of 480x360. The display is bright and crisp. Moreover, it has great viewing angles. On the flipside, the manufacturer is just so wrong in not including scratch-resistant glass on such an expensive device.


UI And Applications
The device features the new BB OS, similar to that on the recently reviewed Torch 9860. However, OS 7 is not very pleasant sans a touchscreen. Having said that, I'm sure BB fans will get used to it in no time. The interface features an app drawer, status area, and a notification bar that has been already explained in the Torch 9860's review. Multitasking is duly covered, and you can switch between apps with a long press of the [Menu] button.


All in all, I found the UI fast for the most part, but it becomes sluggish in the App World. Worse, the handset restarted quite a few times during testing. RIM should quickly address these issues in order to make the OS usable.

The device comes preinstalled with the Documents To Go app for editing documents. For those wanting more, App World is your friend. However, watch out for the expensive apps!

The web browser renders pages speedily, and text reflow works well. However, it has a major stability issue and crashes very often. Also, BlackBerry Maps is not very useful since it lacks voice-guided navigation. RIM should focus on this issue, since a capable navigation solution will definitely appeal to its audience.


The browser in action.
MultimediaThe phone's sound quality is ok, but I was expecting something better after being impressed by the 9860's audio performance. On the other hand, the video player is quite capable, supporting MP4, DivX, XviD, and WMV videos up to 720p. I'm aware that 720p is excessive for a 2.4" screen, but it's always good to have a device that can play most videos without having to convert them.
The music player in BlackBerry OS 7.
The onboard 5 MP fixed-focus camera is accompanied by a single LED flash. While outdoors, it reproduces good colours, but jagged edges and excessive noise play spoilsport. What's more, the camera cannot handle close-ups or low-light shots properly.


Image sample.

The device is also capable of 480p video recording, but the results aren't pleasant. Clips are saved in the 3GP format, which again is a downer due to its lack of quality.


Video sample.


Telephony And Messaging
It's always great to have a physical call button, since it also provides quick access to the call log. Additionally, the device's voice quality and signal reception are up to the mark.

The physical QWERTY keypad makes messaging a pleasant affair. Likewise, BlackBerry Messenger is a great feature if you have a group of BB users. On the other hand, I found the device's dependability on the BlackBerry Internet Service quite annoying. It's time for RIM to allow users the freedom to choose from existing internet plans to set up their personal mailboxes.


Battery And Verdict
The 1000 mAh battery's performance is good; expect it to last an entire day under normal use. Heavy use will keep it powered on for at least 8 hours.

The Curve 9360 will serve well as a messaging device. However, considering its asking price of Rs 19,200, it should have had a touchscreen. In sum, if your company is sponsoring a BB phone for you, get this one - you'll appreciate its slim looks and new UI. On the other hand, if you're going to spend your hard-earned money, get the Nokia E6, which humbles the 9360 on every front and yet manages to cost almost Rs 3000 less.


Features: 2.5/5
Design And Build Quality: 3.5/5
Performance: 3.5/5
Value For Money: 2/5
Mojo: 3/5

Overall Rating: 3/5


TAGS: Mobile Phones, BlackBerry, Curve, ck