Sony Cyber-Shot DSC-HX200V
Superb mega-zoom camera with manual control ring, but lacks a bit in the image quality department.
Rating

4
/5
27th Feb 2013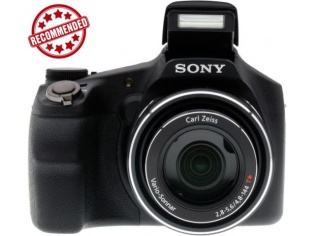 Pros:
Superb 30x optical zoom; Zoom/Focus ring for manual control; Close macro mode; Excellent flip-out screen; EVF.
Cons:
Image quality marred by aggressive noise reduction; Somewhat bulky and heavy; Cannot shoot RAW; Expensive.
Sony Cyber-shot DSC-HX200V
MRP: Rs 25,000
Cameras with big 'zooms' almost always manage to grab the consumer. Quite a few manufacturers have tried to cash-in on this feature by introducing cameras that approach prosumers as far as looks and features are concerned, while not going all out in terms of image quality for the sake of making it more affordable. Sony's 18.2 MP Cyber-shot DSC-HX200V is one such camera that packs in 30x optical zoom and BIONZ image processor. It is an upgrade over the HX100V, which had a 16.2 MP image sensor and could shoot up to ISO 3200, as against the HX200V's ISO 12800 with the Exmor R CMOS sensor. Let's find out how well this camera performs.
Build And Features
Ergonomics: While it is styled to mimic a DSLR, the Sony Cyber-shot DSC-HX200V is reasonably compact when compared to one, but is still heavier and bulkier than a normal digital camera. It weighs 724 grams, about twice as much as the more compact ones with less zoom do. However, the weight and bulk is comparable to other ultrazoom cameras. The camera's handgrip gives you get a firm grip to your right hand over the soft rubber padding, while being able to use right hang fingers to access most controls. The left hand can easily control tasks such as focus and zoom.
Optics: The lens used is a Carl Zeiss Vario-Sonnar with a maximum aperture of f/2.8 and a focal length that is 27 mm at widest to a 810 mm (in 35 mm terms). That's 30x optical zoom, and that's impressive! Of course, such high zooms come with a compromise on image quality - you can't have it all. The lens is equipped with Sony's Optical Steady Shot image stabilisation that aids in eliminating camera shakes during handheld photography, thus reducing blur (of course, this feature wont help in situations where the subject itself is not steady, which leads to blurry photos). The rather large lens barrel features a control ring towards the front that can be configured to control zoom or focus by a sliding switch present on the left of the barrel.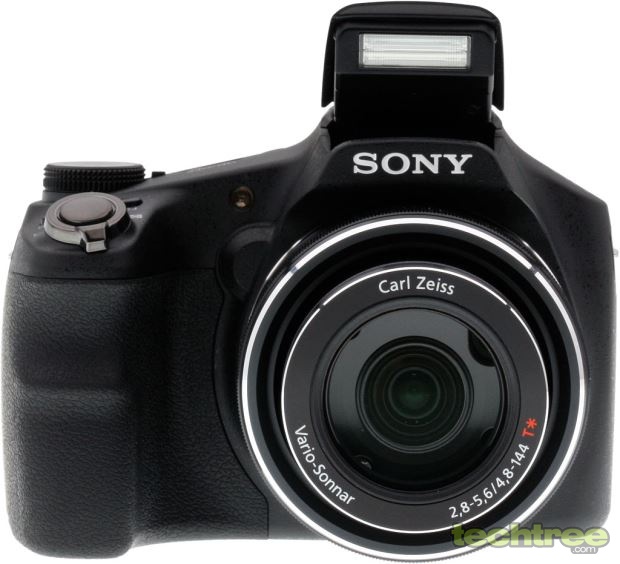 Controls: The top of the camera has quite a few controls. The shutter button and the encircling zoom lever appear stylish with their gunmetal finish. A mode control dial is present behind this and there are two buttons in between the two — a Focus button (to choose various focussing methods), and a Custom button (that can be configured as a shortcut button for AEL, White Balance, ND Filter, Metering Mode, and Smile Shutter. A pair of microphones capable of stereophonic recording is present just behind the pop-up flash.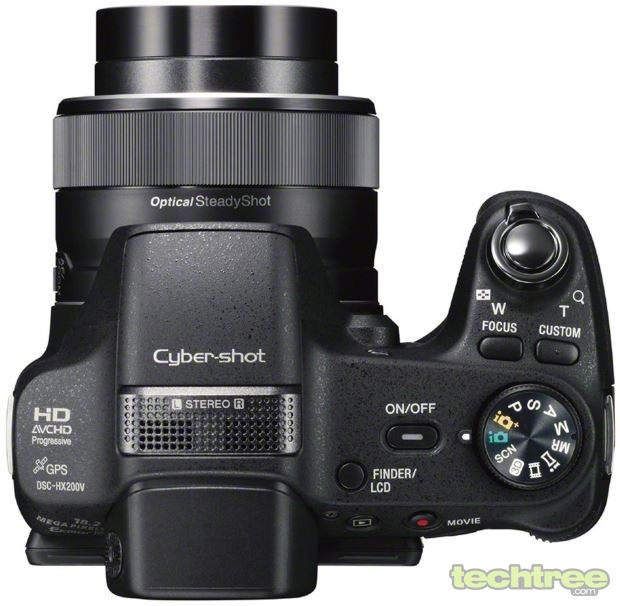 The camera has a rather large 3" LCD that can be pulled out and tilted up to 90 degrees up and 70 degrees down, helping in situations where one needs to shoot at awkward angles. An electronic viewfinder (EVF) has also been provided above the LCD with a dioptric adjustment dial. This can come handy while outdoor shooting and it actually can go a long way to save battery power if you choose to use it in place of the large screen via a toggle button at the top. A proximity sensor switches off the main screen when it senses the the photographer is using the view finder - a rather nifty feature. A four-way controller with a central OK button is present to choose various functions such as flash, timer, and Photo Creativity. There's a dedicated button for movie recording.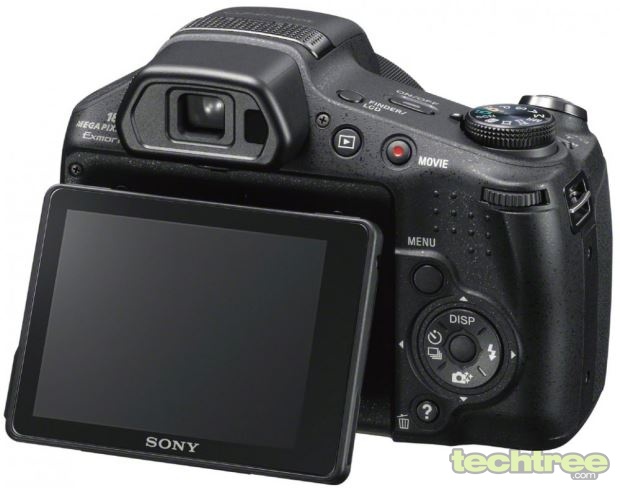 The camera uses an NP-FH50 Li-ion rechargeable battery with a capacity of 870 mAh. A mini-HDMI and micro-USB ports are present on the left of the camera, just above the power adapter socket.
Auto mode and scene modes: Intelligent Auto Adjustment mode is one feature we liked the most. It essentially puts the camera in autopilot mode in which the camera decides what parameters to use for getting the best shot. It is very interesting to see how the camera changes the scene modes from Backlight to Twilight as you move the camera to point a subject in brightness shifting to an area of darkness. Then there is a Superior Auto Adjustment mode in which, the camera takes six shots in quick succession and combines them to create an image with low noise and higher dynamic range. One of the features that we liked is the Background Defocus feature which can blur out the background and focus on the subject.
There are 16 scene modes to choose from, including High Sensitivity, Twilight, Twilight Portrait, Soft Snap, Landscape, Beach, Snow, Fireworks, Advanced Sports Shooting, Gourmet, Pet, and Soft Skin. Notable is the Soft Skin mode, which recognizes skin tones and reduces appearance of blemishes and wrinkles without adversely affecting the rest of the image. The camera takes six successive shots in Handheld Twilight mode to get better image in low light and in Anti-Motion Blur mode to get sharper images without a tripod. The Backlight Correction HDR mode allows for a one-shot method to shoot and create in-camera HDR photos by taking a series of photos at varying shutter speeds and combining them.
There are other notable features such as Smile Shutter, which detects the subject's smile and clicks photo automatically at the right moment. Face Detection can distinguish between adult and children and can detect up to eight individual faces in a scene and make appropriate settings to get the best shot. There is even an Anti-Blink Function which detects if the subject blinked when the shot was taken and sounds a warning so that you can take one more shot.
Performance
Speed: The camera starts up in a shade below 2 seconds, which is an average value in this segment. However, a shutter lag of around half a second was noticed during most shooting modes, making this camera somewhat slower. In the continuous shooting mode, the camera shoots 10 photos in a second at the full 18.2 MP. You can take a photo every 1.5 seconds on an average without flash, and every 8 seconds with flash.
Macro: Macro mode shooting can be done with the subject almost touching the camera lens. Of course, flash is of no use when the subject is too close because the lens blocks the flash and casts its shadow. Besides, flash used at such proximity would anyway 'burn' the image.
Here are a couple of photos showing the optical zoom capability.
Here is the photo taken at night using the Twilight mode.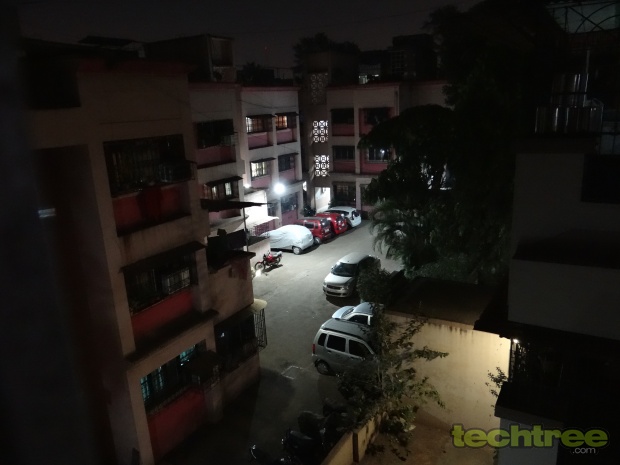 Twilight mode performance (click to view full size)
The image quality is quite good, with good colour reproduction and details being captured. However, there seems to be excessive usage of noise filtering and post-processing, which results in a plastic-like feel, especially when the photo is viewed at the actual size. Slight chromatic aberration is visible at the edges of bright object, especially at higher zooms. While it may seem obvious, we need to clarify that even the HX200V, being a compact camera cannot compete with DSLRs because of difference in sensor size and quality.
ISO Test
The camera supports ISO values from ISO 100 up to 12800 (which is quite high for a compact camera) to be able to shoot in low-light. It was found that the image quality deteriorates in general as the ISO increases, and this is common with most cameras. Photos taken with up to ISO 800 have forgivable noise levels. You can use flash up to ISO 3200 and it gets disabled above that value. Also, it was noticed that starting at ISO 6400, this camera shoots multiple rapid shots and combines them. This is Sony's attempt at reducing the noise associated with photos taken at higher ISO levels. The result is that instead of a photo with coarse noise, you get a smoothened image, although the details are lost during post-processing, nevertheless. Low-light photography is therefore, still not quite up to the mark. You can check out the ISO image quality over here.
Movie Recording
The HX200V can support shooting at 1920x1080@50fps (1080p) at a data rate as high as 28 Mbps. ISO levels are automatically handled during movie shooting and you can opt to choose automatic exposure settings or scene-based mode. Still images can also be shot while a movie is being captured at up to 13 MP. The movies can be recorded in AVCHD (higher quality mode better suited for HDTVs) or MP4 at 25fps (better suited for web and email due to the smaller size, but at a lower quality).
Video quality is great with the 1080p at 50 FPS yielding some really crisp and detailed results. The colour reproduction was good, although some noise is evident in areas with insufficient lighting. There is around 1 second delay after you press the Record button for the recording to actually start. There is no visible lag after that even as you rapidly pan the camera across while recording, and the BIONZ processor does seem to be up to the mark as far as Full HD movie recording is concerned. Autofocus works continuously as you zoom and also when the movie is being captured. The image stabilisation allows for excellent hand-held video shooting with camera shakes getting smoothed out to mere nudges. While the image quality is not an issue, and the sound is recorded in stereo, we must mention here that the zoom motor makes a whirring sound. Still images can also be shot during movie capture.
It also features a GPS receiver that can store location information in photos and videos. Lastly, it also supports shooting 3D still images, although doing so is a bit tricky due to the camera manoeuvring involved, because this is shot using only a single lens, rather than two.
Screen And EVF
The screen is high resolution 920k pixels and therefore the images appear crisp. However, the glossy surface produces a lot of reflections, hence making it very difficult to use this screen in broad daylight. Speaking of the EVF, it is somewhat small at 0.2" and the images are not as sharp as you see on the LCD screen because of the lower pixel density. However, it nevertheless, serves as a viable alternative when the screen becomes unusable, and also helps increase battery backup. I didn't really feel the urge to flip out the screen during testing, which means the EVF was very usable.
Zoom And Autofocus
The zoom/focus ring is servo controlled, rather than having a mechanical gear coupling, hence there is quite a delay between its movement and the actual result. In fact, the zoom lever seems to be more responsive, and we think you will end up using it instead. Being a digital control rather than manual, the ring is not very effective in handling focus jobs either. Autofocus seems to be the way to go, and thankfully, it works rather well and fast.
Battery Backup
The camera is said to be able to take up to 450 shots on a full charge. Using the bundled 4 GB SDHC card, you can take all the photos until the battery runs out of juice, but you will need a larger card if you are also shooting 1080p movies. We must mention here that the card is of Class-4 type, and has a specified transfer speed of up to 15 MB/s, which is good enough for Full HD video shooting at the highest data rate supported by this camera.
Our Verdict
The Sony Cyber-shot DSC-HX200V is indeed a very competent camera in the megazoom category. The GPS, compass, and GPS Log REC function also comes handy for tourists. The Full HD movie shooting with image stabilisation and autofocus is on par with decent camcorders, which is also a good addition. At Rs 25,000, this camera seems to be a good buy. You can also try the Canon PowerShot SX50 with a higher 50x optical zoom or the cheaper Nikon CoolPix P510. If you already have a decent digital camera such as the HX100V which also has a healthy zoom level, it doesn't really make sense to upgrade as you are not really going to get your money's worth of extra features.
Features: 4.5/5
Performance: 4/5
Ergonomics: 4/5
Value For Money: 3.5/5
Mojo: 4/5
Overall Rating: 4/5
TAGS: Cameras, Sony, Cyber-shot